As it is, fire pits are a miscellaneous addition to your backyard paradise and an expensive one at that. That's perfectly understandable because they do take the elegance of the space up a notch and make for a great place for a family get-together.
With every big investment come a few smaller ones; in the case of the fire pit, those would mainly be propane tanks and fire pit covers. While covers might seem like an irrelevant thing to have, rust us on this – you'll be much more sorry that your fire pit has become rusted and brittle, than you'll despise having to put the cover on in winter (or after every use, depending on where you live).
In this article, we'll try to introduce you to the most vital aspects of every square fire pit cover and present the best options available on the market nowadays. Let us know if this top 10 list + buying guide was helpful, and which fire pit cover is your favorite!
Top square fire pits reviews
1. Classic Accessories Ravenna Square Fire Pit Cover
This large square fire pit cover is 42″ long x 42″ wide x 22″ high and is made out of durable woven polyester fabric that won't be affected by poor weather or the fact that square fire pits are tricky for covering. The Ravenna square fire pit cover has a UV-stabilized coating and a water-resistant laminated backing, which means that neither rain, snow nor sun rays will affect the quality of the fabric.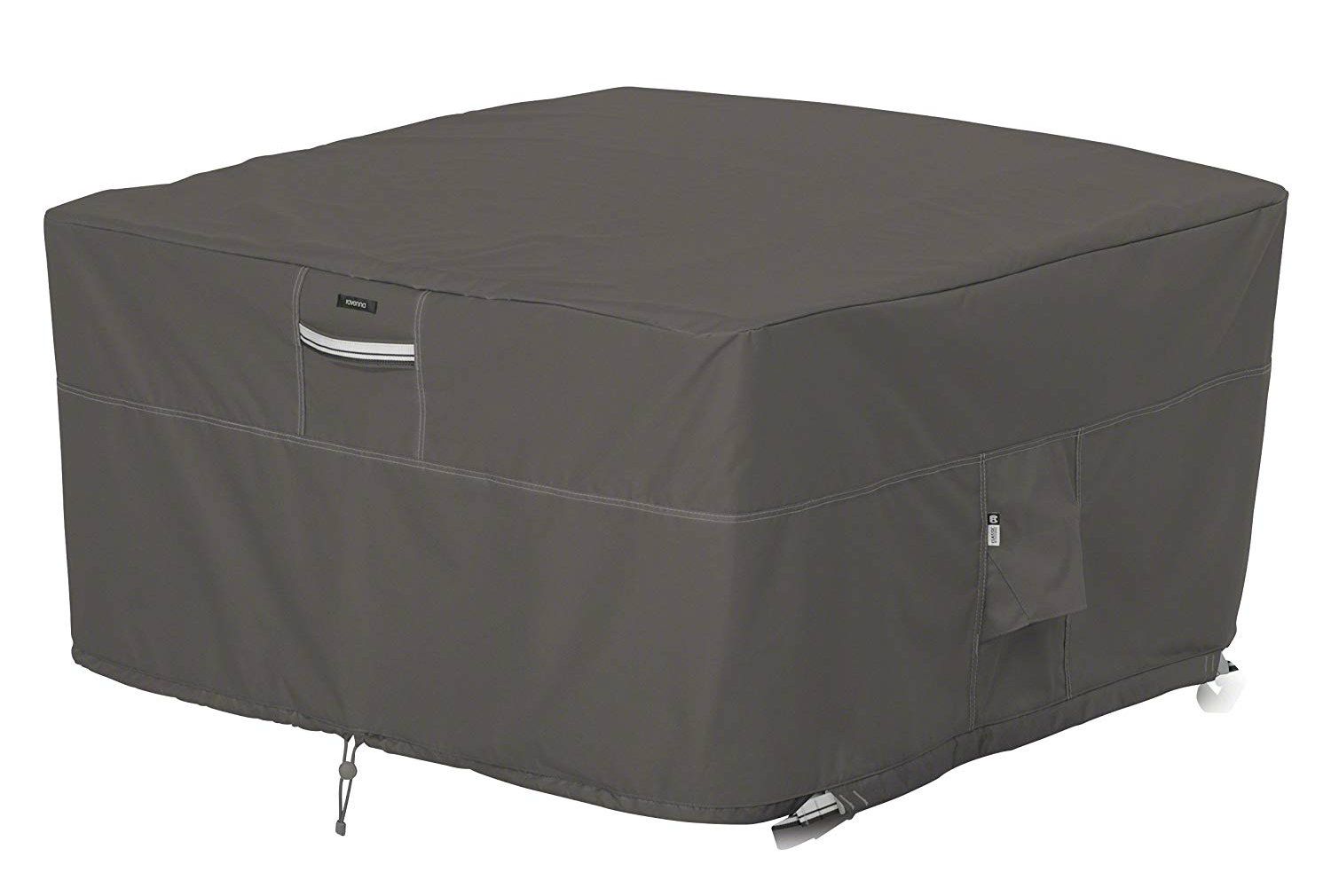 The cover features a patented WindLock secure attachment system, belted elastic hem cords and click-close straps, meaning that you can adjust the fit of the cover, regardless of whether the cover dimensions are too big for your fire pit. These security add-ons are immensely valuable, especially on windy days.
Keep in mind that this cover isn't intended to cover the legs or wheels of your fire pit entirely – a few inches will still be exposed to the outside weather conditions. This shouldn't be a big problem, though, unless you really care about your whole fire pt being completely intact. To make removing the fire pit cover as easy as possible, there are dedicated reinforced padded handles which are sturdy and reliable, so you don't have to go through a hassle but can remove the cover in one swift motion.
In order to prevent condensation inside the cover which can cause damage to the fire pit, there are dedicated air vents that provide sufficient airflow so that the inside of the cover is dry no matter the temperature change.
This is a stylish, durable fire pit cover that will last you for years, without tearing, fading, becoming stiff or leaky, making this a fantastic investment for our fire pit. The only criticism this cover received is that it ripped when being put on the fire pit; however, we find that this isn't due to the fabric quality, but the technique of pulling it on. Be careful not to yank the cover on, without keeping in mind that the square fire pits are just that – square. The pointed ends of the pit can rip through a lot tougher materials if they're not covered with caution.
Pros:
Stylish
Durable materials
UV-stabilized coating
Water-resistant
42″ long x 42″ wide x 22″ high
WindLock secure attachment system
Belted elastic hem cords and click-close straps
Reinforced padded handles make it easily removable
Cons:
None; this is an overall high-quality fire pit cover
2. AmazonBasics Square Patio Fire Pit Cover
The AmazonBasics square cover for fire pits is similarly sited, compared to our no1 choice. At 44″x44″x22″ this cover will fit most fire pits out there. It's made out of water-resistant woven polyester fabric that will protect the pit from the rain snow, sun, and dust. Air vents are also in place in order to minimize condensation and prevent the cover from billowing in the wind. This cover is both secured and removed easily due to the zipper closure at the bottom which secures the cover in place and prevents it from lifting up in the wind.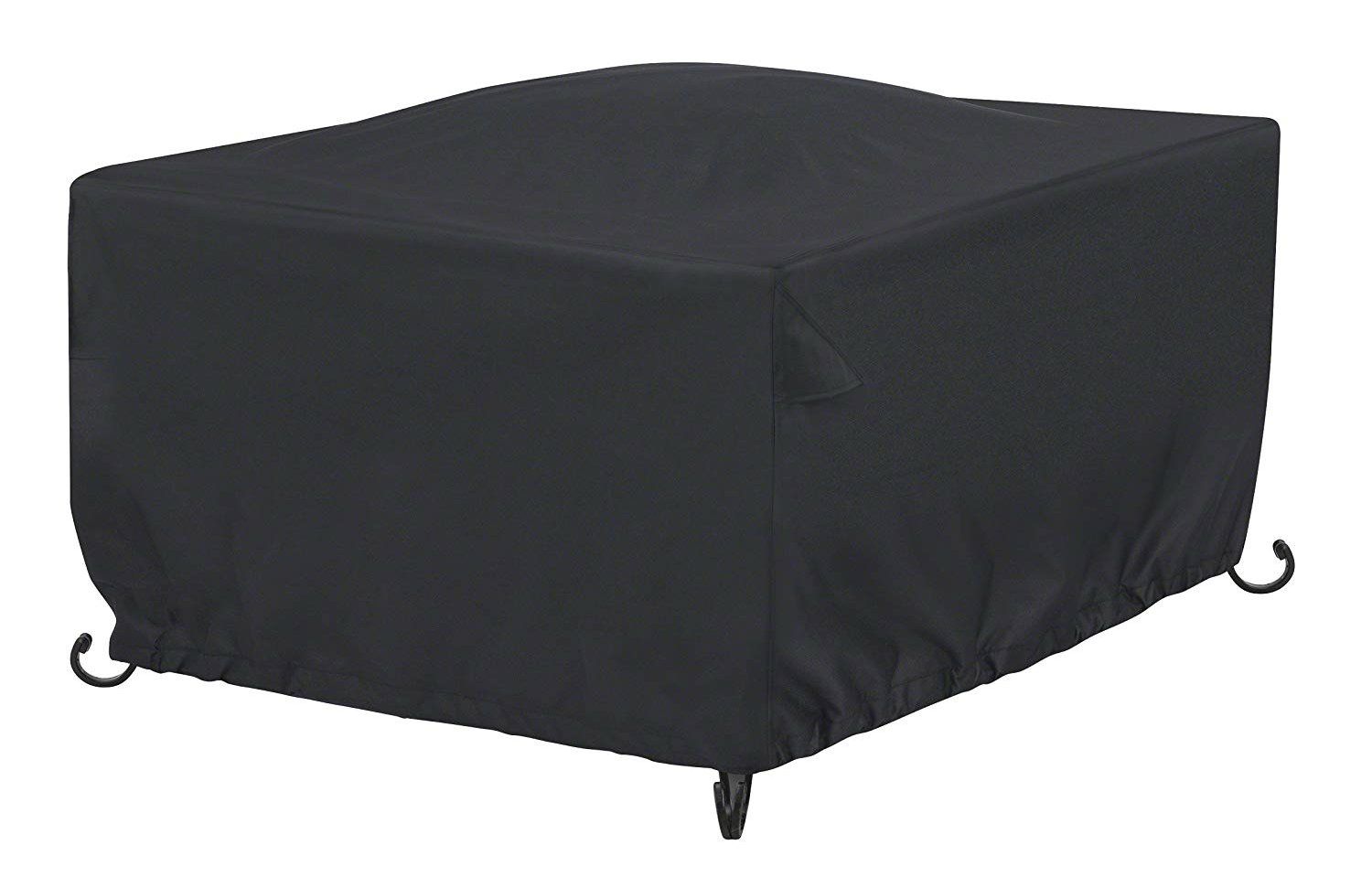 Durable and long-lasting, this cover is simple to use and maintain, making it suitable for everyday use while keeping your fire pit bone-dry. The luxury feel and sleek black look will create the impression of it costing much more than it actually does, which is always a good thing. This is the perfect fire pit cover to get if you want to maintain the elegant backyard aesthetics regardless of whether your fire pit is visible or not. This cover is minimal and will blend into virtually any surroundings, without giving of its primary function right off the bat.
The reason this high-quality cover hasn't been our primary choice is that it doesn't have elastic strings at the bottom, so it's not as versatile as the Ravenna cover, because it will be too wide for any fire pit that is smaller than 38-40″. Another thing a couple of customers have noted is that its inner material is thin, which makes it prone to tearing up if not handled with care. This isn't necessarily a flaw, but it is an extra thing to keep in mind, which is why the AmazonBasics fire pit cover comes at the second place.
Pros:
44″x44″x22″
Durable and long-lasting
Sleek, elegant look, black color
Water-resistant
High-quality fabric
Zip closure at the bottom
Cons:
Zip closure instead of elastic cord at the bottom, which makes it less customizable
Thinner inner material needs careful handling to prevent tearing
3. Duck Covers Ultimate Square Fire Pit Cover
The Duck Covers fire pit cover comes in a variety of sizes so that every fire pit owner can find the perfect fit. The sizes range from a 32-inch square fire pit cover to an extra-large 56 inch one, covering (pun intended) most of the fire pit sizes available on the market and making it look like it was tailored for your fire pit specifically. It wouldn't be in our top 3 choices if it wasn't water-resistant; to double-down on this, this fire pit cover dons a seam sealer tape that prevents water from penetrating the cover, making it damp in the process. To add to the fabric quality, there's the added UV stability intended to minimize the fading and fabric deterioration that direct exposure to the sun rays can cause.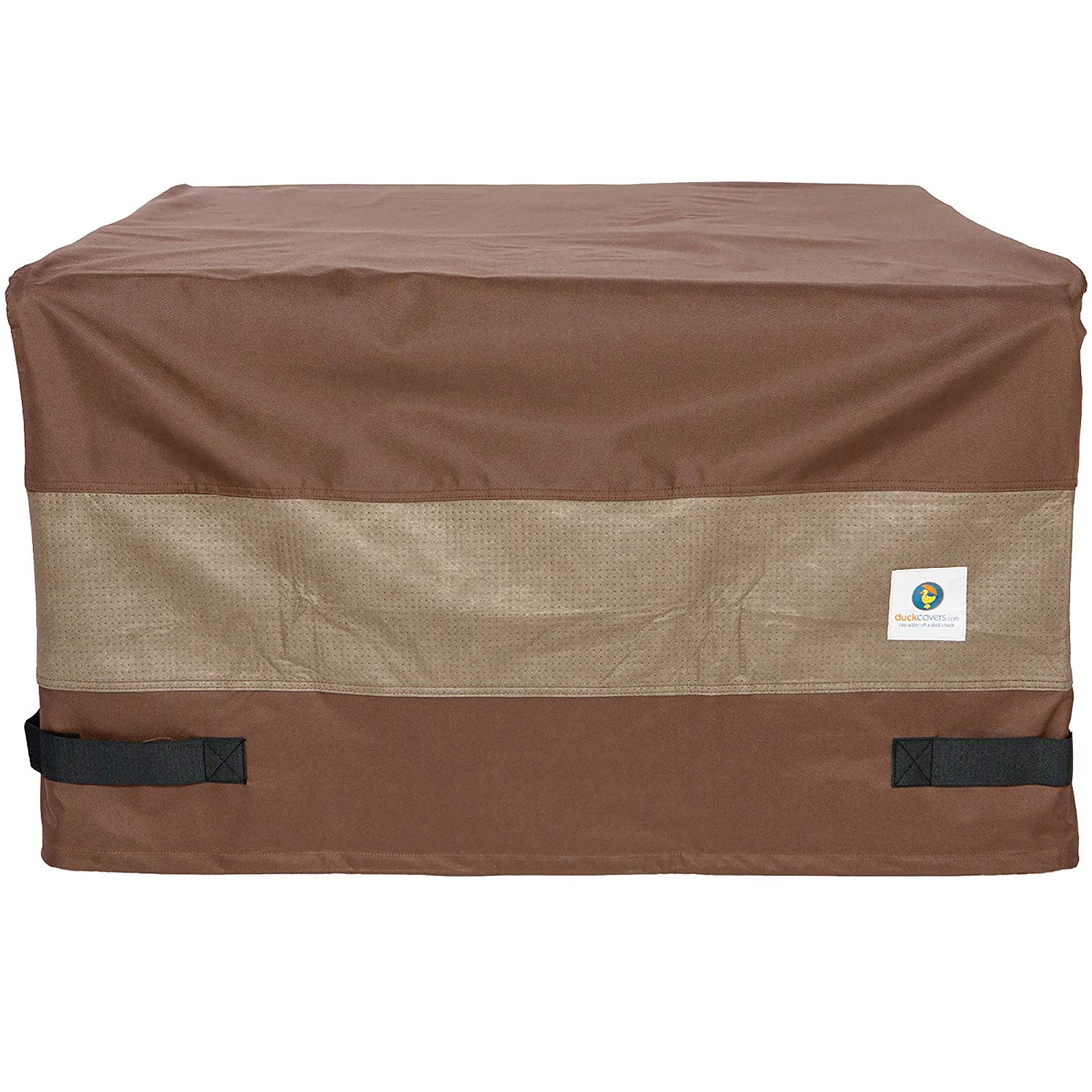 On the security side of things, the fire pit cover is held in place by 2-inch wide hook and loop straps positioned on the corners, so that the cover stays in place in the wind. This security system makes it easy to customize the cover to a narrower fire pit base because it allows you to fasten the straps tighter.
The Duck Covers fire pit cover is manufactured using a durable polyester top material, along with the innovative multi-layer side panels that aid in condensation elimination. The color of the cover is a warm-toned mocha-cappuccino color, which goes amazingly well with more rustic-looking spaces, but can look like an imposter in some more elegant settings.
There are two main concerns when it comes to this fire pit cover, one being that the sizing of the product isn't consistent, so it is possible that you get a smaller or bigger cover than the one you ordered. This isn't a fault in the cover per se, but it can be a hassle, nevertheless. Another thing to note is that some customers who live in extremely hot environments have said that the bottom layer of the cover can melt under direct and prolonged exposure to the sun, so if you're living in a hot, sunny place, you might consider placing a cloth beneath the cover – just to be on the safe side.
Pros:
Comes in a variety of sizes
Water-resistant
Rustic, warm-toned color
Wide hook and loop straps at the corners that hold the cover in place
Multi-layer side panels for ventilation
Cons:
Sizing isn't consistent
The bottom layer of the cover can melt when exposed to high heat and direct sunlight
Other square fire pits to consider
1. Porch Shield 36 Inch Square Fire Pit Cover
The porch Shield 36-inch square fire pit cover is made out of heavy-duty, 600D polyester fabric that features a laminated, water-resistant undercoating. Although the material itself is high-quality, the cover comes with an extra square patch of material, just in case you need a really durable solution in harsh weather conditions. The seams of this cover are double-stitched, which only adds to its general durability.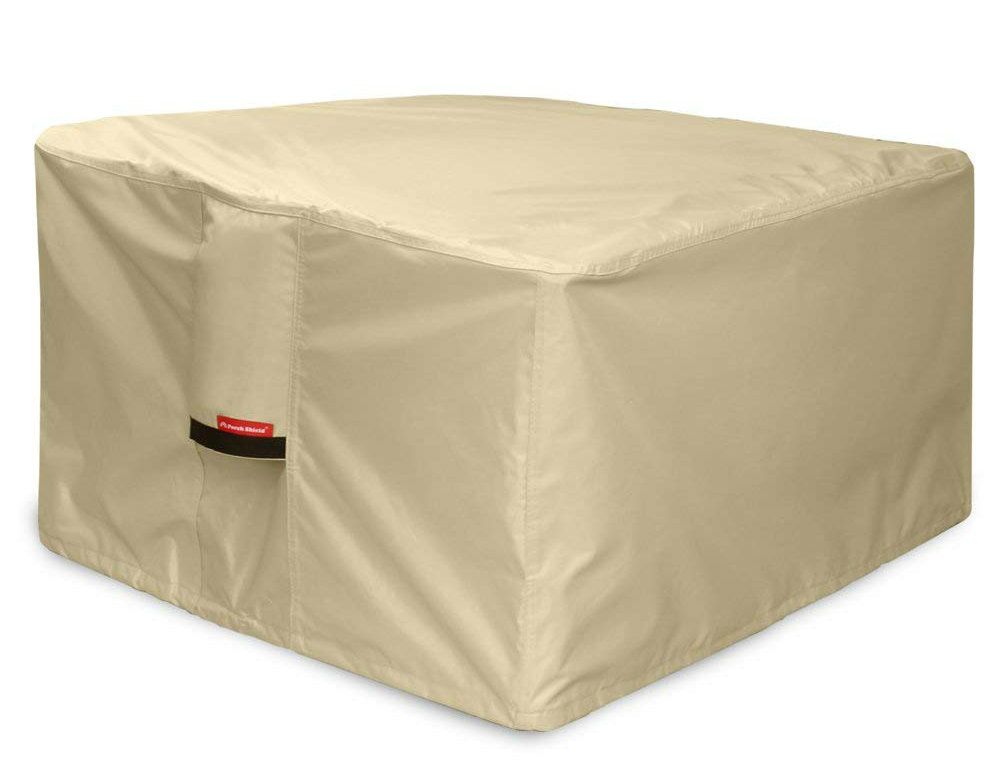 This is a full-length 36″ square fire pit cover that will leave the legs/base of your fire pit completely insulated and dry, which is especially useful if you have a fire pit that is prone to rust. Apart from being full-length, the cover also features elastic hem cords and bottom straps, which help keep the cover in place in high winds. Of course, there are structured air vents with mesh barriers on the sides, which prevent condensation and allow for a lot of air circulation. It comes in two classic, elegant colors: beige and black, which allow you to match the cover with the overall look of your garden.
The overall customer consensus is that the fabric is really thick and prevented any water from coming through it. However, the material is prone to retaining moisture, which can lead to mildew growing on it, and that can be difficult to remove. So, if you're living in a really humid climate, this might not be the best option for you.
2. Classic Accessories 30 Inch Square Fire Pit Cover
This 30-inch square fire pit cover sold by Classic Accessories is made out of a tough Rain-Tite fabric which protects the fire pit from the elements very effectively. The elastic loops at the bottom of the hem can be tightened around the fire pit legs in order to secure it so that it stays in place during breezy weather. This cord also allows for adjusting the cover to the fire pit size, and the cover itself comes in various sizes, from 30 to 52-inch ones, although the standard Classic Accessories square fire pit cover is 30″ x 30″ in the surface. The air vents reduce inside condensation and provide good ventilation.
This 30″ square fire pit cover comes only in one color – beige, which is an elegant and subdued choice to be sure. Although the cover features the FadeSafe Fabric System that is intended to keep the cover looking the same, the truth is, as with anything light-colored, the beige surface can quickly become dirty and ashy-looking; it would have been nice if there was a darker option available as well.
Another potential problem concerns the size of the fire pit's legs – if they're too bulky, the elastic loops probably won't be able to stretch enough to loop over the legs.
3. Quickflame Gas Fire Pit Cover Square
The Quickflame gas fire pit cover square measures 31x31x24 inches and is fit to cover Endless summer, Blue Rhino, Bond Lari, Xtremenpower US, Myrtle, Hamtpon Bay and Hiland gas fire pits. It's made out of the durable material of a good quality that protects the fire pit from the elements such as snow, rain, wind, sunlight, and dirt.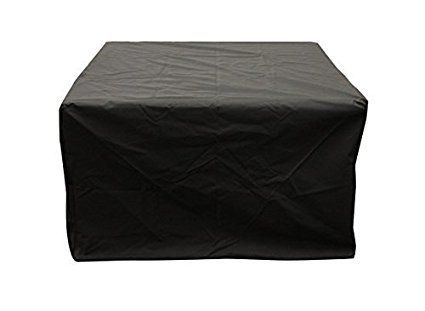 The stitched hems add to the secure fitting on the bottom of the fire pit, which prevents the cover from flying off in windy conditions. It comes in black color, which is a safe, elegant choice. One thing some customers have noticed is that the cover fades when exposed to direct sunlight, making it look a bit shabby, even if it's relatively new. This is due to the fact that it doesn't have a coating that would protect it from the UV radiation, and it shows, after a while. Other than that, it is a sturdy fore pit cover that will last you for a good season or two – provided you don't mind it looking like it's much older than that.
4. CoverMates Outdoor Fire Pit Covers Square
Out of all the fire pit covers we have reviewed so far, the CoverMates comes in the greatest variety of both sizes and colors. The sizing is great and ranges from the smallest, 18-inch fire pits to the extra-large 52-52-inch ones. This cover is made from 300D stock-dyed polyester and features adjustable drawcords and 2 buckle straps at the opposing corners to secure it in place, and it also features mesh vents to prevent condensation.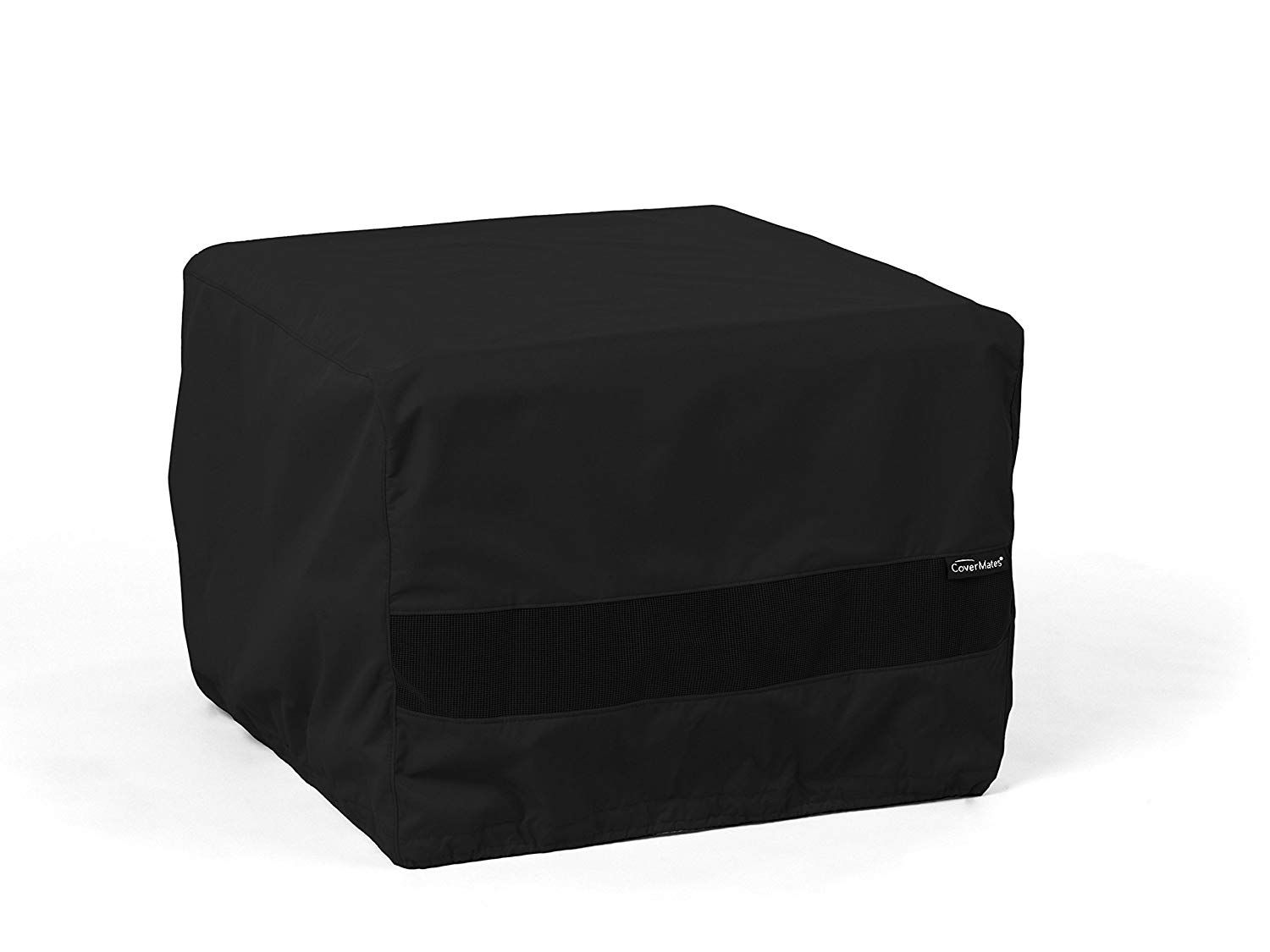 The colors that are available are black, charcoal, green, green vinyl, khaki, sage green, stone, tan and clay. The colors are fairly natural and intended to blend in seamlessly with the backyard surroundings while being versatile enough to allow you to pick an ideal warm or cool-toned option to best suit your needs.
It might be a bit tricky to figure out how the buckle straps and drawcords work in order to get optimal results, but once you get the hang of it, you'll be more than satisfied with the sturdiness with which the cover is held in place. Another potential issue, which is especially relevant if you're living in a humid and/or area with a lot of rain, is that the cover isn't water-resistant, and therefore it's not made to withstand a lot of rain or moisture. It is prone to developing mildew and getting dirty, so if protection from rain, rather than the sun and dirt, is your primary motive for purchasing a fire pit cover, you might want to choose one of our top 3 choices.
5. Stanbroil Heavy Duty Patio Square Fire Pit Cover
This elegant, two-tone fire pit cover is made out of a heavy-duty reinforced Vinyl, which is a type of PVC fabric that is marketed as not water-resistant, but waterproof! This Stanbroil cover is bound to protect your fire pit from elements such as rain or snow, and the fabric is thick enough that it won't allow dirt to get inside. It comes in three different sizes, with the smallest one measuring 40″length, 40″width and 28″height, all the way up to 50″ outdoor fire pit covers square.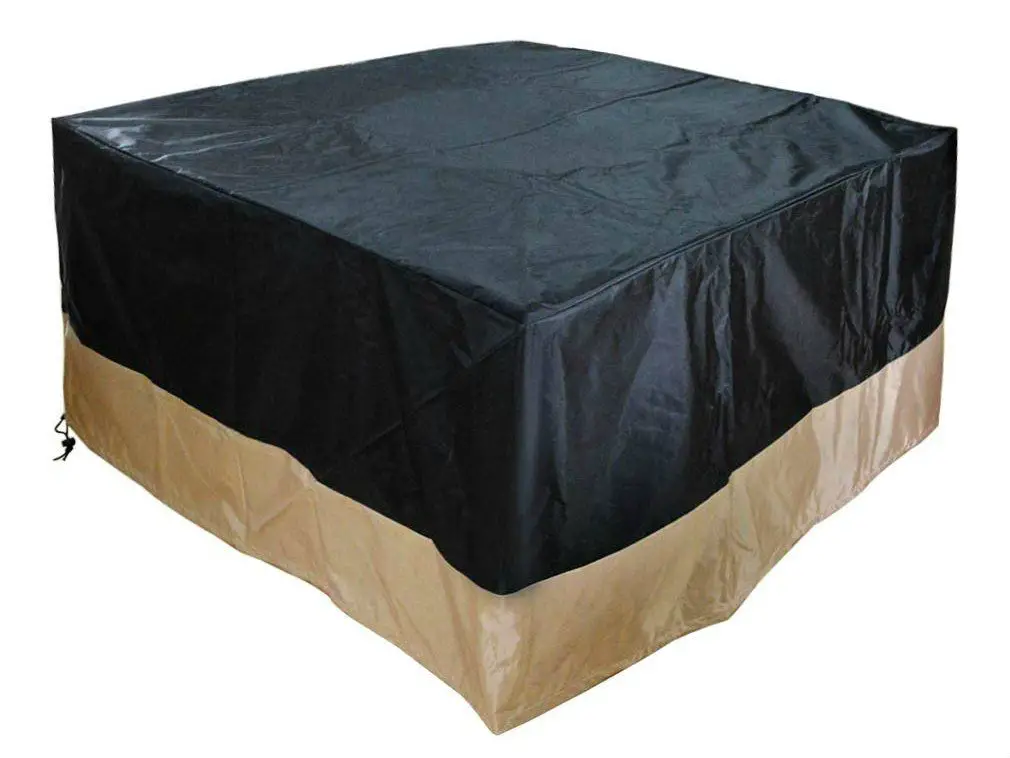 The large measures allow for the cover to protect the entire height of the fire pit, without leaving the bottoms of the legs open to the elements, which is paramount of your fire pit is made out of rust-prone materials. Not only is it long enough, but it also features drawstrings at the bottom, to keep the fire pit secured no matter the weather conditions. One of the downsides of the PVC material is that is prone to fading in the sun. Also, it's worth noting that one customer wasn't satisfied with the thickness of the material and claimed that it ripped pretty quickly. This, as you might have guessed, doesn't mean that it's low-quality, but it's useful to keep various experiences in mind when deciding on a purchase.
6. BALI Outdoors 32 Inch Square Fire Pit Cover
The BALI 32″ square fire pit cover measures 17.3″ in height and is also waterproof, made to withstand the elements and last for a long time. It's made out of durable 600D polyester, the same material the Porch Shield fire pit cover is made of. It features PVC lining which makes it resistant to tears – or at least makes it last longer than usual. There is an elastic hem cord at the bottom of the cover which enables customized fitting. The BALI fire pit cover comes in a plastic zip-lock bag which can be used for storing it when not in use.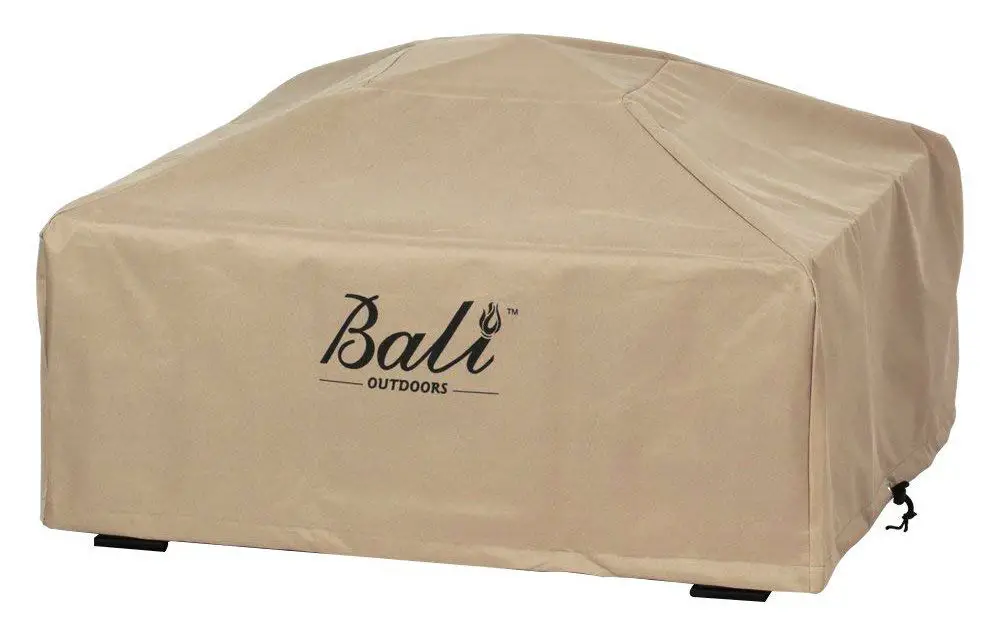 On the downside, direct exposure to the sun will make the material very brittle in time and cause it to tear. Additionally, the only color it comes in is beige, which is pretty and elegant, but really easy to get dirty, especially without any UV coatings of similar protection layers. Overall, this is a decent fire pit cover that's not intended for harsh weather conditions and everyday use. What makes it a really appealing purchase is its amazing price.
7. Abba Patio Waterproof Square Fire Pit Cover
This beautiful Abba fire pit cover is made out of brown polyethylene material, but due to the PU coat on top, it seems almost dual-toned and looks amazing in the sun. The protective polyethylene (PU) coat is there to make this cover scratch resistant and water resistant, as well as protect it from the sun, snow and dirt. It measures 43″ length x 43″ width x 24″ high and has interior-bound black seams, which are not only durable but very fashionable as well. The sturdy double stitching makes it appear especially durable. On the bottom, there are adjustable elastic cords that keep it in place no matter the weather.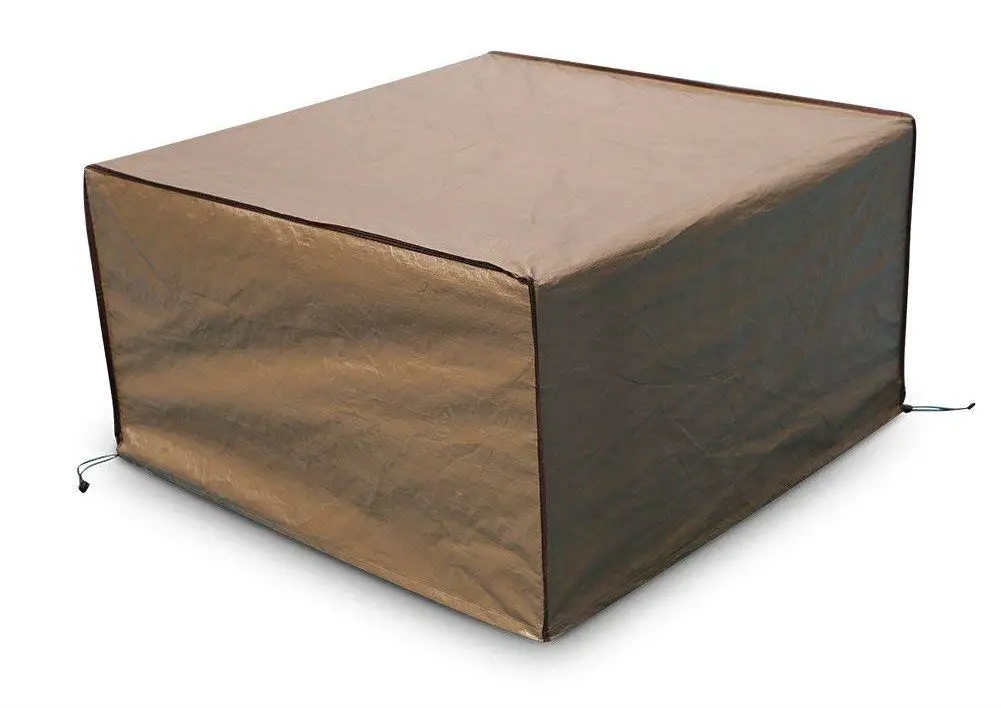 The one thing the PU coating doesn't protect from is tearing. While it does keep the water away from the fire pit, the fabric of this cover isn't particularly thick, so it doesn't matter that much if the seams are double-stitched or not. The durability of this cover is definitely not its forte and to enjoy it for its design, you might want to consider pairing it with another protective layer of sorts. While this might not be the easiest way to protect your fire pit, the sleek, charming design of the Abba Patio cover could make the extra effort worth it.
General information about square fire pit covers
Fire pit covers are practical and much-needed add-ons to your backyard fire pit. Think of them as mobile phone protective cases and masks. No one with the mobile phone will ever think to mention the case as something of importance, but most phone screen wouldn't be here with us today if it wasn't for the case.
It's the same as with the fire pit covers. Fire pits take the center stage and are the ones that amp up the atmosphere and the overall look of your backyard; some of them can even be used to warm-up some cold summer nights and double as outdoor tables, but none of that would be possible if it weren't for the heavy-duty fire pit covers.
Square fire pit covers are all very similar to one another, especially at first glance, but once you get into the nitty-gritty of one, you realize that the devil is in the details. Naturally, all square fire pit covers have a square surface and come with a few basic functions, add-ons, and standout features. Let's take a look at the various parts of a typical fire pit cover.
Basic Square Fire Pit Cover Components
While all square fire pits have the same shape, save for their dimensions, the following functionalities, and parts are what differentiate the bad one from an excellent one.
Basic material
Almost every fire pit cover is essentially made out of a one-piece cloth that is tailored so that it has a square shape. This fabric varies in thickness, features, coating, and durability, but its main function is to protect the whole fire pit from the elements. Scroll down to the buying guide to learn more about the various features of the fire pit cover fabrics.
Handles
This is an optional part of a fire pit cover and most covers don't have any handles. That's why having handles is usually a sign of a high-quality cover – no one would bother to incorporate handles if they weren't serious about their product. Can you take the fire pit cover off without a handle? Absolutely. But the handle gives you the opportunity to treat the cover with a little more vigilance and avoid ripping it while taking it off, only because it got stuck because of its uneven position.
Air vents
Almost all fire pit covers have some sort of mesh panels on the sides, or holes, or any other type of fabric opening, that is both protected from the elements, but at the same tie, allows for air flow and circulation. The air vents are especially important in order to avoid condensation beneath the cover cloth, thus preventing the forming of mildew on the cover itself (a better option) or rusting of the fire pit itself (worst-case scenario).
Hem
The hems are both protective and should be protected. The way to protect the hem itself is to double stitch it, or better yet, line it with a water-resistant plastic material, in order to prevent mildew and dampening of the square fire pit cover. As far as the protective aspect goes, every fire pit cover has a sort of security system on the hem, be it a zipper, elastic string, elastic look a Velcro strap, or a combination of each. This security system is particularly important because its function is to prevent the sides of the cover from blowing upward with the wind, exposing the fire pit to the elements. Without a reliable protective hem system, the whole cover would lose its main purpose – to cover.
Buying Guide
Although fire pit covers seem quite straightforward, there are a few key aspects to keep in mind when deciding on the best fire pit cover for your needs.
Size
Fire pit covers are produced according to standard and most-common fire pit sizes. As you know, these tend to vary, but in general, a small square fire pit is considered to be one with the 18×18-inch surface, while everything above 40×40 inches is considered a large one. Generally speaking, a square fire pit covers 36″ x 36″ in the surface is considered to be a standard-sized cover.
Fire pit covers are usually the same size as the fire pit they can cover, with some fire pits, like the Quickflame one, being made for specific fire pit models. However, there are some unusual fire pit sizes, so if you're in need of a 48-inch square fire pit cover, chances are you won't find it. What you can do instead is buy a 50-inch cover with elastic drawcord security system at the hem, which would enable you to customize the size of the fire pit cover to your own, because the lower fit is the one that matters.
Functionality
The basic function of the fire pit cover is in its name, so we won't waste your time explaining this aspect of the cover. However, there are a lot of added functionalities that certain covers are produced with, and others aren't. We primarily mean about the water-resistance, and UV, or sunlight-resistance, both of which can add greatly to the fire pit longevity, as well as their own durability.
Water-resistance
All the best fire pit covers are water-resistant, with some heavy-duty ones being waterproof. This is an especially important feature if you have a steel fire pit, and if you live in an area that has a lot of rainy days.
Keep in mind that water-resistant doesn't mean that the water can't eventually seep into the cover if it's under constant rain long enough. Water-resistant fire pit covers are intended for areas that don't have that much snow or rainy days, or at least not that many consecutive ones so that the cover can dry out in between the rain. However, if you're living in an area where harsh winters and rainy falls are common, our advice is to go for a waterproof fire pit cover – it really doesn't hurt to make that extra step of precaution.
If you have a stone fire pit, we first want to congratulate you on your immaculate taste, but second of all, you won't benefit that much from a water-resistant cover. Rain won't damage any high-quality stone, but the sun might – see the section below.
UV-protection
A lot of fabrics used in the making of fire pit covers tend to be thick, and especially thick materials can become faded and very brittle under bright sunlight. That's why it's important to opt for a fire pit cover that has a UV coating that will protect the material from being damaged by the sun. If the material becomes brittle, it will start to crack; if it starts to crack, it will start to let the water through, regardless of whether it's water-resistant, so in a way, UV protection is just as important as the water-resistance.
Color
Most fire pit covers tend to be discreet and unobtrusive. This results in them being black, brown or beige-colored most of the time. There are some fashion-forward covers that tend to be green, stone-colored or khaki, in a (successful) effort to blend in with the environment.
The important thing to note about the fire pit cover color is that as a general rule of thumb, the lighter covers will become dirtier, faster, and the dark ones will attract more sunlight. So, if you live in a colder area that has a lot of rain, go for a darker one, whereas if you live in a sun-lit area with minimal rain or snow, feel free to pick the beige-colored ones in order to avoid fading and cracking, and just wash it from time to time.
Security
The point of the fire pit cover is to stay put, which is why it's vital for every cover to have a security system at the hem, which enables the fire pit cover to stay in place even in strong winds.
Zip
The zip closure at the hems is extremely practical and safe; once it's zipped, the chances of wind moving the cover is minimal. However, the zip closure is the most practical when your cover fits the fire pit like a glove. If the cover is bigger than the fire pit, it would be better if it were customizable, because that way you won't risk the cover being lose and lifted at the lightest of winds.
Elastic drawcords and loops
This is one of the most common security hem systems out there and for a good reason – it's very practical and equally as easy to adjust. The difference between the drawcords and loops is that drawcords can be used to secure the cover around the fire pit, regardless of whether it has legs, or it's a one-piece construction, while the elastic loops are used to secure around the fire pit legs, making them impractical for a lot of fire pit models.
Velcro straps
This is the safest way to secure the fire pit cover because it can be used on each and every fire pit around. There are even combination covers that feature both Velcro straps and elastic drawstrings for maximum protection, which can come especially useful if your area has harsh, windy winters.
Price
Square fire pit covers are refreshingly cheap. One would have to try really, really hard to find one that costs upwards of $35, so this makes the fire pit cover a really good investment, seeing how it protects something that has a triple-digit price, most of the time. While there are some covers that cost as low as $15, we would still recommend adding another $15 and getting something you know will last.
Other information
While not being exactly multifunctional, a fire pit cover can easily be used as a square table cover. That's more to do with the functionality of the fire pit itself, mainly whether it has a pit cover. If it does, then using a water-resistant fire pit cover means a lot less staining and a lot less cleaning!
Expert tip: If you're scared of water seeping through your fire pit cover, you can position a thick, plastic foil beneath it (make sure to poke holes through the lateral sides of the foil to avoid condensation) for some added security.
Fire pits aren't the only backyard objects that need protection from the elements. There are various sofas, tables, and chairs as well. Luckily, the same companies that produce fire pit covers often times make other covers as well – take a look at this taupe-colored sofa and chair covers that are coordinated with the Ravenna square fire pit cover.
Living with the Square Fire Pit Cover
While it may seem like overkill, there's nothing that stops you from getting two fire pit covers in order to make it extra safe. With the covers being so cheap, it might be wise to create a double layer of protection around your expensive fire pit.
Don't despair if you see that your light-colored cover is getting dirty – chances are all it needs is a machine wash and it will be good to go.
Conclusion
A fire pit comes with some additional equipment, and one of the most important fire pit equipment pieces id the cover. In this article, we reviewed the top 10 square fire pit covers, looked at their strength and flaws, and learned about the main parts and functionalities to pay attention to when purchasing a fire pit cover. While they aren't something you'd consider a necessity, they are supremely useful.