What are Outdoor Fire Pits?
Let's face it, there's just something mesmerizing about fires that makes humans attracted to it like gnats to a flame. And this hot romance didn't begin today; it dates back thousands of years when our ancestors were still cave men.
For the outdoorsy folks, you know that an outdoor experience can never be complete without a nice fire. There has to be a focal point where people converge to share a few laughs and sometimes a few tears as well. And for goodness sake, where else in the world will we put those marshmallows except in the fire?
If you've never considered owning a fire pit before, it's time you did because it would take only 30 minutes before your crew gets bored and leaves if you invite them over to your backyard without a fire.
Types of Fire Pits
There are different types of fire pits but all of them can be grouped into four major categories which we will take a brief look at right now:
Wood Burning Fire Pits: This is the most common of all the different fire pit types. They are great because they remind us of camping and they offer warmth as well as a lovely ambiance. You can even add a grill atop wood fire pits to cook your meals too.
Although these fire pits can be made from a wide range of materials, most are made from steel. They also come in a variety of sizes too, and your choice should depend on personal preference as well as the size of your patio and the size of fire you'd want.
Now when going for a wood burning fire pit, there are a few things you must consider. First of all, they require maintenance. Secondly, you'd have to purchase (or worse still chop) wood regularly and the wood would have to be stored and covered in a place devoid of any trace of moisture.
Propane Fire Pits: Propane fire pits are generally attractive with really impressive designs. Also, they are breezy to use. You won't have to worry about chopping wood or buying gel and whatnots, but yet, these guys produce a mean flame.
Turning on and turning off the fire are pretty straightforward as the ignition is usually below the pit, so you can easily turn on or turn off the propane tank to extinguish the fire.
Here are a few things to consider when going for a propane fire pit, though. You can get a portable one that allows for movement around the patio but if money is not an issue, then you can go for a copper propane fire pit. Copper propane fire pits are really durable, and because copper has such a high melting point, you can expect to get years of use out of such fire pits.
Or you may even choose to splurge and get a propane fire pit table. It will look unique like a table-top, and its ledge will provide some measure of safety, as well as a place to take your food or drink while you all sit around the fire.
It's not all rosy though, as there are a few other things to note about the propane fire pit. Of course, you must buy propane and always have it on hand so it doesn't run out while you're with your guests. Also, food cooked over propane fire pits never taste as nice as those cooked over a wood burning fire pits, quite expectedly.
Gel Fuel Fire Pits: If what you want is the fire without any part of the smoke, don't let anyone tell you it's impossible, just get a gel fuel fire pit. Of course, something has to give, so you might want to know that this particular type of fire pit can never produce as much heat as other types. Generally, though, they are still pretty versatile and quite straightforward to use.
But then again, the fact that they do not give off so much heat is also a plus, sort of, as it means that you can place your pit anywhere at all in your backyard.
If you want to hide the gel fuel so it looks like a real fire, then you can get gel fuel logs. Or on second thought, you could even get a tabletop fireplace so you can easily move it indoors or outdoors however you please.
Here are the owners to the gel fuel fire pit though: finding gel fuel is not easy at all; and because they do not give off so much heat, you might still need to layer up even while sitting in front of a fire which sort of thwarts the purpose.
Natural Gas Fire Pits: These are very similar to the propane fire pits but there are some major differences. For one, a natural gas fire pit is immovable. Also, there's less worry about running out of fuel with a natural gas fire pit. Lastly and most importantly, they are the most inexpensive to operate and maintain.
But of course, even the natural gas fire pit isn't without its demerits: they are pretty pricey to install, and they are immovable. So even if you want to redecorate your house or patio, everything would have to revolve around your permanent fire pit.
Cost
Fire pits come in a range of prices and it all comes down to your tastes. There are inexpensive, to moderately priced, to outright bourgeois fire pits. Most metal fire pits will be inexpensive, but if you're looking for a custom-built fire pit made with, say, natural stone, then get ready to make it rain with them dollars.
Before using your wood burning fire pit anywhere in your backyard or patio, make sure you have confirmed with your city, county, or homeowners association to be sure about the restrictions to burning wood. Aside from the safety restrictions, there might also be laws against starting fires as a minor.
Solo Stove Bonfire
Specifications
Manufacturer: Solo Stove
Fuel: Firewood
Material: Premium grade 304 and 430 stainless steel
Color: Stainless steel
Weight: 20 pounds
Dimension: 19.5 x 19.5 x 14 inches
Other features: Double wall construction, bottom vents for oxygen, comes with heavy duty carrying case
Review
Solo Stove is not a new name in the industry and it has more than staked its claim in the hearts of customers countrywide with its wide range of efficient combustion systems that have delivered nothing but warmth to every occasion and every location where they are found. At the core of the business over at Solo Stove, is to bring people together, hence its products are made to be affordable, as well as of impeccable quality.
The Solo Stove Bonfire experience is one you wouldn't want to miss at all. It has all the makings and promise of an excellent outdoor fire pit, and you'd be sorry to miss it. Let's check it out, shall we?
First things first, this dude is efficient and that's definitely a quality you want in your backyard fire pit. According to the makers, this fire pit was designed to give an experience that cannot be duplicated elsewhere and they seem to have proven this claim by making a fire pit that's amazingly efficient both in combustion and in airflow.
So, how did this outdoor fire pit become so efficient? Well, it has a double wall design. Still, don't catch the gist? This genius design allows the fire pit to maximize airflow as well as the combustion process.
Plus, it's got vent holes at the bottom which serve to feed the fire with oxygen from below. And while this is going on, simultaneously, warm oxygen is channeled up through the walls of the pit and then this oxygen lands right back into the fire. Efficient or nah? Of course, it's efficient.
Now, thanks to this process, we can be sure of a complete burn every single time which is something you want for two major reasons. If there is a complete burn, you won't have to deal with the mess of half-burnt logs, and also, you won't have to deal with smoke!
We all know you won't miss the smoke at all. For one, at least you won't have to keep dodging and your clothes won't smell. Game changer if you ask us.
And because we know you love your convenience, we included the Solo Stove Bonfire for another reason: it does not require setup! Yeah, feel free to heave that sigh of relief. You don't need to assemble anything because it's a singular construction.
Plus, to protect your baby, this stove comes with its own heavy duty carrying case.
What are you waiting for, get those marshmallows popping with this great backyard fire pit!
Advantages
It comes with a double wall construction excellent for making airflow and combustion super-efficient
It burns completely so you don't have to deal with smoke and half-burnt logs
It's portable and completely easy to use. No setup required
It comes with its heavy-duty carrying case for transport
Disadvantages
Be careful with moisture around this stove, though, because there appear to be complaints about rusting from a few customers
Landmann Big Sky Fire Pit
Specifications
Manufacturer: Landmann USA
Fuel: Coal
Material: Steel construction
Color: Black
Weight: 32 pounds
Dimension: 29.2 x 29.2 x 17 inches
Other features: Comes with spark screen, cook grater, and poker. Black finish with wildlife cutout design. Comes with full circle handle and safety ring
Review
Landmann is a subsidiary of Gebruder Thiele Group which is a world-renowned three generation family-owned business. As a division of the parent group, Landmann deals in the manufacture of some of the most exquisite high-end grills (gas and charcoal), smokers, fireplace grates, log storage, and fire pits such as the Landmann Big Sky Fire Pit. Using cutting-edge technology, this brand continues to design and produce innovative and exciting products that have won the hearts of users around the world. With a culture of building to last, all products in its various product lines are remarkably sturdy and durable, offering their owners years and years of use. It's hard to get it wrong with Landmann and the testimonies of satisfied customers world over prove that.
Planning to host a summer party soon? Then don't forget to add the Landmann Big Sky Fire Pit to your cart. It is absolutely amazing and will easily serve all your needs as regards a patio fire pit. How do we know? See for yourself.
Before we even get into the functions, this thing is to die for. It's got a black finish and some amazing designs of wildlife all around the body. When you finally get the fire going, it gives this beautiful and surreal glow that just adds to the beautiful nighttime ambiance. Your patio is going to become your favorite part of the house with this guy, just watch and see.
And that's not all about the finish, aside from the beauty, the color "black" was chosen for practical reasons: to make cleaning a whole lot easier. C'mon it's a fire pit, imagine having to scrub and clean every time you use it, that's just hard labor.
For your safety, this fire pit comes with a full circle handle, so you can easily carry it when you have to. It also comes with a safety ring (you can never be too careful).
Being a metal fire pit, we can understand your concern about rust and that concern has been duly taken care of. In the first place, there's the black finish. And also, this fire pit is actually made of a steel construction which is pretty sturdy and anti-rust.
Guess what? The manufacturers even took the liberty to throw in a cooking grate and poker as well. Plus, it even comes with its own spark screen, so no more sparks jumping around and constituting a nuisance. Amazing!
Love this pit like we do? Then order!
Advantages
It's made of a sturdy steel construction which prevents rust and ensures durability
It comes with an elegant black finish that not only looks great but equally makes cleaning less burdensome
Beautiful wildlife cutout designs around the body of the fire pit make for an intriguing fire view
It also comes with a cooking grate and poker
Disadvantages
It would be a good idea to get a black spray paint on hand because as much as it is a steel construction, it will rust eventually
Double Flame Patio Fire Pit
Specifications
Manufacturer: Breeo Industries
Fuel: Wood
Material: Stainless steel
Color: Stainless steel
Weight: 42 pounds
Dimension: 22 x 22 x 16 inches
Other features: Heavy-duty stainless steel construction. Double-walled. Corrosion-free. Conveniently weighted and portable
Review
Throughout its nearly 7 years of existence, all Breeo Industries has cared about is manufacturing smoke-reducing fire pits. From outdoor propane fire pits to copper fire pits, to your regular wood outdoor fire pit, this brand is fully stocked with everything you seek in a fascinating and healthy fire pit. In a quest to further deliver on its brand promise, this company unveiled its latest fire pit product line called the Double Flame. All Double Flame fire pits are handcrafted from heavy-duty stainless steel which assures the buyer of durability. Perfect as a backyard fire pit or as a patio fire pit, the Double Flame brings the outdoor experience to life with a spark!
Get your outdoor life popping with this great metal fire pit, the Double Flame Patio Fire Pit. It comes with all the warmth, light and sparks that are needed for that romantic getaway for two, or that small get-together for besties, or even that large summer party we've planned all year long!
It's made of stainless steel for that beautiful finish and of course to delay rust by several weeks. Also, it's double-walled and this helps with efficient combustion. How? They heat up and then push the hot air that comes from the bottom to the holes along the rim. When this happens, the hot air is burned at the top layer which ultimately reduces smoke.
If everything we've explained up there sounds like gibberish, you must have, at least, picked up some things, which are the glad tidings that there will be little to no smoke. Good for all concerned… and their clothes.
Because it's so conveniently weighted, just 42 pounds, this baby can be taken with you anywhere you want to create an outdoor, camping experience. Whether it's the beach, or the woods or even camping, this guy will do just fine.
Like we mentioned earlier, this patio fire pit is a rust-free zone. The stainless steel with which it is constructed is heavy duty and the manufacturers even assure you of a 10-15 year period of uninterrupted use! Pretty much like copper propane fire pits!
For a little extra, you can even get the Swing-Away Grill, in addition, to help you grill delicious meat on an open fire but without any of the coughs and chokes.
Altogether, we are impressed with the Double Flame Patio Fire Pit and we think it should be sitting pretty in your home making you and yours happy for as long as you want it.
Advantages
The Double Flame Patio Fire is made of heavy-duty stainless steel which is durable and prevents rust
Its double wall construction makes for an efficient and complete combustion which consequently gives off little to no smoke
It's portable and can be conveniently lugged along to any location of choice
It also comes with a cooking grate and poker
Disadvantages
This guy definitely doesn't come cheap but then when you consider how long you'll be having this thing, you'll see that it more than pays for itself
Landmann Barrone Fire Pit
Specifications
Manufacturer: Landmann
Fuel: Coal
Material: Steel
Color: Antique bronze
Weight: 22 pounds
Dimension: 26.3 x 26.3 x 25.2 inches
Other features: Steel construction. Attractive contemporary design with crosshatch patterns. Comes with poker, cover, spark screen, and built-in wood grate
Review
Gebruder Thiele Group, the parent company of Landmann is a household name in the industry of fire pits and related products. Established several decades ago, this three-generation family-owned business has served the world with some of the most fascinating, as well as quality and efficient products in its fields such as fireplace grates, high-end charcoal and gas grills, log storage, smokers, and fire pits, of course. Landmann, its subsidiary under which the aforementioned products were launched, is committed to using only cutting-edge technology to ensure that products released meet and surpass industry standards and customer expectations. Built to last, all products from Landmann earn a gold star in durability. And with an efficient customer service system, the reason Landmann is so popular among customers is a no-brainer.
We can assure you that for you and the Landmann Barrone Fire Pit, it's going to be love at first sight, no doubt. There's everything to love about this unique backyard fire pit that would leave you clamoring for one.
First off, it is beautiful. Who says fire pits have to be boring? No one! You're a unique person, so you deserve a unique stove. If you're thinking of hosting a party or cookout this summer, then you should have this in your backyard. It will do its job quite alright and it will look fabulous while doing it (it will make your backyard look fabulous too).
Aside from its unique contemporary design, this firebox still comes with a beautiful crosshatch design around the body. This makes your firebox more attractive and, more importantly, adds to the beautiful nighttime ambiance.
For stability and support, the fire pit comes with four strong legs, so nothing tips over and causes a fire accident.
To keep the sparks in their place, the manufacturers have generously thrown in a spark screen. Now your embers are contained and no one will get hurt.
For convenience and durability, this fire pit also comes with a cover to help protect it from the elements. This way, it gives a longer life and continues to give you and yours a devoted service for years to come.
Lastly, this attractive outdoor fire pit comes with its own poker, as well as a built-in wood grate to save you the stress of getting new ones. And all this you get for a sweet price too.
This is the backyard fire pit you want, why not get it?
Advantages
The Landmann Barrone Fire Pit comes in an attractive contemporary look with a crosshatch design to add to the nighttime ambiance
It's made of steel to ensure durability
Its four strong legs give the firebox stability and support
It comes with its own fire grate, poker, cover, and spark screen
Disadvantages
It would hold up for long
Outland Living Outdoor Fire Pit
Specifications
Manufacturer: Outland Living
Fuel: Propane Gas
Material: Stainless steel with enamel finish
Color: Black
Weight: 34 pounds
Dimension: 24 inches x 24 inches x 13 inches
Other features: Weather-resistant cover, 10-feet hose regulator
Review
It's almost a decade since Outland Living was founded. Since its inception, it has blazed a trail of excellence and creativity in its industry. Its initial line of products included reusable roasting sticks, deterrents, and propane fire pits; which were distributed to small businesses in the U.S. and Canada only. Today, that line has been expanded to include a good number of other products that you'll love. This review will, however, focus on one of its outdoor fire pits that we think you will totally love.
This outside fire pit, as with every other item produced by Outland Living, is designed to promote outdoor living with safety, fun, and sustainability in mind.
It is a 24-inch-diameter fire bowl that has the potential to provide you with 58,000 BTU of smokeless and clean fire – something you probably won't get from campfires. You can also kiss the days you had smoke in your hair and clothes goodbye because there will be no burning embers flying around to let the whole world know you've been with smoke.
What's more? Its durable construction includes high-quality steel, a high-temperature protective powder coating and an enamel finish that assures you of durability and long-lasting use. You also get to enjoy the benefit of having a weatherproof cover that will protect the bowl from damage caused by the elements. The fasteners are not left out. They are made of stainless steel and will keep looking great over the years.
Its chrome control knob also has a rubber grip that makes handling it comfortable and easy.
Now, this steel fire pit doesn't come with fuel – propane – or a fuel tank. So, you'll need to get the fuel separately. But, it comes with a 10-feet hose to connect the fuel tank to the fire bowl. And to regulate the rate at which the fuel is being used, this hose comes with a regulator you can trust.
Here's something else you'll love about this small fire pit: It is CSA-certified! This means your safety, as well as the design and the manufacturing of this post, has been approved by an independent testing expert. So no worries at all!
We think you shouldn't deny yourself and your loved ones a good outdoor fire. So, you go get this fire pit ASAP.
Advantages
It produces a smokeless and clean flame
It is CSA-certified and is suitable in areas where campfires are banned
Features steel construction and high-temperature protective coating for long-lasting use
Comes with a weatherproof cover to protect it from the elements and a pre-attached 10-feet hose that has a regulator
Its 24-inch diameter provides a wide surface area for your outdoor fire needs
Disadvantages
Letting the rocks too close to the gas ring may prevent the fire from burning well enough
CobraCo Moose Campfire Ring
Specifications
Manufacturer: CobraCo
Fuel: Hardwoods like oak
Material: Steel
Color: Matte Black
Weight: 13.5 pounds
Dimension: 36 inches by 36 inches by 9 inches
Other features: Available in 3 different styles
Review
For the garden, lawn, and outdoor accessories that you'll truly really love, choose CobraCo. It produces lovely accessories that will beautify your outdoor space so that it is as picturesque as you want it to be. Its extensive line of products includes hanging baskets, outdoor fire pots, garden carts, flower pot holders, hose holders and flower boxes – all made with quality materials that promise durability and long-lasting use. So, if you are starting out with outdoor décor or anything of the sort, then you should consider CobraCo's products. You should also check the products out if you've had many years of experience but you want something that will bring your outdoor dreams to life.
The CobraCo Moose Campfire Ring is a must-have for you if you love outdoor adventures with your family and friends. It comes in a 4-piece pack and is super easy to assemble. In the event that you want to transport or store it up in a safe place, dismantling it is also equally easy.
You can enjoy this Christmas-themed fire ring with your loved ones on cold nights where you can share stories, memories and moments together. It will work well at campsites, beaches, and backyards. Trust us when we say that it will create the right ambiance for your outdoor space and also add a little extra to your existing furniture.
Worried about how long it will serve you before the need to replace it? Worry less. It is made of a durable steel material and a classic black finish. In fewer words, it is built to last.
The artistic design on the ring displays moose between pine trees around its circumference. And won't you just love the dramatic backdrop of the burning fire inside the ring? Dream fire night come true, don't you think?
Also, the large diameter of this steel fire pit means one thing: big fire! This doesn't mean it can't contain small fires too because it actually can. We just couldn't help mentioning how large a fire you can possibly get by owning this ring.
One more thing! You can actually roast or toast foods over this ring. That's more fun than you can get from a fire ring. So what are you waiting for? Have an outdoor party already, buddy!
However, to avoid really touching stories, we suggest you don't use this ring indoors, on wooden decks, or on any flammable surface like dried leaves or grass. Better safe than sorry.
Advantages
It is easy to assemble and take apart for storage purposes
Features an artistic design that puts an extra to existing outdoor décor
Has a wide diameter and can produce considerably big fire
Made from durable material for long-lasting use
Also available in 3 different styles: moose, horse, and evening sky
Disadvantages
It is not weatherproof and rusts when exposed to moisture
Sunnydaze Décor 42-inch Outdoor Fire Pit with Spark Screen
Specifications
Manufacturer: Sunnydaze Décor
Fuel: Hardwood or charcoal
Material: Steel
Color: Rust Patina
Weight: 35.1 pounds
Dimension: 42 inches x 42 inches x 23 inches
Other features: Comes with spark screen and a log poker
Review
Sunnydaze Decor manufactures and distributes high-quality home products and garden essentials. Known and well-represented in many countries around the world, it continues to produce some of the most innovative and creative products that many home and garden owners have come to appreciate over the years. Sunnydaze Decor's goal is to equip you with products that bring peace and love to your home. You can trust its high-end products to do their tasks and give you the satisfaction that every customer wants – not forgetting that colors and styles are well-picked to match the theme and style of your space.
Its 42-inch Outdoor Round Fire Pit lives up to its legacy and doesn't come alone. It features a large pit bowl, a heavy-duty spark screen, a firewood grate built in, and a log poker.
You can make small to big fires in this pot while you take advantage of the spark screen to avoid flying embers. This will come in handy if you live in an area with bans against ember-producing fires. And when you need to roast or toast some food for a small company, you just take off the spark screen with the log poker so that you can cook over the fire. You can also use the log poker to arrange or scatter logs in the pot when you need to.
Trust the stylish and contemporary moon and star cutouts and the rustic finish of this pit to add a traditional decorative look to the scenery.
No worries about how long this outside fire pit will serve you. It is essentially built to last.
You also don't need to bend or squat so low to create a fire in it. It comes with 3 evenly-spaced legs that provide clearance between the bottom of the pot and the ground.
When it comes to cleaning and maintenance, the rail around the edges of the pit makes it easy to get the job done.
You should go for this right away!
Advantages
Rustic patina finish is heat-resistant and adds the traditional look to your outdoor space
Moon and star cutouts provide you an adequate view of the fire and ample ventilation for the fire
Features 3 legs to ensure that the fire pit is off the ground
Spark screen prevents flying embers and can be removed if you want to cook over the fire
Steel construction assures durability and long-lasting use
Disadvantages
May require a spray of Rustoleum to prevent rusting under moisture conditions
CobraCo Copper Fire Pit with Screen and Cover
Specifications
Manufacturer: CobraCo
Fuel: Wood
Material: 100% Copper
Color: Rustic copper color
Weight: 29.5 pounds
Dimension: 30 inches x 30 inches x 21 inches
Other features: Has a deep tub, comes with spark screen and protective cover
Review
CobraCo makes some of the best garden, lawn, and outdoor accessories. It has an extensive line of products that all promise durability, thanks to the top quality materials used in their manufacture. These products cover a wide range of categories including flower boxes, hose holders, flower pot holders, outdoor fire pots, etc. If you are starting out with outdoor décor or anything of the sort, you may want to check this brand's products out. They give you creative ways to spice up your home.
One item from CobraCo's line of products that we think you should check out is its 100% Copper Fire Pit with Hand-Hammered Finish. This fire pit, unlike the conventional cast iron fire pit, will add a warm touch of elegance to your patio or garden with its hand-hammered 100% copper material.
Naturally, the pit will change color with frequent use because it is made with pure copper without any finish. Therefore, there's nothing to worry because the new color will only add more beauty to your space without affecting the durability of the pit.
It is quite deep and we can vouch for its ability to produce large and even long-lasting fires because of this.
It is very portable and will fit perfectly wherever you want to place it. It will come in handy if you are planning an outdoor party with your friends or your classmates want to plan a camping trip. It is perfect for both small and big circles so you are free to decide how large you want your party to be.
The spark screen is designed to help you contain flying embers and does the job well. And when you need to clean the pot, you only need to tilt it to pour out the ashes into a trash container.
It also features a vinyl cover to protect the pot from rain and other elements that may damage it over time.
You don't need to have gone to a technical school to set this lovely outdoor piece up. It assembles easily and in minutes!
Advantages
It has a really deep tub for long-lasting and large fires
Sturdy metal stand keeps the bottom of the pit off the ground
Heavy-duty spark screen holds securely to prevent flying embers
Comes with a vinyl cover to prevent rain from entering the fire
Sturdy construction promises long-lasting use
Disadvantages
The vinyl cover may show poke holes and lose its relevance over time
Sunnydaze Fire Pit Ring
Specifications
Manufacturer: Sunnydaze Decor
Material: Heavy duty steel
Color: Black
Weight: 29lbs
Dimension: 42 x 42 x 10 inches
Other Features: Comes in four pieces to be assembled into a large fire pit; packaged with the assembly hardware
Review
Sunnydaze Décor, the flagship brand of Serenity Health & Home Décor, manufactures the best of home and garden products, and so boasts of the largest array of water fountains, fire pits, and hammocks in the United States. These products (which are manufactured by innovative engineers) with the creation of a calm, relaxing and peaceful life in mind, have a minimum one year warranty, and have earned a household name when it comes to beautifully designed and long lasting home-décor options, and the Sunnydaze Fire Pit Liner and do-it-yourself fire pit is not void of these positive qualities.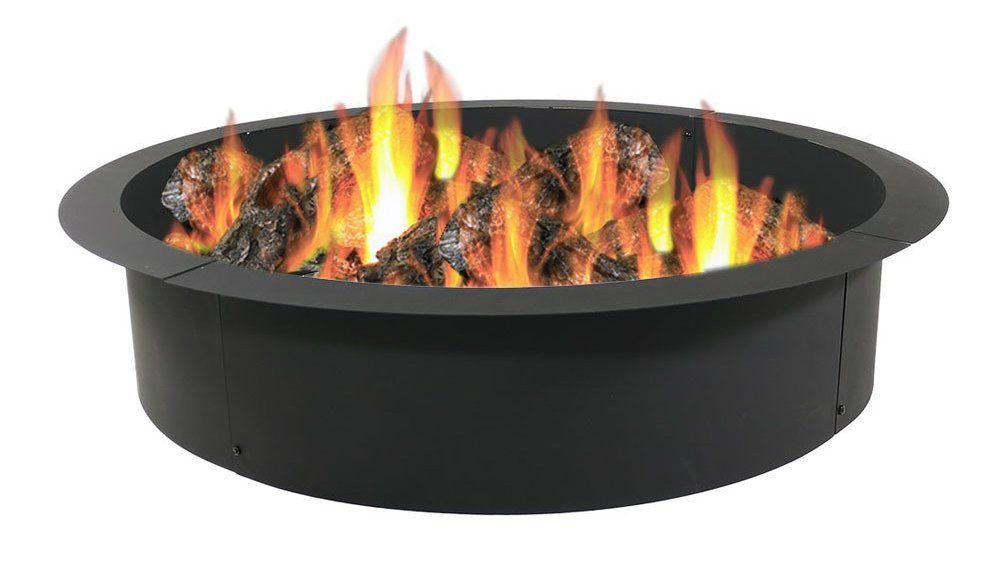 The Sunnydaze Fire Pit Ring/Liner, DIY Fire Pit is what comes to mind when you think of the coziness a burning hearth gives. On those days when you hunger for an outdoor fire, cackling woods, roasting marshmallows, warm, dimly lit gathering, but you awake rudely to the fact that you are far away from the woods, and you just can't light a fire anywhere, Sunnydaze Fire Pit is the best fire pit option. Its dimension will contain plenty of firewood so it burns longer, keeping you warm, and satisfying your desire for longer.
It comes in a DIY package, in four pieces and the assembly hardware, and so can be set up in minutes into a large fire pit which gives you the warmth you long for. It is also the go-to fire pit when you need something with a bit of the indoor and a bit of the outdoors; it can be used as a deck fire pit.
The Sunnydaze Fire Pit Ring/Liner can be set up in your unique preference; dug into the earth, set up surrounded by bricks, or simply used just sitting atop the earth. There's no hard-fast rule to its usage; you just use it safely and let it warm up your heart.
Advantages
Comes with a DIY project, and so you get to put in your special touch to get your peculiar taste. Though DIY, it easy to set up too, coming in only four pieces, saving you time
You also get the assembly hardware with the package, so you can get straight to work on the project once you get your purchase
Has a wide diameter which only has to be filled with your chosen, safe, fuel option and you can light up your mood with a great fire
Built of thick steel, 1.5-millimeter thickness lip with a 2.0-millimeter thick ring, and thereby ensures durability
Painted with high-temperature paint which protects the steel by resisting heat. This also works for durability, protecting your fire pit from corrosion
Disadvantages
Though the product comes sturdy, the packaging appears to be weak. The content, being made of heavy duty steel, sometimes cuts through the packaging, earning some dents during delivery
The protective paint, though good for heat resistance, may not be protective enough against other elements, and may need extra painting
Though it gives different options for set up, the ring doesn't come with a bottom
Fire Sense 29-Inch Folding Fire Pit
Specifications
Manufacturer: Fire Sense
Fuel: Not Specified
Material: Heat-resistant steel
Color: Black
Weight: 10lbs
Dimension: 29 x 29 x 17 in
Other Features: has a carrying bag which fits it perfectly; made of lightweight, painted, heat-resistant steel
Review
Fire Sense, which has earned its place as a leading brand name when it comes to outdoor heating and electric fireplaces, was established in 1998 as a brand of the Well Traveled Living Product family. Being one of the brands of the family, its contribution to the family came by focusing on producing an innovative range of gas and electric patio heaters, patio fireplaces, electric fireplaces and fire pits (Note that all of these products come with a minimum one-year guarantee). One of its uniquely created patio fire pits is the Fire Sense 29-inch Folding Fire Pit.
The Fire Sense 29-inch Folding Fire Pit is a great fire pit specially created for ease, comfort, and style on your outdoor trips. When you long for RVing, camping or simply roasting some marshmallows and telling stories around an outdoor fire (but don't want hassles and unnecessary weight ruining your plans), you should have this deck fire pit on your side, as part of your plans.
Adding quality and style to your outdoor trip, this fire pit comes easily to assemble, without the need for tools so much that a ten-year-old can set it up. Furthermore, it's portable and this portability is made complete with a carrying bag which contains it perfectly and so it is always good to go.
Although it can't claim to be at the top when considered for a large fire pit, its multipurpose uses (which include cooking and grilling) give it a strong edge over other fire pits.
The Fire Sense 29-inch Folding Fire Pit's safety measures, implemented in its design in form of the screen lift tools and fire screen, is an additional reason why it is a must have as it gives you one less thing to worry about when making fires outdoor. It is also painted with heat resistant paint and should serve for a good while.
With this fire pit, all you have to think about is having a good time outdoors.
Advantages
Comes with a great design, which folds up neatly, and so doesn't take up much space when packed up
It is lightweight, and this makes it perfect for RVing needs and camping, as it can be easily transported
No tool is needed for its assembly which makes it great for on-the-go trips
This fire pit can also serve as a cooking grill
The purchase comes complete with tools and grates for safety and multipurpose uses along with a bag which contains all tools
Disadvantages
Though having a beautiful design with easily foldable legs, they could be flimsy and not hold much weight
The fire pit may not hold much wood except split into small pieces
The heat-resistant paint may not be resistant to other weather elements
Conclusion
Now you know the key to throwing the most amazing outdoor bash, getting your own outdoor fire pit! We're pretty sure our guide has helped you narrow your options to fire pits that actually work to serve your needs as well as those of your patio or backyard. Run along now and order yours.