The popularity of fire pits has skyrocketed over the last several years, and for a good reason. They are a relatively cheap investment for the kind of upgrade they offer to your backyard, both from an aesthetical perspective and from the perspective of bringing heaps of enjoyment and good atmosphere into your backyard get-togethers.
However, while fire pits can be a minor investment seeing how they can improve the overall look and feel of your house, they aren't as cheap as to not be cared for. One of the best things you can do to prolong the life of your fire pit is to make another, even smaller investment and buy a fire pit lid. Firepit covers and lids come in all colors, shapes, sizes, and materials, but we consider the ones made of metal to be the best one to buy. They are the single best way to make sure that your fire pit won't sustain significant (or any) wear and tear during the winter months when it most likely won't be in use, or that the leftover ashes from the put-down fire won't spread all over your backyard.
Here, we'll give you our honest opinion on the best outdoor fire pit metal covers you can find on the market at the moment, detailed reviews on their qualities and drawbacks, interesting information about metal fire pit lids you should know before deciding on your purchase, as well as a comprehensive buying guide that'll lead you through the most important aspects of fire pit lids and teach you what to look for in order to find the best one to perfectly suit your needs.
Read on and get into the nitty-gritty of these seemingly simple additions to your fire pit and explore all the options they have to offer!
1. Firebuggz SNUFFER Fire Pit Cover
When we say that the Firebuggz fire pit covers that feature round metal are heavy-duty, we do mean that literally. This sturdy and impressive lid weighs a staggering 25 pounds and is made of durable stainless steel that will keep your fire pit area squeaky clean – close to no water, leaves, dirt or debris.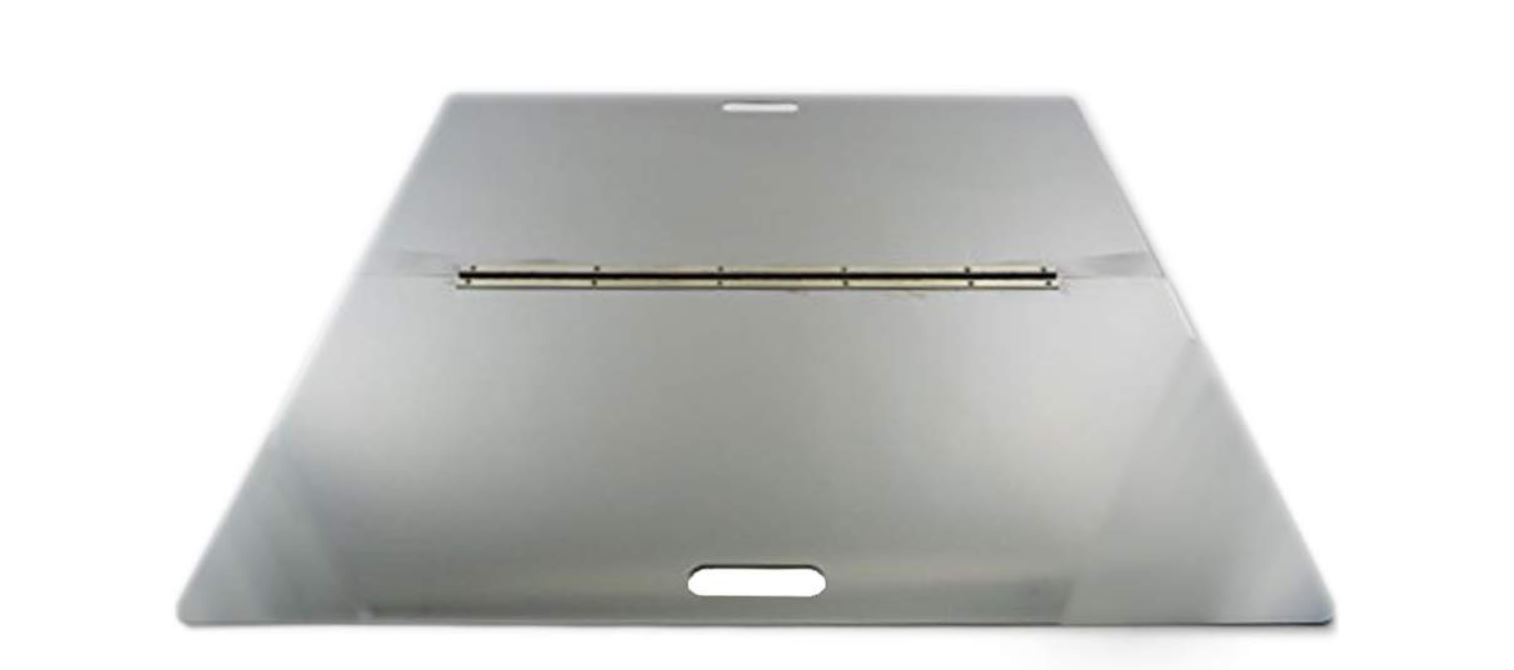 One unique trait about this fire pit stainless steel cover is that it's completely flat and has a hinge in the middle that allows it to be stored easily by folding it in half, which means that in the months you don't use it, it won't take up too much space in your garage. The built-in handles are designed to ensure easy transport of this hefty metal lid. As far as the dimensions go, the outer diameter of the pit measure 32", with the handle cut-outs positioned 1" from the outer edge. Speaking of the edge, make sure to get a rubber trim because the edges of this lid are pretty sharp and could result in a cut.
This is actually a pretty effective fire pit snuffer cover and you can actually snuff out a fire simply by putting this lid on top, due to the pit allowing only a minimal amount of oxygen in the pit. Another great thing about it is that you can get a large outdoor table just by putting this lid on. This is really one of the best things about the flat fire pit cover – it can turn your fire pit into a sleek-looking, multifunctional surface that's ideal for big outdoor parties and children's birthdays. Also, if you're in need of custom metal fire pit covers, the Firebuggz company makes them, so feel free to dig deeper and find out everything about their offer.
Buy on Amazon
Pros:
Sleek, flat design
Heavy-duty
High-quality stainless steel
Turns the pit into a table
Cons:
2. Higley Fire Pit Covers & Screens Fire Pit Lid
Our second choice is the impressive, 39-inch Higley fire pit lid is a round, conical dome-shaped cover that fits a lot of different-sized fire pits and will make water and snow trickle off of it without an issue. The modern-looking steel fire pit cover dons a universally flattering bronze color that fits into almost every scene, and the minimal look is enhanced by a stylish metal logo panel of the company that is positioned on one side of the lid.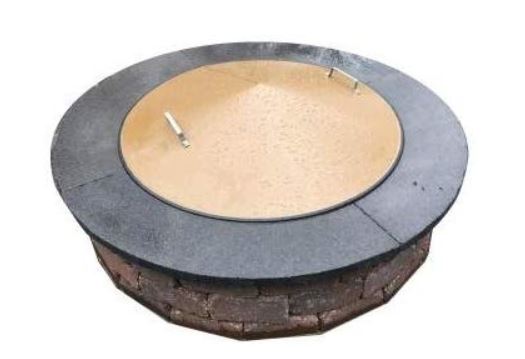 While the company itself takes an honest and no-nonsense approach with its customers, openly stating that this beautiful lid allows only minimal leakage, due to the fact that nothing can prevent 100% of water and fluids from getting to your fire pit, the customers have all been pleasantly surprised by the craftsmanship and care that went into making this fire pit lid cover.
The Higley fire pit cover lays surprisingly flat on the surface and protects your fire pit from the harsh elements, be it rain, snow, or even the sun, which can dry out and damage certain materials. The cover has two metal handles on both sides of the fire pit cover, which allow for easy handling, regardless of the weight.
Additionally, the weight of the lid prevents it from flying off the fire pit, no matter how hard the wind might be. The only real downside to this attractive metal fire pit cover for round fire ring is that its price is really steep. On one hand, it does reflect the detailed care it's made with, as well as the high-quality materials and design, but on the other hand, this sort of price point makes sense only if you fall head over heels in love with this cover's look.
Buy on Amazon
Pros:
Conical, dome-shaped sleek design
High-quality materials
Two handles
Durable
Cons:
3. All Backyard Fun Metal Fire Pit Cover
All Backyard Fun's round fire pit cover made of metal that has won us over with its simplicity and quality. This 22-inch beauty is made out of high-grade aluminum that's powder coated with a beautiful copper vein that has a deep, dark golden brown color that is bound to elevate your backyard's elegance effortlessly. It's specifically made to work with Oriflamme fire tables, but this outdoor fire pit lid will work with practically any round fire it table with an opening less than 22 inches.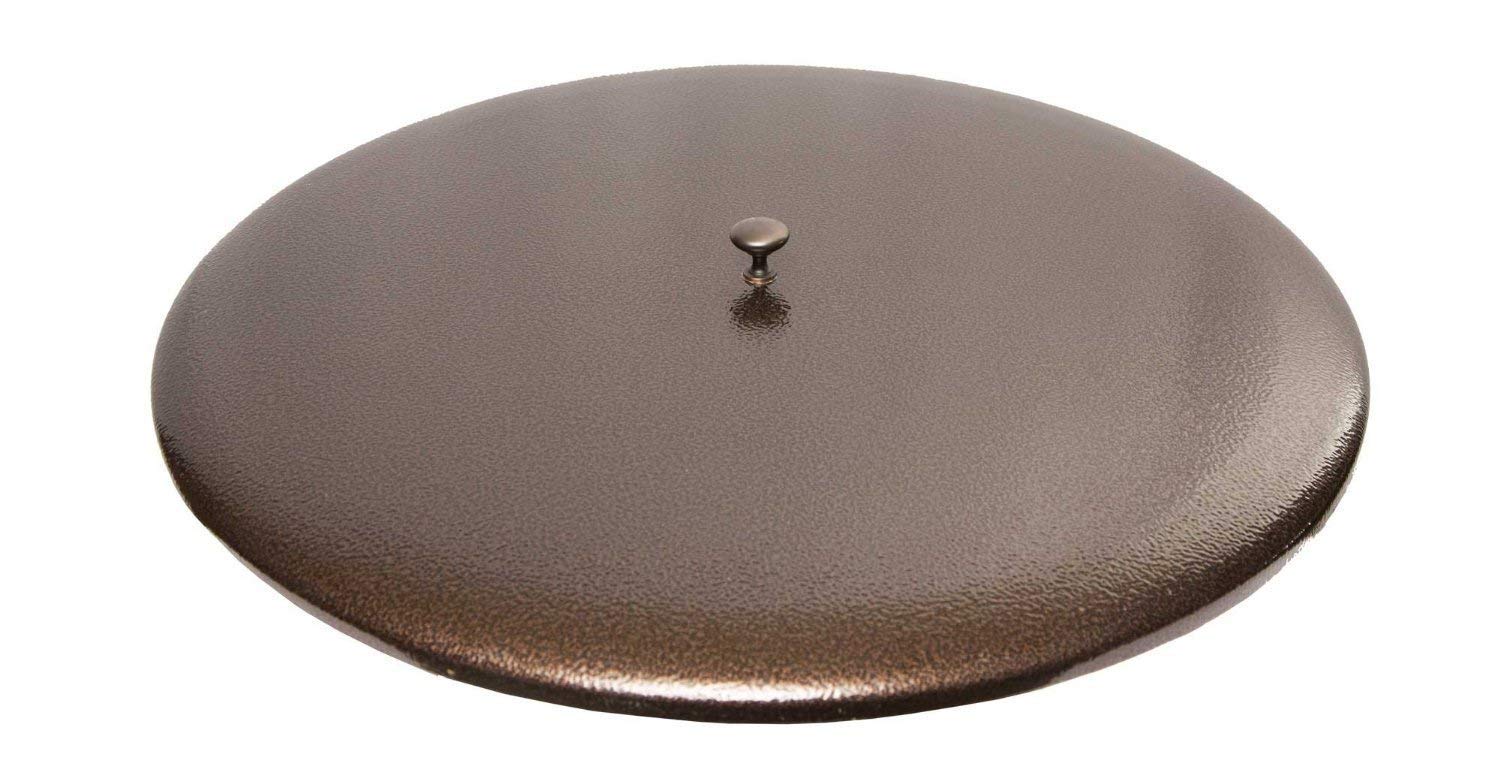 This USA-made fire pit lid features a 1/4″ lip edge and weighs 8 pounds, meaning that it won't be blown away by strong wind. With this seamless solution to wind, rain, and snow, you can stop worrying about your fire pit being unprotected – just seal it off and enjoy the beautiful new accessory in your backyard that's bound to stir up some questions about where you got it.
The heavy-duty construction of this metal fire pit cover will guarantee that it won't move around and let any water inside the pit, meaning that it won't allow for the fire pi to rust or corrode. Furthermore, the choice of copper-aluminum materials means that the cover itself won't be prone to rust – in fact, a lot of customers have agreed on it being of even higher quality than they expected it to be.
The lid has slight irregularities on the surface and isn't sleek-looking, which adds to its rustic charm, but it also creates differences in material thickness throughout the lid. However, these irregularities do not have an effect on the overall effectiveness of the lid and are purely aesthetical. The high-quality materials used in the production of this fire pit cover are priced accordingly so you can expect to pay upwards of one C-note for this beautiful new addition to your backyard.
One thing to note about the All Backyard Fun metal cover is that if you have a fire pit made of materials that are scratched easily, the edges of this fire pit cover could potentially damage it because they lack a protective rubber trim that would make the product completely free of flaws. After all, nobody's perfect, eh?
Buy on Amazon
Pros:
Heavy-duty materials
Rich, deep copper-brown color
Won't rust or corrode
8 pounds
Durable
Adapts well to different styles
Cons:
Bottom edges lack a protective rubber trim
Other metal fire pit covers and lids to consider
4. Outland Firebowl Cover & Carry Kit
Coming from a well-known company that specializes in making gas fire pits comes the simple, yet practical Outland Firebowl gas fire pit lid that measures 19″ in diameter and is made specifically for the popular Outland Firebowl and Firebowl Deluxe fire pits.

Buy on Amazon
As most metal gas fire pit covers, the Outland one is lightweight, due to the fact that it's meant for portable fire pits that are lightweight as well due to their build and purpose. This fire pit cover uses a reinforced user-friendly carry handle on top of the lid that is connected to the bottom of the steel lid by nylon straps with four strings at the end. This makes the lid and the whole fire pit a joy to carry and handle on your various camping trips, picnics, and outings.
The durable and water-resistant design of this practical metal fire pit lid will prolong the lifespan of your trusty fire pit and make that investment even cheaper! However, there are downsides to this seemingly perfect round fire pit cover and one of the main flaws is in the sturdiness and overall quality of the straps that are prone to tearing, so be careful with that and, if you have the time and the patience, do reinforce the stitching in the handle area in order to prevent the strap from tearing.
5. Double Flame Lid for Fire Pit
The American made Double Flame stainless steel fire pit lid is double as fast to put the fire out when you don't feel like hanging around the pit anymore. Made out of 304 stainless steel, this 19″ smoke-reducing cover will shield your fire pit from the elements and because it's completely flat, save for the spacious handle on top, it can double as a tabletop on which to put drinks, appetizers or even smaller plates.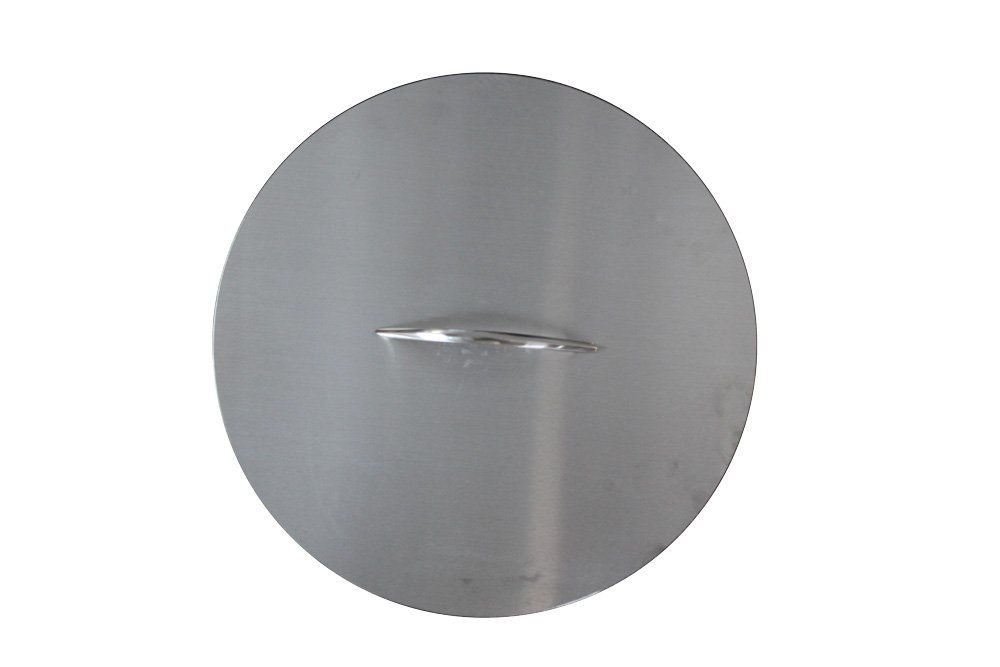 Buy on Amazon
As it often happens with tight-fitting metal outdoor fire pit covers that are round in shape, the lid isn't meant to endure heavy rain or stay underneath the snow during the winter, because it will allow water to seep through the millimeter of space between the fire pit and the lid, and soak the ashes left inside. This, in turn, may cause the fire pit to rust from the inside, which can make the cover redundant. However, this isn't likely to happen if you use an additional water-resistant fabric fire pit cover, or if you're really living in harsh weather conditions, consider investing into fire pit lids made out of heavy-duty metal.
6. Curonian Fire Pit Steel Cover
If for some reason you decided against buying one of our top 3 suggestions, the Curonian fire pit lids with round metal shape are always a solid choice. This fire pit lid measures 31″ in diameter and is made of high-quality carbon steel. This sturdy lid will protect your fire pit from debris, rain, snow, falling leaves and a bunch of other nuisances that bad weather brings with it. However, one obvious downside to this fire pit metal cover is that carbon steel is prone to oxidization and forming of rust, while the stainless steel is not, which might be an important thing to consider if you're living in a rainy area.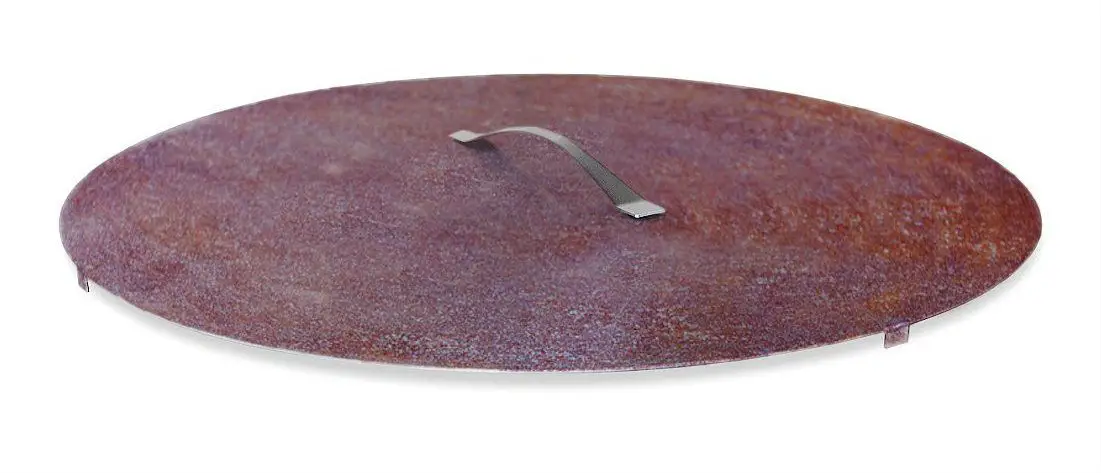 The Curonian fire pit cover weighs 17 pounds, hitting a sweet spot between being sturdy enough to not be moved by the winds, and being light enough so that handling it doesn't constitute an involuntary gym workout. The handle on top of the lid is sturdy and easy to handle, and the lid itself is great if you just want to snuff out the fire before bedtime without thinking about it twice. Customers have noted that this cover goes perfectly with the company's high-quality fire pits: Parnidis Large or Memel Large.
7. TK Classics Cast Fire Pit Burner Cover
The TK Classics has made a cast aluminum fire pit burner cover that offers the most functionality out of everyone that we've reviewed thus far – it doubles as a Lazy Susan! This 21″ innovative cover protects the fire pit from the elements but also gives a little bit of oomph to your backyard; how many people can brag about a Lazy Susan outdoor table, anyway? Yeah, we thought so, too.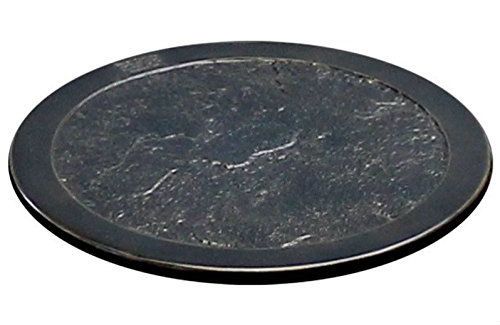 Crafted from the same durable materials as the company's fire pits, the TK Classics aluminum cover is durable, heavy, and features a modern, granite grey color. However, its functionality hasn't turned out that well for some customers; a lot of them had to make changes to the lid in order to enable it to turn around, which is a hassle and a half of day of work that includes drilling and removing metal brackets on the underneath of the cover. But, if you have the skills and the patience to do this, you'll get an almost indestructible fire pit cover that spins effortlessly and makes a great addition to your patio breakfasts, garden parties, and family barbeques.
8. Heininger Black Fire Pit Cover
The Heininger fire pit cover looks very similar to the Outland Firebowl one and features the same carrying strap mechanism. It is convenient, practical, simple-looking, lightweight and advertised as a cover that can last you through the whole four seasons without an issue. It measures 18.75″ in diameter and, similarly to the Outland one, it's specifically designed to fit the Heininger #5995 fire pit.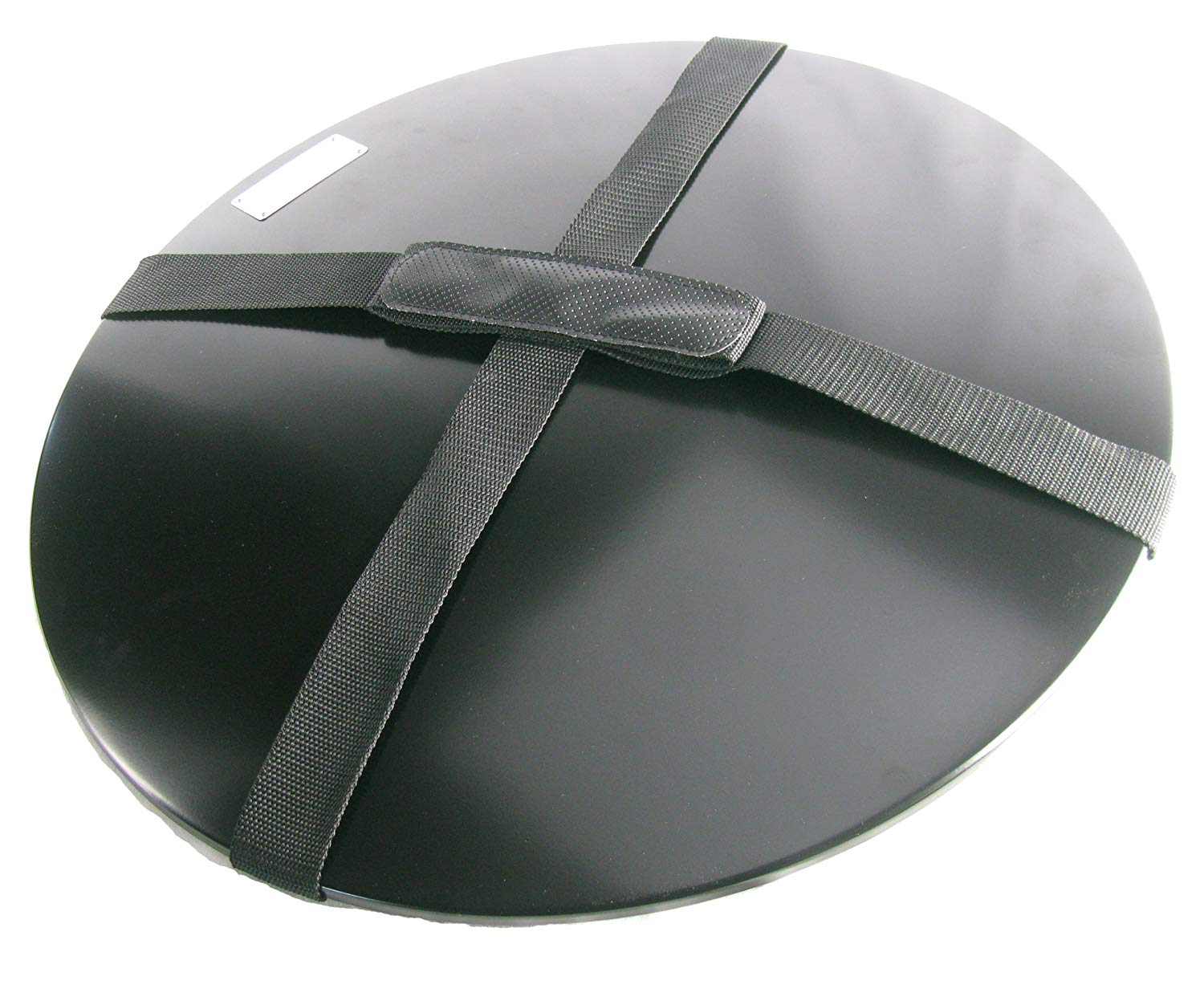 It will keep the elements from the inside of the pit, prolonging its rust-free life. However, the main two downsides of this gas fire pit cover are that it's thin and the cover doesn't cover the gas control knob which, if left unprotected, could rust fairly quickly when covered in snow. Additionally, the handle isn't permanently attached to the cover, so it has a tendency to slip and slide so carrying this lightweight lid around turns out to be a tricky task after all.
About metal fire pit covers and lids
Fire pits are remarkably similar to dogs, in a way. If you decide to get a puppy, chances are you'll need to buy a leash, a bed, food, and water trays, as well as crates, bags and any other seemingly miscellaneous thing that actually has the power to make your life much easier. It's the exact same with the fire pits, except they're not as fluffy.
Because fire pits have the price point that makes you think that it's a good idea to buy one and make your backyard that much more enjoyable, but also makes you think about not wanting to buy one fire pit after each winter, companies have made a plethora of options that offer protection from the elements to your brand new and shiny fire pit.
Some fire pit owners opt for just getting a mesh fire pit cover, but its purpose is often to contain the flames and the ashes from going outside of the pit, and not prevent the elements from going inside. Another protection option for your fire pit is a fabric cover that you can put on like a winter coat to the fire pit and provide substantial protection that way. However, a lot of fabric covers tend to experience wear and tear fairly quickly, so there will probably come a point in time when you'll decide that you, indeed, need to step up your game and get a sturdy and durable metal fire pit cover.
Metal fire pit covers are differently-shaped covers that are made to increase the lifespan of your fire pit. Also, they can be a joy to use just to snuff out the fire and hot embers before calling it a night, without having to wait for the fire to trickle out on itself.
Depending on the shape of your fire pit, you'll want to get either a square metal fire pit cover or a round one. Also, there are some basic elements to the cover itself, such as handles, straps and safety rubbers, which we'll take a quick glance at below.
Handles and straps
Every fire pit cover will have a handle, or two, simply because there aren't many ways to lift and position the lid without the handles. Depending on the lid quality and the price range, the handles vary from the more wobbly ones to the sturdy ones, made out of the exact same material as the lid itself.
The handles can also be made out of straps that go around the lid and attach themselves to the rest of the fire pit, or they can also come in form of metal knobs, which are less noticeable, but also slightly less practical. Either way, it might be a smart idea to always have a heat-protective glove or a cloth by your side in order to prevent burns and inconveniences.
Safety rubber
A lot of metal lids are made out of relatively thin and sturdy metal, which can be a little rough around the edges – quite literally. A lot of people have cut themselves on the sharp metal edges of their fire pit covers, so be sure to inquire with the company about a possible rubber edge trip that can serve as a protective bumper to you, as well as the flat, potentially sensitive surface of the fire pit itself.
Buying Guide
Generally speaking, a lot of companies make fire lid covers tailored according to their range of fire lids, so chances are you won't have a problem finding one for yourself. However, if you do end up needing to choose a good fire pit cover, we've made a small buying guide that will walk you through the most important aspects of fire pit covers.
Size
Aim to get a fire pit lid that is at least half an inch wider than the pit itself. If you pick a tight-fitting lid, it may look way more stylish, but you're risking the water seeping through the small space in between the lid and the fire pit, which can lead to fire pit damage. If you decide upon taking the 'right' fit for your fire pit, consider investing in a fire pit fabric cover with water-resistant properties, just to be on the safe side.
Shape
Depending on the shape of your fire pit, you'll opt for a round, rectangular or a square metal fire pit lid. There isn't much to be said about this aspect of the lid, except that if you're in the market for a square or a rectangular one, keep in mind that the edges and the corners aren't razor-sharp, especially if you have kids running around in the backyard.
Also, there are flat and round/conical fire pit lids. The flat ones are multifunctional by definition and are more efficient at putting out fire due to the immediate lack of oxygen they cause when put on top of the pit. On the other hand, conical lids are more likely to cause rain and water to fall to the floor, rather than staying on top of the lid, causing it to corrode. There isn't one that's clearly better than the other, it's just a matter of personal preference.
Material
The main materials used for fire pit cover production are aluminum, carbon steel, and stainless steel. We are inclined to say that aluminum is the best option because it can be rust-proof and lightweight at the same time, something that a steel one will have a harder time at achieving.
The main difference between the carbon and stainless steel is their ability to resist corrosion. Both of these steels contain iron that oxidizes when exposed to the elements, creating rust in the process. The thing with the stainless steel is that they have added chromium which makes them more rust-resistant than the carbon steel, which is why we prefer the stainless steel in this type of product.
Functionality and Storage
There aren't a million things you can do with a fire pit lid, except turn the fire pit into a table by putting the lid on top of it and, in the case of the TK Classics' aluminum lid, turn the fire pit into a Lazy Susan, which is cool. If you don't have a separate table in your backyard, our advice would be to opt for a flat-shaped fire pit cover.
Speaking of flat lids, it's very useful if they come with a piano hinge that allows them to be flipped and stored in half, just for the sake of saving the always-lacking garage space.
Weight
Both lightweight a heavyweight fire pit lids have their benefits and purpose. The lightweight ones are usually found on a portable fire pit which requires a light lid for the sake of practicality and ease of handling.
On the other hand, if you have a stationary fire pit and you don't want to think about the wind moving the lid, then opt for the sturdy, heavier lids.
Price
Depending on the material, thickness, weight and rust-resistant properties, the prices for fire pit metal covers range from a reasonable $30 to the over-the-top $300 price point. Naturally, if you have a $50 fire pit, you'll get the cheapest lid you can find, but if you've actually invested upwards of $1000 for the perfect fire pit, then splashing an extra couple of hundreds of dollars doesn't seem like that crazy of an idea.
Other information
We've talked about the fire pit metal covers being used for protecting fire pits. But there are some situations in which having a metal fire pit cover is more important than having the fire pit itself. For instance, if you go camping, you can easily build a fire pit in the ground and even make a barbeque if you're nifty enough. However, keeping an open fire in nature is never a safe thing to do, that's why having a flat fire pit metal lid can prove to be supremely useful in nature.
Metal heats up pretty quickly, especially when it's in a direct contact with the fire. That's why it's a good idea to get a pair of heat-resistant gloves when handling a fire pit metal cover.
If you're looking for a good fire pit lid that's square-shaped, take a look at the modern and sleek Lakeview 21″ stainless steel lid.
Living with metal fire pit covers and lids
If your fire pit metal cover does end up corroding, it doesn't have to mean that you should buy another one immediately. For each of the materials we've mentioned above, there's a way to get rid of rust – take the time to google some info about your specific lid and other people's opinions, as well as watch a few YouTube tutorials on how to tackle rust on metal objects. After all, the price of the metal fire pit cover isn't something to be taken lightly most of the time, so be prepared to put in some extra work into it after the 2-year mark.
Conclusion
A lot of factors go into choosing the perfect fire pit lid to suit your outdoor space needs, habits and wishes. In this article, we've made a top 8 list of high-quality metal fire pit lids, as well as a detailed, comprehensive buying guide and additional info designed to help you make the right choice.