What Are Small Clip-on USB Desk Fans?
Most of us are familiar with USB desk fans. If you are always on the move or if the weather is unbearably hot, you would know what they are. For those who are new to them, they are personal fans that you can power using a USB cord on your laptop, power bank or a desktop computer. More times than not, you can charge it and use it without connecting to any power source.
But clip-on USB desk fans go a further step in that they serve dual purposes: you can use them as a desk fan or you can clip them on the wall, any place you find yourself. This means that you are not restricted to how you use them; you can either hang or stand them. It is your choice.
How Does It Work?
A clip-on fanworks about the same way as any other fan but you can clip to any vertical surface or have it stand on a table. Like others, it usually has speeds with which you can adjust the flow of the air at any point to suit your particular needs. Most small clip-on fans do not blow air like regular fans; do not expect it to. It is meant to sit close to you so if it blows air past a certain point, it could become a health hazard. More times than not, it is meant to supplement the already available source of air supply, be it natural or artificial, and not be the sole source of air flow.
The head of a clip on the fan can be adjusted to face whichever direction you need. You find that it can rotate 360 degrees for the best output. So if you clip it onto a wall in your office or to your headboard while you sleep, you can rotate it to face down or turn it away from you. You are not restricted in the direction it faces and that is a great feature.
Whether you are constantly on the move in an RV or with your car, this fan will give you great support. Going to the library, office or even a sporting event? You can take it along with you and clip it on to a solid surface. You can function in fun, no sweat.
Why Should You Buy a Small Clip-on USB Desk Fan?
If you are here, it means that you have realized your need for a personal fan and you are looking to pick out the best one for your unique needs. But why should you pick a small clip-on fan over a regular desk fan? A regular desk fan might give you the same output as a clip on fan but then it has to sit close to you on your desk. Right now, all you can think of is how to just keep cool especially when the central air conditioner is not cutting it for you. At some point, though, you may realize that the constant release of air may be too much for you as it sits so close to you.
However, with a clip-on desk fan, you can hang it up away from you. It does not have to be too far; just not under your nose. Given, USB desk fans are usually not too big as to cause a health risk but a stationary air flow could get tiring. With a clip-on, you get the option of changing the position of the fan; you are then not restricted to only placing it on a table or any other surface. Variety is the spice of life.
Another reason why this is a great device is if you need to go camping, hiking or mountain climbing. Again, a USB desk fan works well for occasions such as these but if you find no raised surface on which to place it, it may not give you the best output. If you raise a tent out in the woods, using a clip on the fan would be more practical than the regular desk type, especially when it can be powered without connecting to an outlet. The beautiful part of a small clip-on desk fan is that it still gives you the option of using it as a desk fan while a regular desk fan does not necessarily do the same.
Things to Consider Before Buying a Clip on Desk Fan
Portability: Most clip-on USB desk fans are small and can even fit into purses and satchels but not all. Depending on how much output you want, you need to consider having to carry it around. If you buy a not-so-small clip on fan, you may have some trouble carrying it with you and what would be the point of buying your personal fan if you cannot take it with you wherever you go?
Efficiency: Look out for those which give the most work with as little energy consumed as possible. The point of buying it is to cool yourself wherever you go but if it burns up energy fast, it means it would go off fast. But most importantly, it has to be able to cool you on a hot day, even if it does not work as much as a regular fan.
Price: You do not expect a $5 clip-on fan to give you the same results that a $15 on would, do you? Nobody is saying you should break the bank but do not scrimp on your personal comfort except you are fine with using it for one week and disposing of it. On the other hand, that it is expensive does not guarantee the best output. The only assurance you have is to go for the brands with tested and trusted products like the ones we've listed in our review below.
It would go a long way in helping you if you keep an eye on this buying guide, even though it is not exhaustive. Small clip on desk fans are a terrific invention and below are reviews of ten of some of the great clip on fans to help you make a choice
1. Keynice USB Clip Desk Personal Fan
Specifications
Manufacturer: Keynice
Material: Polypropylene and Acrylonitrile Butadiene Styrene
Color: White
Weight: 15.2 ounces
Dimension: 8.1 x 7.9 x 4.1 inches
Other features: Rotates 360 degrees, lightweight, noiseless, portable
Review
Shenzhen Avator E-commerce Co., the parent company of Keynice, is a well-versed manufacturer of consumer items in the electronics department; researching, developing and producing some trusted electronic wares for the upwardly mobile and trendy customer. It strives to preserve its excellence and dedication in serving the people by always keeping up with the changing times and offering the latest in electronic devices.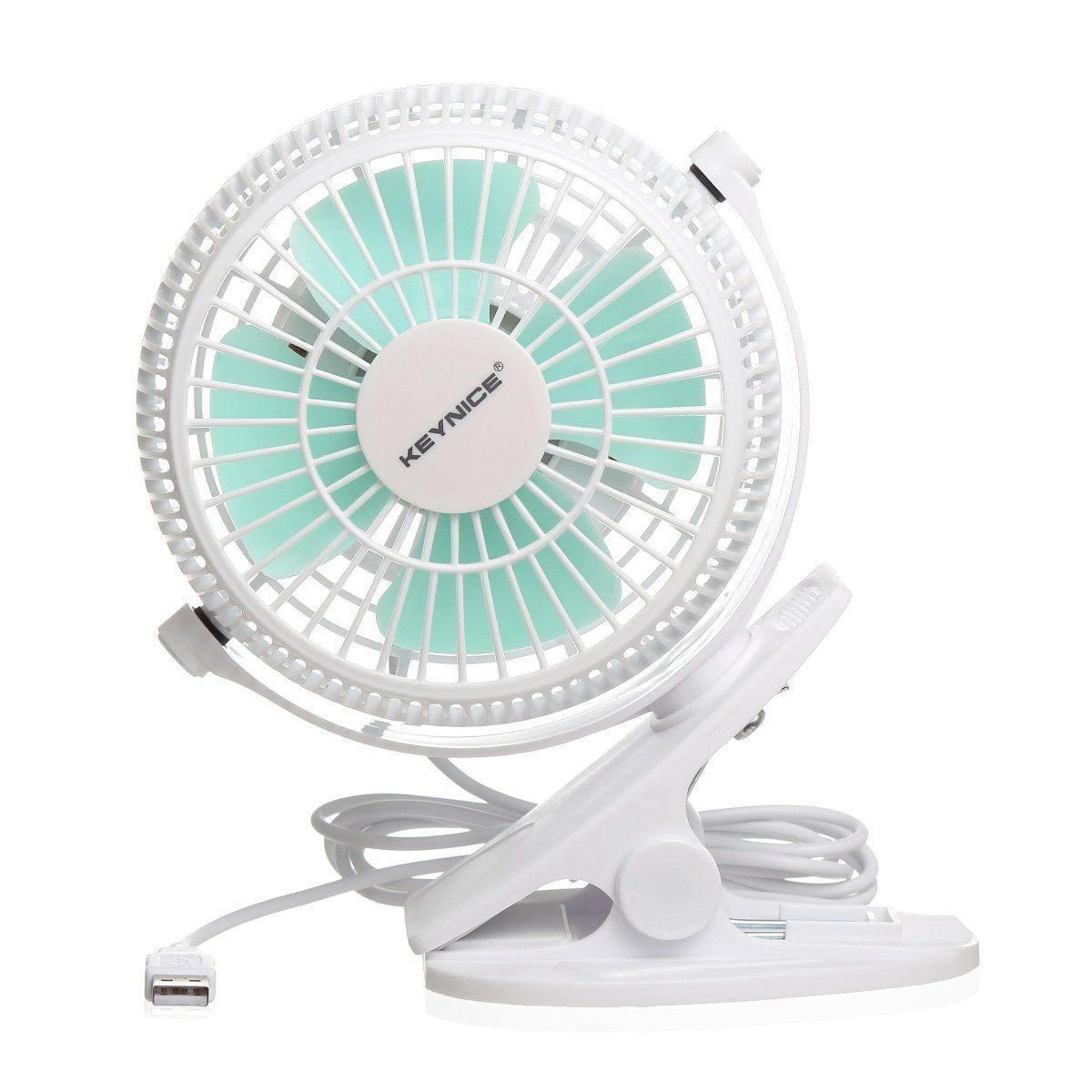 Its expertise and excellence are clearly seen in many of its products like vacuum cleaners for cars, lamp speakers that are powered by Bluetooth and even USB fans such as the Keynice USB Clip Desk Personal Fan, all for the customer's comfort and satisfaction.
The Keynice USB Clip Desk Personal Fan is a clip on fan that can also serve as a small desk fan for you; you are not restricted in the way you use it. In whatever situation or place you find yourself, this fan will serve you perfectly. If you are sleeping, you can clip it to your headboard so that it can blow directly on you, on your wall in a dormitory and even place it on your desk in the office or in the library.
This feature is made even easier by the fact that it is small. It occupies little or no space on your desk or on whichever surface you choose to clip it on. Its frame is only 6 inches so no worries about having to create a huge space on your desk or mar your wall because of its size. It is also portable, weighing just 15 ounces so it is something you can carry around without unnecessarily feeling the weight of it.
Furthermore, you can manually adjust the head to face whichever direction you need it to be. It can rotate 360 degrees so you can get the best use out of it, whether you are sitting on the floor, at your table or even lying down.
In addition to these, the fan can be powered by attaching a USB cord to your computer, laptop or an adapter. You do not need to have to find a power outlet wherever you take it to; as long as you have your laptop with you or are close to a desktop computer, your USB desk fan is good to go. If you are always on the go, you have no reason not to own this fan. It is a necessity, not a luxury.
Advantages
It is a two-in-one fan – serves as both a desk and a clip on fan
It can be powered by a USB cord – no need for a power outlet
The head can rotate 360 degrees, giving you room to adjust it to suit you
It is small and portable – occupies just 6 inches and weighs about 15 ounces
And it is affordable
Disadvantages
Some users complained that the output of the fan is not powerful enough. But truth be told; there's an output that you shouldn't expect from a clip-on fan
2. Glovion Mini Desk Fan
Specifications
Manufacturer: Glovion
Color: Black
Modes: From low to high
Weight: 360grams
Dimension: 200×150×100mm
Other features: 360 degrees rotation of the head, removable battery, long USB cable
Review
With the goal of making durable, quality and top-class alternatives to the mainstream products readily available, Shenzhen Glovion Technology Co., Ltd provides amazing lightings for your indoor and outdoor use, as well as home and office accessories which would bring comfort outside the ordinary you would think that the top quality of its products, its commendable customer rapport, and the speedy delivery would tell on the prices of items it sells but Glovion prides itself in supplying with factory prices. You can prove this if you purchase any of its products like the Glovion Mini Desk Fan.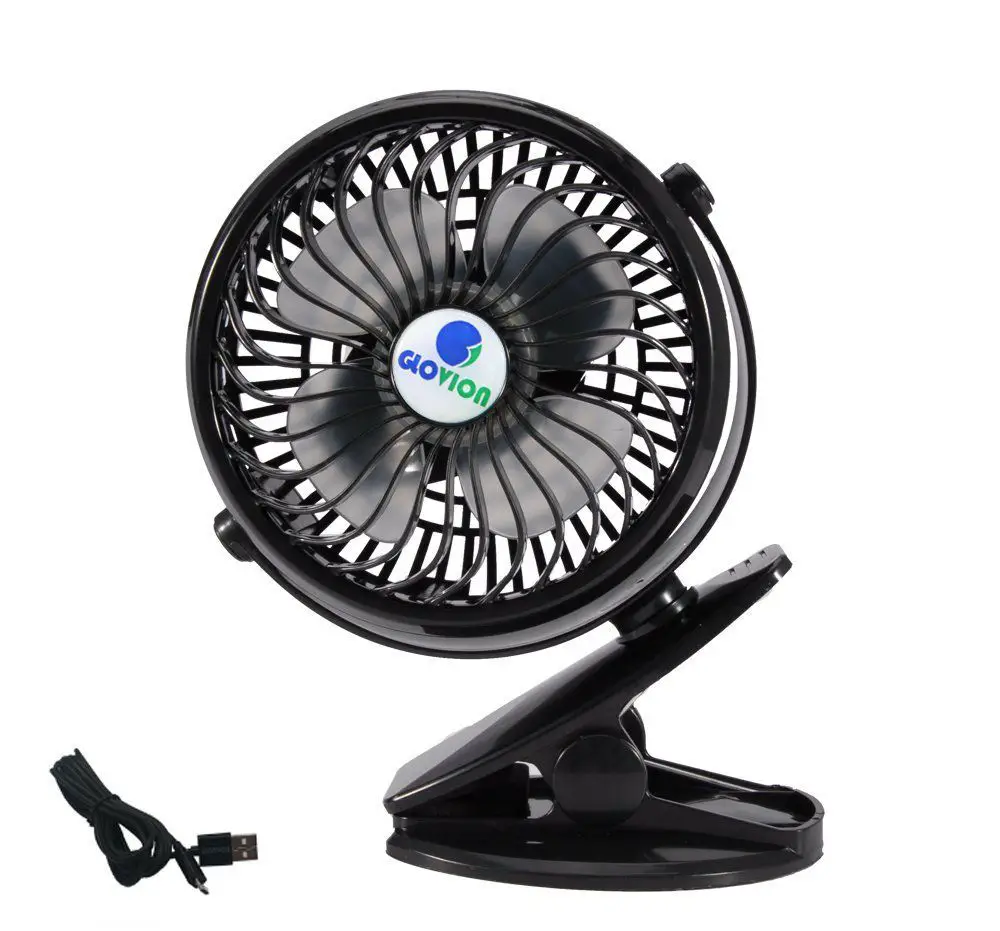 This small desk fan can be powered in two ways: you could charge it and take it with you on your camping or hiking trip, and expect it to last for several hours, or you could simply plug it in with its USB cord. Its battery is a 18650 battery, which is an international standard. It is powerful enough to take you for some time before it goes off. Out there, you can turn it on without having to look for a power source. It is that convenient. But if you decide to use the USB cable because there is a laptop or power bank around you, there would be no need to bring the power source close to you. The cord is 6.5 feet long and can conveniently sit at a safe distance from you, no biggie.
Not only can you use it as a desk fan, you can also clip it onto the wall or any surface close to you if you are not outdoors. This is a fantastic invention because it gives you a personal airflow without disturbing anybody else and cools the air around you easily. Furthermore, it does not take up space. Many table fans are bulky so tend to occupy space meant for other things but not this USB desk fan. You would hardly know there is anything extra except for the cool air around you.
And to crown it all, you are not restricted on the airspeed; you get to choose how high or how low the fan blows. There is no point having a clip on fan that does not give you the liberty of adjusting the speed. From high to low, you get to enjoy the cool breeze even if you are working.
Advantages
The fan can be used outdoors or indoors – its rechargeable battery can carry you for several hours without an electric outlet
The USB cord is 6.5 feet long
It can serve in two ways – a desk and a clip on fan
The head can be rotated 360 degrees to suit your personal need per time
You can adjust the air flow
Disadvantages
The clip may not hold on to baby strollers
3. Sky Genius Battery Operated Clip on Mini Desk Fan
Specifications
Manufacturer: Sky Genius
Color: Black
Modes: USB, Battery
Weight: 273 grams
Dimension: 20 x 15.5 x 10.5 centimeters
Other features: 360-degree rotation
Review
Founded back in 2013, in just four years Sky Genius has been able to establish a global line furnished with top-of-the-line quality products. An electric manufacturing brand, Sky Genius has a vast portfolio that includes home supplies, digital electronics, and car accessories. As a global brand of great standing, it is committed to providing customers the world over with terrific products at market and wallet-friendly prices.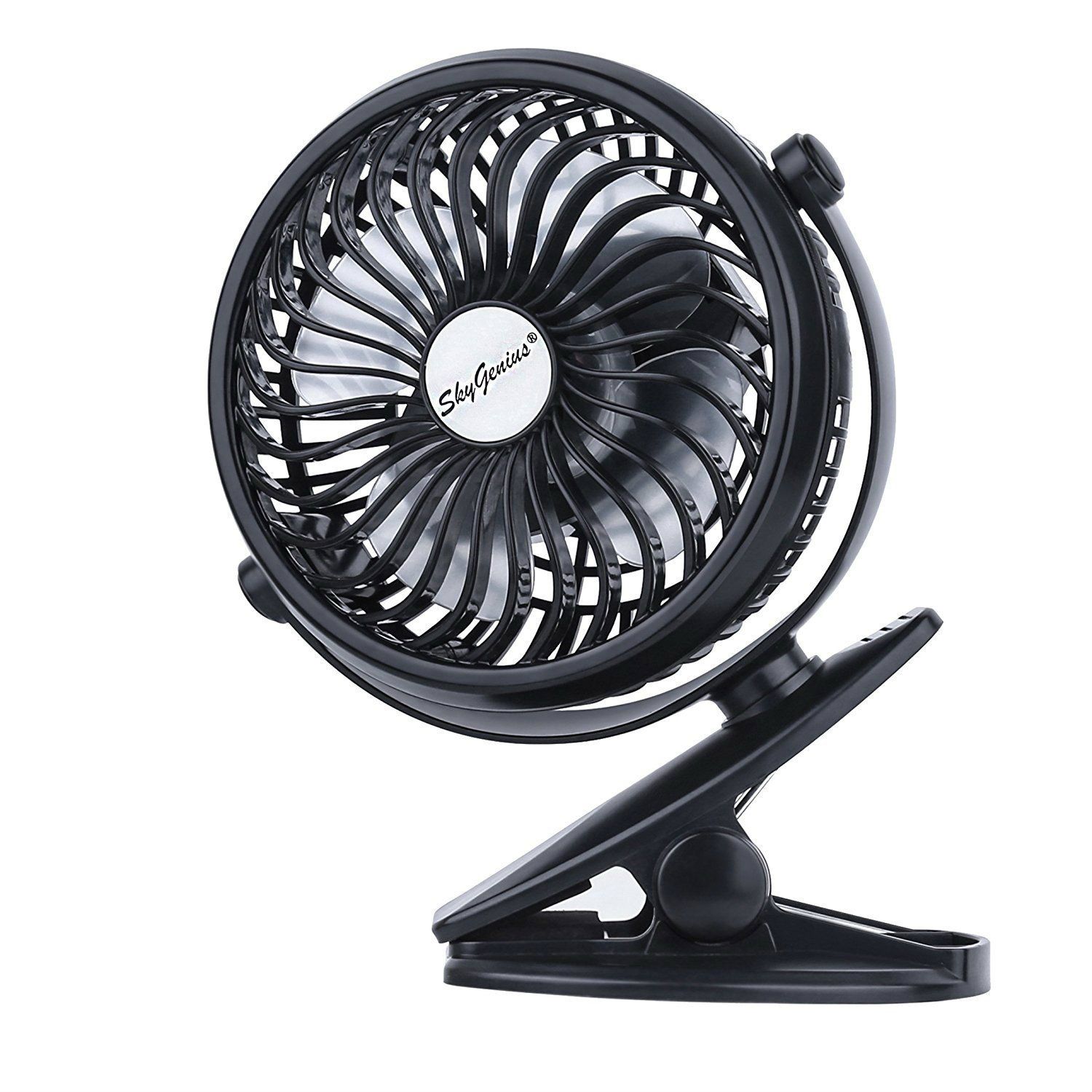 Its business model incorporates state of the art technology infused with innovation supported by a very efficient team of engineers. There are no two ways about it. Sky Genius is one of the best and with this brand, you are getting top quality.
Moving with modern times, Sky Genius conducts most of its business via the internet, a feat that it has achieved by partnering with trusted global brands such as PayPal, DHL, Amazon, UPS, and Google. Endorsed by the biggest brands worldwide, what else would you trust?
Global warming is on the rise. And with global warming comes a variety of uncomfortable phenomena chief among them, the heat. High temperatures and stifling heat is commonplace in most parts of the world. That is why you must get inventive when it comes to battling hot weather and promoting your comfort. Electric fans and air conditioners are all of the raves right now but what happens when you have no access to electricity? When you are walking down the street or camping in the outdoors, how do you get cool and comfortable? The answer to all these questions is a simple device called a clip-on USB desk fan. A small clip-on fan works the same way as a small table fan. The only difference is that it comes equipped with a clip which enables it to be used anywhere with a ledge. In the outdoors, in a stroller, in your office, even in your cars, just clip it on and you are good to go. These genius devices are battery and USB powered. No electricity, no problem.
One of the best clip-on USB fans on the market is the Sky Genius Battery Operated Clip on Mini Desk Fan. A mini desk fan, its size is highly deceptive as it is immensely powerful. It comes equipped with a powerful motor that can generate a wind speed of up to 75ft/s. With this fan, your comfort is guaranteed as it can cool a whole room comfortably. It can rotate up to 360 degrees in all directions. Therefore, you don't have to worry about one fan not being enough, just clip it on and you are good to go.
This clip-on desk fan can work for up to eight hours after every full charge. It is perfect for that overnight camping trip you have been planning. Useful in emergency situations, its long-lasting battery can power it for up to eight hours. In the same vein, it can be powered by a power bank or any other external battery source. Talk about your wholesome convenience.
This fan is perfect on a stroller or in your toddler's room. This is because it has been designed to work as noiselessly as possible. Perfect for an evening stroll, a full night's sleep or an office meeting, you can rest assured that the whiny drone of a fan will be the least of your problems. Finally, another impressive feat of this fan is that it's lightweight and extremely portable. Weighing a paltry 273 grams, this mini desk fan can be carried from place to place without any fuss or additional hassle.
Advantages
It has a very powerful motor
It can rotate up to 360 degrees horizontally and even vertically
It has a battery designed for longtime use
It is portable
Disadvantages
Only one speed is accessible while charging/powering this mini desk fan with a USB device
4. OPOLAR Battery Operated Clip on and Desk Fan
Specifications
Manufacturer: Opolar
Color: Black
Modes: Battery, USB mode
Weight: 13.9 ounces
Dimension: 5.5 x 3.1 x 7.6 inches
Other features: Strong Clamp
Review
Back in 2015, the founders of OPOLAR could not have known that they were creating a strong, reliable brand. Neither could they have known that this brand would soon be a competitor in major markets around the world. Over the last three years, OPOLAR has grown exponentially due to the sheer numbers of satisfied customers that it has catered to. You can finally receive that personal satisfaction that you crave with OPOLAR.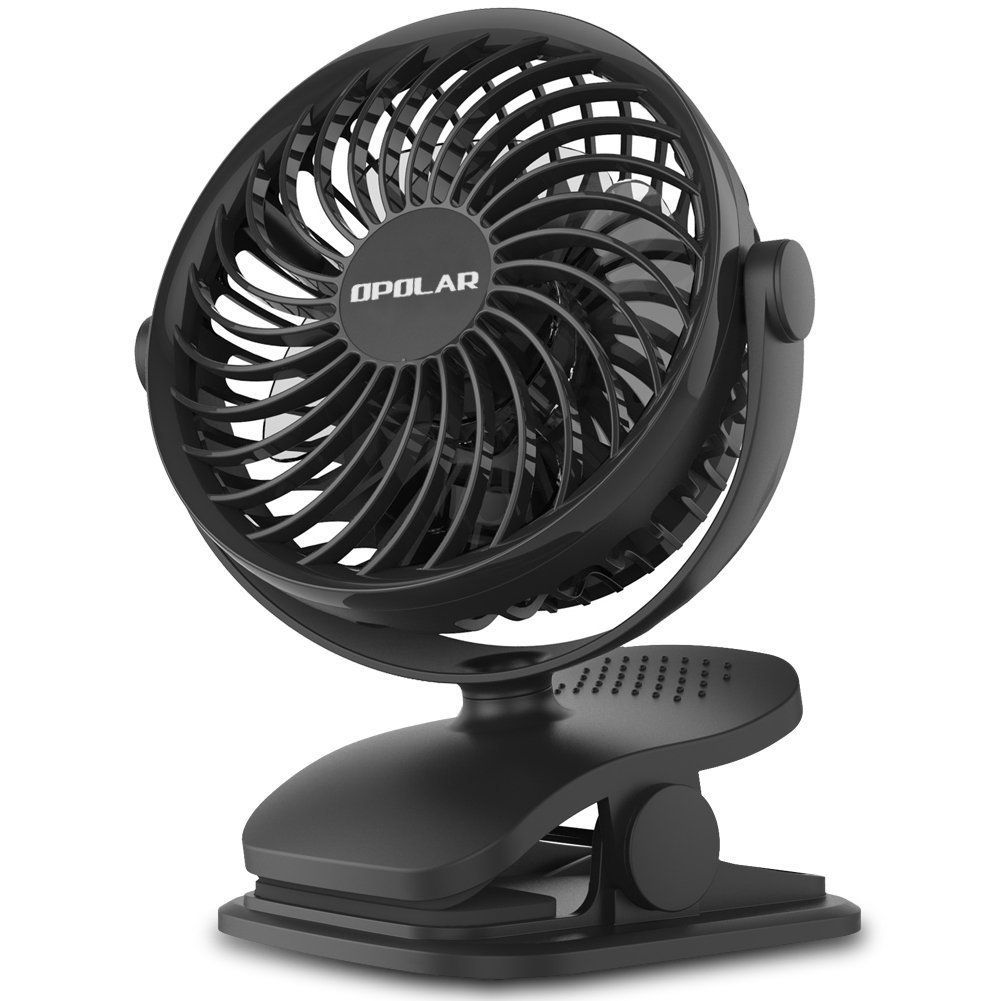 A master in the design of personal fans, laptop fans and humidifiers, OPOLAR has shown that cooling is an art form. It is a brand that knows the basic needs and requirement that a customer wants from a personal cooling device. Not only that, OPOLAR is an expert in fulfilling all of those demands. With OPOLAR your needs will be met without stress.
Many times, we have to factor in the availability of electricity into any of the major plans we have to make. Aeration and cooling is a necessity although electricity is needed to achieve both of these things. However, that can be circumvented with the aid of a small clip-on USB fan. Rechargeable and able to work without electricity, turn every space into that paradise that you have always dreamed of. The additional clip-on feature is perfect for all locations. It can be used in a car, on a baby stroller, in the outdoors. Just clip and click!
The OPOLAR Battery Operated Fan, Clip on and Desk Fan is innovation at its peak. Crafted for power and efficiency, it makes use of groundbreaking technology to increase speed. Even while powering this small table fan with a USB device, it can rotate up to 4000rpm. With four speed levels, tweak and enjoy the cool breeze of the wind even without electricity.
This fan is designed to be clipped on to sometimes unstable locations. It can be clipped on a stroller or on a backpack. That is why the manufacturers have made its clamp strong and stable enough to support the fan. Even on a moving surface such as a stroller or a fan, it will work powerfully well without falling off. It also incorporates anti-skid design and non-slip footpads to ensure its stability is at the maximum level.
Ever had a fan that just won't reach a corner of your room no matter where you place it, this offering from OPOLAR is not one of them. It is designed in such a way that it rotates up to 360 degrees in all pole directions. All corners of your space will be covered by the powerful air this fan produces. One fan is definitely more than enough with the OPOLAR Battery Operated Fan, Clip on and Desk Fan.
Advantages
This fan can rotate up to 4000rpm
It has an enhanced clamp for support
Anti-skid design and non-slip footpads make it very stable
Possessed 360 degrees rotation capabilities
Disadvantages
It takes four hours for this small clip-on fan to charge to capacity
5. Sunpollo clip-on Fan and Desk Fan
Specifications
Manufacturer: Sunpollo
Color: Black
Modes: Battery, USB mode
Weight: 0.5 Pounds
Dimension: 6 x 4 × 7.8 inches
Other features: Safety mesh
Review
All the way across the ocean in the Middle East, Sunpollo has been able to deliver to the world at large beautiful, functional electrical products and appliances. A brand under the portfolio of Shenzhen Juchao Tech Co. Ltd, Sunpollo has behind it the many years of professional experience offered by its parent company.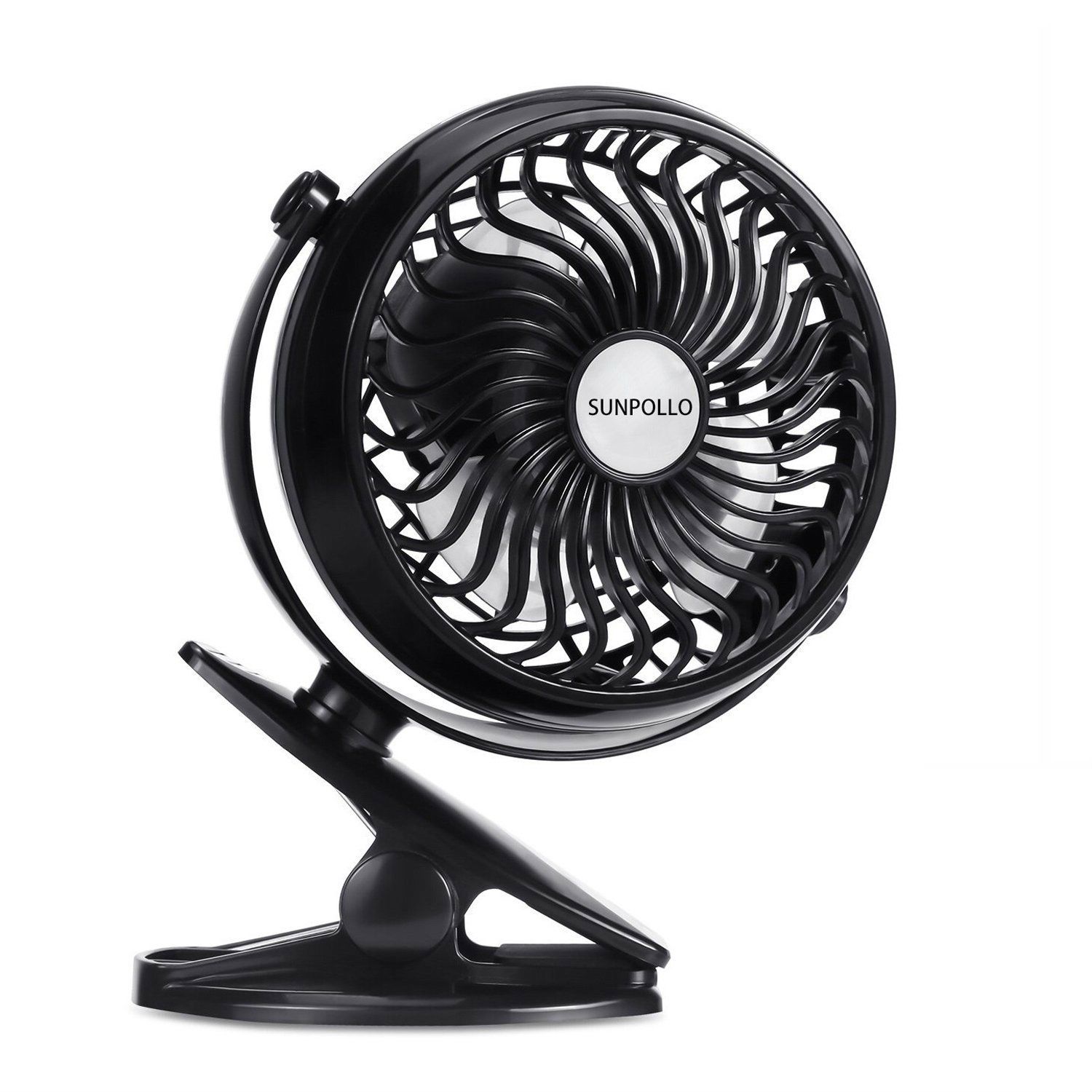 Its product lines cover small appliances for the home and major consumer electronics. Its products offer you optimum reliability and complete efficiency. Tested for use in everyday circumstances before being shipped out, you can rest assured that any offering from Sunpollo will not fail you.
Are you searching for a noiseless alternative to your home fan? Or maybe that electric fan in your office is getting too noisy and using too much power? Perhaps you finally want to camp in the outdoors and are searching for a viable alternative to electric forms of cooling. Then you should seriously consider a clip-on USB desk fan. Designed to be as noiseless and as versatile as possible, these devices work without electricity and are perfect for any situation you find yourself. Keep reading and see for yourself.
The Sunpollo clip on Fan and Desk Fan is perfect for use in situations where little or noise is required. With this fan, you don't have to worry about the noise waking up your sleeping toddler. This offering from Sunpollo makes use of noiseless technology to drastically reduce the sound output it produces. It produces barely a whisper and is perfect for your sleeping, office or home needs.
Another exciting feature of this fan is its enhanced safety feature. This clip-on fan has an extremely durable ABS safety mesh covering its blades. Since it might be used in the presence of a toddler, worry no longer about your kid hurting themselves by touching fan blades. Furthermore, it's practical and strong clip-on ensures that it doesn't slide off while it is in use. What more could you want?
The Sunpollo clip on Fan and Desk Fan is also multi-adjustable. The face and direction of the fan can be adjusted manually in any direction you want. In addition to that, it can rotate up to 360 degrees without fail. No more worries about sleeping in the corner where the fan doesn't reach. With this mini desk fan which can be powered by a USB device, you are covered.
Advantages
It has the noiseless technology
It has a durable safety mesh
It is outfitted with a strong and stable clip-on
This small table fan is multi-adjustable in all directions
Disadvantages
It lasts for only six hours of continuous use
6. LingsFire Rechargeable Battery Clip-on Fan
Specifications
Manufacturer: Lingsfire
Color: 0.5lb
Modes: Battery, USB mode
Weight: 13.9 ounces
Dimension: 88 x 5.63 x 4.80 inches
Other features: 3-speed settings
Review
A brand that ticks all of the required boxes that increase consumer satisfaction and comfort, that is exactly what Lingsfire is. Over the past few years, Lingsfire has built itself up with the release of products notable for their reliability. Year after year, its products have earned high functionality and workability ratings and that doesn't look like reducing anytime soon.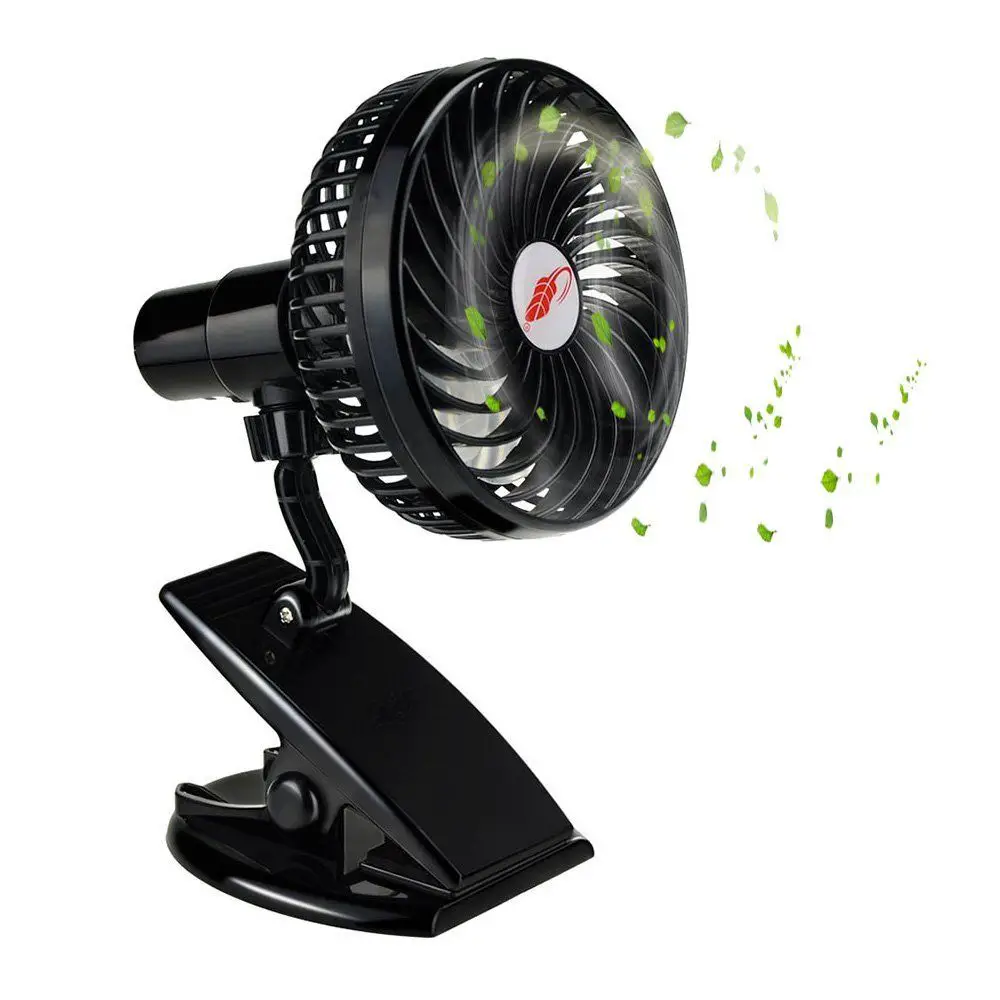 Due to the extreme confidence in its offerings to the general public, Lingsfire offers a 100% one-year guarantee on all of its products. In fact, this option comes with a money back guarantee. That is how sure of its products Lingsfire is. Wouldn't you rather spend your hard earned money on a brand with such reliability and confidence?
A good clip on desk fan could be the answer to some of your cooling issues. We understand that dealing with heat is never easy. That is why there are gadgets such as a USB clip-on desk fan with a battery and USB powering option. With these bad boys, you will always be covered by the soft summer breeze that it produces no matter where you are. A small clip-on fan can be attached conveniently to any semi-stable surface and will work perfectly as long as it is charged. No longer do you have to worry about heat in a car, while camping or while jogging. Technology has got you covered.
To that end, we are offering you the LingsFire Rechargeable Battery Clip-on Fan which comes with a face that can move up to 360 degrees in every direction. Of course, we all know just how frustrating a fan can be if it has limited movement. Well, those frustrations become a thing of the past with this fan. Just turn it on and feel the cool breeze in every corner of your space.
In the same vein, this fan is extremely portable for your convenience. It can be moved from place to place with ease. Your convenience and ease of use are further increased by the three-speed settings it offers you even while powering with a USB cord. You have three different speeds to choose from depending on your preferences.
That's not all; the LingsFire Rechargeable Battery Clip-on Fan has a long-lasting renewable battery system. With a battery capacity of 2200mAh, watch this fan keep purring for just over eight hours without a recharge. Your own aeration and cooling needs are now in the palm of your hands. Even while using a power bank or a laptop to power this fan, it offers you the same efficient supply of air and speed.
Advantages
This fan has unlimited movement in all directions
It is extremely portable
It has three speed settings for convenience
It has a long-lasting rechargeable lithium-ion battery
Disadvantages
The safety mesh makes it a bit difficult to clean
7. FYLINA USB Fan Mini Clip-On Desk Fan
Specifications
Manufacturer: FYLINA
Material: Plastic
Color: Black
Modes: 3-speed
Weight: 0.57 lbs.
Dimension: 7.28×4.72 inches
Other features: 360o rotation
Review
Fylina is a manufacturer that does not concern itself with limits. This is why you will find its name on many different products under different categories. Even though this brand is not specialized in a particular category of products, quality and superior performance cuts across every product that carries its name.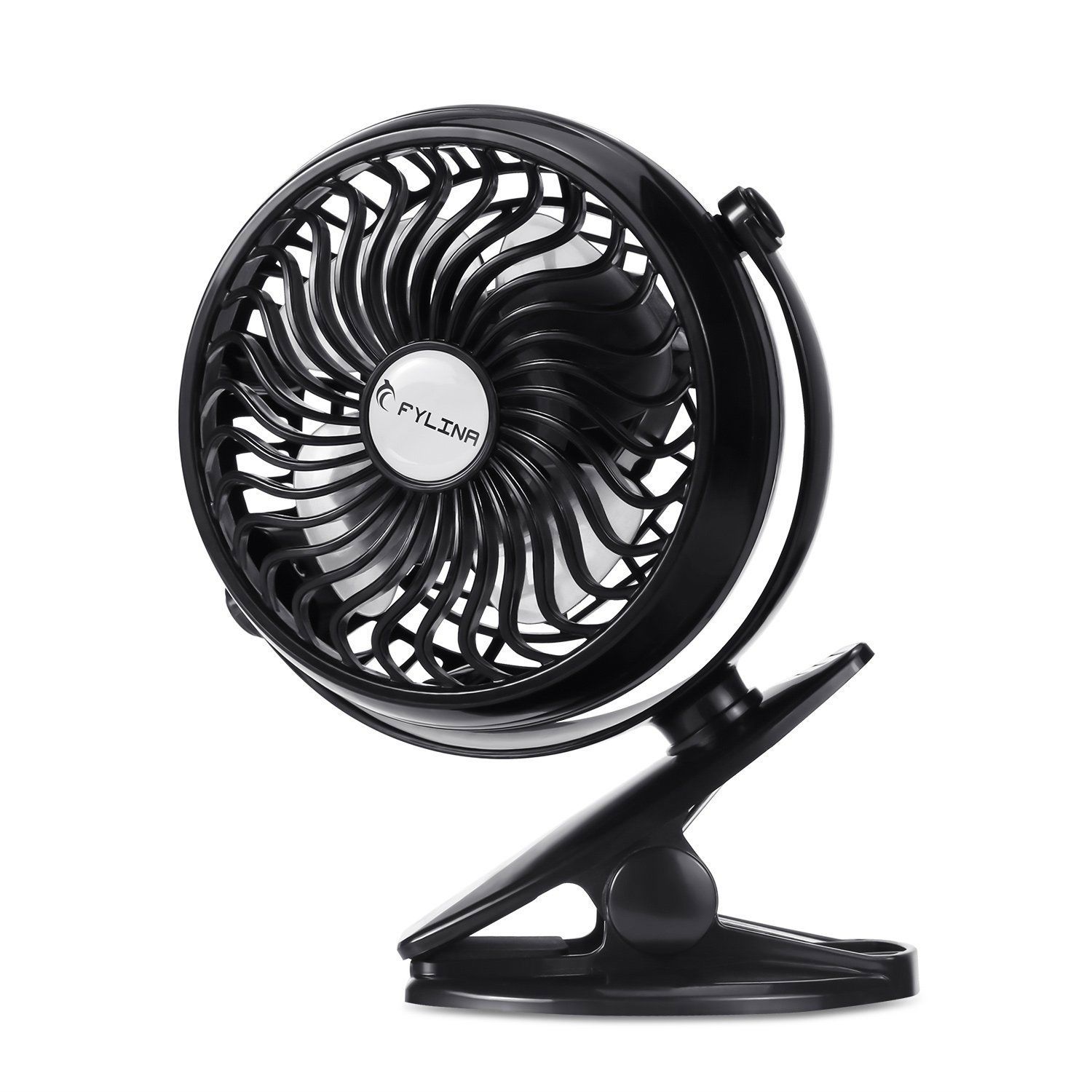 The Fylina USB Fan Mini Clip-On Desk Fan is a great example of what the brand is about. This is a USB personal fan with practical usage. Whenever you need some serious cooling down where air conditioning is not readily available, this product comes in handy. It is a small fan that works just like any other, only at a miniature scale but still adequately circulates air for one person.
As small as it is, it has 3 fan speeds to help you choose precisely how much of it you want. You can use it to create a soothing relief to prevent you from sweating or make it work at full blast to help you cool down when in a warm environment. All you need to do is choose from its high, medium, or low-speed settings.
It uses a clamp-style clip which can latch onto many surfaces including table edges so you can get constant blasts of air while you work on your desk. You can also clamp it on your bike handlebar. This is a truly versatile product. When taking your kid(s) on a walk in a baby jogger on a sunny day, you can easily clamp the fan on the jogger to keep your baby cool while you enjoy the sun. There is hardly anywhere you cannot use it.
This fan is powered in 2 ways. You either use a USB port on a laptop or other devices to use it. It can also get power from the 2600mAh rechargeable battery in it. If you keep the battery fully charged, you can enjoy the fan for up to 6 hours depending on the speed it is working at. The low speed will last for 6 hours, the medium will go for 3.5 hours, and the high will keep it running for 2 hours. You will agree that those are some awesome metrics considering the size of the fan.
This little but powerful fan is also multi-directional. The fan can rotate 360 degrees top to bottom and left to right. The base on which the fan stands too can also be rotated 360 degrees.
Advantages
It is small, lightweight and great for mobility
It uses both USB and a long-lasting rechargeable battery for power
The fan can keep running for up to 6 hours on battery
It has a 3-speed adjustment
Disadvantages
The battery charges a lot slower when it's in use
8. Lasko 2-Speed Clip Fan
Specifications
Manufacturer: Lasko
Material: Plastic
Color: White
Modes: 2-speed
Weight: 0.57 lbs.
Dimension: 7.9 x 6.4 x 11.4 inches
Other features: It is energy efficient
Review
Lasko is specialized in manufacturing ventilation products such as fans, humidifiers, etc. for homes. This is one of those companies that have been around for over a century. That this company still leads in its field goes to show it knows exactly what it is doing and how to do it. Only companies that consistently offer products that surpass the expectation of its customers stay relevant for this long.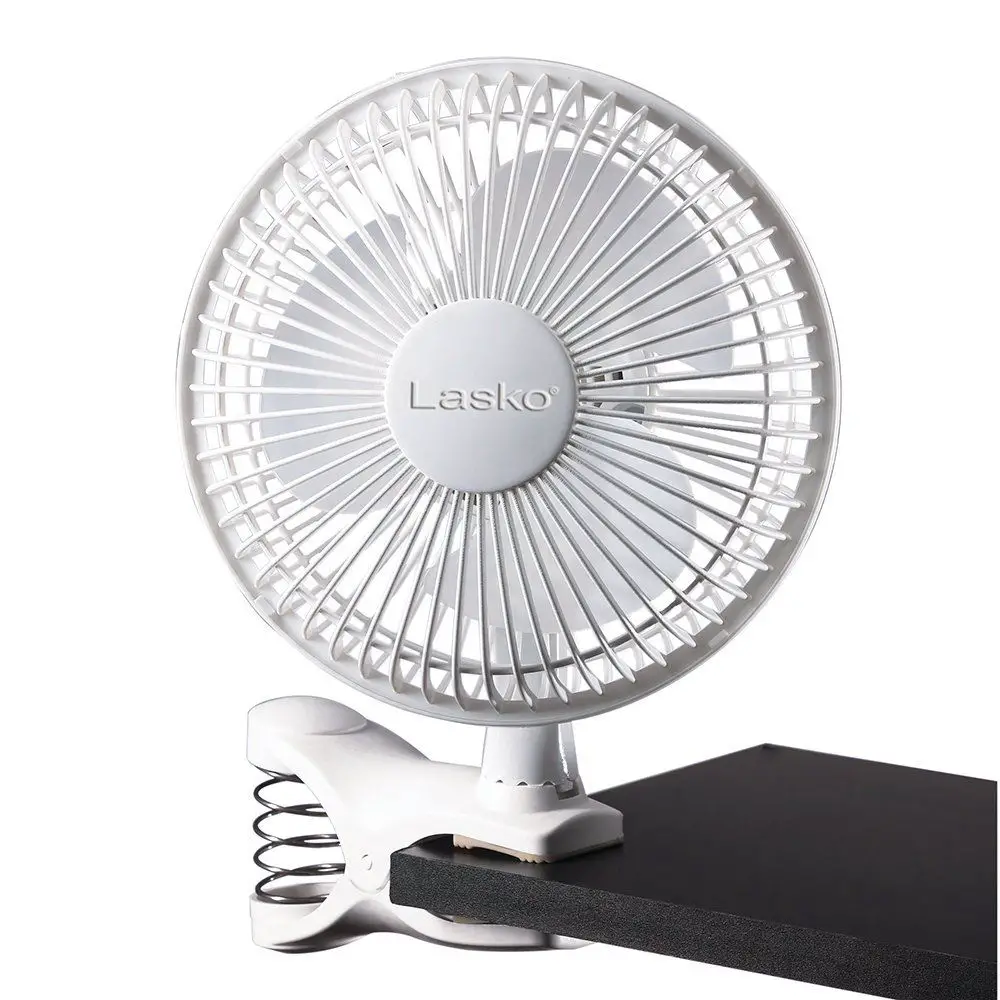 The Lasko 2-Speed Clip Fan looks everything like a conventional table fan, only that it is way smaller. It will not move as much air as its larger counterparts but this little worker does its job well. It is designed to be adequate for just one person.
This small desktop fan runs at a 2-speed mode. This gives you the choice of how strongly you want it to blow. You can choose between the high and low speeds depending on how much breeze you need. The power cable of this fan is five feet long. That way you will not need to sit next to an electric socket every time you need to use this small desktop fan.
Another outstanding thing about this fan is that as small as it is, it is quite "intelligent". This product, as well as all other products from Lasko, has the Blue Plug. This is a patented safety fuse technology which cuts off electric current supply to the fan when the fuse detects a hazardous electrical issue or a potential for it. You got this fan to cool you down with its soothing breeze, now it is going the extra mile to keep you safe. In what world is such a product not worth it?
This fan has a mount that is designed to let it easily hang from most surfaces it can clip on to with its keyhole mount. This includes the edge of a table, a small enough cylindrical rod it can clamp on, etc. The mount is also spring loaded which keeps the grip firm and secure.
There is no tricky assembly when putting this fan together. You don't even need any tools to do that. It will be easily assembled in minutes and ready to start work. This fan runs quietly even at a high speed. It is meant to keep you comfortable not to cause noise. On this front also, this fan does a fantastic job.
Advantages
It operates quietly and does not cause any disturbance
It is easy to assemble and requires no tools to do so
The spring-loaded mount offers a solid and secure grip
It has the patented Blue Plug of safety
Disadvantages
It does not run on batteries
9. BLUBOON Rechargeable Battery Clip-on Fan
Specifications
Manufacturer: BLUBOON
Material: Plastic
Color: Black, Blue, Purple
Modes: Single speed in USB mode
Weight: 10.4 ounces
Dimension: 7.5 x 3.5 x 5.9 inches
Other features: It is energy efficient
Review
Bluboon is a brand that has interests in several different types of products. Specialization is good but diversity has its own advantages too. A brand that manages diverse products successfully, such as this one, shows its prowess at marketing. It is easier to market a particular product you are known for than sell several different types. One thing Bluboon ensures is that all its products are of top quality and its customers are satisfied and get lots of after-sale support.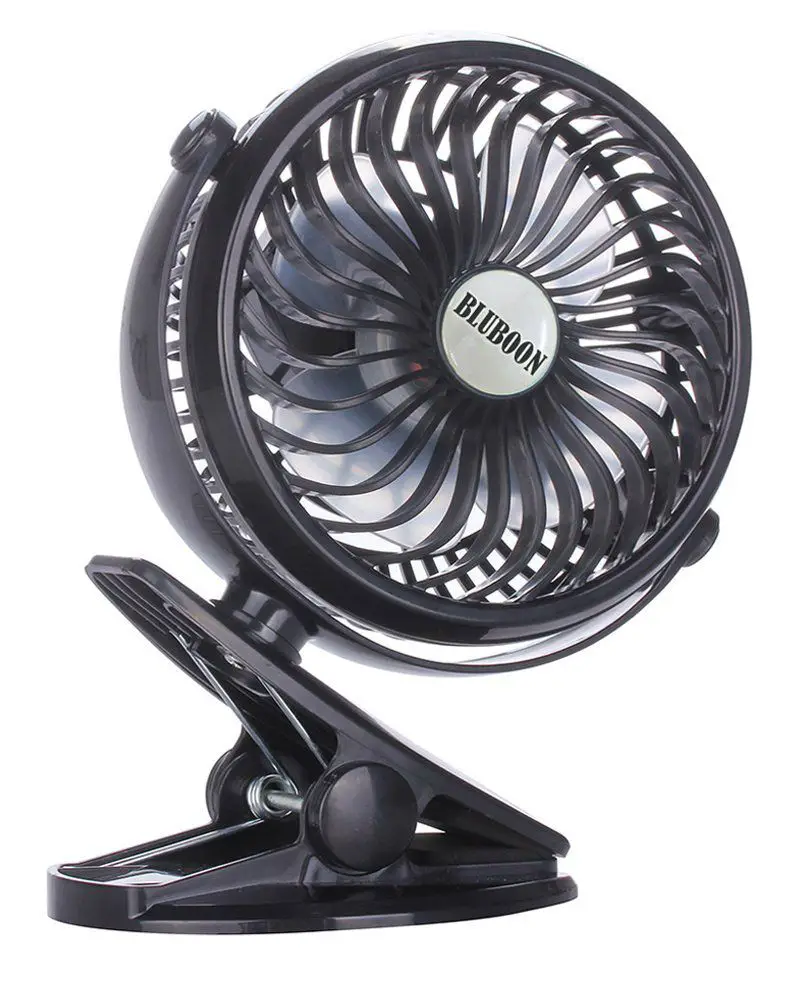 The BLUBOON Rechargeable Battery Clip-on Fan is a personal desk fan that was designed to offer cooling air circulation to a single user. If you get this desk fan, you will agree that it does a great job at that. Its compact design still manages to produce substantial air flow while going easy on the rate of power consumption.
This mini fan offers a wide variety of uses. In fact, how you can use this fan is limited to your imagination. Its 5-inch clip has a strong grip and a secure holding power. You can hang it on table edges while you work or do other stuff so you can enjoy the air flow. If you are taking your baby out on a jogger, you can hang this fan on the handlebar so your baby can enjoy the breeze while under the shade. You can even hang it somewhere on the baby crib if the room is hot and you want your baby to enjoy its sleep.
This fan can be powered via USB or rechargeable battery. You can simply connect the USB cord to a laptop, solar panel, power bank, or any other device with a USB 5V power source. If you have one of those wall sockets with a USB hub, you can use that too as long as it is rated to output 5V of electricity. This fan can also run on a 18650 rechargeable battery which gives you the freedom to roam all you want and still continue enjoying the coolness of the fan.
You can adjust the speed of the fan from high to low, but when it is running on USB, there is only one speed. The fan also lets you adjust the direction as it can easily swivel and turn 360 degrees. This way, you have the freedom to precisely determine the direction of the airflow according to your preferences.
You can get this fan in black, blue, or purple. That allows you represent your style wherever you go.
Advantages
It can swivel in different directions with the 360-degree movement
It can be powered by USB or rechargeable batteries
Its 5-inch clip gives the fan a wide variety of uses
Disadvantages
There are quite a number of complaints concerning the battery life
10. Comfort Zone 6-inch Clip-On Fan
Specifications
Manufacturer: Comfort Zone
Material: Plastic
Color: Black
Modes: 2-speed
Weight: 1.5 pounds
Dimension: 17.5 x 17.8 x 19.3 inches
Other features: Lifetime guarantee
Review
Comfort zone is a brand that lives up to its name. It is specialized in manufacturing products that are aimed at your comfort, specifically in the area of ventilation. Whether warm or cold, Comfort Zone has one product or another to keep you at that cozy temperature you love. Its products will not just get you comfy, they will also give you some peace of mind as they are made with utmost quality and for durable performance.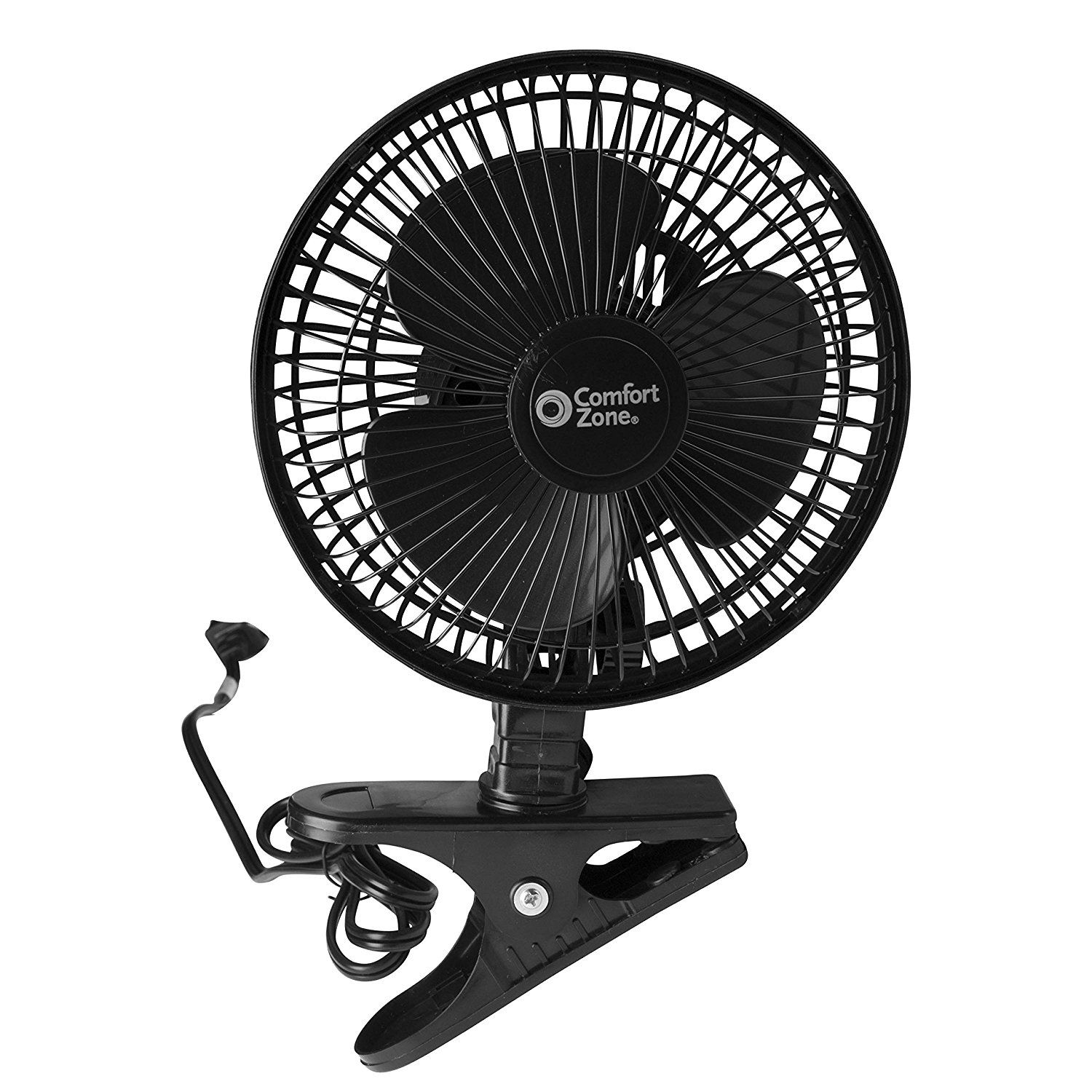 The Comfort Zone 6-inch Clip-On Fan is a miniature desk fan that is meant to provide soothing airflow to one person. During the summer when the heat just does not want to relent, this mini fan will come in handy and cool you down whenever you need it. It is compact in size and easy to carry around, so anywhere you find yourself in need of some cooling down, this fan will always be there for you.
This fan is built with tough ABS plastic so you don't have to bother about its durability. The plastic is break resistant, so it won't shatter to pieces the first time it falls. It has two speeds you can choose from depending on how much airflow you want at the time. Some other fans of this type regardless of their size can produce a disturbing amount of noise. This one is silent even if it is running at its highest speed. This fan does more than just cool you down, it will keep the air around you in constant motion which maintains freshness in the air and also reduces the humidity in the air. This keeps you dry and comfortable.
The head of the fan is also adjustable in many directions which widen its reach and affects a larger area around you. The adjustability allows you determine the direction of the airflow which puts freedom in your hands to control your comfort. The fan also has a rugged clam that provides a secure grip. The clamp allows you to hang the fan in a variety of places which also lets you use the fan in different ways. Whether you need it at your desk, on a baby crib, in your car, bedroom, attic or basement, wherever at all, you can find a place to mount it and let it blow you away.
This fan has a 5.5-foot electrical cord as well as a steel safety cord. With an electrical cord that long, you will not need to always sit close to a socket to use this fan. It is long enough to keep it plugged and still have the fan close to you for comfort.
Advantages
It is made of durable materials for long-lasting usage
It is certified by different organizations for quality standards
The fan head can move in a number of ways
The manufacturer offers a lifetime guarantee
Disadvantages
It does not have a battery alternative power source
Conclusion
We have given you a detailed buying guide as well a list of 10 good products from brands you can trust. You now have all the information you need to confidently choose which small clip-on USB desk fan will serve your peculiar needs.