The fire has been crucial for human evolution. It has helped us survive, warm up, cook our food and provide light as well. So even if the times when the fire was a key to our survival are long gone, our fascination with fire remains deeply embedded in our DNA.
Those that have gone camping sometime in their life know the almost magical pull that camping fire has on people.
Without any invitation or staged setting, people just naturally gravitate towards the flames, relax around them and enjoy the warmth and the flickering light that makes every conversation more intimate.
And although getting a fire pit for your backyard might not be high on your priority list you may be surprised at the changes it can bring not only to the look and feel of your yard but on your family dynamics as well!
If you're looking to create a perfect spot for friends and family outdoor get-togethers, a spot that will ooze warmth and stylishness, a square garden fire pit might just be the thing you're looking for.
Because fire, even a controlled one, isn't something to play around with, it's important that you know all the in-depth information about fire pits, as well as their different types and uses before deciding to buy one.
Here, you can learn all the nitty-gritty about square fire pits, read our reviews of best ones on the market, our opinions on different kinds of fire pits, their uses, as well as other tips and advice you might find useful if you decide to take a leap of faith and discover for yourself why people are going crazy for these practical and enticing backyard additions.
Top square fire pits reviews
1. Outland Living Brown Propane Gas Fire Pit Table
Our winner and Amazon bestseller is everything a square fire pit table ought to be: good-looking, durable, practical, and multifunctional. Not only does it provide light and heat, but it doubles as a sleek-looking garden table, with enough room for plates and glasses to fit around the pit.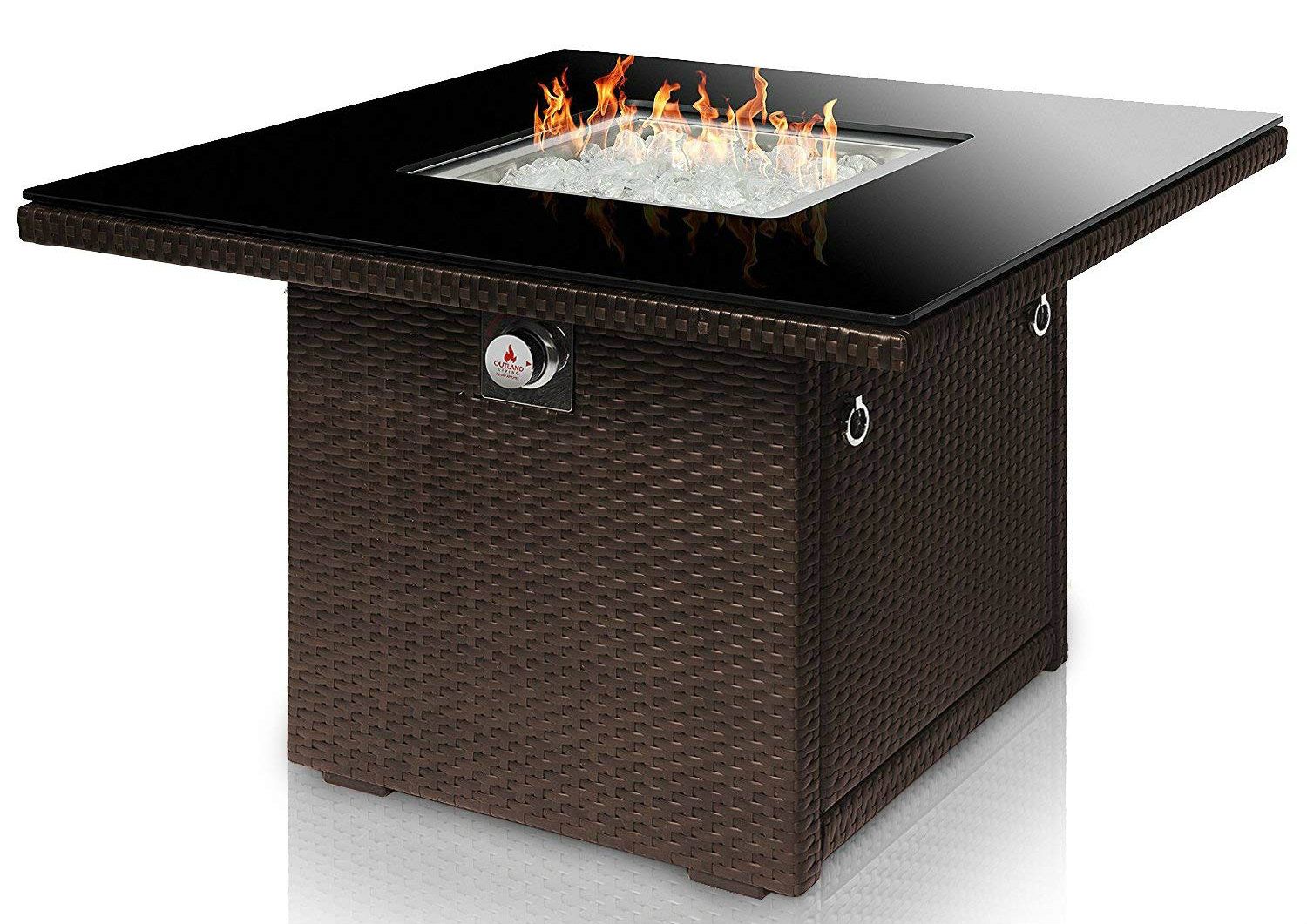 Made out of coffee-colored polyethylene wicker that surrounds an Aluminum frame, this square gas fire pit is sturdy, heat and weather resistant, and will last for years and then some. The table surface around the fire pit is covered with black tempered glass that is 8mm thick and the pit itself is filled with 15.5 pounds of Arctic Ice decorative glass rocks.
Because it's made out of durable materials, this fire pit is fairly low-maintenance, and you don't need to bring it inside your garage or under a patio when it rains. You may want to buy a cover (which doesn't come with the fire pit) because it will help with water stains the rain can leave on the tempered glass table surface around the pit.
With its elegant and unobtrusive look, this 36-Inch square outdoor fireplace will become a focal point of your backyard, but it won't overwhelm it. Rather, it will only accentuate the existent yard furniture and make it look as if the fire pit has been there all along. A lot of customers have reported that they especially enjoy looking at the flames reflecting on the black tempered glass table surface.
For those suffering from asthma or other breathing difficulties, we have good news for you – because the Outland fire pit table runs on gas, there won't be any smoke that could cause any irritation. Additionally, the intensity of the flames is easier to control with propane fire pits, so you don't have to worry about the fire going out of control, especially if you purchase the glass wind fence. This square fire pit table with auto-ignition is much more practical than it seems at a first glance – it's capable of concealing a 20-pound propane tank within its base! However, the propane tank isn't included in your purchase, which isn't a big deal, given that a lot of households already have a tank or two, just in case.
Buy on Amazon
Pros:
Sleek design
Durable materials
Conceals a 20lb propane tank (not included)
Auto-ignition, pre-attached 3-Ft hose with regulator included
Multifunctional
Easy to assemble
Cons:
A few customers noted that the auto-ignition doesn't work 100% of the time, so they have to use a starter stick
Installing the glass wind fence after assembling the whole fire pit takes time and effort, it's best to buy it alongside the pit
2. Legacy Heating Square Fire Pit Table
The Legacy square gas fire pit is a godsend for those who take pleasure in little things, and don't want their fire pit to make any kind of style statement.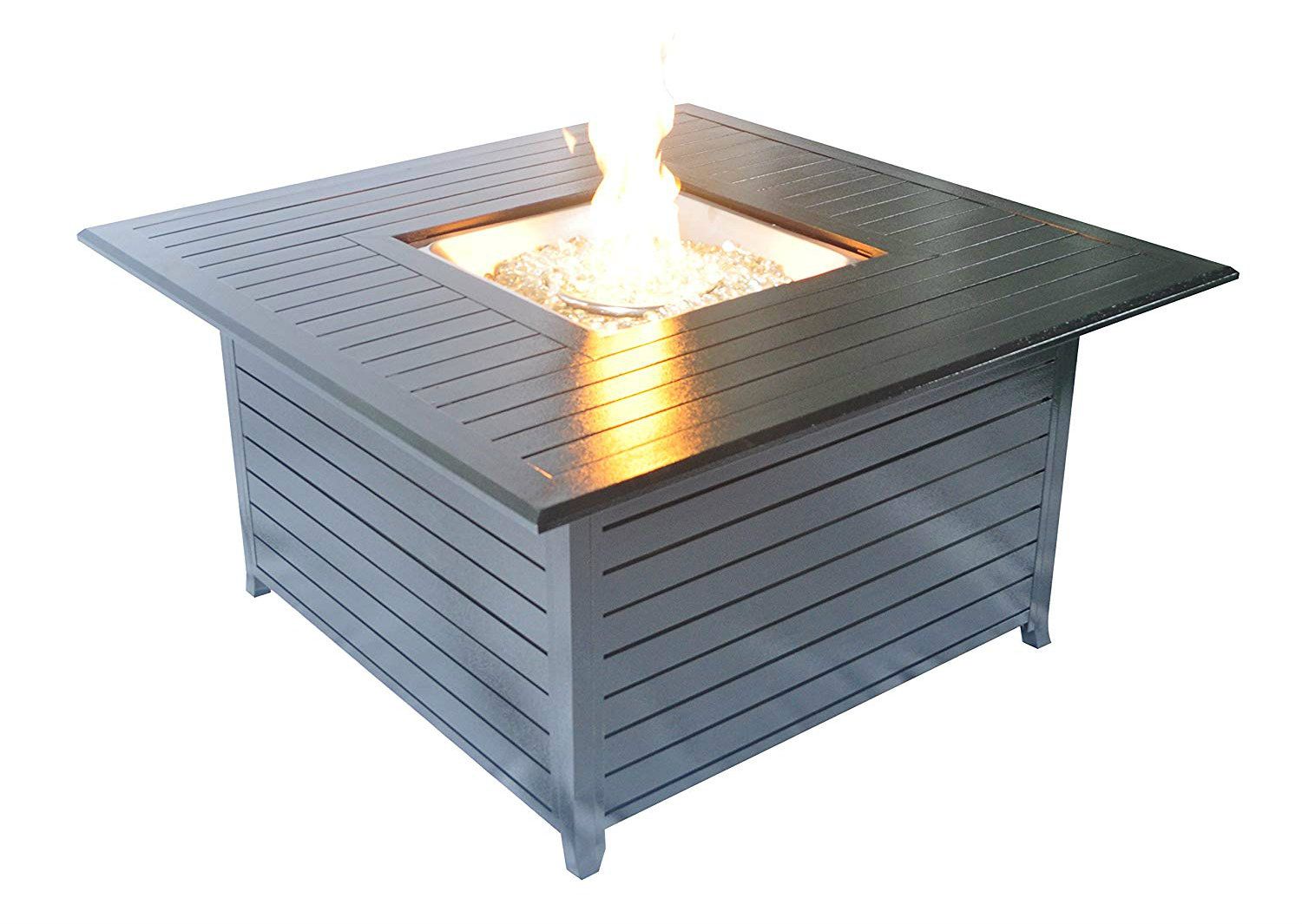 This simple, modest-looking 44.8-Inch fire pit table is of the kind that doesn't try too hard but ticks all the right boxes at the same time. Similarly to the Outland fire pit, it doubles as a table, conceals a 20lb propane tank within (also not included in the purchase), and features an Aluminum frame, but its hammered black finish makes it less appealing than the Outland one. Still, if you're looking for functionality above everything else, this fire pit might just as well be your number one!
With a heat output of 50.000 BTUs (compared to the 42.000BTUs of the Outland fire pit), this square outdoor fire pit offers a tad bigger heat radius and comfort during the cooler nights in the late summer and early fall.
What this fire pit lacks in looks, it makes up for in additions included in the original price. It comes with a table lid, lava glass and protection cover included! The table lid really brings out all the functionality out of this fire pit, allowing you to convert it into a spacious outdoor table and use its whole surface on days when you don't want to light the fire up. Also, make sure to use the cover that comes with the fire pit regularly, because the outer material isn't weather-resistant.
Buy on Amazon
Pros:
Spacious, 44.8-Inch surface
Conceals a 20lb propane tank (not included)
Table lid, lava glass and protection cover included
Durable (although not weather-resistant)
Multifunctional
Easy to assemble
Cons:
Not as stylish as the Outland fire pit
Not weather-resistant
A bit lower than a standard dining table and you can't pull up a chair because of the square base, diminishing the functionality of the table lid
3. Landmann Barrone Fire Pit with Cover
For those of you looking for a good old-fashioned square wood fire pit with a modern twist to it, look no further than this Landmann beauty!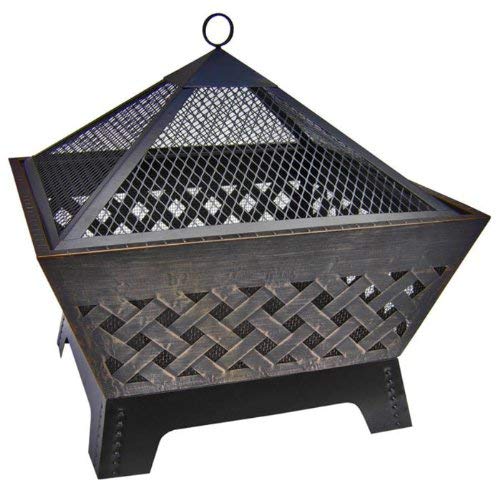 At 22 pounds, being almost 60 pounds lighter than our winner and runner-up, this square portable fire pit is easy to handle, move, and bring with you on your camping trips. While its smaller size is a plus for most customers, keep in mind that you'll need additional space in your basement or garage to store wood needed for this fire pit.
It comes with a built-in wood grate, a poker, a large spark screen with a handle and a protection cover. People who've bought this fire pit advise to add sand to the bottom of the pit in order to prevent rusting, and to empty the ashes after every, or every other use, as well. The fire pit itself if wide enough so that you can place logs inside without having to cut them in half, and the spark screen offers a 360-degree view of the fire while protecting it from the elements. The handle on top of the spark gets warmed up easily, so our advice is to use to poker to lift it up in order to prevent burns.
While this fire pit isn't multifunctional by itself, some customers use it for outdoor grilling by putting a grate from another grill over the open fire, turning this fire pit into an outdoor cooking station.
As mentioned above, the only potential issue customers have experienced is the rusting of the material. In order to prevent it, empty the ashes regularly, and don't leave the fire pit exposed to rain or water. Use the protection cover regularly and don't leave the pit out in the backyard during winter, because of the snow. Other than that, this is an amazing purchase for anyone that just wants a classic, good-quality fire pit.
Buy on Amazon
Pros:
Portable and light
Poker, large spark screen, and protective cover included
Rustic look
Easy to assemble
Cons:
Not weather-resistant
Rusts easily if not maintained properly
Not multifunctional
Other square fire pits to consider
4. Outsunny Metal Patio Fire Pit
The Outsunny 32-inch square metal fire pit boasts a powder-coated steel construction that makes it sturdy and durable, no matter the season. The powder coat on the steel is there to make it rust-resistant, although some customers will advise you to get an anti-rust spray to use with this fire pit.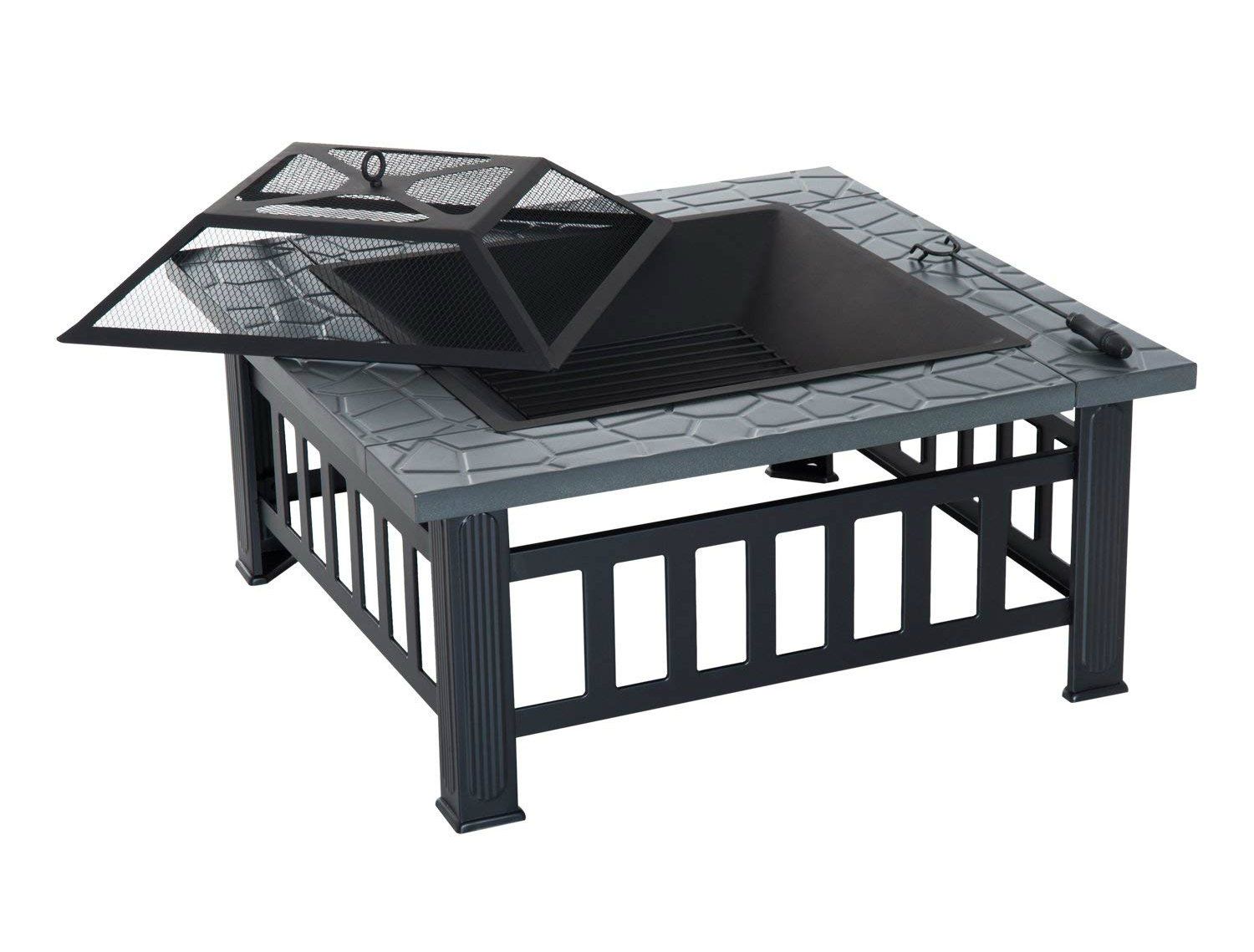 The tabletop area around the pit makes it multifunctional and wide enough for you to put drinks on while enjoying the atmosphere. As with the deeper-basined and better-looking Landmann fire pit, you'll need a wood storing space for this one, and you'll need to make a habit out of disposing of the ashes regularly.
With a price below $100, this fire pit comes with a lot of additional elements – you'll get a poker, a spark screen, and water-resistant outdoor cover!
Buy on Amazon
5. Catalina Creations Portable Fire Pit with Spark Screen
This portable, foldable and small square fire pit fire pit has 'practical' written all over it! Its steel construction and heat-resistant finish make it pretty sturdy for its size. With its foldable legs, this fire pit is extremely easy to store when not in use. Did we mention that there's no need for assembling it? All you need to do is flip the legs and voila – your fire pit is ready for use.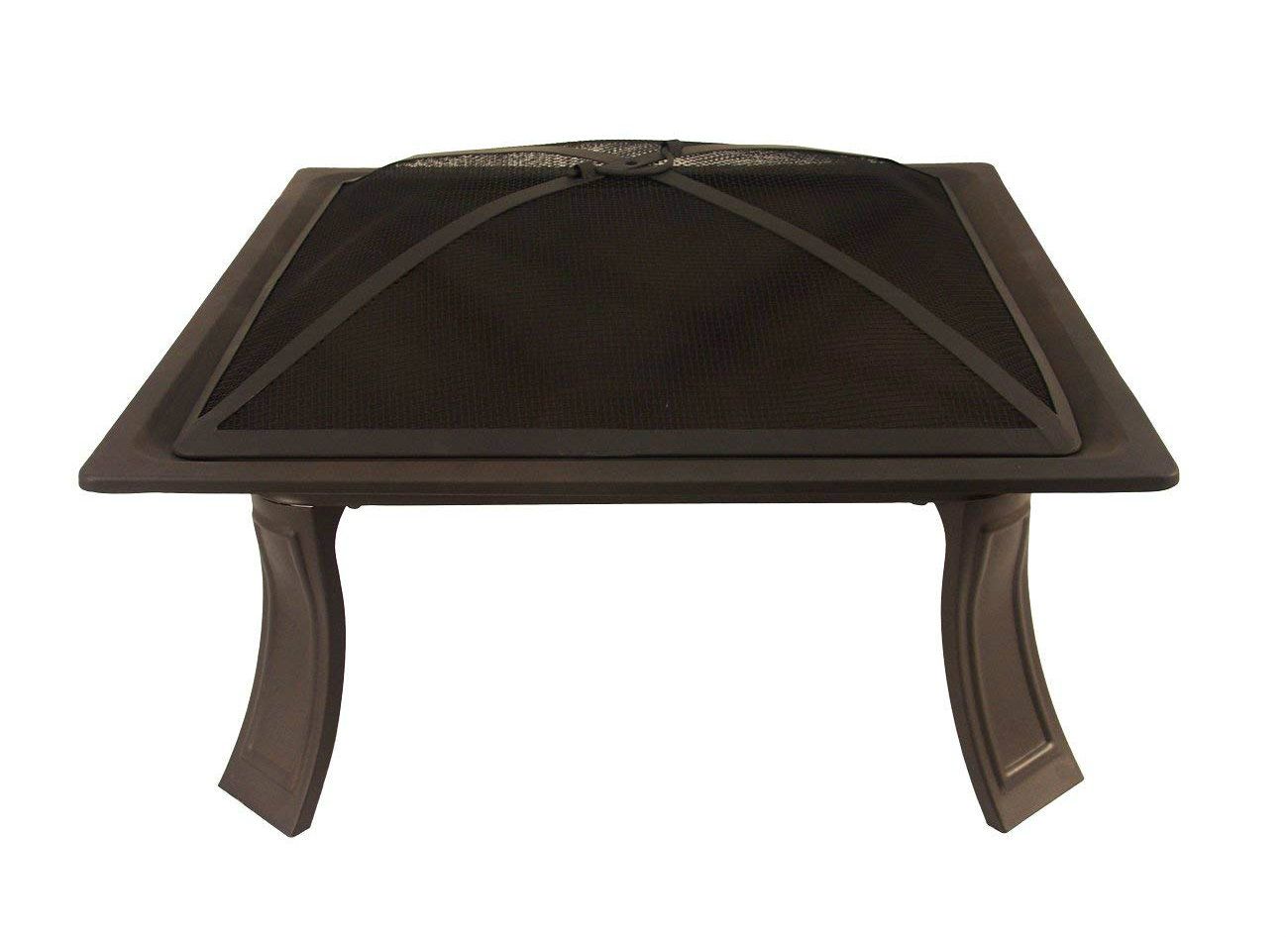 The Catalina fire pit comes with a mesh spark screen and a poker, that's primarily used for lifting the screen safely. This 26-Inch fire pit is ideal for adventurous people who need a reliable camping buddy with them.
Buy on Amazon
6 . Great Deal Furniture Square Fire Pit with Lava Rocks
If you're looking for a sturdy, high-quality fire pit, that you're not going to move anywhere, you're in for a treat! With its rustic, brownstone finish, the Great Deal fire pit is a thing of beauty. Made out of Magnesium Oxide and steel, you'll get a low-maintenance fire pit that's able to conceal a 20lb propane tank, as our top 2 picks as well.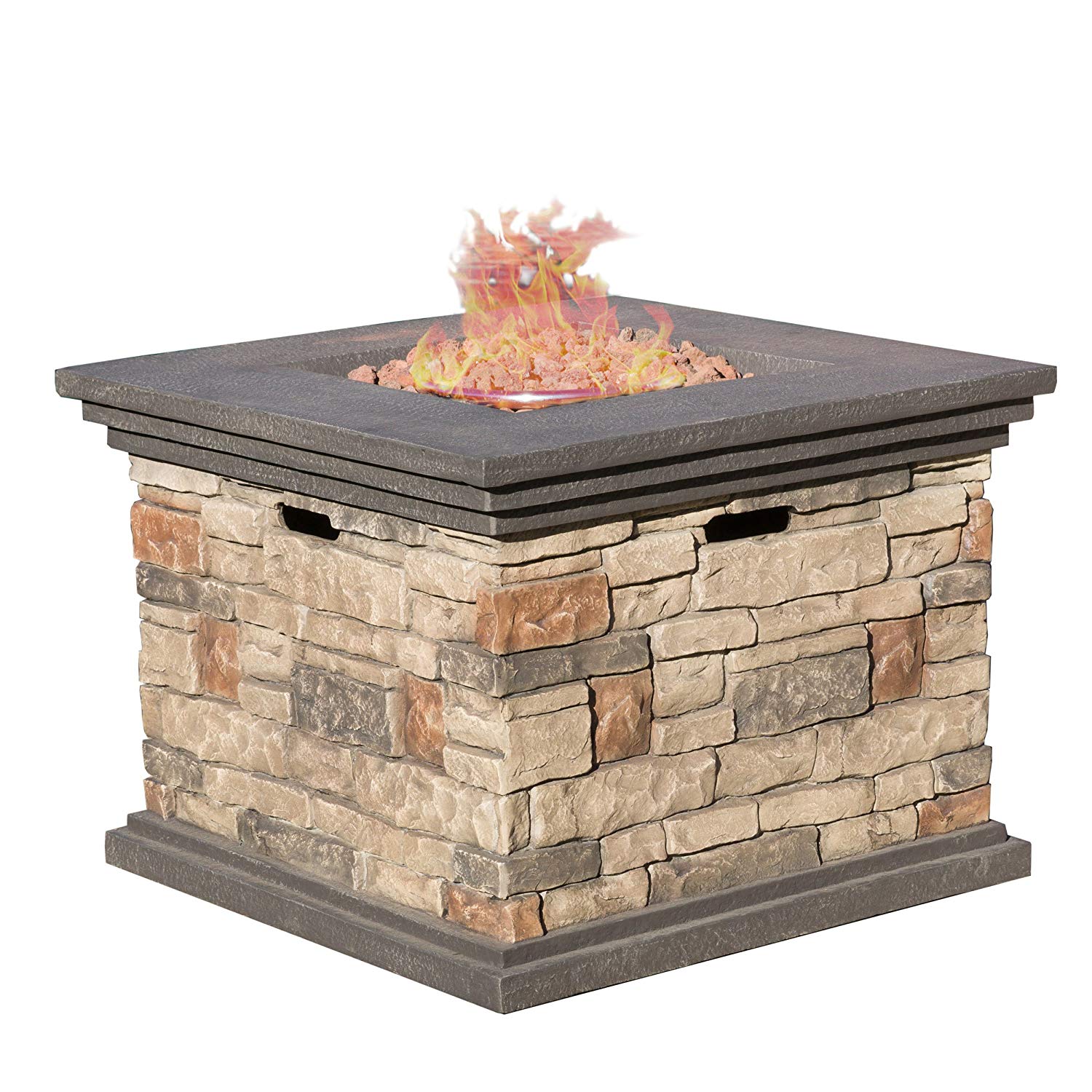 With 40.000 BTUs, this fire pit is more about the look than the feel, because it doesn't emanate that much heat, making it less than an ideal solution if you're into autumn patio gatherings. Be prepared to reserve a couple of hours of your time just in case, because some customers complain about the instructions being unclear and hard to understand. Also, consider investing in an additional protection cover, because the one that comes with it can be flimsy. Other than that, this is an excellent choice for people who're looking for a blend of quality and style.
Buy on Amazon
7. Blue Rhino Outdoor Gas Fire Pit
The sturdy Blue Rhino has a square fire pit bowl made of black steel and comes with 12lb of copper-colored fire glass and protective cover included. Its steel side panels conceal a 20lb propane tank (you guessed it – it's not included) and with only 30.000 BTUs, you're looking at a soothing fire that won't e able to do much else. However, if you're looking for a stable, sturdy piece that's going to brighten up your backyard, this 65lb fire pit that doubles as a table is a solid choice.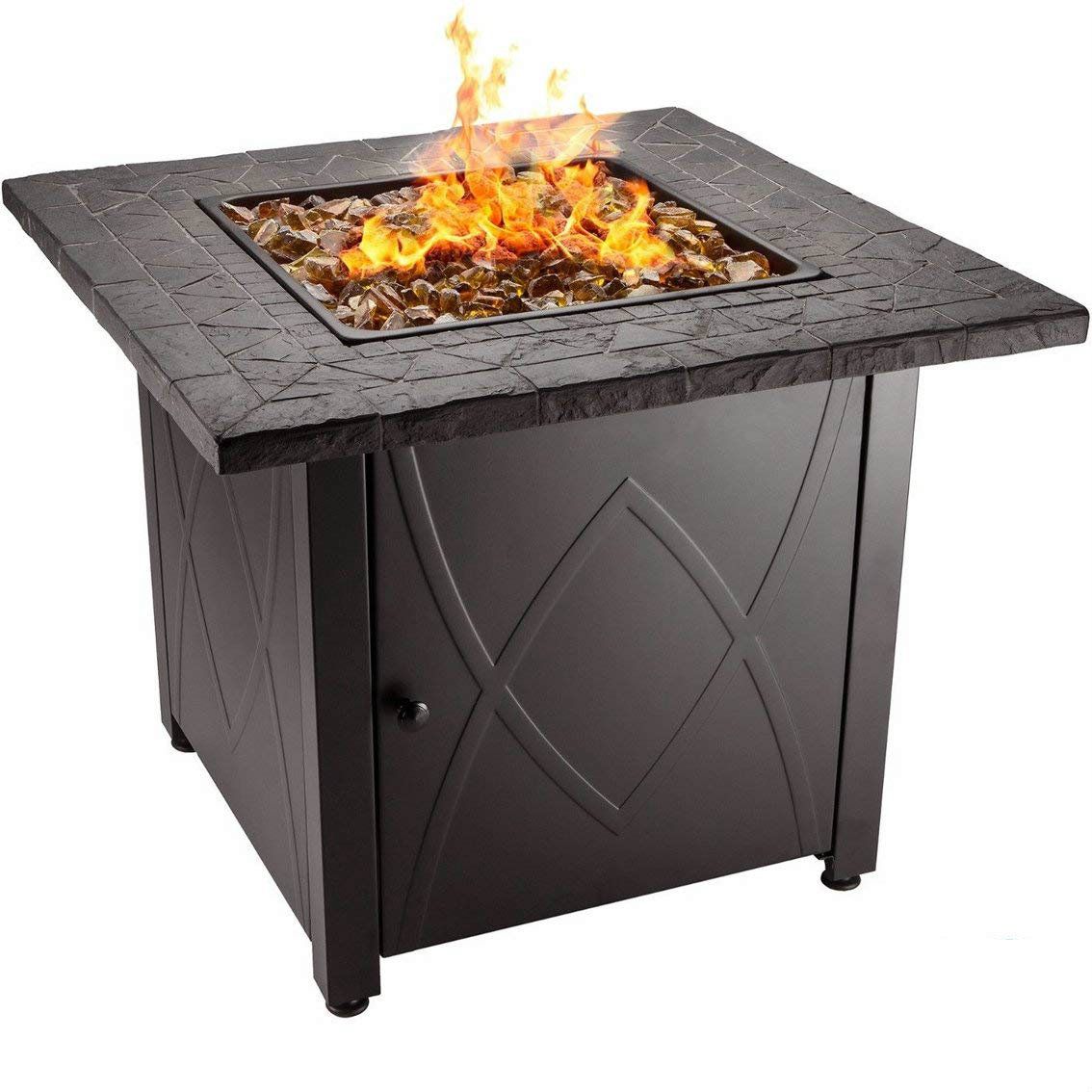 Buy on Amazon
8. Global Outdoors Adjustable Leg Fire Pit
If you're a fan of wood fire, here is another great choice that you can enjoy. With adjustable leg height and some tabletop space, this fire pit will make a great addition to your backyard. It comes with a slate top, a deep basin that's great for bigger fires that burn all through the night of talk and laughter, a mesh fire screen, a weatherproof cover, a grate, and a poker – all for less than $150!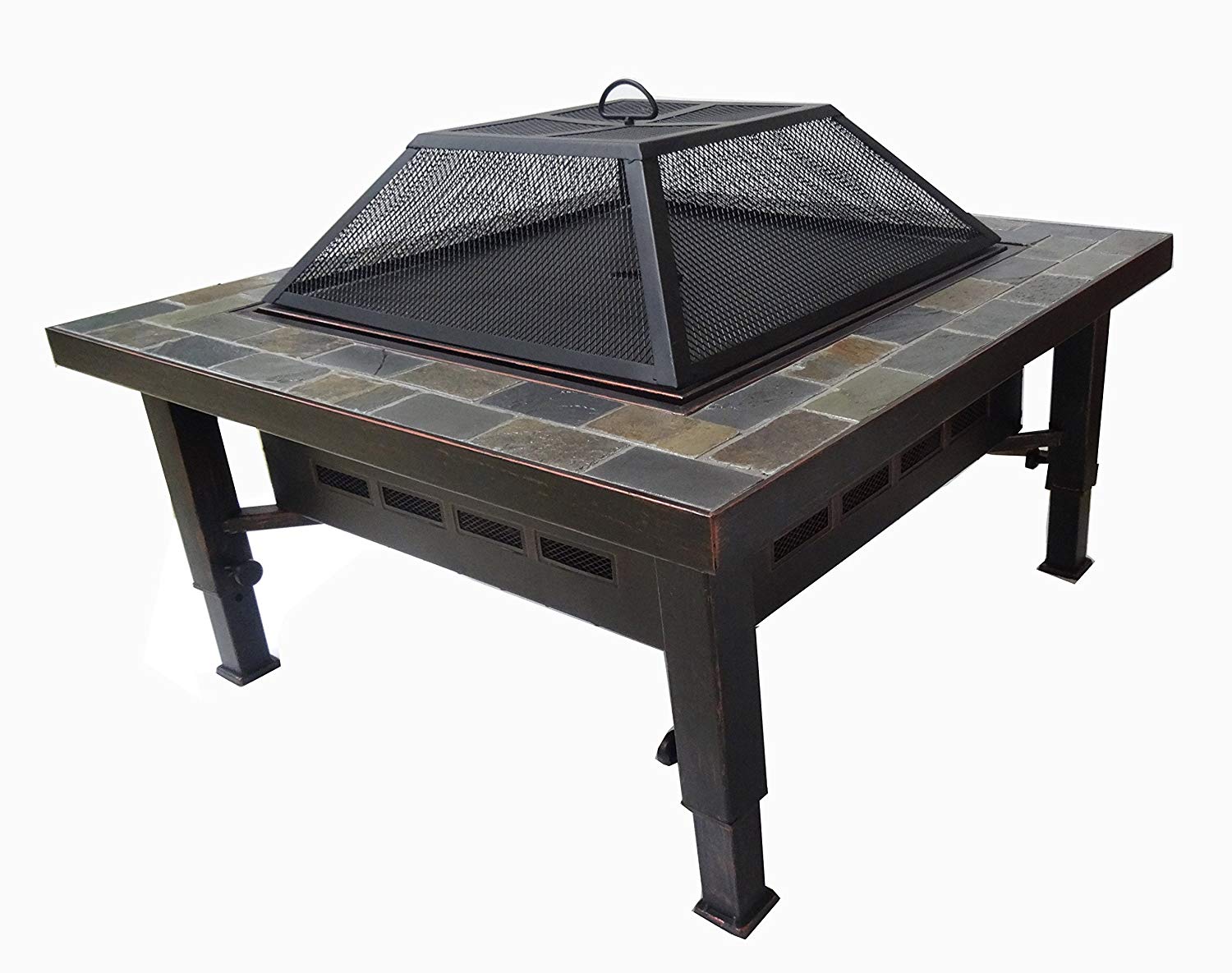 The integrated side-vent panels increase airflow and keep the fire burning longer. On the flip side, the customers agree upon the need to spray it with an anti-rust spray, because without it, it won't last long, unfortunately. But if you keep good care of it, you'll get more than what you bargained for!
Buy on Amazon
9. Endless Summer Outdoor Fireplace
This elegant, no-fuss steel fire pit is weather-resistant and really easy to assemble, given that no tools are needed for that job. It uses gas and comes with lava rocks, a 30.000 BTU stainless steel burner and a 30-Inch square space that doubles as a table, wide enough to put drinks and smaller plates on it. However, be prepared for some extra effort to light this up – some customers have stated that they need to hold the ignition button for up to two minutes in order to get the flames to burn.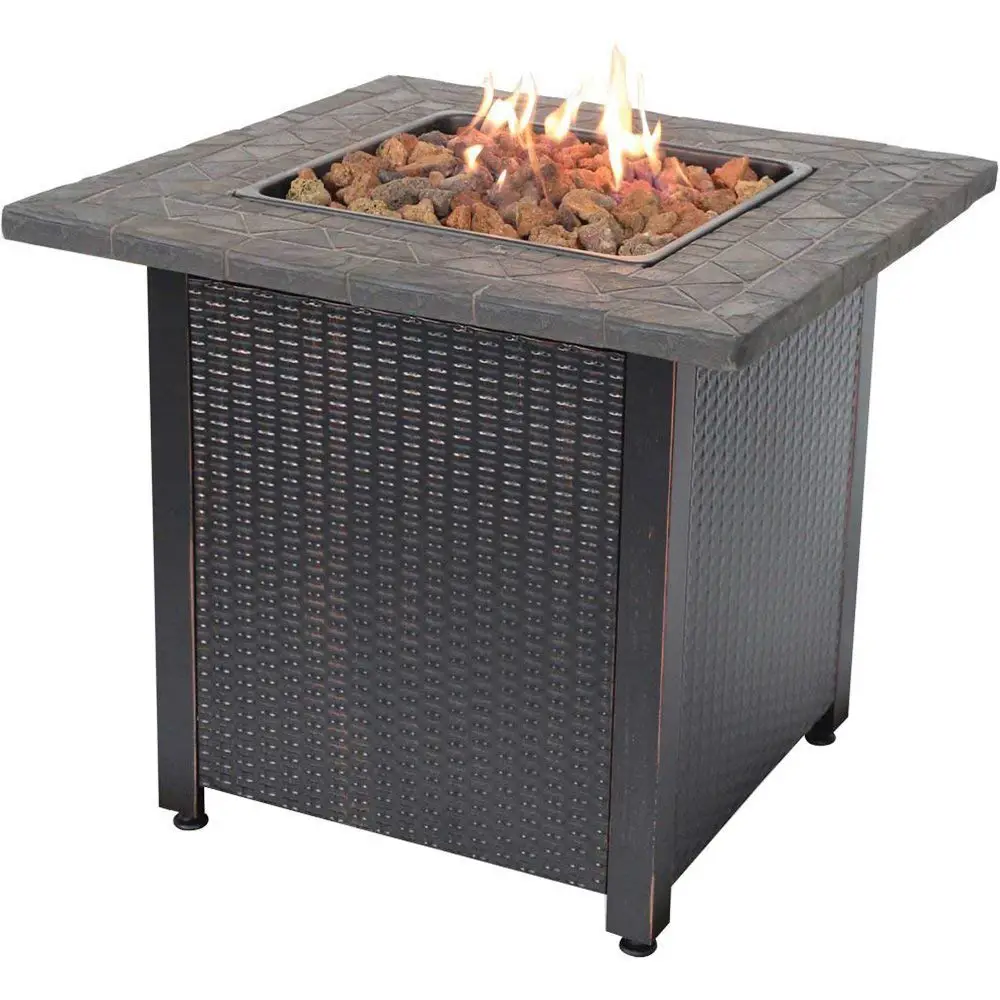 Buy on Amazon
10. DIAN Outdoor Fire Pit
Fans of minimalism – you're welcome. This contemporary fire pit boasts clean, steel edges and a ceramic top. It looks luxurious, to say the least! It uses a 20lb propane tank, just like other gas fire pits we've covered, and with a 50.000BTU steel burner, this fire pit will provide heat alongside the flames. It comes with auto-ignition and a safety push button. With this piece weighing a whopping 119 pounds, be careful to thoroughly consider the place on which you want to put it because it will be tough to carry around!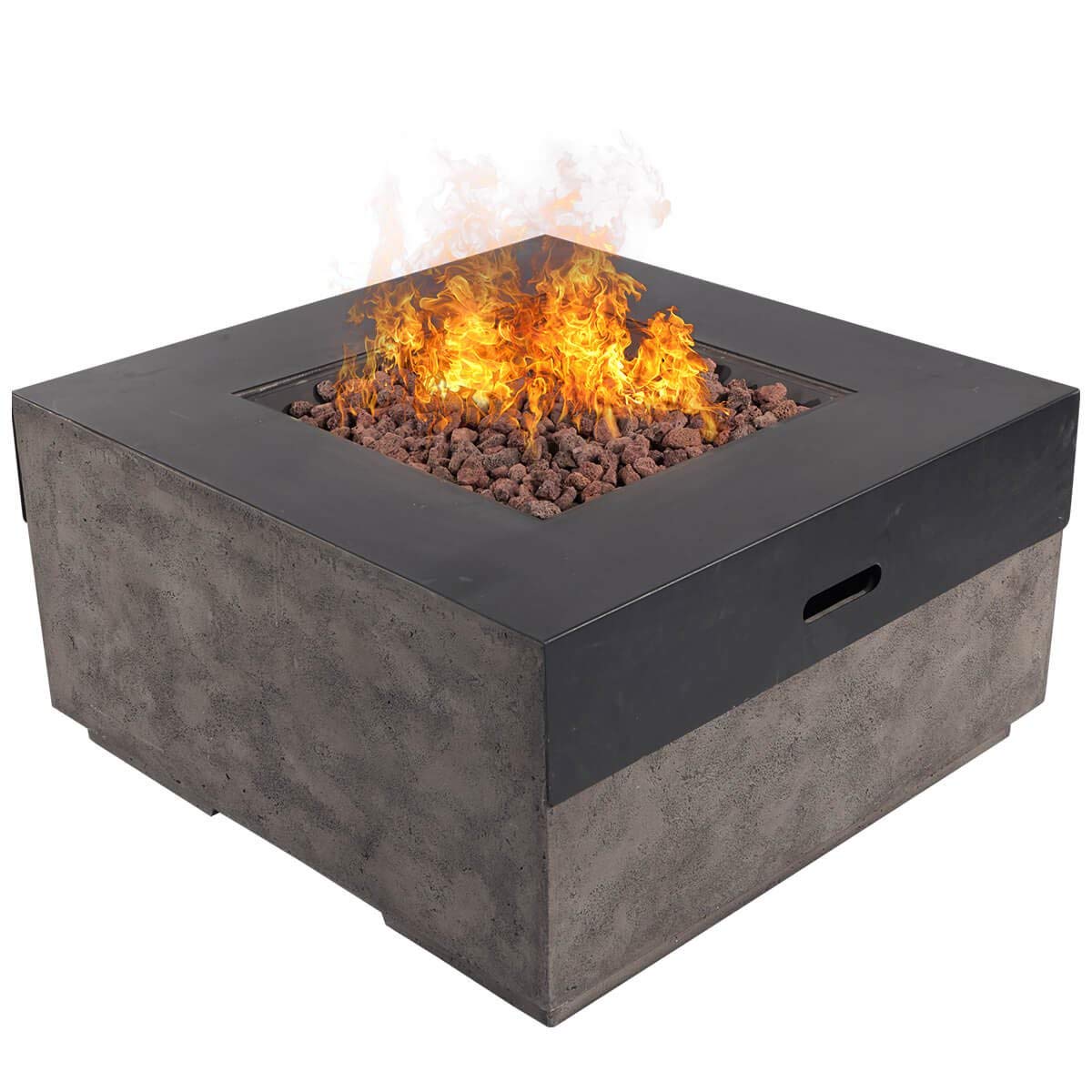 Buy on Amazon
General information about square fire pits
Fire pits have many functions, but all of them have only one purpose – to bring people together. Be it your family, friends or even acquaintances, a fire pit is a place of gathering, positive energy, chatter and you might even find some food around there, too. We don't know anyone who's gotten a fire pit and regretted the decision. It repeatedly proves to be one of those 'oh, man, how didn't I think of this sooner' type of things.
While there are fire pits that are made for indoor use, most fire pits are meant to be used outside, simply because that's a safer and more practical option.
Whether you have a spacious backyard, a small garden or a patio, a fire pit is bound to make that space look (and feel) warmer and more inviting. Remember, it doesn't have to be big in order to be breathtaking. Even a small fire pit can make an astounding change in your backyard.
Design-wise, fire pits have come a long way from just a steel ring that was there to keep the fire insulated from the surrounding materials. The round shape was considered to be a default fire pit shape for a long time. It wasn't until recently that rectangle and square fire pits started to take the lead.
The sharp square shape of the fire pit will give off an elegant and more formal air to the garden. This new kind of design is blended with classic and often rustic hardscape materials, which can bring back some of the inherent coziness of the round fire pit. While square fire pits are a bit of a gamble, they continuously prove to be a beautiful, stylish choice for any space.
Fire pits can also be a multifunctional solution if you're looking to light up your backyard. Instead of opting for patio lights or a centerpiece LED light figure, you could get a sleek-looking fire pit instead and create a well-lit oasis. Try adding some string lights to create lighting that complements a romantic fire pit perfectly.
Basic Fire Pit Components
Fire pits vary in shapes, sizes, and functionality so much, that mentioning every part of every kind of fire pit would be a full-time job. That being said, there are some basic fire pit components you need to know in order to understand how everything works.
Liner/Insert
A square fire pit liner or insert is a crucial part of every DIY fire pit as well as stone or brick fire pits. Essentially, it's a steel that outlines the shape of the fire pit itself, and its primary function is to contain the fire and the heat to the area around the pit and prevent (most of) it from spreading further.
Burner
A must with propane fire pits, the burner is ignited by a switch, causing it to emanate real fire. They come in all shapes and sizes, which dictate the amount of heat and flames a gas fire pit is able to produce.
Bowl/Pan
This component is also typical of propane fire pits. It sits on top of a housing, that could be either concealing a propane tank or having a gas line to the house, and one or more burners sprout out of the pan. A bowl is almost always filled with decorative lava rocks. The purpose of lava rocks (or other decorative materials such as pebbles or river stones) is to mask the shape of the pan and the burners as well, so it seems like the fire is coming straight from the rocks. With most modern fire pits that come with no or minimal assembly necessary, you won't have to deal with fire pans – either they are already fully integrated, or the installation will only take a few minutes.
Spark Screen
A spark screen is a mesh cover, usually used with wood-burning fire pits, in order to provide more security and stop the flames from catching on to something flammable while keeping the airflow going as well. If they're too thin, they are prone to warping and rusting, so make sure that you check regularly if your spark screen has changed in any way. Due to a significant amount of heat, they are usually handled with the poker that comes as a regular part of most wooden fire pit sets.
Buying Guide
There are a number of things you have to consider when buying a square fire pit. For one, keep in mind that this isn't going to be a once-a-month purchase; plan out everything so that you end up happy with the end result.
Fuel
Fire pits can use a lot of different things like fuel, including coal, gel, bio-ethanol and natural gas, but the two most common fuels are wood and propane, so that's what we're going to discuss here.
Wood
There is something to be said about the timeless feeling that wood fire evokes. You're instantly thrown back to your favorite campfire memory. And that's precisely the best thing about wood fire pits – they create real smoke, smell, flames, and ashes. The worst thing about wood fire pits is also that they create real smoke, smell, flames, and ashes. No, seriously, smoke from burning wood can be beyond irritating for people with breathing issues. It can trigger asthma attacks as well as bronchitis, so if you have a friend or a family member that you know is going to have a problem with your wood fire pit, our advice is to opt for propane.
Propane
Propane tanks are one of the most practical fuel solutions for your fire pit. Square fire pits with propane are odorless, smoke-free, they don't leave ashes and as a plus – they're safe to use on roofed porches. If you have a healthy dose of fear when it comes to fire, you will like propane fire pits because the intensity of the flames is far easier to control, and they can be switched off by a simple push of a button.
Dimension
Usually, square fire pits range from 25-45-Inches. The larger the surface, the more functional space you have for serving food and drinks and using your fire pit like a table. For those looking to decorate a small space, a 24-Inch square fire pit insert is a popular choice.
Material
Fire pits really do come in almost every material imaginable, so we'll try to point out the good and the bad in all main materials.
Steel
Steel is easily moldable, so the fire pits made out of steel can be varied in shapes and details. Additionally, steel can be stained, matted or powder-coated, offering you plenty of choices. On the downside, steel rusts easily, so make sure to protect your fire pit with covers and anti-rust sprays.
Stainless steel
Particularly good-looking in an industrial design, stainless steel fire pits are lightweight and durable, while also being rust-, heat-, and weather-resistant. These pros don't come alone – for this kind of a fire pit, you'll need to pay a bit more than for the steel one.
Stone and Brick
Stones and bricks share the same benefits. They tend to be on the heavier side, so don't plan on a portable fire pit if you're going with the brick or stone design. Keep in mind that they are sensitive to temperature extremes, and can crack if exposed to several cycles of extreme heat and cold.
A square brick fire pit can be easily assembled according to the instructions from the manual, while the square stone fire pit will probably need a professional to build it – if it doesn't come already in one piece, that is. In that case, you'll probably have to buy a square fire pit insert as well. Also, a square stone fire pit is often a perfect way to harmonize and coordinate the look of your façade with the look of your backyard.
For those of you that are especially crafty, creating a square brick fire pit from what you already have at your garage might be a great challenge. Get a square fire pit liner and build a brick structure around it, get some woods, and you're essentially done!
Copper
This material provides an antiqued look even to the newest of fire pits and can be a perfect solution for lovers of everything retro. Copper is a durable material that doesn't rust, although it changes color over time, and it costs more than a regular steel fire pit.
Aluminum
Aluminum fire pits are a classic. They're affordable, durable, lightweight and they won't rust, break or crack. They are one of the best cheap square fire pit options on the market.
Cast Iron
Cast iron is an extremely heavy material, so don't count on fire pits made out of it to be portable, but do count on it lasting you a lifetime. Cast iron is ideal for cooking, it's rust-resistant and an amazing heat conductor.
Stationary or Portable
There isn't a clear winner when it comes to this kind of decision. Clearly, a portable fire pit can be moved in order to create space or just to store it during the winter. It can also be carried on camping trips, picnics and family gatherings.
On the other hand, a portable fire pit can easily be knocked over, which can easily cause a fire hazard. That's where the stationary fire pits shine. They are impossible (or nearly impossible) to knock over, they're usually longer lasting compared to portable fire pits and they are sturdier overall.
Functionality
The best fire pits are multifunctional. Yes, looking at flames can be relaxing, but wouldn't it be great if you could use your fire pit to grill or just use the tabletop surface to serve drinks? Yeah, we think so, too. Here are some of the basic functions square fire pits can have.
Grill
A square fire pit with grill is truly the best of both worlds. However, just because yours didn't come with a cooking grate included, doesn't mean you can't buy one yourself and turn your square fire pit into a grill any time. Just measure your square fire pit insert and buy an appropriate grate!
Table
The basic function is often the most useful. Square fire pits are practically begging to be turned into tables during the day, with a simple pit cover that would make the whole table surface flat. But even if your fire pit didn't come with the pit cover, you can probably still find the room on the fire pit surface to place your plates and drinks while you sit around the fire with your friends.
Price
Quality fire pits don't have to make a significant dent in your home budget. In fact, most decent square fire pits cost around $300 or less. However, consider investing in a high-quality fire pit made out of rust and weather-resistant materials. That can even turn out to be a cheaper investment if it lasts you a decade or two! If you're big on saving, wait for the next big holiday and find some amazing square fire pits for sale!
Other information
Did you know that in some cities/counties there are regulations about outdoor wood-burning and wood fire pit burning? Make sure to check for any such regulations (search under 'recreational' fires) before buying a wood-burning fire pit.
Expert tip: Stop the annoying mosquitos by throwing a few sage sticks into the flames!
Safety tips:
If you can, place your fire pit on stone, cement or tile surface – they are fireproof and thus the safest spots to lace the fire pit on
Ideally, you should place the fire pit at least 10 feet away from your house (or any other building), plants or trees. Also, try not to put it near an overhang or anything else that could catch fire easily
Just to be on the safe side, never leave children around the fire pit unattended and always keep a garden hose, a fire extinguisher, or a bucket of sand nearby, in case an accident happens
If you have kids and a sleek square fire pit with sharp edges, make sure to childproof those edges and avoid any nasty injuries that could happen while playing
Fun fact! While this isn't the most elegant of solutions, it can definitely come in handy for when you're in a hurry. Instead of buying a cooking grate, use your oven racks to do the job – if they fit the width of your fire pit, that is.
Invest in a good and sturdy weather-resistant protection cover! Even though some fire pits come with the cover included, but those covers often aren't the best quality, so getting another one isn't as crazy as it seems.
Also, consider buying a wind guard fence for your propane fire pit. The fact that its flames are less dangerous than the wood ones doesn't mean that a little precaution is a bad idea.
Living with the Square Fire Pit
Most people who buy a cheaper, steel fire pit experience a problem with rust. It's common knowledge that water provokes rusting. However, not a lot of people know that ashes, too, can cause steel to rust, so if you have a wood fire pit, make it a priority to empty the ashes after every use. This will prolong the life of your fire pit, although ultimately, you might want to consider getting aluminum or stainless steel one.
Take the advice of the experienced fire pit owners and make sure that a puddle of water isn't created on top of your protection cover, where the fire pit is. Make sure to put something into the pit itself, in order to make it the highest point when the cover is on so that the rain can actually roll off the cover.
Conclusion
Have no doubt, once you get a square fire pit, it'll become the focal point of your yard. It will be a place to have a good conversation with a glass of Chardonnay, a place to tell scary ghost stories and roast S'mores and corn cobs, or just a place that will bring you a piece of mind, where you can relax, watch the soothing flames and wait for the day to come to an end.
A lovely addition to your backyard, a square fire pit is a small change you didn't even know you needed.