A cover is a must-have accessory to accompany your fire pit. Just like your grill and patio furniture, your fire pit can get damaged over time from exposure to the elements. With a cover, your fire pit will look newer and function better. Over time, overexposure to moisture can make it much more difficult to start a fire. If the fire pit is left out in the rain for extended periods of time, the gas system could even get damaged permanently. Certain types of fire pits are more prone to damage than others. For example, pits that aren't made of stainless will rust due to the presence of moisture in the air. Both rust and damage to the gas line will take a jab the fire pit's longevity. Spending $30 on a fire pit cover can easily save you a couple hundred of dollars in the long-term by not having to replace your fit pit as frequently. Not only will your fire pit keep working during the blistering winter months (when it's most needed), but you'll also add to the appearance of your home's exterior if your other patio furniture has covered. Given the low cost of fire pit covers, it's a smart choice to buy one at the same time you buy your fire pit.
Since fire pits are seasonal items, you won't have a large selection to choose from at brick-n-mortar stores during the off months. On Amazon, you have a huge variety of covers to choose from at all times of the year. To make your buying decision just a little bit easier for you, we carefully reviewed numerous covers available on Amazon and selected the top three. During our search, we focused heavily on the material, durability, price, reputation, and extra features. If a product didn't make our list of top products, we set it aside and considered it for our list of "honorable mentions." On top of our reviews, we've also created a buying guide to help you decide which fire pit cover round suits you best.
Top Three Round Fire Pit Covers
If you're looking for a new fire put a cover or just want to upgrade, you should stop what you're doing and take a look at our top three list. These are the best covers in terms of quality, price, functionality, and warranty. We also analyzed each product's rating on Amazon and compared it to other popular products within the same category. Any product with multiple negative reviews was thrown out from the running.
1. Classic Accessories Ravenna Round Fire Pit Cover
Topping off our list is this premium outdoor cover by Classic Accessories that measures 30in. in diameter and 12in. in height. With an average rating of 4.9 stars out of five, this is without a doubt one of the highest reviewed fire pit covers on Amazon. In fact, almost all of the products branded by Classic Accessories are highly sought after and designed with quality in mind. This Ravenna round fire pit ring cover is no exception. You can get your hands one of these for 30-inch covers for only $26.99. If you need a bigger size, there's also a 36 round fire pit cover that's available for $36. A quick glance at the reviews makes it clears that customers are very pleased with the quality of this cover. Many customers note that it's both functional and very durable. In addition to outdoor fire pit covers round designs, Classic Accessories also sells covers for grills, couches, and table sets. You should consider purchasing the entire Ravenna collection if you have multiple pieces of outdoor furniture and want a uniform look. Like almost all Classic Accessories products, this product is covered under a manufacturer's warranty and they will replace it for free if it gets damaged. The best part? Classic Accessories offers a lifetime warranty for as long as you own the cover.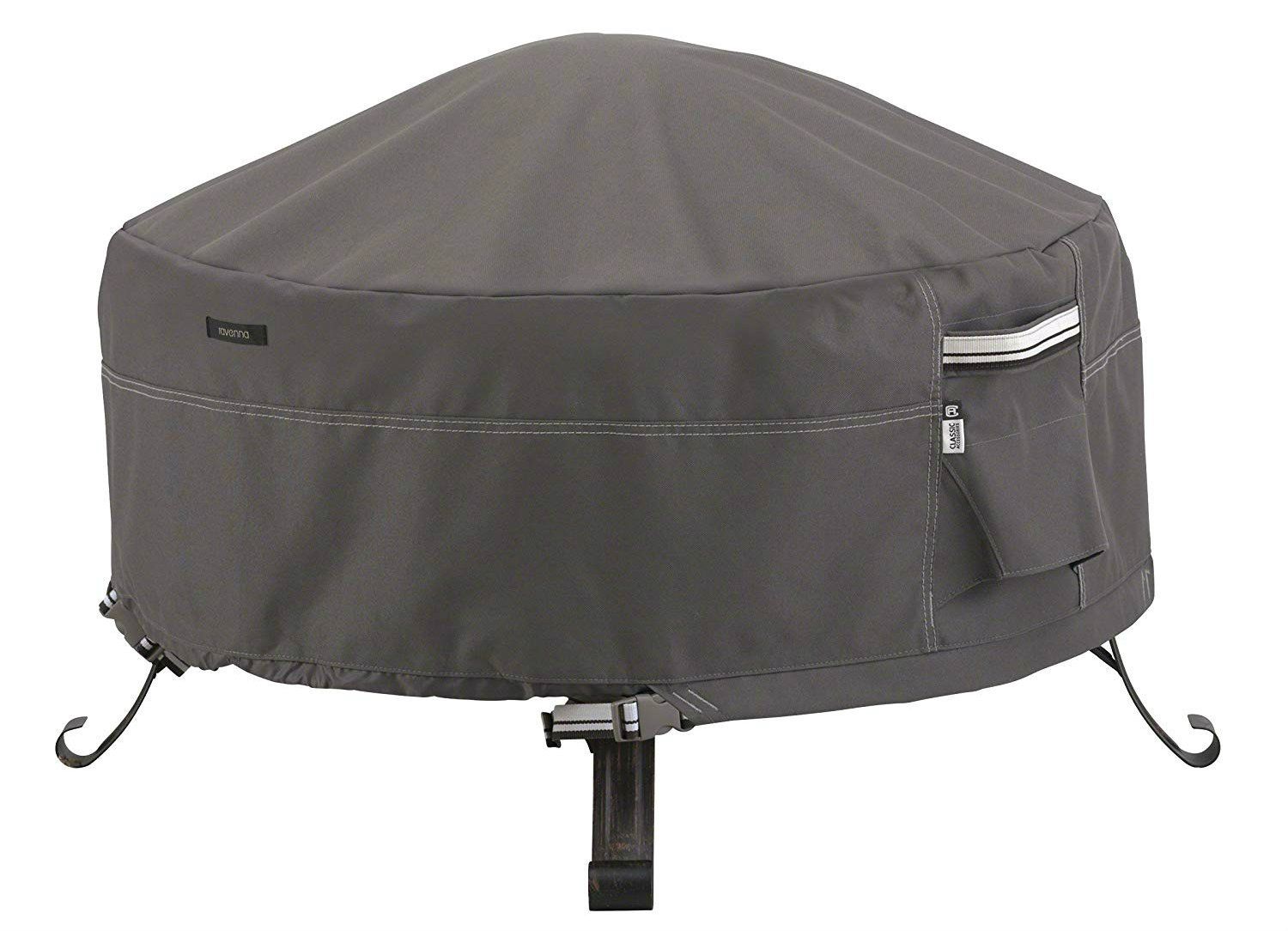 This cover is not only designed to look nice on your patio, but it's also designed to be resistant to water and withstand various types of weather conditions. To ensure ultimate protection from water, Classic Accessories makes their covers with Gardelle One fabric – a woven polyester material that has UV-resistant properties along with a laminated backing. Moreover, this cover also comes complete with a patented Windlock system and a belted hem that keeps the cover in place during windy weather. The bottom of the cover is equipped with a cord lock closure that you can use to securely adjust and fasten the cover to your fire pit. There's also a pair of openings that double as handles and as a ventilation system to prevent mildew and other undesirable fungi. Don't let the light weight fool you. Even though this cover only weighs 1.8lbs, it won't fly away like some of the lower quality patio covers. On a final note, this cover has a neutral yet attractive design that will make a great addition to every patio or deck. The color is best described as a grey and it features a white stripe to add a nice accent. For a cover that won't let you down, this Classic Accessories Ravenna is worth checking out.
Pros
Comes with a lifetime warranty
Features reinforced padded handles
The material is UV-resistant and won't fade
Designed with an adjustable belted hem
Cons
Doesn't cover the legs of the fire pit
Color varies slightly from the picture
2. Classic Accessories Black Round Fire Pit Cover
Sold exclusively by Classic Accessories, this round cover for the fire pit is made of water-resistant fabric that provides protection from rain, snow, dirt, and other extremities. Classic Accessories was founded in 1983 and have an expansive collection of both furniture and vehicle covers. While they also sell their products in brick-n-mortar stores, you can find the best selection of products on Amazon. This particular covert is part of their Montlake FadeSafe patio cover collection. The collection also features smoker, kettle BBQ grill, and built-in BBQ grill covers. All of the products are designed to fade from the sun's rays. You won't have a black cover one summer and then a grey one the next. If your cover were to fade, tear, or get damaged somehow, it's covered under a one-year manufacturer's warranty. All you have to do is email a picture of the damage to their customer service department and they will send you a replacement for free. Even though the cover is only an investment of $21, it's still reassuring to know that it comes with a satisfaction guarantee.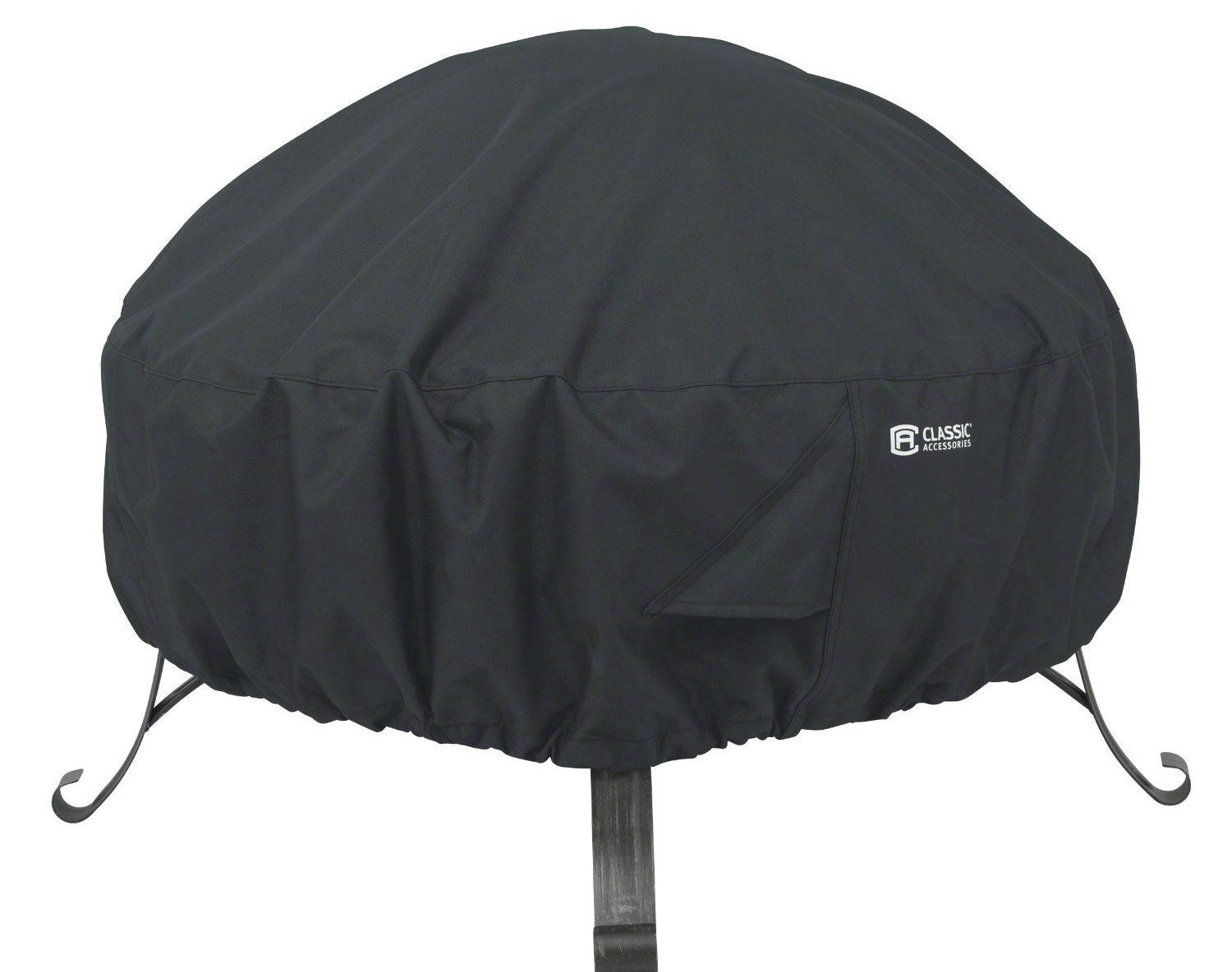 With a tough and durable fabric, the cover won't rip, tear, or splinter during the wintertime. Since even the smallest tear can cause water to get into gas line, Classic Accessories goes the extra mile to make sure all of their products are manufactured with only the highest quality material on the market. Both of the sides have a triangular ventilation system that prevents wind lofting – the buildup of air inside the pit. In addition, the ventilation system keeps mildew from forming. Weighing in at 1.9lbs, this cover isn't overly heavy and won't take up too much storage space when you're not using it. It has a diameter of 36in. and reaches up to 12in. in height. As you can see on the Amazon listing, the cover does not cover the legs of the fire pit. With that said, the woven polyester fabric will still keep water out from the most important part of the pit. To ensure a secure fit, the cover continuous bungee hems that fit nicely over the sides of the fire pit. This cover has well over one-hundred positive reviews on Amazon, with many of them mentioning the perfect fit, thick material, and longevity. You won't find many other fire pit covers of this quality in the same price range. This small investment will definitely pay off by protecting your prized pieces of furniture.
Pros
Doesn't crack in the cold weather
The fabric is water-resistant
Comes with a one-year manufacturer's warranty
Boasts air vents to reduce condensation and lofting
Cons
Fades slightly in direct sunlight
Actual size may vary slightly
3. Porch Shield Round Gas Fire Pit Cover
This heavy-duty fire pit cover is 100% waterproof and is made of 600D polyester fabric. Since polyester does retain a small amount of water (not as much as cotton), Porch Shield added a laminated undercoating to keep the water from soaking into the fabric. At a price of just under $18, this cover is a great investment to keep your fire pit covered from all the elements. With an average rating of 4.5 stars, the product is one of the highest rated in its category on Amazon. If you take a look at the reviews, you'll notice that most customers mention the cover's outstanding quality and snug fit. According to Porch Shield, this is one of the thickest covers available on the market. You can buy this extra thick cover in either black or beige and it's available in both a square and round shape. As of 2018, it's the number one best seller in the fire pit covers category on Amazon.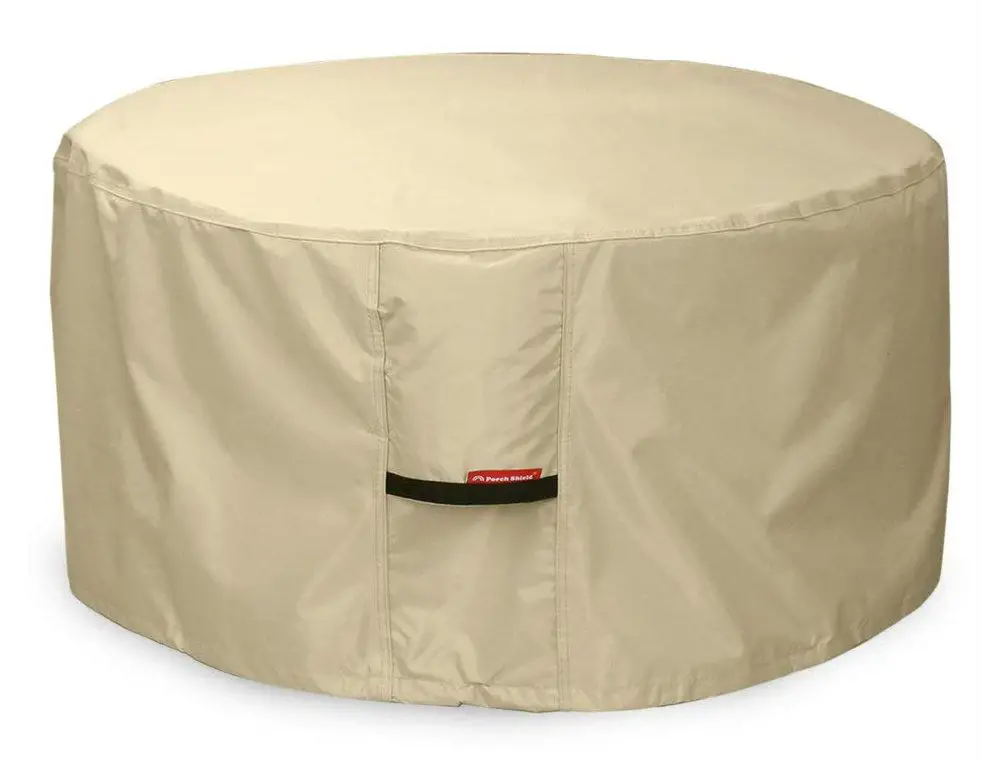 The cover comes with all the features you'd expect and then some. In addition to the waterproof fabric, the cover is equipped with two ventilation holes to prevent wind lofting and mildew buildup. The fact that it's both waterproof and breathable means it should last for many years to come. With an elastic hem cord, this 32×16 in. the cover is designed to securely fit over your fire pit and withstand both windy weather and thunderstorms. It weighs 2lbs and as long as it's tightened to fit your fire pit, it will never blow away. In the event that the material tears (which is unlikely), there's an extra square of material that you can use as a patch. In addition to the extra fabric, this product also comes covered under a three-year warranty. If your cover is damaged within this timeframe, Porch Shield will either refund you or provide a replacement free of charge. All of the reviews on Amazon rave about this cover's high-quality and durable material. Considering that other covers might only last you one wear, this product is definitely worth the $18 investment. Not only is it aesthetically pleasing, but it's also built to handle even the most extreme weather.
Pros
Comes with a three-year warranty
Made with 600D durable polyester fabric
Has two air vents to keep mildew from forming
The seam sealing tape makes it 100% waterproof
Cons
Some customers reported receiving a different size
The bottom drawstring can be difficult to tighten
Other Fire Pit Covers to Consider
1. Classic Accessories Round Fire Table Cover
This round fire table cover by Classic Accessories measures 42in. in diameter and 22in. in height and boasts a water-resistant undercoating. It's designed with a drawstring that allows you to securely fasten it around your fire pit, leaving no gaps for water to come in. To mask watermarks, the cover features a dark splashguard along with air vents to keep mildew from forming. The material is made of garden woven polyester and is completely water resistant. With a pair of large handles on both sides of the cover, sliding it off the fire pit is easy. If there is any dry-rot, sun, or mildew damage within the first three years, you're completely covered under a manufacturer warranty. The only reason this table cover isn't on our top-three list is that some customer reported troubles getting it to fit. As long as you measure your fire pit beforehand, you shouldn't have any problem with this eloquent fire table cover.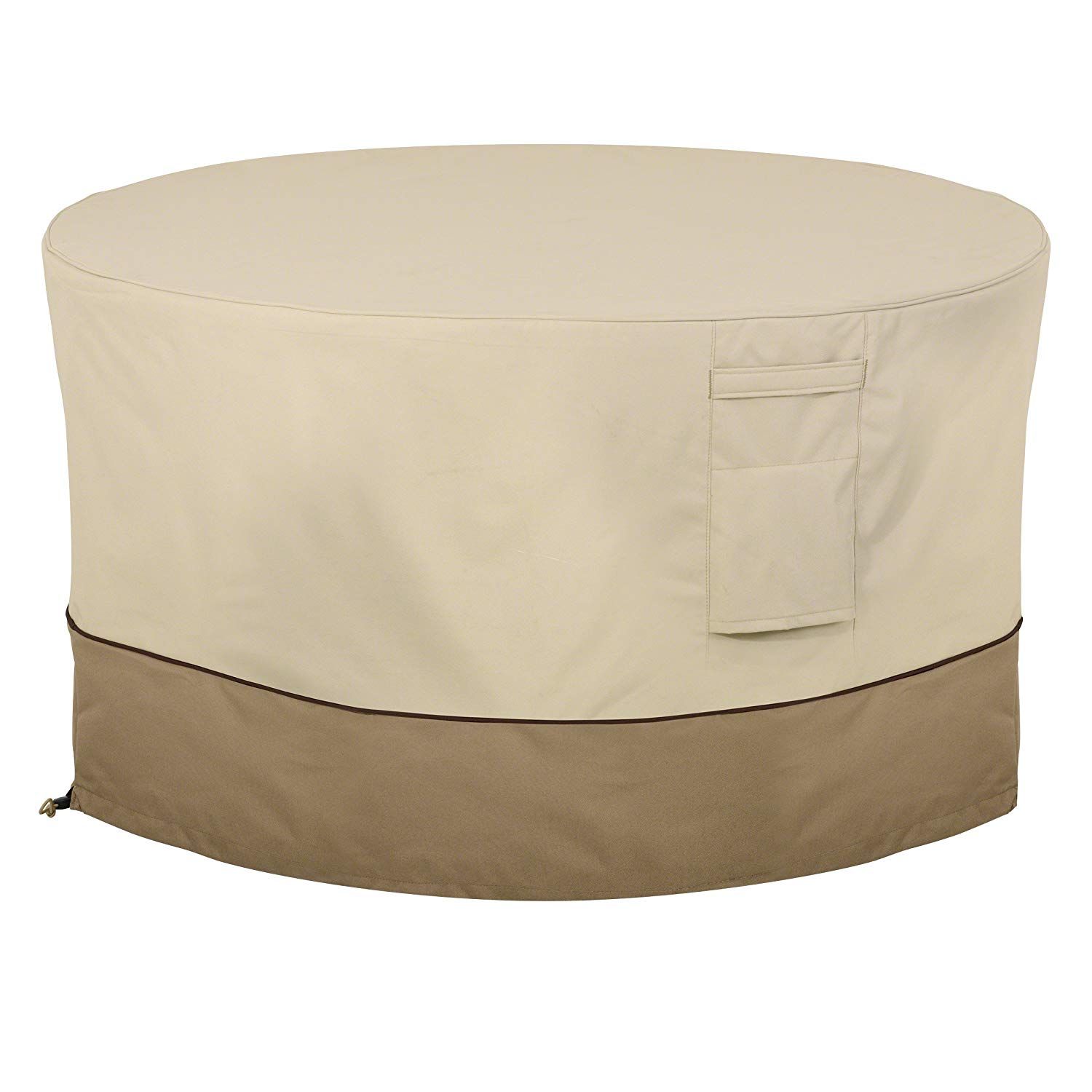 2.  AmazonBasics Round Fire Pit Cover
Sold by AmazonBasics, this fire pit cover is made of 100-percent woven polyester and reaches up to 60in in diameter. Like the Classic Accessories, this pit cover has a protective splash-guard base that keeps it safe from water. With a laminated polyvinyl material, you won't have to worry about water soaking in the fabric and getting into the fire pit. The product features a pull cord that you can adjust to fit snuggly around the base of the pit. Reviewers on Amazon rave about the cover's top-notch material and stitching. For just $21, this product is competitively priced, especially for its size. If you have other pieces of furniture that you need to cover during the winter months, you can get Amazon Basic's full collection of products that are color coordinated. While most of the reviews are positive, a few customers noted that the sides were too short for their pit.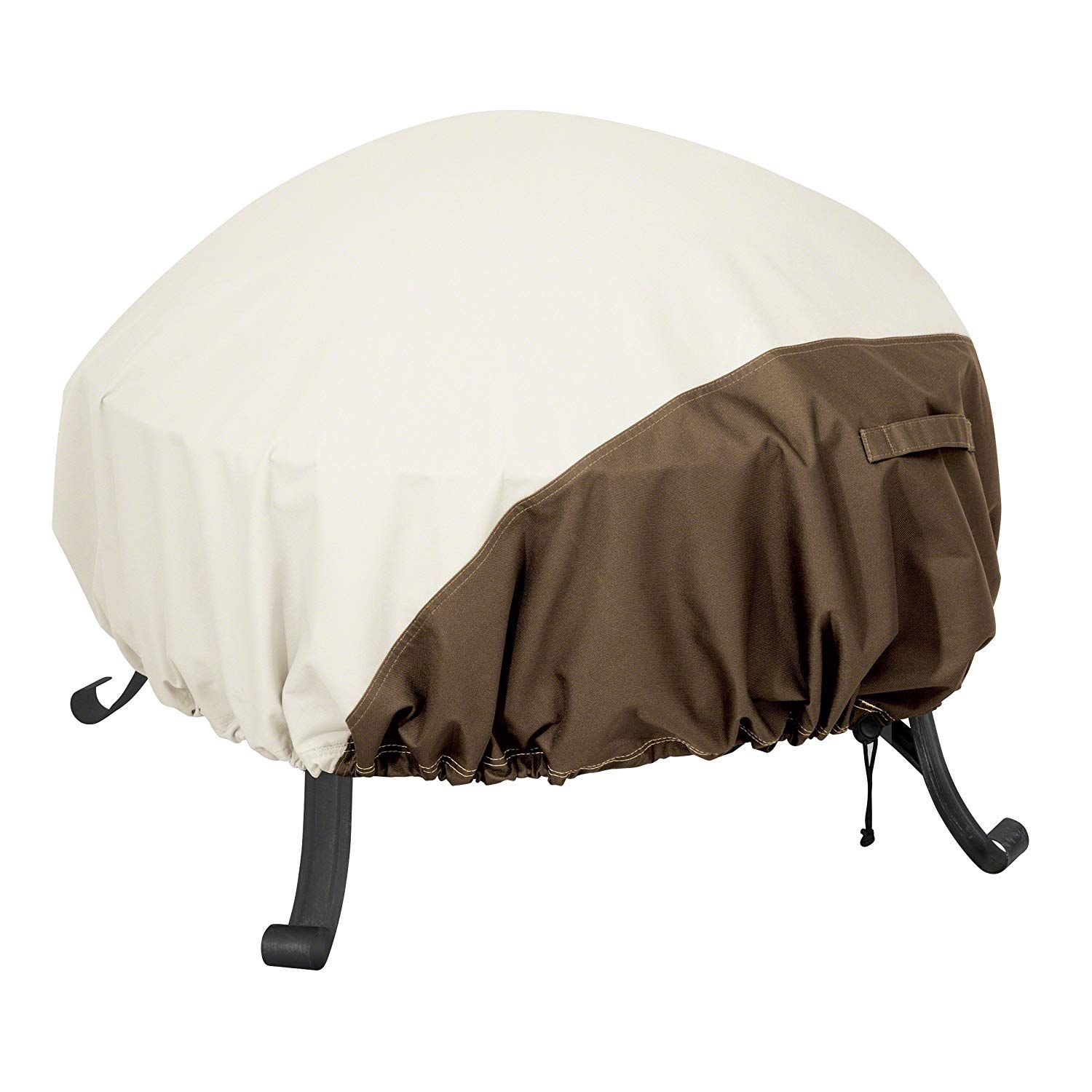 3. Classic Accessories Terrazzo Fire Pit Cover
If you're looking for a larger fire pit cover, this product measures 44in. in diameter and is made with a rain-tight fabric that keeps the rain and snow out. Since the cover come with an adjustable elastic cord stitched in the bottom hem, you can still use it for pits that less than 44in. in diameter. According to Classic Accessories, the cord will stay tightened even in the strongest of wind storms. The fabric is a beige color that gives off a sophisticated flare all while protecting your furniture. Classic Accessories has a complete collection of Terrazzo covers so your whole porch will look uniform. It's important to note that this cover will only extend to the bottom of the pit and is not designed to protect the wheels or legs of the fire pit. To add the icing to the cake, this product comes with a one-year warranty that protects you from any type of damage. Overall, this is a solid choice if you want a durable and reliable cover. Since some customers mentioned the size is smaller in person, it might be a better choice if your fire pit measures 40in. in diameter or less.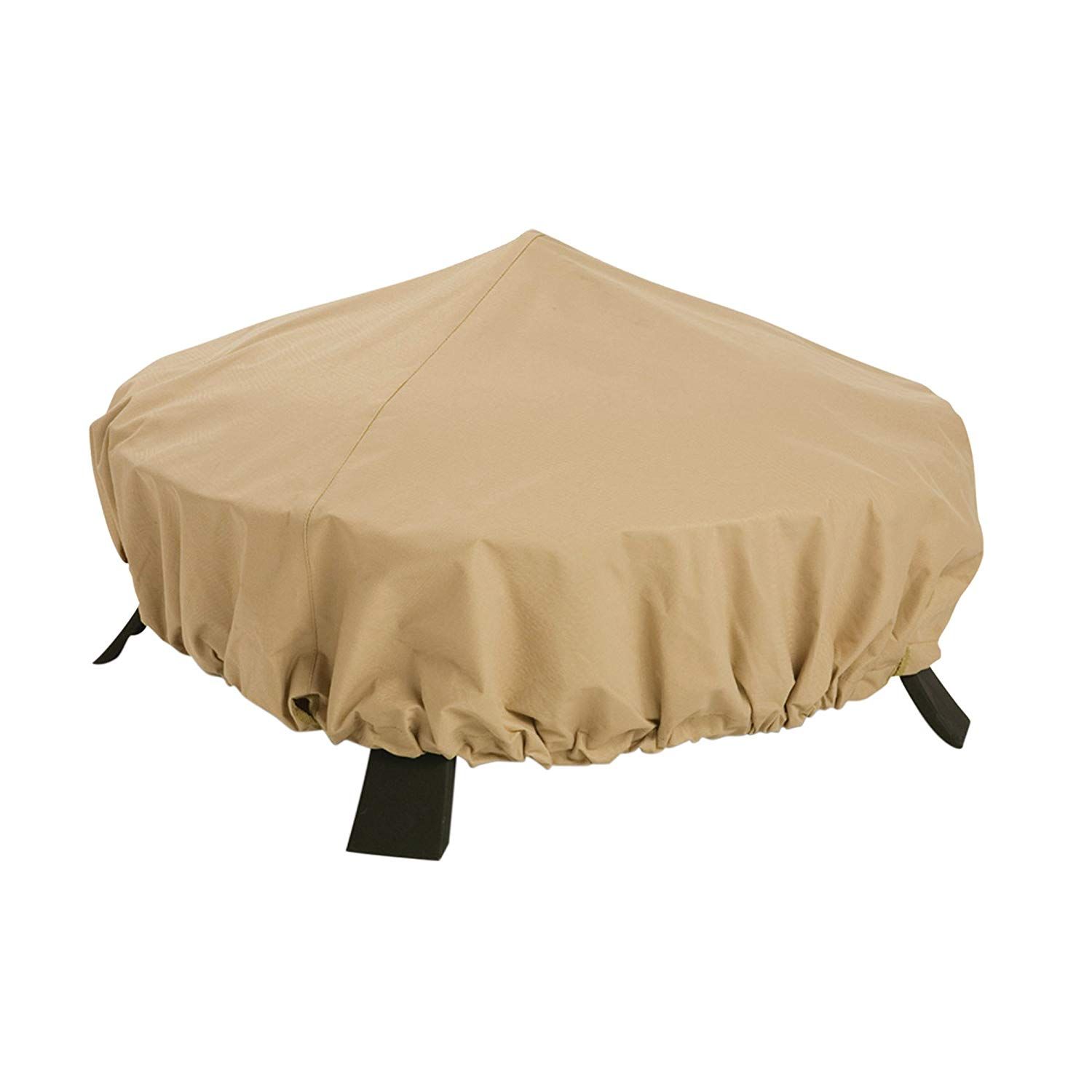 4. Sunnydaze 48 Inch Round Fire Pit Cover
At a price of $37.99, this 48in. large round fire pit cover is one of the most popular on Amazon and is made of reinforced vinyl (PVC) that does a great job of keeping out the elements. Not only does the material keep the water out, but it's also prone to cracking during the harsh winter months. Like most protection covers, there's a drawstring you can use customize the size of the cover, so it fits perfectly over your fire pit. All Sunnydaze products come with a one-year manufacturer's warranty that covers basic types of damage. Since the color back is as neutral as it gets, this 48 round fire pit cover will blend in with all your other pieces of patio furniture. Even though it's not necessarily fancy looking, this product gets the job done. The only minor flaw to this product is that the drawstring can be difficult to tighten at times. If you don't mind a little extra effort to tighten the drawstring, this 48 inch round fire pit cover is certainly worth taking a look at.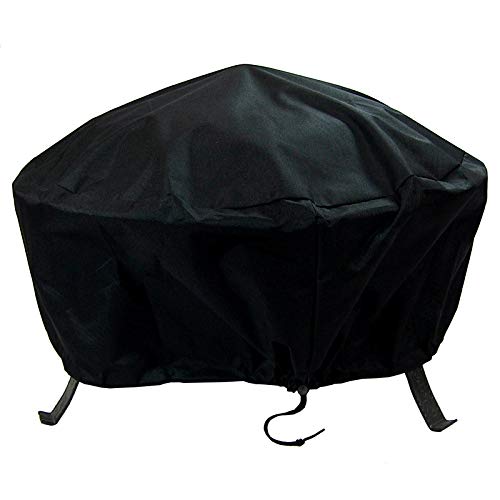 Buy on Amazon
Buy on Walmart
Buy on Target
5. Starfire Designs Premium Fabric Round Fire Pit Cover
The last fire pit cover to make our list is this 32in. round tan cover by Starfire Designs. What sets this product out from others is that it has visibly noticeable ventilation vents on the sides to keep mild from forming on the inside. The bungee cord along the bottom securely fasts around your fire pit and makes for a snug fit. In addition to the fabric being water-resistant, it's also UV-resistant and won't fade in the sun. Like other fit pit covers, the size advertised isn't always 100% accurate. Your best bet is to go with next size up to give yourself at least 6in. of extra fabric to work with. With a weight of just 1.87lbs, this cover isn't bulky like the competitors and is a rather stylish option when compared to some of the other dull (yet functional) alternatives. The price starts at $32.99 for the 32in. size and goes up to $39.99 for the 52in. option. Instead of just offering a one-year warranty, Starfire Designs actually gives you a five-year warranty from the day you buy the cover. Even though the size is slightly smaller in person, this is still a high-quality round fire pit table top cover that is certain to last for many years.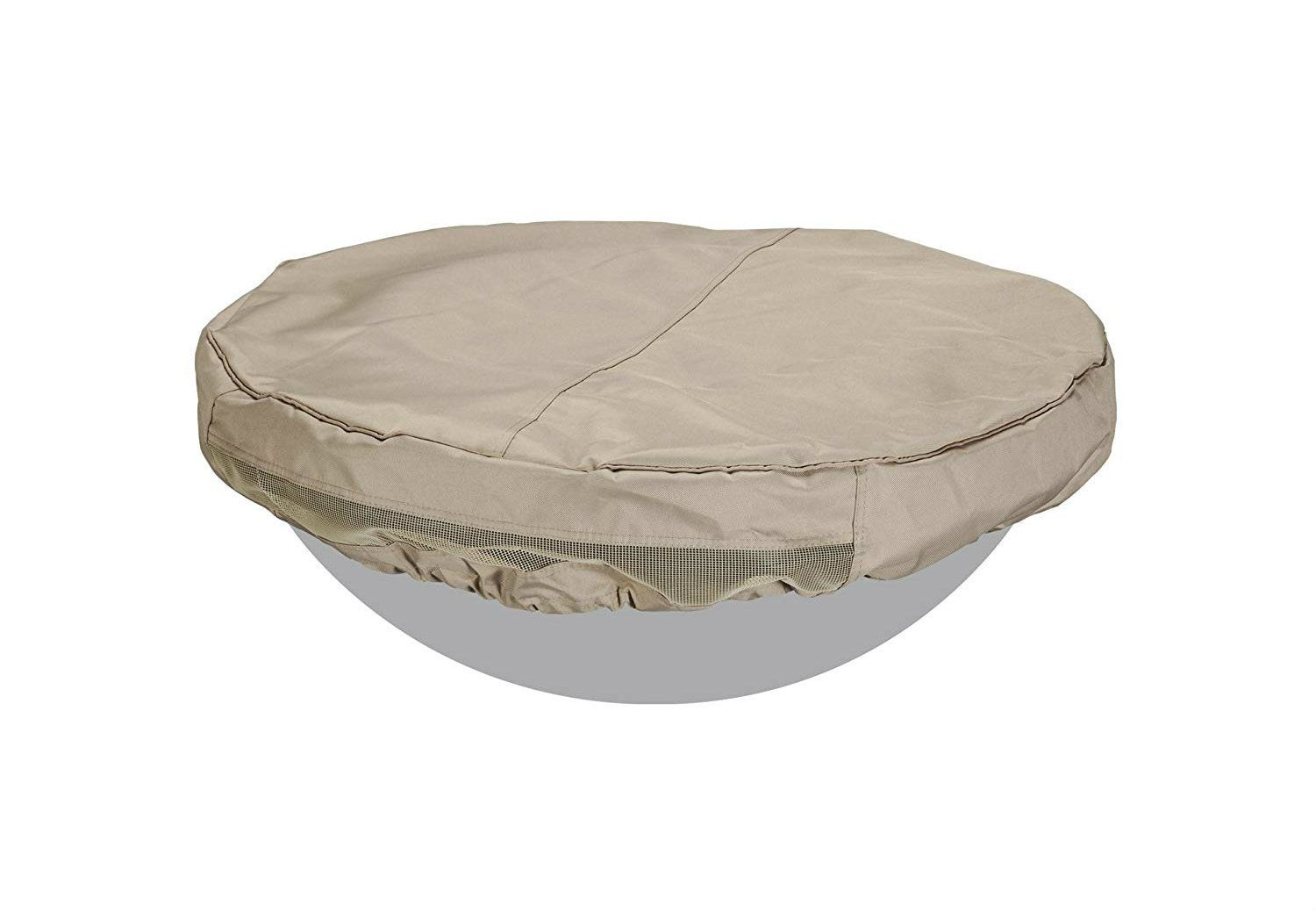 General Information About the Product Group
Fire pit covers are intended for anyone who owns either a gas or portable fire pit, no matter where you live. A common misconception is that only people who live in rainy or cold climates should cover their fire pit when they're not using it. The reality is, your fire pit will be exposed to rain, sun, and other elements in any part of the world. Unless you bring your fire pit indoors during the rain and snow (provided you have space), a cover will be useful for you. Sure, you can always cover your fire pit with a garbage bag or piece of tarp, but who wants that eyesore in their backyard? In addition to its role of protecting your fire pit from damage, covers also make your house look more kept on the outside. There's no better sight than a patio covered with a set of matching and meticulous furniture covers.
How Fire Pit Covers Work
While it doesn't take a degree in aerospace engineering to understand how firepit covers round or not work, there are a few components to are key to the cover's functionality. First off, a cover must have a hem around of the edge of the fabric, so it can fit tightly around the pit. The hem also lets you adjust the tightness of the cover until you get the perfect fit. It's also crucial that the cover has holes that the legs fit through (think of the legs of a pair of paints). Without spaces for the legs, the cover would merely sit on top of the fire pit. To keep mildew from forming in the interior, well-designed covers always have ventilation holes that sometimes function as a pair of handles as well. The last main component of a fire pit cover is its fabric. The fabric should be waterproof (i.e. polyester) and resistant to the sun's UV rays.
Buying Guide
While buying a fire pit cover may not take as much thought as purchasing a new computer or cell phone, there are still a few important features you should take into consideration. By paying close attention to these features, you'll make sure the cover fits your fire pit and matches your other pieces of furniture.
Main Features
Material: The material of the fire pit says a lot. You should look for a cover that's water-resistant and made of polyester. Polyester is the preferred material because it has strong fibers, withstands the test of time, and is resistant to wrinkles. After polyester, the next best fabric to go with is vinyl.
Size: You need to make sure you take measurements of your fire pit before buying a cover, don't just go off your intuition. It's also a good idea to read the reviews to see if customers note any discrepancies in the size. More often than not, you might find that the cover is smaller in-person that what you see advertised on Amazon. Provided that the cover is adjustable, it never hurts to buy one that is a few inches bigger just to be safe.
Hem Cord: Chances are, you'll have a tough time finding a cover that fits your fire pit without any adjustments. This is where the hem cord comes into play. A hem cord is similar to what you see inside a hooded sweatshirt – it's a string within the hem that you can pull to tighten the cover. Ensuring that the cover has a tight fit is crucial to keeping water and dirt out of the fire pit.
Additional Features
Ventilation Holes: If too much condensation builds up inside the fire pit, you could end up with a fire pit full of mildew. Ventilation holes are designed to let a little bit of air inside to prevent wind lofting and mold. These holes should be covered with mesh so that water does not actually get inside the fire pit.
Handles: The last feature to look for in a round fire table cover is the handles. While they're not a must, handles make it easy to slide the cover on and off the pit. After you tighten the hem, you might find it harder to slide or adjust the cover without a pair of handles.
Did You Know?
Many fire pit covers are made of 600D polyester, one of the strongest types of fabric there is. This fabric has an adhesive and a PVC coating. PVC is a synthetic plastic that is very flexible and resistant to high temperatures.
A Must-Have Accessory
When you're not using your fire pit cover, you'll need a place to store it. This 100L storage bag by DOKEHOM is the perfect solution. Not only is it stylish, but it also can hold multiple covers at once. It's available in various colors including blue, grey, and red. For only $10.99, you can even by a couple of these to store your outdoor pillows as well.
Washing Your Fire Pit Cover
Even though most fire pit covers are made out of polyester or vinyl, they might still end up with a few marks after the long winter months. Fortunately, you can always hand, or machine wash the cover to make it look brand spanking new again. You should wash it in cold water on a gentle cycle to prevent it from shrinking. Since polyester can shrink when exposed to heat, it's best to not use a dryer. Polyester dries quickly, so you'll be able to use the cover again shortly after washing it.
Don't Leave Your Fire Pit Uncovered
Whether you live in bitter New England or sunny Florida, keeping your fire pit covered while you're not using helps it last longer and look great all year round. There's nothing worse than having to drain your fire pit after a heavy rainstorm just so you can light it again. While most fire pits have some sort of drain, that doesn't keep debris from clogging up you pit only to leave you with a big mess. Fortunately, buying a cover won't cost you an arm and a leg and will likely come with a manufacturer's warranty that covers the damage. Covers come in a variety of different colors and can be coordinated with the rest of your patio furniture. Most covers are made of either vinyl or polyester, both very durable fabrics that are water-resistant. If you're looking for the best cover to safeguard your fire pit from the forces of nature, you can't go wrong with one of our top three products:
Classic Accessories Ravenna Full Coverage Round Fire Pit Cover: This full-coverage round cover is part of Classic Accessories' Ravenna collection and measures 30in in diameter and 12in in height. With woven polyester fabric, it's completely waterproof and won't tear or crack during the winter months. There are two reinforced handles that make it easy to slide the 30 round fire pit cover on and off along with vents that keep moisture from building up on the inside. The adjustable hem makes it easy to fit the cover over your fire pit.
Classic Accessories Black Round Fire Pit Cover: Measuring 36in in diameter, this black cover features an adjustable draw-string along with water-resistant fabric to keep out the elements. To prevent wind lofting and mildew, there are air vents on both sides of the cover. If it there's any damage to the product within the first year, Classic Accessories will replace it for free. With StayOn elastic loops, the cover's design makes for a nice fit that will keep it from blowing off the fire pit. Check out this 36 in round fire pit cover for yourself and see why customers rave about its top-notch quality.
Porch Shield Round Gas Fire Pit Cover: Sold by Porch Shield, this fire pit cover is designed with a beige water-resistant fabric that not only looks great, but keeps out snow, water, and dirt. There are two different ventilation holes that are covered with mesh and prevent wind lofting. With an elastic hem cord on the bottom of the cover, you can customize the fit and adjust it to your fire pit's size. What really sets this round gas fire pit cover apart from the rest is that it's protected under a three-year warranty and Porch Shield will give you a free replacement if there are any defects. With its double-stitched seams and durable polyester fabric, this fire pit cover is one of the best fire pit covers on Amazon.