The weather can get hot sometimes. Nowadays, it can get really hot that you become sweaty, sticky, and definitely uncomfortable. Oftentimes, this happens when you are outdoors without access to the air conditioner.
Such heat is not only uncomfortable but unhealthy too if it happens often. Sweating is the body's mechanism of cooling off so at best we often need to find a way for the body not to even get that hot.
Fans are a fair alternative for getting cool in those hot days but an air conditioner is better by all counts.
With recent advancements in technology and its knack for making things smaller, fans are also going in that direction. They are getting ever so small, even small enough to slip into your pocket.
Now, we have a way to combat the unfair heat on the go and when air conditioners are not available.
What is a small battery operated fan and how does it work?
These are handheld fans that are powered by batteries. They vary in size but are often not bigger than 10 inches. Some are as small as your smartphone, while others are only just 3 inches.
This makes it easier for these fans to be carried and used almost anywhere. The convenience they offer is what makes them so popular.
A small battery fan works basically as any other fan. It has a motor that rotates the blades which redirect the air around towards you, hence cooling you.
Some of these small battery fans are designed in different ways, but this is basically the way they work.
What are some of the features?
There are different features you will find on different brands of handheld battery fans. The new versions keep coming with newer features.
Some fans have up to 4 different speed levels which let you choose how fast the blades will spin which in turn determine the airflow it outputs.
Some of these fans can rotate to create a directional airflow while others can just tilt on their base. Yet others are just stationary.
Some other features you might find in a small battery operated fan are:
LED lights
Fan heads that can rotate
Timing functionality
USB rechargeable
Doubles as a power bank
Multiple fan speeds
Misting fan
Variety of colors, etc.
Things to consider before making a choice
The beauty of battery operated fans is that you can take them with you wherever you go. They have versatile use due to their size and weight. We are talking about the small battery operated fans here so they are all small sizes. Here are some of the considerations you should make.
Size – Even though this category is for small battery operated fans, they still come in different sizes. For the sake of mobility, you might prefer one that can easily slip into your pocket if you are not the type that carries a bag. There are some that are about 3 inches in size. If you carry a bag around often, you might want to opt for those ones that are about the size of your smartphone. If you all you need it for is to use at home then any of the 10-inch ones won't be bad.
Power – Don't get carried away with size though, the larger the fan does not necessarily mean the more powerful. The power of a handheld fan largely depends on the motor that powers the blades. The motor fitted in a 5-inch fan from one brand just might be more powerful than that in a 7.5-inch variant from another brand.
Battery life – These cordless fans are a choice item in our everyday arsenal. How long they stay useful comes down to their battery life. Quite a number of these fans are powered by 18650 or D-cell batteries, often lithium-ion. Some battery powered fans have up to 6000mAh, which is high considering the size. Most of them have less, though, but the important thing is to know that the higher the mAh rating, the longer the battery will power the fan. One other thing to note is that running your fan at high speeds will consume battery power faster.
Reverse charging – Some of these small fans can double as a power bank. This means you can also use them to charge your USB devices. Those times you are not feeling hot, and you don't need the fan, but your phone battery is down; you can juice it up. If this sounds like an interesting feature, you can look out for it.
Dual power source – Yes, we know, they are called battery operated. That does not mean they can't be powered by other means. Some battery operated fans can also be run via USB. The regular 5V USB port will often power these dual power source fans. That means your car charger, laptop USB ports, power bank, etc. can power the fan so you can enjoy it while saving battery.
Advantages and disadvantages
The most obvious advantage of the small battery powered fan is its size. This makes it usable just about anywhere. You can always pack it in your bag as a travel companion. You can take it with you on your camping trip, a fishing expedition, cycling, etc.
The fact that they run on battery too adds to their mobility and versatility. The dual power source variants can be used anywhere from your car to the library, office, at the beach, etc. Just plug it in a USB port and you are good to go.
It is ironic that the feature that is the most advantageous is also related to its disadvantage. The main disadvantage of battery powered fans is that they are only effective for one person at a time. The smaller variants are not even effective for one person as a whole, they are meant to cool the face which seems to have a chain reaction to the rest of the body.
Another disadvantage could be how often you will need to change batteries if it is not also powered by USB. To counter that, you might go for those fans that use rechargeable batteries so you won't have to spend so much on batteries.
Now, you have important information about small battery powered fans and you also have a good idea about which features to go for. The next step is to read our detailed review of trusted products below.
1. O2COOL Portable Fan
Specifications
Manufacturer: O2COOL
Material: ABS Plastic
Color: Black
Weight: 2.33 lbs.
Dimension: 4 x 13.1 x 12.1 inches
Modes: 2
Other features: Comes with an adapter
Review
O2cool does not only design and manufacture premium products – it also has a wide-reaching network of the distribution system. This is how it is able to get its numerous products to the end users so efficiently. This is why this company is A-class. It knows what it is doing and knows just how to please and keep its customers. The rate at which this company is growing, it won't be long before it becomes a global leader.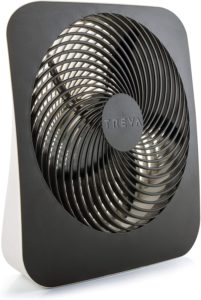 The O2COOL 10-inch Portable Fan is a fantastic option to have on your working table. Whether you are thinking the numbers or typing out words, this will make an effective companion when the going gets hot. Its presence on your work desk also helps beautify it as the design of this fan is simple, yet elegant.
This fan might not look it but it is tough. It is built with sturdy ABS plastic all over. It also has a patented fan blade design which is efficient with power consumption and also maximizes airflow. If you get this fan, you are sure of 3 things: it will not consume too much power, you will get great airflow and it will serve you for a long time.
This fan has blades that are 10 inches long and are sculpted into a unique curve that guarantees efficiency. The motor in this fan rotates these blades at high speeds and can be set to high and low speeds depending on your needs. Whichever speed setting you choose, you are up for some refreshing airflow. The best part is that this fan is a smooth operator. It works silently and will not cause any noise distractions while you work or nap.
This fan has a dual source of power. For convenience sake, you can either use the AC power from your wall socket using the AC adapter that comes with the fan or you can use batteries. The fan requires 6 D-cell batteries to power it. The AC power requirement is universal as it can handle variable voltages from 120 to 240 volts.
The ease of use is another bright side of this fan. Locate the AC port on the lower right side of the fan to plug in the AC adapter. To use batteries, just turn the fan back side up and slide open the battery compartment located at the base. Insert the 6 D-cell batteries appropriately and close it up. Now it is all set and ready to go.
Buy on Amazon
Buy on Walmart
Buy on Target
Advantages
It is tough and durable as it is made of ABS plastic
It is stylishly designed and will make a good piece of tabletop décor
It can use both AC power and batteries
It has 2-speed settings both of which provide great airflow
Disadvantages
It would have been great if this fan could rotate to get directional airflow
2. OPOLAR Battery Operated Fan
Specifications
Manufacturer: Opolar
Material: Plastic
Color: Black, Blue, Pink, White
Weight: 7.8 ounces
Dimension: 3.9 x 1.6 x 5.9 inches
Modes: 3
Other features: USB or battery operated
Review
If you have noticed, there are some brands that are specialized at creating products that you didn't know were necessities until you actually needed them. Opolar is one of such brands. It is specialized in manufacturing products that provide added convenience and increase the functionality of other products. Its wide range of products is made to perform at high standards; products of superior quality. This is the type of good you go for when you need extended functionality.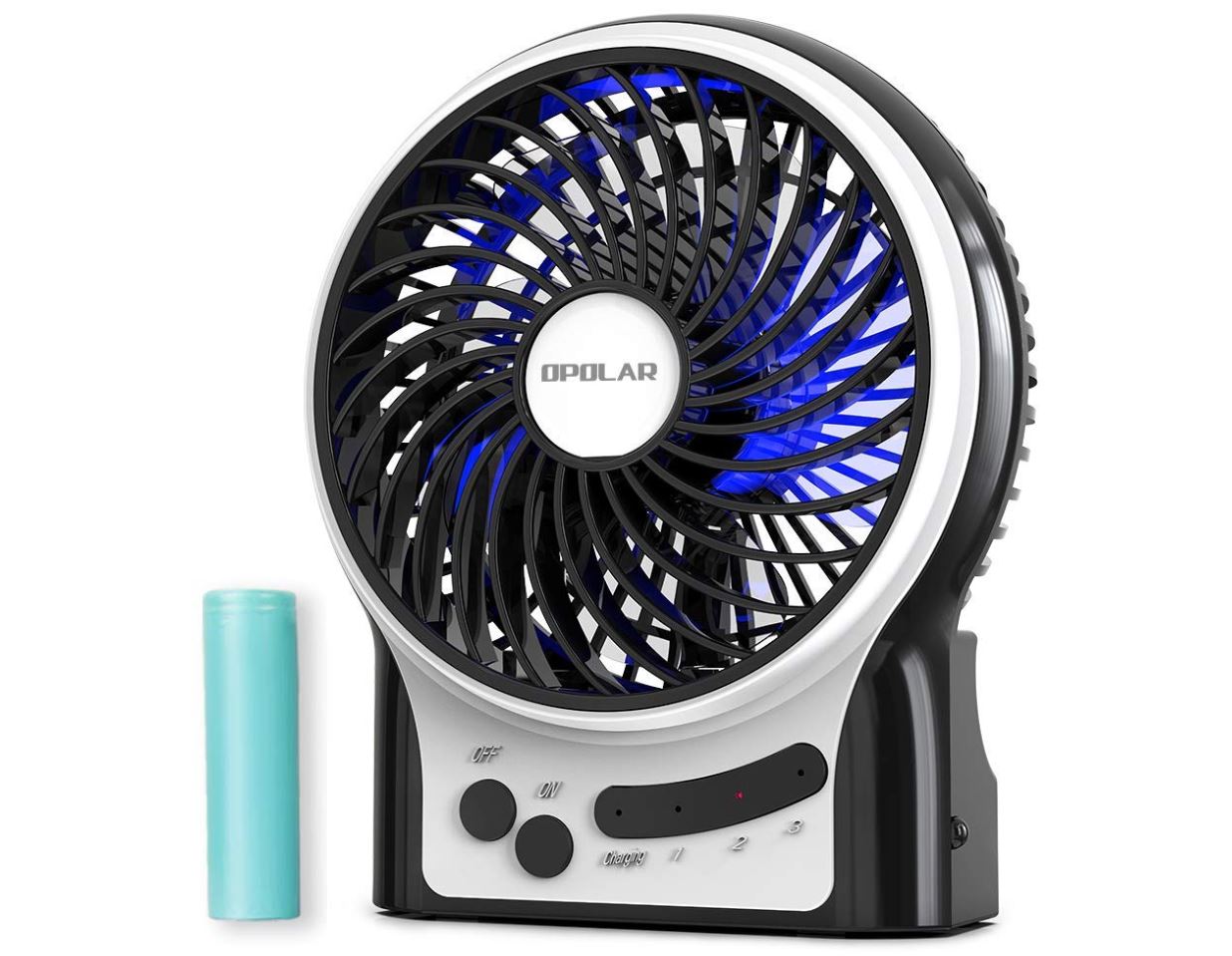 If you're looking for a small-sized battery operated fan that gives you the luxury of the tabletop fan, the Opolar battery operated fan is the ideal choice for you. It is powered by a workhorse of an engine that provides a wind power output of up to 3200 revolutions per minute. This is enough breeze to cool you down in no time whenever you need it.
Who would believe that all that wind power is coming out of a fan the same height as an iPhone 6s Plus? Yes, you heard right. It is that small. The miniature size of this fan makes it super convenient to carry around. It will fit into almost any of your bags from the tote to the backpack and it is also super lightweight. This way you can have a cool breeze shower you with some relaxing pleasure wherever you go.
This battery fan can be powered in two ways. You either rely on the USB cable which you can connect to an adapter and plug in a wall socket or use the installed 2200mAh battery in it. The USB cable can charge the fan even from an external charger if it supplies sufficient power to charge it. The battery will last for at least one and a half hours and at most 6 hours depending on the fan speed you choose.
Talking about speed, this cordless fan has 3-speed settings; low, medium, and high, so you can choose how much breeze you want according to your desire. There are LED lights behind the protective grip of this small battery fan which takes the beauty of this fan to a new level when it is turned on. There is another LED at the side of the fan which is more for functionality than aesthetics. This light serves as a sort of torchlight so you can find your way in the dark.
How you choose to use this little fan is only limited by your imagination. It will work as ventilation backup at your bedside; you can use it while reading, in the public, virtually anywhere you please. This is the main reason this fan is considered one of the best battery operated fans around.
Advantages
It is compact in size and lightweight
It has a long-lasting battery
The LED light on the side can be used to find your way in the dark
It has a powerful motor that powers the blades
It uses a dual source of power
Disadvantages
The LED light on the side will not work while the fan is running
3. Innobay Rechargeable Personal Fan
Specifications
Manufacturer: Innobay
Material: Plastic
Color: Black, Green, Blue, Pink, White
Weight: 6.7 ounces
Dimension: 4.2 x 1.6 x 5.5 inches
Modes: 3
Other features: Has a long battery life
Review
Innobay, as its name partially implies, is an innovative company that manufactures diverse products which offer practical solutions to everyday needs. Companies that manufacture a wide range of different products, such as this one, are known to be creative to be able to pull off such diversity. This is the type of company you want to patronize as its innovation reflects the quality and performance of its products.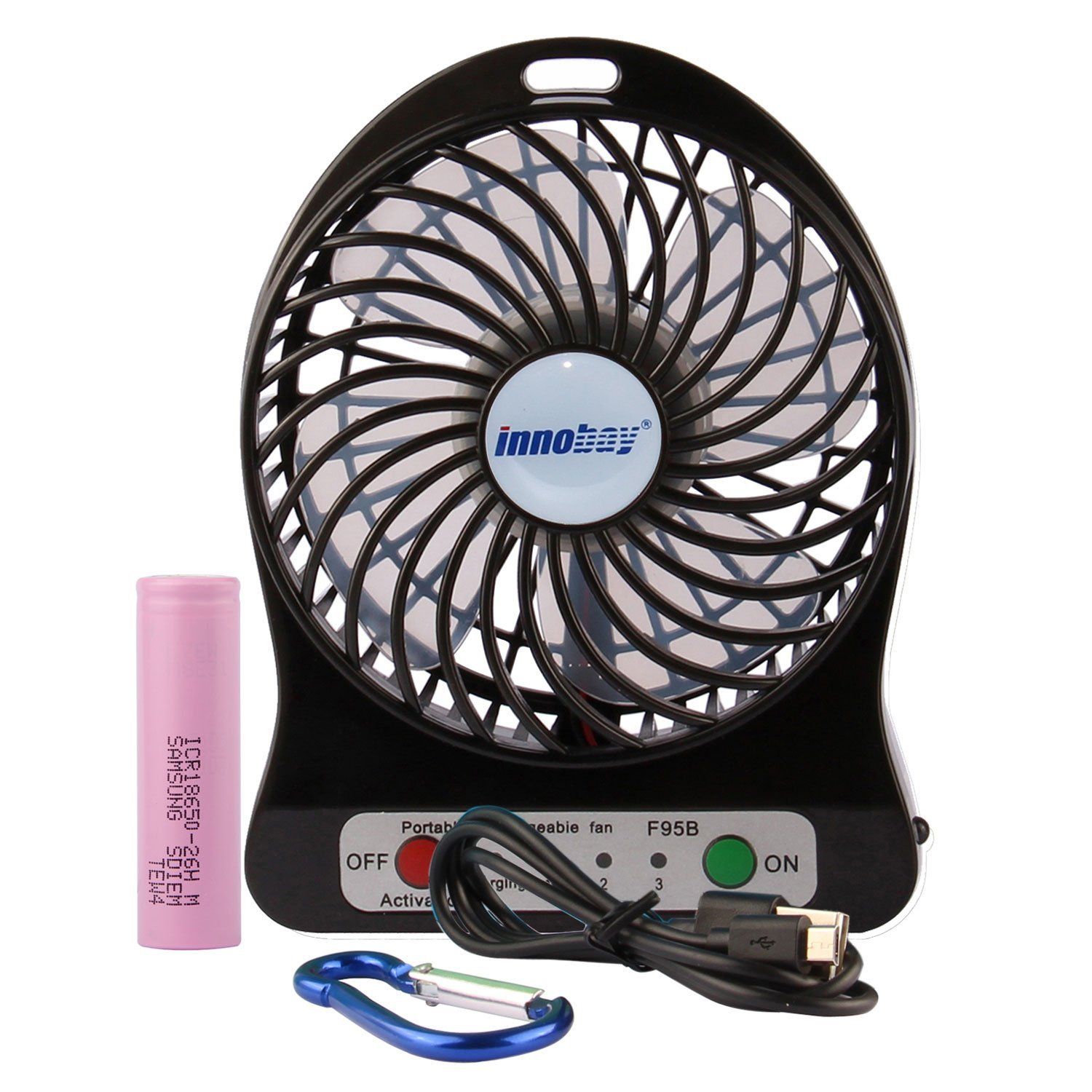 This is one small fan that packs a punch. The blades of this fan are rotated by a powerful motor. This motor can output up to 3,150 revolutions per minute which translates to an impressive wind output. Bear in mind, however, that if the fan is powered by a USB terminal, the maximum speed of the motor is 2000 revs per minute. By all means, this will still provide you with a decent amount of airflow to cool you down and keep you cool. Another thing to note about this fan is that it is efficient with its power consumption.
The fact that this fan can either be powered via a USB port and a rechargeable battery gives you a wide variety of ways to power it and where to use it. You can use this fan while working at your desk and power it through one of the USB ports on your laptop. You can use it in your car while it is getting power from your car charger. You can also enjoy it by your bedside while it is being connected to a wall socket with the very charger you use for charging your phone. This portable battery fan is what you call versatility per excellence.
This fan also runs on a rechargeable 18650 battery. Depending on which of the 3-speed airflow setting you choose, the battery will last for a minimum of 2.7 hours to 10.8 hours. Just keep in mind that the faster the airflow, the shorter the battery span.
Another great advantage of this personal fan is that it is lightweight and small. This means you can easily slip it into your bag and take it out with you. Now, you can go camping, fishing, hunting, or just choose to enjoy the coolness of the fan anywhere you like.
You can enjoy the luxury of this fan in blue, green, pink, white, and black colors. That way you can get a color that suits your style and preference.
Buy on Amazon
Advantages
It has an extended battery life
It can be powered both by a rechargeable battery or USB
It has 3-speed settings
It uses a high-powered motor
It is available in a variety of colors
Disadvantages
It would have been great if it had auto-timer
4. O2COOL
Treva NEW

Battery Operated Fan
Specifications
Manufacturer: O2COOL
Material: ABS Plastic
Color: Black
Weight: 1.45 lbs.
Dimension: 3.8 x 11.9 x 12.1 inches
Modes: 2
Other features: Comes with an adapter
Review
O2cool is a premium designer and manufacturer of top quality products that tackle everyday household challenges. The products made by this brand are also specially designed to proffer unique and practical solutions that make everyday life enjoyable. With many years of specialization in hydrating and cooling different areas of the home, O2cool has become a leading brand that has grown and spread to different areas of the world. You will agree that dedicated and fast-growing companies like this are worth doing business with.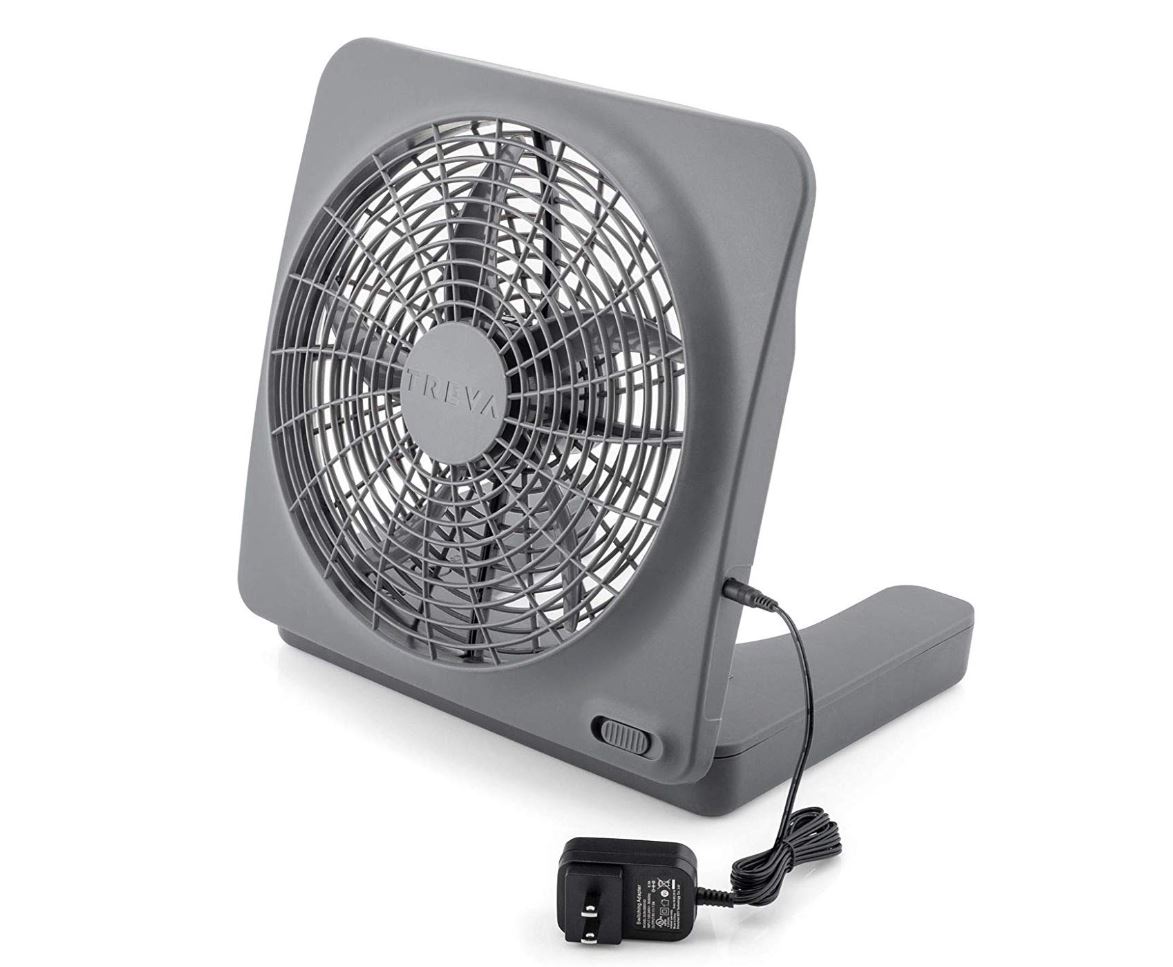 The O2COOL Treva New 10″ Battery Operated Fan has a unique design that makes it stand out among its peers. The square design is foldable such that the fan can be lifted upright while the other half of it, which is shaped more or less like a horseshoe, serves as a kind of stand. This makes it an ideal battery operated desk fan. If you collapse the fan in place, it's a flat board 3 inches in height. This makes it easy to slide in a bag without consuming much space. It lightweight too so there are no hassles at all if you need to make it a travel partner.
This portable battery fan is run by a powerful motor that can rotate its 10-inch blades quite fast for an effective airflow. This fan has 2-speed settings and it can be tilted so you can direct the airflow in different ways to suit you. This fan also has a built-in handle for more convenient mobility. There are no metal parts on this fan so since there is no risk of rust, you can rest assured you will be using it for a long time. Yes, it is plastic, but that does not make it fragile. It is actually ABS plastic which is known to be a tough variant of plastic.
The dual power source of this fan is a great feature which gives you options of how to use it. You can either plug it directly into a wall socket with the included AC adapter or you might choose to use the battery alternative. This fan uses 8 D batteries which you have to buy separately.
Not anymore will you need to stay sweaty whenever you go camping, fishing, or any other outdoor activity that pleases you? You can carry this fan with you wherever you go and it will keep you cool for hours on end.
Unlike some other battery powered fans that hum loudly, especially when they are running at the highest speed, this one is quite silent that you can have it at your bedside and get a quiet, peaceful sleep.
Buy on Amazon
Buy on Walmart
Buy on Target 
Advantages
It is made of durable ABS plastic and also has no risk of rusting since there are no metal parts
It has a dual power source of AC and battery
It is portable, lightweight and easy to carry around
It functions quietly so it will not create any disturbance
Disadvantages
It requires a lot of battery power
5. Skyocean Small Personal Fan
Specifications
Manufacturer: Skyocean
Material: Plastic
Color: White and Black
Weight: 7.4 ounces
Dimension: 4.7 x 1.2 x 3.1 inches
Modes: 3
Other features: Bladeless design
Review
Skyocean is an innovative brand that designs and manufactures superior quality products that offer practical solutions to everyday challenges. Its numerous products are the small things that make our lives easier and more convenient. Companies like this look deep into the lifestyle of its customers to seek out the little challenges they might be facing so it can solve them. Such companies are the ones to be trusted as it is evident that they care for their customers.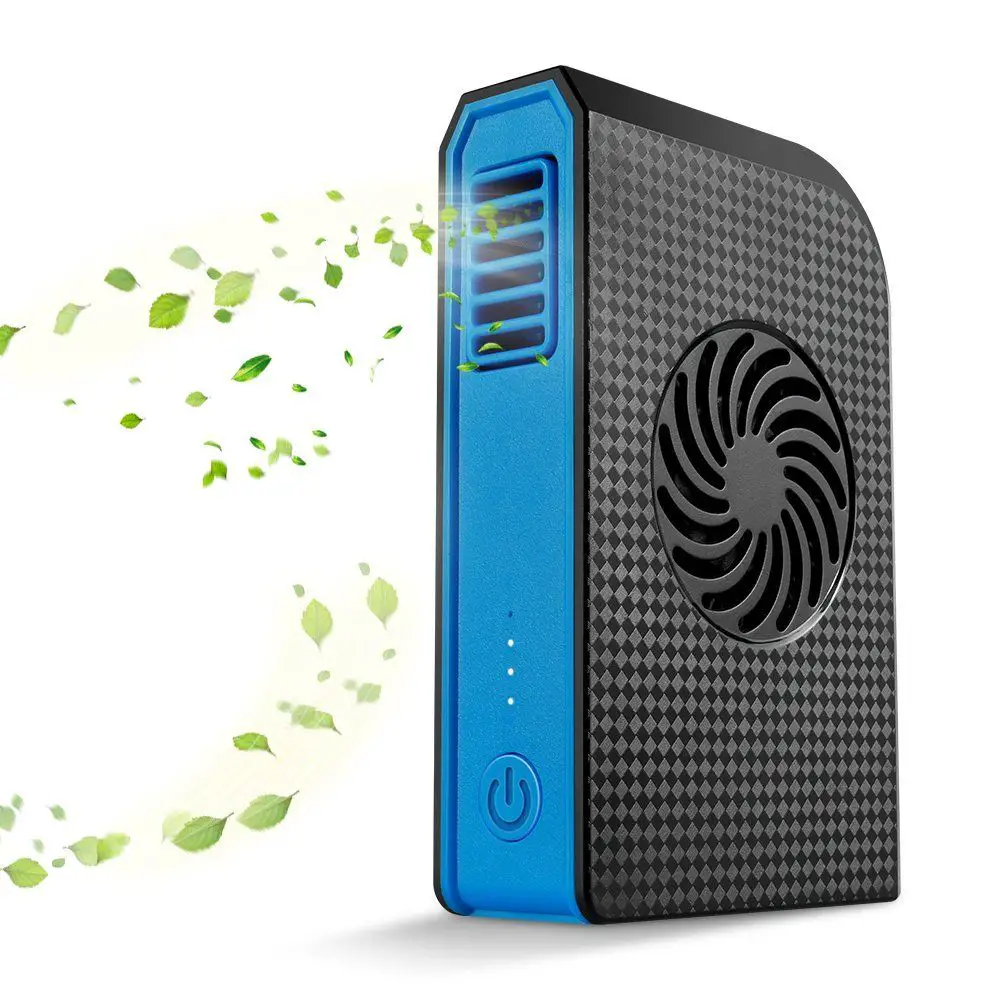 If you are the type that likes to stand out, the type that gets bored with the cliché. Are you the type that likes to explore a different approach to a situation? If yes, then you are in luck. This is a product that will indulge your uniqueness. When you hear the word 'fan' an object with blades rotating at high speeds comes to mind, right? This product truly is a fan, if you look at it from the angle of air redistribution but it does not use blades.
The bladeless design makes it safe to use by anyone, even little kids. There is no fear of them sticking in their fingers and getting cut. It produces a good amount of airflow to keep you cool whenever you need it. It also has a 3-speed setting so you can decide the fan speed you want.
This handy fan also doubles as a power bank. Asides having this cool you when you are hot, it can also help you juice up your phone or other devices when they are down. It has a whopping 6000mAh of battery power store in it and it can be easily charged via USB. A fully charged battery will power the fan for up to 12 hours if the fan is at a low speed. However, the battery will last about 6 hours if the fan is working at the highest speed.
This fan is so handy it can easily fit into your pocket and it is also lightweight so you don't have any problem at all carrying it around. There is no limit to how you can use this fan. Just know that whenever you need it, wherever that is, this fan is ready and available to work.
The manufacturer offers a 15% discount if you buy 3 units of this fan. It also throws in a one-year replacement warranty to express its confidence in its quality.
Buy on Amazon
Buy on Walmart
Advantages
Small handy design that can fit into your pocket
It does not use blades which makes it safe for kids to use
It can double as a power bank to charge your USB devices
The battery can last up to 12 hours using the fan
Disadvantages
There has been reported that the charging port is a bit flimsy
6. O2COOL Portable Fan
Specifications
Manufacturer: O2COOL
Material: ABS Plastic
Color: Available in 7 colors
Weight: 9.9 ounces
Dimension: 6.1 x 2 x 6.5 inches
Modes: 2
Other features: Elegant design
Review
O2cool is getting featured yet again! If you are still having doubt about this brand, it should be gone by now. We are featuring it 3 times out of ten in a single category. This only proves that O2cool is a brand you can trust and rely on when it comes to portable cooling systems. Furthermore, wherever you are, it will not be difficult for you to get a hold of its products as it runs an effective and widespread distribution system.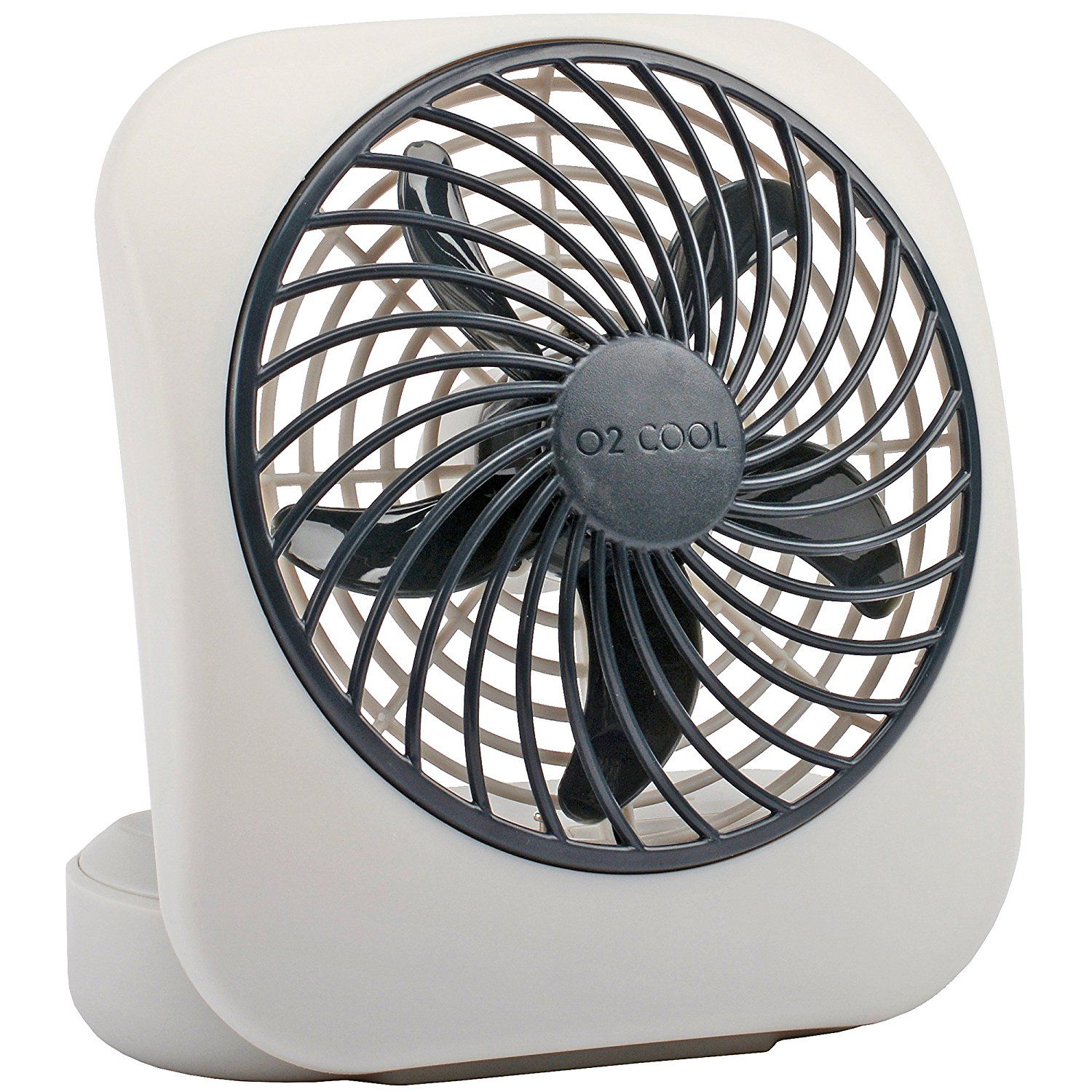 It will keep you company while at work or at play. It will keep you cool in the hottest situations and won't let you break a sweat. It will not cause any noise distractions for you and it looks great to have around. No! We are not describing your crush. We are actually talking about the O2COOL 5-Inch Portable Fan aka your 'cool' buddy. It is small enough to fit in your bag so you can carry it with you wherever you go. It is lightweight and not bulky so it won't be a hassle to hold in your hand. It also has a base that doubles as the battery compartment so you can place it on a surface when you need both hands.
This battery operated fan is beautifully designed with curves that make you proud to pull it out wherever you may be. It is also available in different colors so you can choose one that reps your style and taste — The more reason to readily flaunt it.
This fan is not all aesthetics, though. It is also a practical solution for those hot days. It uses a motor that works the intelligently-designed blades in a way that maximizes airflow so you can stay cool all the time. The motor is also efficient in the area of power consumption so you don't get to change batteries too often. It has a 2-speed setting which allows you to choose how hard you want your 'buddy' to work for you.
This fan is designed such that it can tilt along its hinge with the base. This gives you a level of freedom of choice when it comes to directional airflow. The foldability of this fan also makes it portable and easy to pack in a bag. So you can go camping, fishing, or pretty much anywhere with this fan. The fan also uses 2 D-cell battery type so you are not restricted to any fixed power source. Now you can go anywhere you really want and feel cool all you want.
Buy on Amazon
Buy on Walmart
Buy on Target
Buy on BestBuy
Advantages
It is compact and can even fold in on itself
It is lightweight and easy to carry around
It is elegantly designed and is available in different colors
Its motor is efficient with power usage which makes batteries last longer
Disadvantages
It would have been great if this fan could rotate sideways
7. EasyAcc Portable Personal Desk Fan
Specifications
Manufacturer: EasyAcc
Material: Plastic
Color: Black, Pink, White
Weight: 7.8 ounces
Dimension: 5.9 by 1.3 by 4.7 inches
Modes: 3
Other features: 150o pivoting head
Review
EasyAcc is one of those companies that manufacture quite a number of products in different categories. What makes this particular one different is that it is specialized in manufacturing electrical products and it is quite good at it. Its products are practical and durable which means you will be having your problems adequately solved for a long time. Who wouldn't want to deal with a company like this?
The EasyAcc Personal Desk Fan is just what you need if you want an instant cooling effect on a hot day. This portable fan has a motor that runs the blades at high speeds to provide a steady and cool airflow that keeps the heat away. It has a 3 fan speed setting so you can choose how fast the blade rotates and how much airflow it produces.
The fan uses 1 2600mAh Li-ion batteries that are replaceable. This gives you a whopping 4000mAh of a battery to work your fan. This means that the fan can work for 2 to 9 hours depending on the fan speed you choose. Alternatively, this fan can also work without the help of batteries. It can also use a 5V USB for power. This means your computer, your smartphone charger, your car charger, etc. can also power this fan. This lets you use the fan almost anywhere you want indoors or outdoors.
The fan head can rotate at 150o. This allows you direct airflow according to your preferences. Let the breeze blow whichever direction you want it. You can turn the head a bit off your general direction so you can only feel the residual breeze if a direct one is too much. The freedom you get with this fan gives you endless ways of using it. If that is not some great value for money, we wonder what is.
To think this fan with so much power and battery life is just 7.8 inches in size! This will sit snugly on almost any tabletop to do its work while you are reading, working on a computer, just lying down to pass some time or want to catch a quick nap. Its compact size also makes it easy to carry around and would fit snugly in your bag so it is not a problem if you consider traveling with it.
Advantages
It has a huge battery power for a small fan
Its head can rotate up to 150o
It can be powered by both USB and battery
It has a wide range of applications
Disadvantages
It would have been great if it had a timing function
8. Efluky Mini Desk Fan
Specifications
Manufacturer: Efluky
Material: Plastic
Color: Black, Blue, White
Weight: 7.8 ounces
Dimension: 4.9 by 5.6 by 1.7 inches
Modes: 3
Other features: It has an ergonomic design
Review
Efluky Mini Desk Fan is good at what it does. Its underlying business model is to make products that will make customers happy and want some more. This is the approach that has helped it from obscurity to this stage of achievement it occupies today.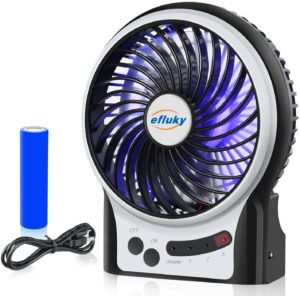 The Efluky Mini USB Rechargeable Fan is an excellent go-to when you need a portable fan that can give you the ideal airflow within your personal space. If you refer to this fan as your personal hurricane maker, you wouldn't be far from the truth. The brushless industrial-grade motor that moves the fan can push it to high speeds that create the type of airflow you might expect from something bigger.
You can charge this fan in a variety of ways provided the source has a USB port. This fan is fitted with a 2200mAh power bank which runs the fan when it is not being plugged in. The power bank is compatible with most devices that use USB ports. This battery is a Lithium 18650 rechargeable which takes about 4 hours to charge if you want to go from zero to full. How long the battery lasts will depend on the speed setting. If you set it at the lowest, you can expect to get about 9 hours of battery life. But at the highest, it will stay on for around 3nhours. You will agree these are some reasonable timing considering the size of the fan.
There are a variety of ways you can choose to charge this fan. You can charge with the charging port in your car or USB ports on your laptop. You can also simply connect it to the wall socket using the same adaptor you use for charging your smartphone. There is also an LED light beside this fan that can help you light the way in the dark. The 'on' and 'off' buttons, as well as the fan speed indicator, are located just below the fan blades. If you long press the 'off' button, you will be turning off the power to the fan. If you press it shortly after that, however, the indicator will show you how much power is left in the battery. On the other hand, if you long press the 'on' button, the LED light will be turned on and if you press it a second time, the fan will start to work.
This fan is efficient at managing power and will not consume too much power as it continues to work.
Advantages
It uses a dual source of power
It has 3 fan speed settings
It is available in multiple colors
It has efficient power consumption
Disadvantages
The fan cannot work without the battery in it, even if it connected to a USB power source
9. D-FantiX Portable Personal Fan
Specifications
Manufacturer: D-FantiX
Material: ABS
Color: Black
Weight: 5.9 ounces
Dimension: 4.1 x 1.5 x 7.9 inches
Other features: Has a clip for attaching to surfaces and a hanger for hanging it up; lightweight, serves as both a desktop and a handheld fan; specially designed handgrip
Review
Founded in 2014 by a group of young people who are passionate about puzzles, D-FantiX has grown into a global brand that consistently satisfies millions of customers who enjoy puzzles with an assortment of games, much more than they can ever finish.
Apparently, the brand has diversified to the production of portable handheld fans, pouring the same passion and depth into them as it did with the puzzles. So if you have enjoyed the company's line of puzzle games, you can be sure you would get the best quality with the fans and a perfect example is the D-FantiX Small Portable Fan Battery Operated Personal Fan.
This fan is a 4-inch battery-operated handheld fan that can be powered with a USB. It comes with a 2000mA 18650 lithium-ion battery which, when fully charged, can last for about 7 hours depending on the speed mode you choose. With your power bank, you can charge it in your car while using but you should note that the output reduces when it is charging.
It has a specially designed user-friendly handgrip. You would not appreciate this feature except you try it. Your fingers easily fit it so it is not a chore to hold as a handheld fan. It is not bulky or slippery, even if your palms go all sweaty.
Along with the handgrip feature, it also comes with a clip at the back with which you can attach it to an object or surface if you want to. And if you desire to have a mini desk fan, there is no need to buy another one; this one serves you just as well. Again, it comes with a hanger to hang it under an umbrella if you are at the beach. So it works several ways; you get a three-in-one fan with just one purchase.
It is lightweight and can be folded to fit into your bag or carryall, making it easy for you to take it into any place without looking ridiculous. And if you are particular about color, you have two other colors to choose from: blue and pink. It is beautifully made and tastefully finished.
Advantages
The fan is multipurpose – can serve as a handheld fan as well as a clip-on fan, a desk fan and fit to be hung up
It has a specially designed handgrip feature
It is lightweight and can be folded to fit easily into any bag
The fully-charged battery lasts up to 7 hours, depending on the speed mode you choose
It comes in different colors
Disadvantages
It cannot be turned off without either going through all three-speed modes or taking the battery out
10. O2Cool Deluxe Handheld Misting Fan
Specifications
Manufacturer: O2Cool
Weight: 5.6 ounces
Dimension: 3.8 by 2.8 by 10.5 inches
Modes: 1-speed levels
Other Features: Requiers 2 AA batteries (not included)
Review
O2Cool is a company that specializes in cooling, hydration and patio, pool and beach solutions that appeal to the active lifestyle.
Its quest to provide comfort both indoors and outdoors has driven it to venture into the manufacture of small fans for sale. It recognizes that there are so many brands in the market currently selling portable fans so it has gone a step ahead to distinguish itself from everyone else, as can be seen in the NUOKIM 2 in 1 Mini Handheld USB Misting Fan.
This mini handheld fan does not just cool the air around you; it is also a misting fan. A misting fan releases a fine spray of water from the container into the air. This feature makes it one of the best portable fans to use this summer.
This misting feature is made easy with the inclusion of a water container that takes up to 250 milliliters of water and for an even cooler mist, you can use the wide mouth opening to add ice to your misting water. However, if you have any form of confusion on how to get this to work, a user manual is included in the package.
It can be used as both a tabletop fan and a handheld one. It does not matter where you find yourself; you are not restricted in any way. So while in your car, at work, on the train and so on, you can easily use it to keep yourself cool without disturbing anyone around you.
This O2Cool cooling fan does not require charging because it runs on 2 AA batteries (not included) This makes it long-lasting and easier to use – you can get a cool breeze anywhere! So no matter where you are or what the cooling need is, there is a solution for it with this fan.
And it is as quiet as they come. You, or anyone else around you for that matter, would hardly know that the fan is switched on, except for the constant flow of cooling air. The engine is made with a unique technology that makes this feature possible and difficult to copy so you know you can only get it from top brands like this one.
Buy on Amazon
Buy on Walmart
Buy on Target
Advantages
This fan serves as a humidifier and a mini fan
It comes with one-speed modes for the fan
You have the option of using it as a desktop and a hand-held fan
It is very quiet so does not cause any disturbance
Runs on 2 AA batteries so it has a long battery life
Water container takes up to 250ml of water
Disadvantages
Bigger than other fans here
Batteries are not included
Conclusion
You have been intimated with much information about small battery fans in the buying guide. We also provided you with the details of the ten great products you can trust to offer you the pleasure of a handheld fan. We hope you can now make a confident choice on which to go for.