Finding the right tabletop patio heater for your needs can be a time-consuming enterprise. There are so many different brands and models to choose from that it's easy for a newcomer to this niche to get confused and disheartened or to simply lose interest. To help you out with that, however, below we've listed our list of the best tabletop patio heaters, as well as a quick and easy guide on what to expect and what to look for in these devices.
Top 3 Tabletop patio heaters:
1. Fire Sense Tabletop Heater
We begin the search for the best tabletop propane patio heater with this budget-friendly Fire Sense model. As we'd expect from any good tabletop patio heater, it is both easy and safe to use. The adjustable power output goes up to 10,000 BTU which isn't spectacular but is more than sufficient to heat up a patio, a tent, or a camp. The one-step Piezo ignition system is very comfortable to use but is also 100% reliable.
Convenience is another thing that goes in favor of this tabletop gas heater – the Fire Sense model has a very stable and perfectly balanced footing that can keep it safely positioned on top of any table and flat surface. This also significantly improves the unit's durability and longevity, as the base is also nicely weighted.
Another, both convenient and stylish aspect of this tabletop patio heater is the way its cylinder container is designed. The Fire Sense tabletop heater is made to work with 1 pound liquid propane gas cylinders that are easily tucked inside the heater's body, making this one of the best tabletop heater units on the market.
Buy Fire Sense Tabletop Heater on Amazon
What we like:
The design of the Fire Sense tabletop outdoor heater is such that it can be deployed very quickly, easily, and safely.
The 1 lb cylinder bottles of liquid propane gas that this heater needs to work with are easily and elegantly tucked inside its main body.
The weighted base is excellent for the stability and longevity of this model. It also makes it excellent for more outdoorsy situations and it can be easily employed in a lot of different surfaces.
What we don't like:
The one drawback of the Fire Sense tabletop propane heater is that it is powerful enough for just a small table area – enough to warm up yourself and your guests on the patio table but not more than that.
2. Garden Sun GS3000BK
Our next contender for the "best tabletop patio heater" prize is this Garden Sun tabletop patio heater. It offers a maximum of 11,000 BTU of power which is more than enough for most patio and camping needs, even if it isn't the most juice you can find in a tabletop heater. In ideal conditions, the Garden Sun patio tabletop heater can easily warm up spaces that are as large as 175 square feet (or a 15 feet radius).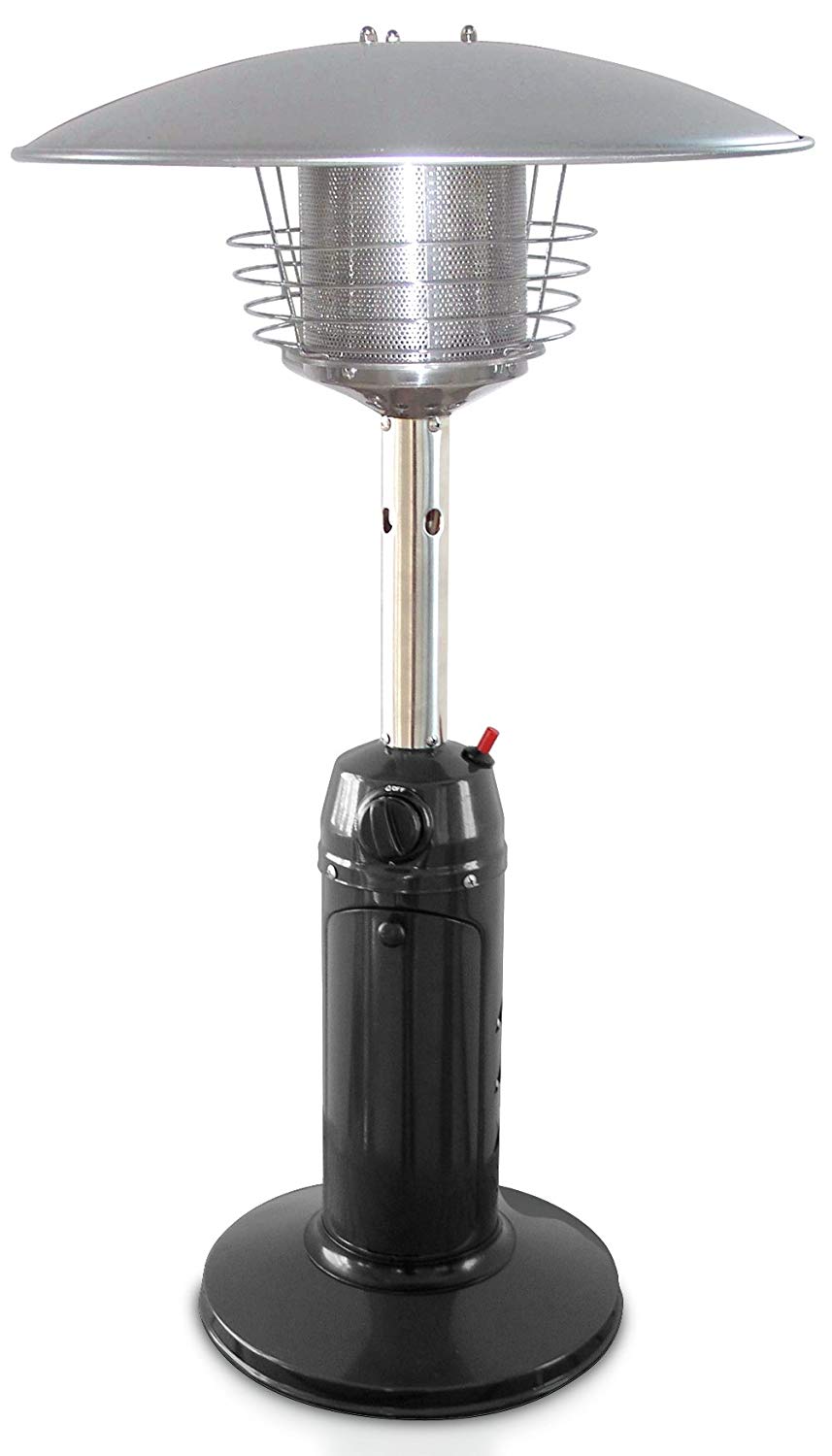 As for the dimensions of the device itself, this patio heater has a dome with a 20.8 inches radius, while the pole itself is 1.9 inches in diameter and 9.4 inches tall. The base's diameter is 13.3 inches and it itself is 1.98 inches tall – this gives the whole unit a lot of stability. The overall height of the entire device is 34.6 inches and its weight is 20 pounds.
What's more important, however, is that it's made out of quality stainless steel that gives it a great deal of durability and longevity. The black finish on top of it gives it a great, stylish look, which is also a plus.
Buy Garden Sun GS3000BK on Amazon
What we like:
With 11,000 BTUs of power, this tabletop patio heater is capable of heating up to 175 square feet (a 15 feet radius) of space.
This heater is made out of high-quality stainless steel which gives it a lot of longevity and durability.
The Garden Sun patio tabletop heater will not only warm-up your patio but it will add some style to it as well.
What we don't like:
It's somewhat difficult to assemble at first, according to most customers. The basic principle behind its construction is not much different than other heaters but the instructions can be a bit lacking.
3. AZ Patio Heater HLDS032-GTTHG
For something with a bit different design, this AZ Patio Heater model would be a gorgeous addition to any patio table. It has a hammered bronze finish that's just a pleasure to look at. More than just a pretty face, however, this AZ Patio Heater is also made out of a quartz glass tube that can hold a 1 pound propane tank for excellent heating and lighting during those chilly spring or autumn evenings.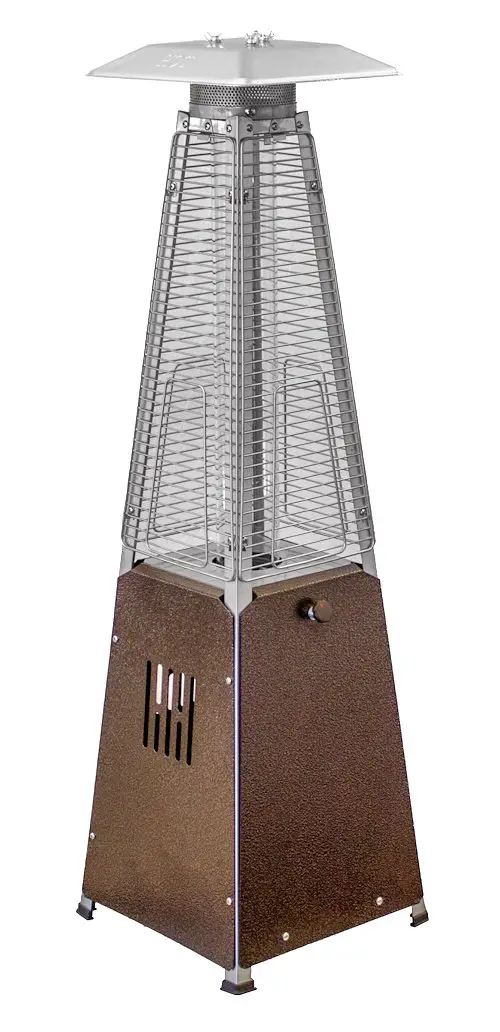 The overall power output of this heater is 10,000 BTU which is just about enough for an average patio table for you and your family or friends. Keep in mind, however, that this isn't an overly large or powerful heater – it's designed to only heat up a small area of several feet around a table, not an entire patio.
As for the rest of the unit, the Thermocouple and anti-tilt safety devices are great additions. Together with the stable and durable construction, and the trapezoid design, they guarantee a safe, durable, and quite long life for this device.
Buy AZ Patio Heater HLDS032-GTTHG on Amazon
What we like:
The AZ Patio Heater is a gorgeous device to have on your patio table or floor.
In addition to its pretty design, this patio tabletop heater also offers a lot of durability and longevity, promising to be with you for a long time, barring any accidents.
The anti-tilt device and the stable design of this unit guarantee safety and comfort when using it.
What we don't like:
The only thing we can list as a drawback here is that while this patio heater is powerful enough for a small table area on your patio, it's not potent enough for a larger space.
Other products to consider
Obviously, there are much more than just three good devices on the market. In reality, there are dozens of great tabletop patio heaters in the market and it's quite easy to get a good one that simply isn't suitable for your exact patio, weather, or personal preferences. So, to give you a few more suggestions, here are five more awesome patio table top heaters that just didn't make the cut into our main list for one reason or another.
4. Endless Summer EWTR800B
For something a bit different, this Endless Summer patio heater is an electrically operated heater with a gorgeous lamp-like design and a cherry wood finish. It has a 1,200-watt heating element (4095 but's) and effectively heats a 12-foot radius area. It's not something that will keep your entire patio hot but it's great for small- to mid-sized family and friends gatherings. The patio heater is equipped with an 8-foot power cord that can easily reach and use standard 120-volt power outlets.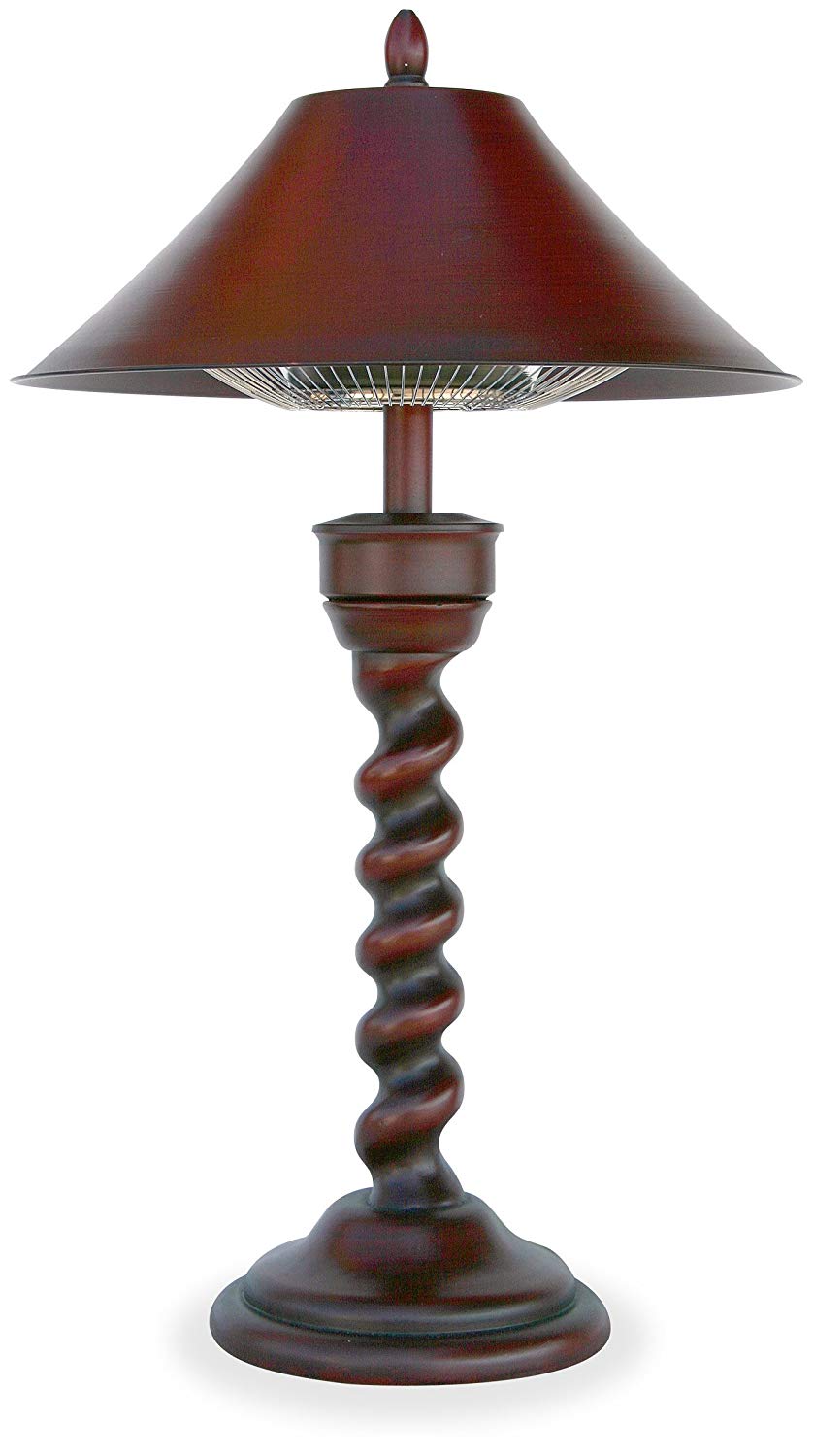 The dimensions of this pretty Endless Summer patio tabletop heater are as follows: 33.5 inches height, 20 inches diameter at the widest part of the heater (the dome), and a total weight of 19 pounds. The base of the unit is slightly narrower than the dome which can make it a little bit unbalanced when there's wind or movements around it but on its own, the patio heater will be stable enough on any flat surface.
Buy Endless Summer EWTR800B on Amazon
5. 
Hiland HLD032-C
Another option from Hiland, this model is 38 inches tall and is CSA approved. It has a nice hammered silver finish and a thermocouple for extra safety. It also has a wide and heavy base which gives it a nice balance, and – together with the anti-tilt safety device – it guarantees safety and stability when using this model.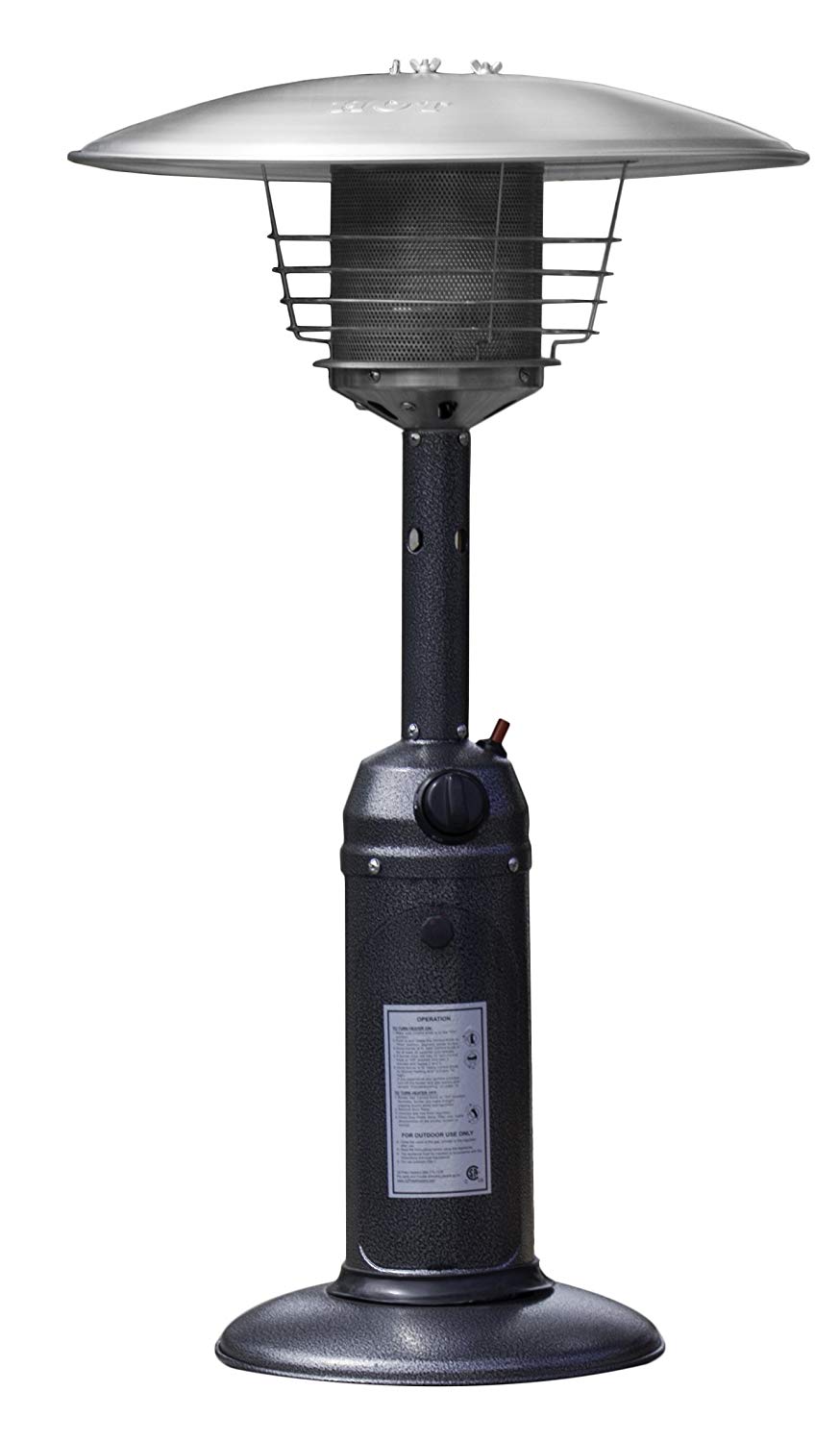 As for this patio heater's output, it's 11,000 BTU which is excellent for most purposes but isn't something that will heat up your entire patio – just the immediate area around a table, chair or desk. The patio heater also comes with its own regulator, as well as a burn screen guard. The heater can be used with a 1-pound propane gas bottle or with a 20-pound propane container as long as you also get an adapter hose as it's not included with the heater.
Buy

Hiland HLD032-C

on Amazon
6. Sunheat International 99490 Heater
The Sunheat International 99490 patio tabletop heater has a similar design to the AZ Patio Heaters model in our Top 3. The rectangular shape of the base and the trapezoid construction gives it a lot of stability under any conditions, plus it looks quite pretty and contemporary. The last two are further helped by the hammered golden finish of this patio heater.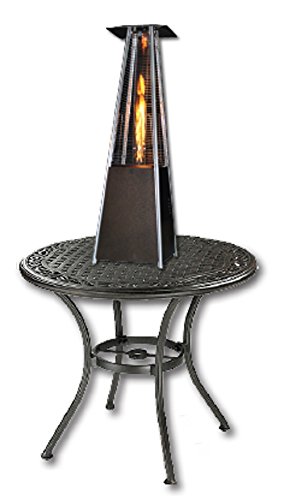 As for its functionalities, the Sunheat International patio heater offers 11,000 BTUs of heating for about 3 hours per every 20-gallon propane gas tank. The device itself heats through the quartz glass tube in its center which is perfectly visible from a 360-degree angle around it. As for its dimensions, the Sunheat International tabletop patio heater is 34 inches tall, has a 10 inches wide base, a 10.5-inch wide reflector, and weights the easily manageable 15 pounds. It has a single button push ignition system which makes it incredibly easy to work and is overall a very care-free option.
Buy Sunheat International 99490 Heater on Amazon
7. Star Patio ZHQ1566-CT
For another electric patio heater with a funky-looking design, this Star Patio is quite an interesting choice. It has a single power setting that operates at 1,500W of power and it easily heats up an area of about 12 square feet. The heating you can expect from this heater is about 5,100 BTUs which isn't a lot compared to what we've seen from other items on our list but can be a practical choice in certain situations.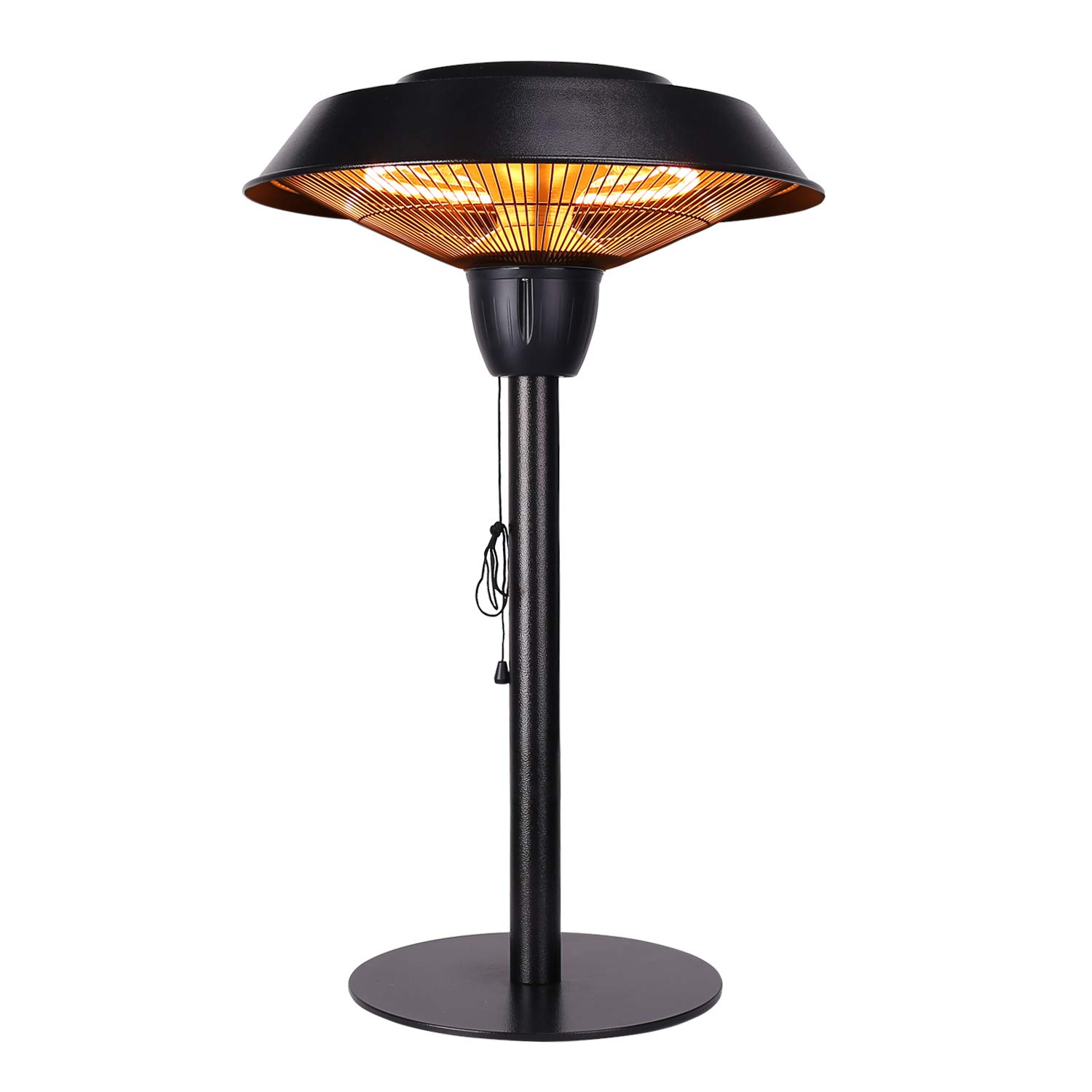 Safe and environmentally friendly, this tabletop patio heater will produce no fumes, no chemicals, and no odors. It doesn't require a seemingly endless supply of gas and works perfectly fine on a limited amount of electricity. Additionally, the infrared heating of this unit is almost unaffected by things such as wind. The Star Patio tabletop heater also comes with a 1-year warranty, as well as an IP44 certificate for outdoor use and a cSGSus certificate.
Buy Star Patio ZHQ1566-CT on Amazon
8. Napoleon Tabletop Patio Heater
Last but definitely not least we have another stylish propane patio heater, this time from Napoleon. Made out of durable stainless steel this unit is incredibly durable and weather- or damage-resistant. It also looks quite cool which is always a plus when talking about a tabletop device that will stay on display for all your family and guests.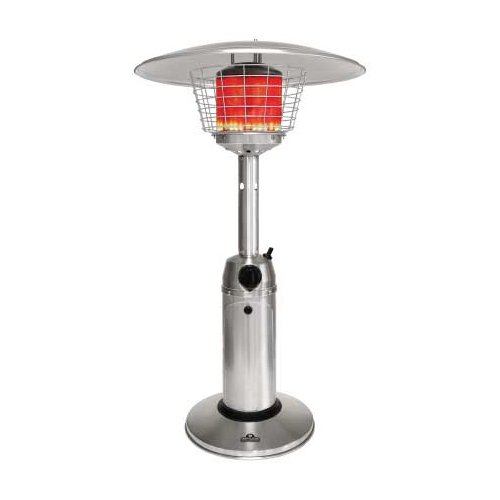 In addition to its pretty design, however, this Napoleon tabletop patio heater also offers about 11,000 BTUs of heating that are enough to perfectly heat up an area with a radius of about 7 feet or an even larger area under the right conditions. Easy to operate with a simple and electronic push-button igniter, this model is incredibly easy to operate. It's also worth mentioning that, like most others, this patio heater is designed to work with a 1-pound propane gas tank, however, if you get a gas adapter hose to connect it to a larger 20-pound propane tank.
Buy Napoleon Tabletop Patio Heater on Amazon
A quick breakdown of tabletop patio heaters
Patio tabletop heaters are simple but fascinating devices. Essentially, they are small and portable heaters, usually working on gas, that are meant to give you a little bit of extra heat in a chilly spring or autumn evening while you're resting on your patio.
The most common types of tabletop patio heaters work on propane gas, either by having a 1-pound cylinder container inside of them or by being connected to a larger tank. There are, however, electric options as well – they are typically weaker in the amount of heat they can provide but are much more economical in their energy consumption as they don't require a new gas tank every couple of hours.
Both types of tabletop patio heaters, as far as their power sources are concerned, have limited effective ranges of several feet. Beyond that, they can have a mild effect after several hours of use but it won't be something too significant. Essentially, these heaters are made to heat up space around a table or next to a chair. They can also be used for camping, although they can be a fire hazard in the wild.
If you're looking for alternatives to tabletop patio heaters, their larger brethren – the regular patio heaters can do the trick as well. They work on the same principle but are simple much larger. Placed on the ground and not on a table, large patio heaters can heat up a significantly larger space.
Another alternative comes in the form of mounted patio heaters – they are usually as small and as powerful as tabletop patio heaters, however, they are designed to be mounted on your home's outer wall. In other words, they are simply a more permanent and stationary option.
Buying guide
Buying a patio heater is all about knowing what you want and need. Well, and picking something of good enough quality, of course. However, while the latter can be somewhat managed by looking for prominent brands and models made with quality materials, the former can take some research and considerations. Here are the several key questions you might want to ask yourself before committing to a specific purchase:
• What kind of heater do you need? The three major types you'd want to keep in mind were as follows:
Tabletop patio heaters that are mobile and easy to use but only work in a small circle around them.
Mounted patio heaters that have a similarly small range but are mounted in place onto a wall – typically a more permanent solution.
Large patio heaters that are mobile, similarly to their tabletop counterparts, but are much bulkier, larger, and more powerful – of course, with a price to match.
If you're certain you want a tabletop patio heater, the next question is whether you want it to work on propane gas or on electricity. The former is typically more effective while the latter is more cost-effective.
The power output of the device is something you should consider as well. Yes, if it's a tabletop model that puts it in a rather limited heating range but you can still choose between heaters with 5,000 – 6,000 BTU and ones with 10,000 or 11,000 BTU.
The size and the design of the heater also matter – at the end of the day, it's going to stay on top of your table and attract the attention of everyone around it.
Don't just look at the price, keep the item's cost-effectiveness in mind as well. While the initial price can sometimes seem daunting in and of itself, the more significant price is the one you pay overtime for gas.
And, of course, don't forget to make sure that whatever you're buying is of good quality and is made with the right materials and in a proper design. If you are at a loss as to where to start from, here are some of the brands we'd recommend at first: Sunheat International, Napoleon, AZ Patio Heaters, Star Patio, Garden Sun, Endless Summer, and Fire Sense.
Usage tips for tabletop patio heaters
If you've settled on a tabletop patio heater as your choice, the next thing to consider is how best to use it. Here are several basic tips that you shouldn't overlook under any circumstances:
Make sure that the ceiling (if there is one) is at least 6 – 7 feet (2 meters) above the highest point of the propane gas heater if that's what you're using.
Be very mindful of any and all potential fire hazards. That goes double if you decide to use your tabletop heater indoors but is also vital when used outdoors.
If you're uncertain as to how to properly exercise fire safety, look at the regulations and advise your local government has to offer. Here are some examples from the U.S. Fire Administration and Jersey's government website.
Place your tabletop patio heater in a place with a limited wind if possible, particularly if it's a propane gas heater – the wrong weather conditions can drastically diminish the effectiveness of a small tabletop patio heater.
Conclusion
There are quite a few tabletop patio heaters on the market. There are larger and more powerful ones, as well as smaller devices that are meant for limited spaces. There are a lot of different designs to choose from, as well as different quality ranges. At the end of the day, your personal preferences will drive a lot of your decisions and as long as you've chosen something that's actually of a high enough quality, you should be perfectly fine.
First on our list was the Fire Sense Tabletop Heater. It offered a standard 10,000 BTU of power together with its one-step Piezo ignition system, a perfectly balanced footing, and a very quick, simple, and safe assembly.
The Garden Sun GS3000BK is a great patio heater with 11,000 BTU of power and a maximum heating potential range of 175 square feet under ideal conditions. It's quite tall and a bit heavy, as well as tricky to assemble, but that's typically worth the excellent workload this unit can offer.
A beauty to look at, the AZ Patio Heater HLDS032-GTTHG has 10,000 BTU and works with a 1 pound propane tank that would feed its quartz glass tube. The heater also has a hammered bronze finish and an anti-tilt device.