What are desk fans?
Desk fans are a very convenient and efficient way of keeping cool without taking up too much space. This is different from other types of fans like standing fans and ceiling fans. A desk fan is much more portable and can be placed on your desk, bedside table, table etc.
To find the best desk fans, you will need to define what is important to you when it comes to fans so that you can easily locate one that meets the specification you require. Let's start by listing some important features that you will need to consider when shopping for a desk fan.
Size
It's called a desk fan and so it is already assumed that it has some level of portability. That said, you will need to decide on how big or small you want it to be. You will find some that are 12-inch, 8-inch, 6-inch etc. The smaller your space, the smaller the size you will want to go for.
You should however also note that a lot of times, the size of the fan will determine how much air it can move around. Larger fans will usually move more air around. You, therefore, have to decide what compromise you can make between its size and the amount of air movement you want.
Design
Interestingly, because they are desk fans, many assume that they will always be placed on the desk. Yes, a lot of them are indeed placed on the desk. However, there are some designs that can also be clipped-on. These are perfect for when space is really at a premium. You can simply clip it to the edge of your desk, leaving space on the desk for other things.
You can also clip these types on bed edges, bedside table edges, table edges and more. They are usually much more compact than the regular desk fan. So, this is another feature to be considered when making a choice.
Air movement
Fans do not generate any air, they simply move the available air around, creating a sense of more air and therefore cooling the space. The faster a fan can move air, the cooler that space will be and the larger space it can cool.
Always try to find out if the air movement capacity of the fan is given. This is usually given as air moved in cubic feet per minute. The more the cubic feet per minute has given, the more efficient the fan will be at cooling the space.
Number of Blades
This is something that directly affects the amount of air a fan can blow. A fan with three blades will need to move faster than a fan with five blades to achieve the same amount of air movement. If air movement is of great importance to you, then you should go for a desk fan with more blades.
Operational Noise
As the blades move air around, they generate some noise. The level of noise generated will differ from fan to fan. Many manufacturers are now designing blades that move air more quietly than previous designs. That said; you will need to ensure the fan you choose operates with an acceptable noise level.
Another thing that might affect the noise of the fan is the size of the blade. Most larger blades will make more noise as they move more air with less motion. The faster the blades go, the more the air they move and the noisier they are likely to get.
Your choice should also be informed by where you want to use the fan. If you want a fan you want to use in the bedroom, you should be very concerned about the noise levels as you do not want something that will disturb your sleep. If you will be using it in the living room, you do not want something that will make discussions or watch the television difficult.
It all comes down to personal preference and location of use.
Controls
While choosing a desk fan, you want one that gives you a good amount of control over the functions of the fan, especially its speed. The amount of air you need to be moved will differ from time to time and also depends on why you need the fan.
If you are using a heater or air conditioner and just need the fan to circulate the air faster, given a uniform temperature across the room, you will likely not need as much speed as someone who is using the fan as a sole means of cooling a space on a hot summer afternoon. Either way, you will need to have control of the fan.
Most fans come with speed regulators so you can choose the speed you want. A fan with a 2-speed regulator offers you just two options for speed while one with 4-speed regulation offers you four options. The more the control options at your disposal, the more you can customize the fan to suit your needs.
Oscillation
Someone recently bought a table fan and did not check to know if it oscillates. Upon its arrival, he discovered that it does not oscillate and he needed one that does. Some fans will only operate in a fixed position. You may be able to adjust this fixed position but it may not move around as it works.
Be sure that you know if the fan you are choosing oscillates or not so you won't be surprised when you get it.
Energy Consumption
Energy costs are a major concern for many of us today. One of the benefits of desk fans is that they are more energy efficient than other fans. However, within this group, there are some that are even more energy efficient than others. It will be a wise decision to choose the most energy-efficient model you can find so long as other specifications you require are met.
Material
The material used in making a fan is an indication of its quality and how durable it will be. A lot of fans are made of one form of plastic or the other with the grills made of metal. To ensure the durability of the desk fan you go for, ensure you choose one made of high-quality materials.
Note however that the higher the quality of the desk fan, the more you are likely to pay.
If you are ready to begin to look at the best desk fans, join us as we begin to review the products we have shortlisted for you.
1. Rowenta VU2531 Turbo Table Fan
Specifications
Manufacturer: Rowenta
Material: Plastic and metal grills
Weight: 6 pounds
Dimension: 14 x 10 x 18 inches
Other features: Up to 1,695 cubic feet per minute with the very quiet operation.
Review
The brand Rowenta embodies the reliability of German machinery. With the intense competition in the electronics and household items industry and the increasing demand for more efficiency and value, Rowenta has not slacked in meeting and even exceeding these demands. In its over 100 years of existence, users of its products have always been satisfied with the quality and performance of its products.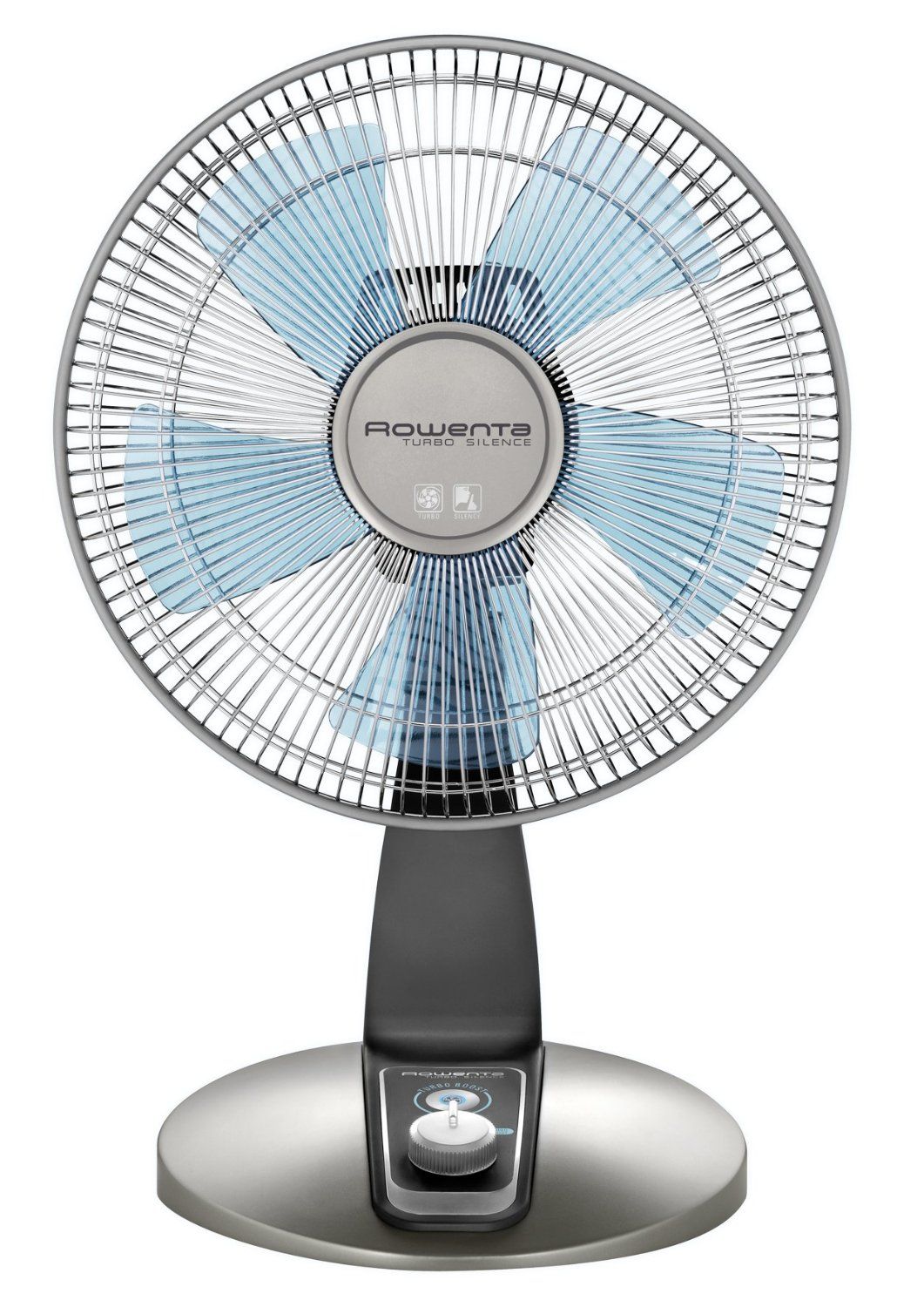 Rowenta has continued to fulfill its mission of providing products that make day to day living easier and more efficient. Its wide range of products is constantly getting re-designed and fitted with the latest in technological advancement to ensure they keep meeting the increasing demands of its users while still remaining very user-friendly. Rowenta products offer the best in innovation, efficiency, and ease of use.
The Rowenta VU2531 Turbo Silence Oscillating 12-Inch Table Fan is the ideal solution for anyone searching for a portable, powerful but quiet fan. With a dimension of about 14 x 10 x 18 inches, it will make an ideal desk fan, fitting easily on most desks and delivering an efficient and quiet operation.
This 12-inch table fan has five carefully designed blades that can move air up to a whopping 1,695 cubic feet per minute. Knowing that you may not need this much air movement, it is fitted with a 4-speed regulator which allows you choose the right amount of speed you want. If the medium to high speeds is not sufficient, then simply switch to turbo speed to experience a blast of air from this compact package.
One will think that such a powerful fan will be noisy. Well, you couldn't be more wrong. Its noise levels measure between 38 to 55 decibels. Just so you understand what that means, this is the same level of noise experienced in a library. Simply put, it is as quiet as a library in its operation. That's really something awesome.
This level of quietness means you can conveniently use it in the office without it causing any issues unless of course, you have documents lying carelessly around in which case you will soon adopt a better filing system after its strong breeze has blown them away a couple of times.
At home, you can have it on and still carry on with conversations as if it is not there. You can also watch television without having to turn the volume up a bit so it can drown the noise of the fan. Most importantly, sleeping with this fan on is sweet and refreshing because all you will feel is the cool breeze and no noise.
The Rowenta VU2531 Turbo Silence Oscillating 12-Inch Table Fan is easy to assemble and has a handle at the head that makes for easy transportation around the house or office. What more can we say about this fan? Get it to experience true German machinery at work.
Advantages
It has five powerful blades that move air up to 1,695 cubic feet per minute
It operates so quietly that its noise level compares with the noise level in a library
It has a 4-speed regulator that allows easy choosing of airspeed
It offers turbo speed for a full blast of air
It can be moved around easily with the handle built into the head
The frontal grid can be removed for easy cleaning of the blades
Disadvantages
The materials used may not be of the highest quality
2. Avalon Powerful Clip On Desk Fan
Specifications
Manufacturer: Avalon
Material: Plastic
Color: Black, blue, pink and white
Weight: 2 pounds
Dimension: 5 x 6 x 10 inches
Safety auto shut-off: Not specified
Other features: Can be used as a table fan or as a clip-on fan with a fully adjustable head
Review
The Avalon brand is built on innovation, design, and performance. Its products cover a wide range of household needs ranging from beauty and personal care to health, women and men's fashion, toys, and games, home and kitchen and much more. This is a brand that offers products that cover much of the needs of most households. Much more than just supplying a very wide variety of products, it strives to be innovative with each one, ensuring that its designs are special and functional and its performance exceptional.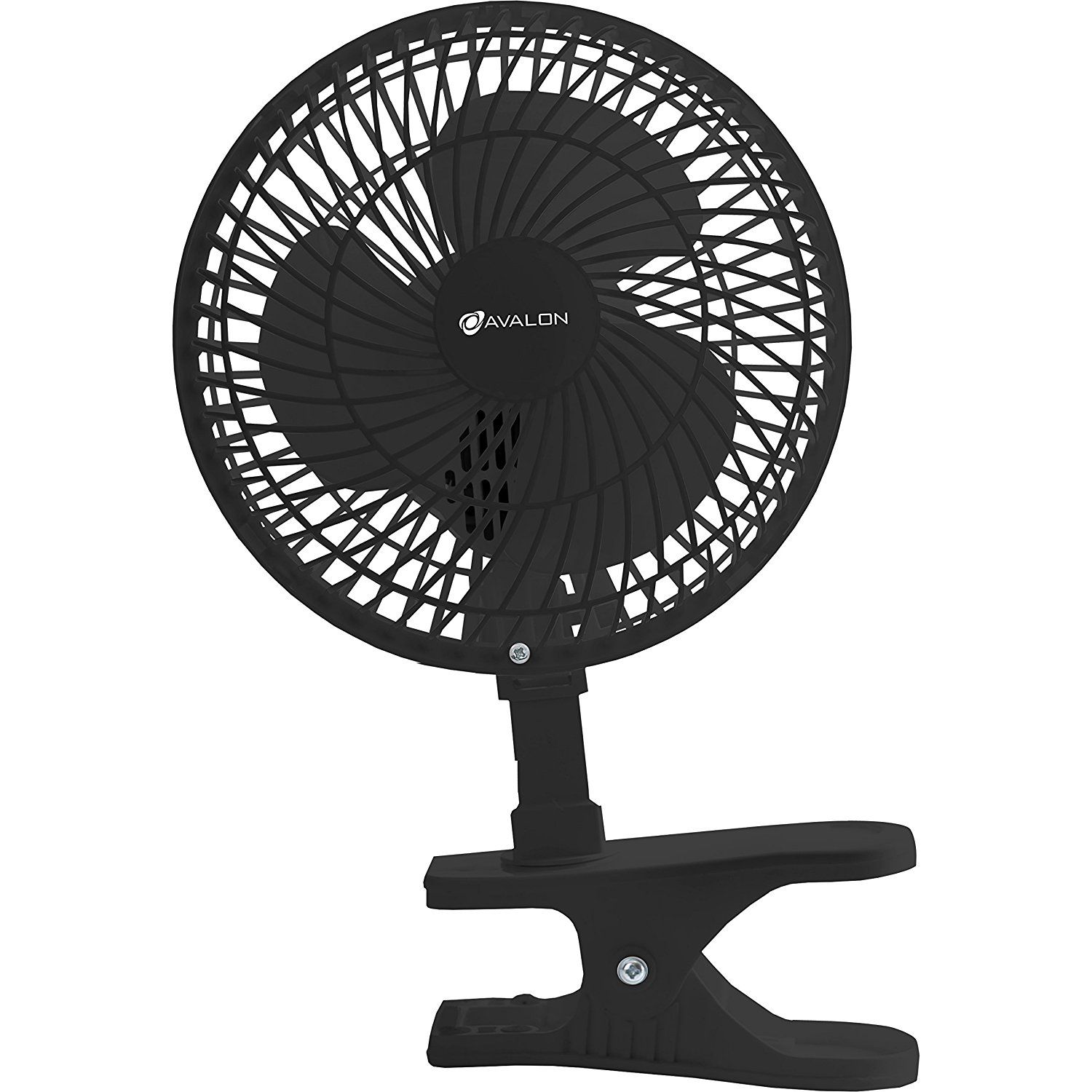 Looking at this Clip-On & Desk Fan from this brand one cannot but see innovation and functionality of design at work. Designed as a dual purpose fan, this 6-inch fan will function perfectly as a table fan or as a clip-on fan. This offers users more options in its use.
You can place it on your desk or you can clip it to the edge of your desk, bunk or any edge measuring between 1.06 inch and 1.65 inches in thickness. This makes it perfect for use as an office fan, kitchen fan, bathroom fan, bedroom fan and any other location where you may require a fan. It is compact enough to fit on a crowded desk or clip on to a suitable edge in a small space.
Changing it from a desk fan to a clip-on fan is very easy. It comes with an easily removable base and clip. All you need to do to use either the base (for desktop usage) or the clip (for clip-on usage) is to loosen the butterfly screw and switch out the base or the clip for the other and then tighten. Simple and requires no tools.
It also comes with a very adjustable head which allows the fan to be tilted in different directions. Its neck also rotates in all directions making it easy to position the fan for maximum reach.
In all of these, the fan operates very quietly and is really energy efficient. So you have a fan that operates powerfully but can be used as a quiet desk fan or clip-on fan and also does not consume much energy, saving you money on your energy bills. You also have the added convenience of choosing the speed that suits you the most with the 2-speed regulator.
So there you have it. Enjoy the innovation, lovely design and great performance offered by this clip-on and desk fan from Avalon. A lot of great things come in small packages. This is one example.
Advantages
It has a dual feature that allows it to be used either as a desk fan or a clip-on fan
It is easy to switch from desk to clip-on use. No tools are required
It offers 2-speed regulation for easy speed selection
It is energy efficient, saving you on energy costs
It has a highly adjustable head that can be tilted in any direction for a wider reach
Its neck rotates in all directions making adjustments easy
Disadvantages
It does not oscillate and so can only work in one direction at a time
3. Ozeri Brezza III Dual Oscillating Desk Fan
Specifications
Manufacturer: Ozeri
Material: Plastic
Color: Black
Weight: 6.5 lbs.
Dimension: 14 x 10 x 14 inches
Safety auto shut-off: No
Other features: 90o Pivot
Review
When it comes specialty products manufacturers, Ozeri is top class. It specializes in digital lifestyle products that make your homes look modern. It has a wide range of products that do not only make living a lot more convenient, they make you actually want to do household chores. The quality and innovation Ozeri is popular for is a distinct feature that separates it from others.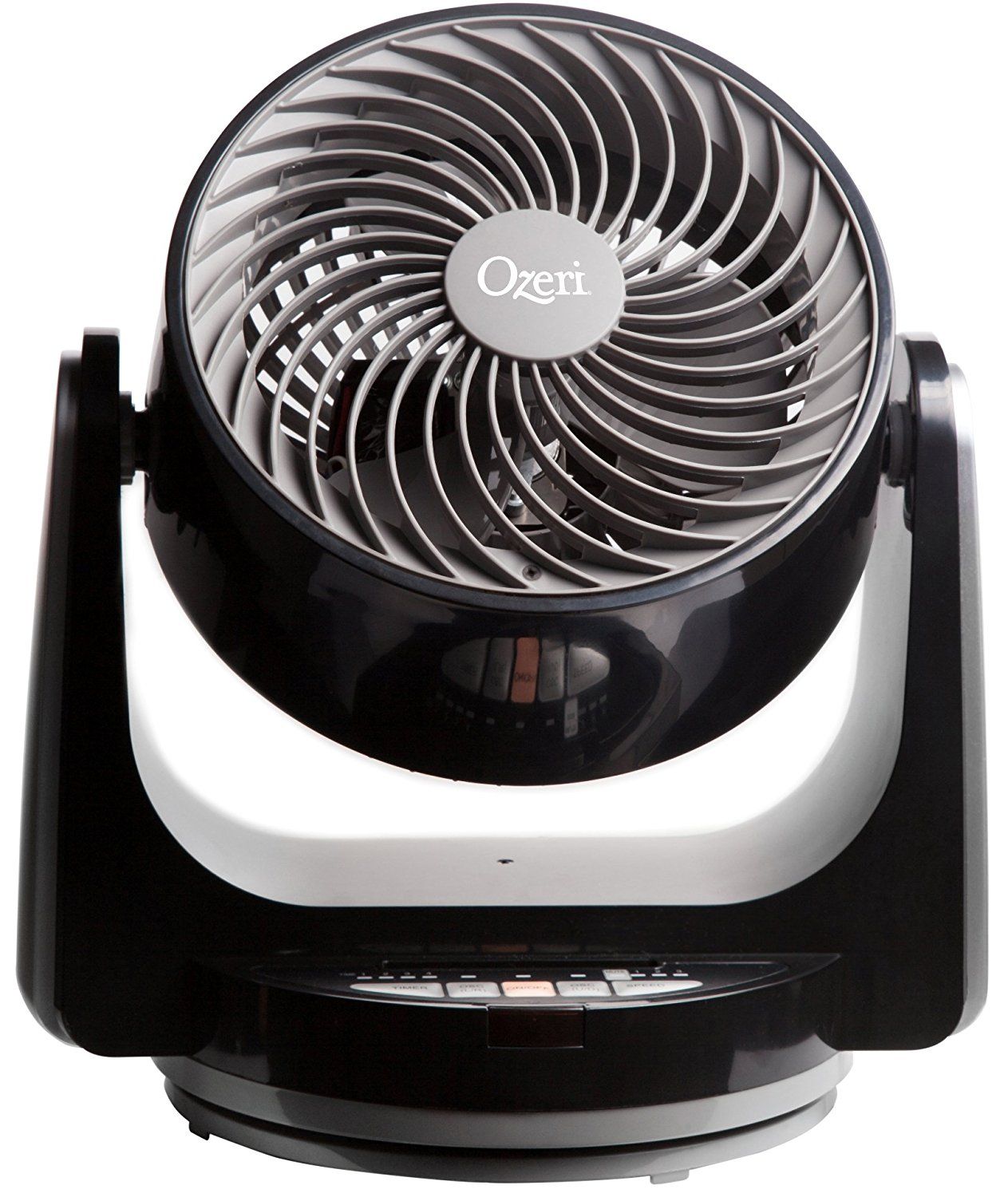 Its Brezza III Dual Oscillating Desk Fan is one of the best desk fans you will find because it is packed full with convenient and practical features. Its 14 by 14-inch dimension makes it super compact and will take up a small space on your desk. It is also lightweight, weighing in at only 6.5 pounds, which allows you carry it with you wherever you need it.
This tabletop fan is powered by a 4-speed dual oscillating motor which can automatically move vertically and horizontally. This allows the fan provides optimum and encompassing coolness. The motor is also super quiet, so you will not have to endure any annoying noise just because you are trying to cool off.
For additional convenience, this portable fan has an extended-range remote control that lets you engage the fan in any direction you want. Its 90o pivot stand allows it oscillate up and down, left and right. This gives it enough freedom to blow in multiple directions to cover more ground.
Its aerodynamic design aids the quality of the breeze it can create. It also helps it muffle the noise of the motor. Operating at 4 different speeds, you can set it depending on how much breeze you want with the touch of a button. You can also set the fan not to oscillate at all, so you can get a focused flow of the cool breeze that comes out of this fan.
The aesthetics of this fan is another great side to it. The stylish design will almost pass this fan as an interior décor item. The glossy black and gray color gives it an exquisite finish. Asides cooling you down while you work hard on your desk, it will also beautify it, and without taking up much space.
You can position this fan however you want. If it is on a surface higher than where you are, you can easily set it to rotate up and down. Or push the button to stop it from rotating so it can blow air directly on you. There are several ways you can use this fan, it's only limited by your imagination.
Advantages
It has a stylish design which will almost pass it as part of your interior décor
It has multi-directional movements for surround coolness
It has a 4-speed and low-noise motor
It uses an extended-range remote control
Disadvantages
It is not silent when blowing at high speed
4. Vornado Whole Room Air Circulator Fan
Specifications
Manufacturer: Vornado
Material: Plastic and Chrome
Color: Black and White
Weight: 4.25 lbs.
Dimension: 8.9 x 9.7 x 11.2 inches
Safety auto shut-off: No
Other features: 5-year satisfaction guarantee
Review
It is general knowledge that when one focuses on one area of knowledge it is almost inevitable to become an expert in that area. That is the case with Vornado. It is solely focused on providing HVAC solutions. Since 1945 when it started up till today, it has positioned itself as an expert in this field by consistently designing and creating superior quality products that perform excellently.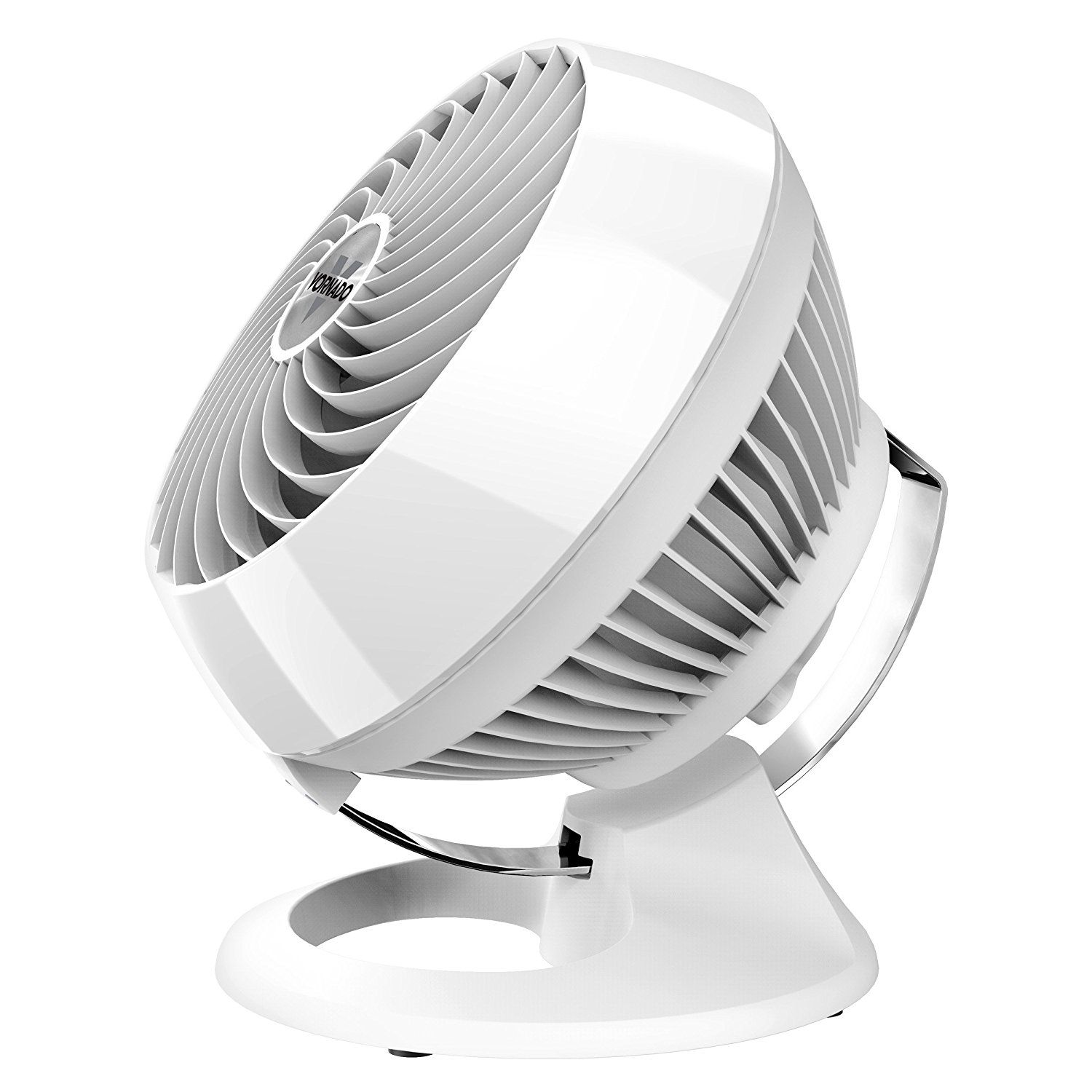 The Vornado Small Whole Room Air Circulator Fan is true to its name as it thoroughly circulates air in the room. It is true that oscillating fans do not create their own air; they merely recirculate the one already available and this one does that really well.
The design of this Vornado air circulator is simply innovative and practical. It seamlessly moves horizontally and vertically along a tastefully designed chrome glider. This allows it circulate air over a wider range. The control knob is finely nested behind the fan right in front of the glossy glide bar. This allows you select among the 3 speeds the fan can oscillate at (which range from low, which is whisper quiet, to high).
This tabletop fan sports the AirTensity Spiral Grill which is the aerodynamically designed grill that tops off the blade enclosure. This grill is designed into a special twist that moves the air in a manner that lets it flow throughout the entire room. This particular size can move air up to 70 feet, and this is just the small size. The medium size can move up to 75 feet, while the large size can move air up to a whopping 100 feet.
Behind the grill is an air duct which encloses the deep pitch blades and pushes high-velocity air through hot and cold zones of the room so it balances the temperature. The blades are more contoured than usual and this is what enables them to move air at maximum pace and distribute it effectively throughout the surroundings.
This office fan also uses an Inlet Air Accelerator that is of an ideal size which efficiently directs air into the path of the blade. The blades then, in turn, create the airflow that you get to enjoy. The 90o oscillation this fan is capable of is what lets it distribute air across the entire room.
Another great benefit that comes with this fan is the level of confidence the manufacturer has in it. It offers a full 5-year warranty on each of these fans. You will agree that such level of confidence will give a potential customer, you, some peace of mind.
Advantages
It has a sleek design
It circulates air throughout the whole room
It is available in different sizes, so you have more options
The manufacturer offers a 5-year warranty on the fan
Disadvantages
It would have been great if it had a remote control
5. Vornado Mid-Size Whole Room Air Circulator Fan
Specifications
Manufacturer: Vornado
Material: Plastic
Color: Black
Weight: 6.61 lbs.
Dimension: 8.2 x 12 x 13.6 inches
Safety auto shut-off: No
Other features: 5-year satisfaction guarantee
Review
When a brand features more than once on our list that is proof of how good it is. Vornado is a specialist in HVAC products. Its air circulation fan we are featuring is one of the products on top of the food chain in its category. This and many other products from this brand are known for quality and superior performance.
The Vornado Whole Room Air Circulator Fan, as its name implies, will circulate air across the entire room you choose to use it. It has a portable size with dimensions of 8.2 x 12 x 13.6 inches and will not take too much space to perch and do its thing. It is also quite lightweight that you can carry it around the house wherever you need it.
The aesthetic design is a work of art. It beautifies your space as it looks so cute it can pass as part of your home décor. Matte black color with a solid base and a pivotal base gives it an exotic look that represents good taste.
It uses Vornado's Vortex Technology that efficiently circulates air throughout an entire room. It uses a multi-directional hinge that lets the fan rotate left to right and up and down. Its powerful motor oscillates the deep-pitched blades which shoot out air for up to 70 feet in whatever direction it rotates.
This silent desk fan can blow air at 3 different speeds which are easily controlled by the knob conveniently located on the side of the base. You can choose from among the silent low speed or the high speed which provides the hair-flowing type of breeze.
This fan size will work ideally in a small to the mid-size room, kitchen, office, bedroom, etc. It is built with the US voltage standard, so you will have to put that into consideration if you will be using it outside the country. It is certified for safety so you can rest assured you can sleep with both eyes closed around it.
If you would like to know if this fan can save you money, we are happy to give you a resounding yes! With this tabletop fan, you can afford to adjust your thermostat to energy saving mode.
Advantages
It has a sleek design that will beautify your space when it is not in use
It is compact-sized and lightweight so it can be easily carried and used in different locations
It circulates air for up to 70 feet in different directions
It has a strong motor that operates at 3 speeds
It is low-noise so you won't have to put up with any annoying mechanical sounds
Disadvantages
It cannot be controlled remotely
6. Vornado VFAN Vintage Air Circulator Fan
Specifications
Manufacturer: Vornado
Material: Metal
Color: Green, Chrome, White
Weight: 8 lbs.
Dimension: 15 x 14 x 9 inches
Safety auto shut-off: No
Other features: Vintage design
Review
We are not being partial here, and we certainly are not making recommendations carelessly. We have a responsibility of presenting you with some of the best products that offer at least as much value for your money. It so happens that a particular brand is especially good at what it does that it is featuring multiple times on the same list. We present to you, yet again, Vornado.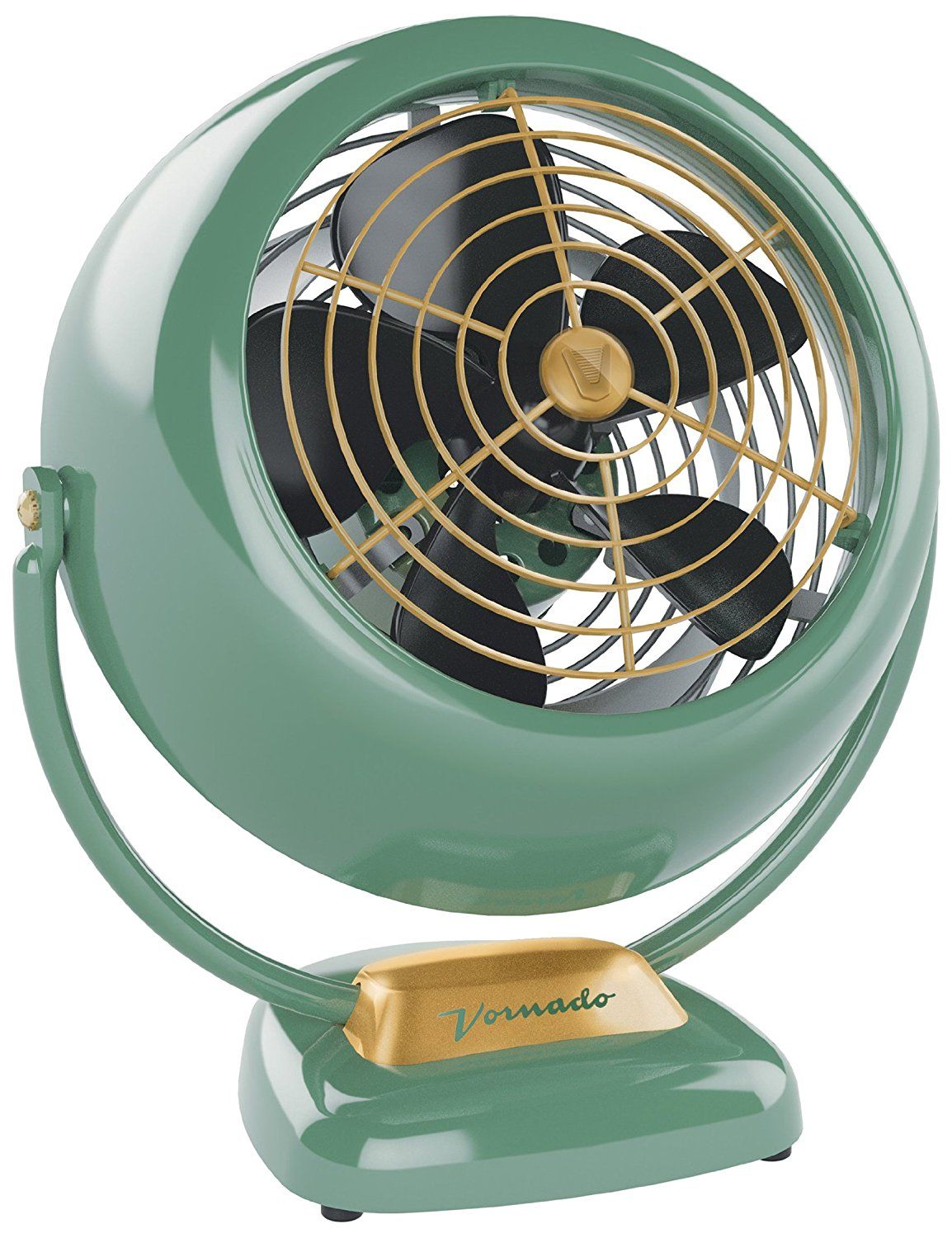 This Vornado VFAN Air Circulator Fan sports a vintage design, and we all know what an antique looking furniture can do to your space. Not to talk about how much it will elevate your taste for design. Not only is this fan good-looking, it still carries the signature Vornardo feature; functionality. This is one of the best desk fans you can get as it perfectly blends aesthetics with functionality.
It has a metallic construction with an authentic style of the classic design it is recreating. It also features the Vornado's Vortex Technology that circulates air around the entire room to deliver unparalleled comfort to the user.
The VFAN uses twin air cones and deep-pitched propeller blades to efficiently move air in spirals so it can travel further and circulate air throughout the room. Its full-action pivot head moves easily to help you direct the airflow as you wish.
It has a 3-speed setting that lets you determine how fast the blades oscillate to move the air like you want. This vintage fan is available in green, white, and chrome colors so you can choose whichever matches your interior the best. There are bigger sizes of this vintage tabletop fan so if you have a bigger space to cover, Vornardo also has you covered. This version of Vornado's air circulation fan operates silently. Even when you turn it to the highest, the noise of the motor is still negligible. This product is also certified safe, so your peace of mind is not threatened when using this fan.
Vornardo products are premium which is why they are confident enough to offer a whopping 5-year warranty on every purchase of the VFAN too. If you have been having concerns about the quality and this move does not quench that, we wonder what will.
You asked for Vornado fan reviews, we have given you three. It won't be an overstatement to call us awesome.
Advantages
It has an innovative design that creates superior performance
It sports a stylish vintage look which gives your space an exotic appearance
It is a metallic construct that assures you of its durability
Its Vortex action efficiently moves air throughout the room
Disadvantages
The lower speed settings do not move air as much
7. Dyson Air Multiplier AM06 Table Fan
Specifications
Manufacturer: Dyson
Color: Black/Iron, Black/Nickel, Iron/Blue, White/Silver
Weight: 3.97 pounds
Safety auto shut-off: Yes
Other features: Remote controllable, Absence of blades and a Wide oscillation path.
Review
A leading technology company, Dyson is committed to eliminating inefficiencies of any form. Dyson recognizes that every action has an oppositely directed reaction that combines to affect the output of the average human being. That is why over the past couple of years, Dyson has strived to reduce the impact of waste, electricity, and noise on the average household and workplace appliance.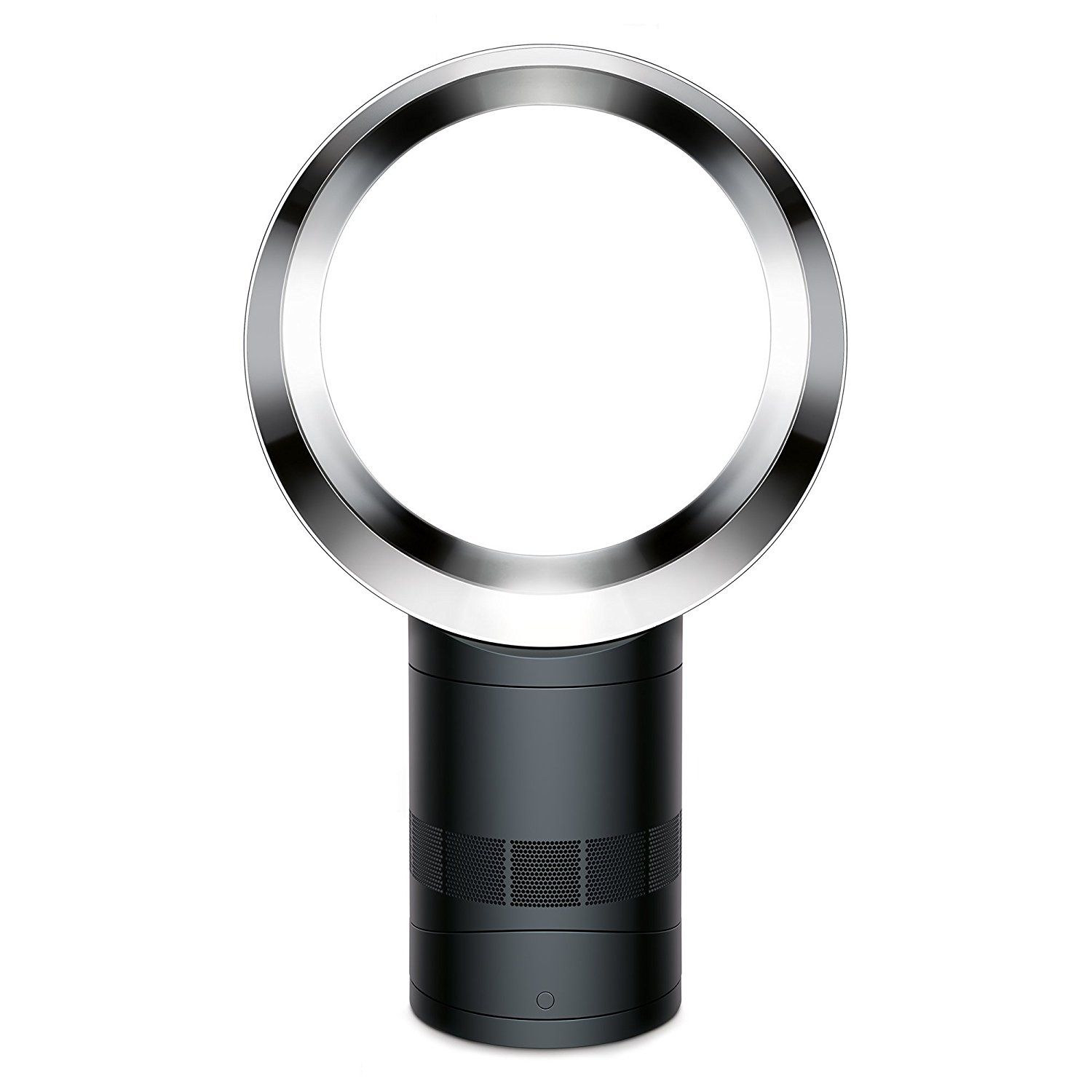 Working hand in hand with Dyson Institute of Technology, the James Dyson Foundation and the James Dyson Award, Dyson is helping to overhaul and push engineering capabilities to the optimum best. It is a brand that is making a positive impact on the environment so as to better the living and working conditions of the average human being.
A large percentage of all basic human activities leave you hot, sweaty and exhausted. No matter whom you are or what sphere of life you work in heat and perspiration cannot be easily avoided. Perhaps you have been left warm and perspiring heavily after a workout with no source of aeration in sight. Or maybe you are one of those who find it very difficult to adjust to the first weeks of warm weather at work. Even at the workplace, your stylishly tailored suit can suddenly become a furnace when that project deadline is fast approaching. Depending on your surroundings, a metal desk fan will go a long way toward alleviating your issues with heat.
One of the best table fans on the market is the Dyson Air Multiplier AM06 Table fan. This offering from Dyson is guaranteed to help you make your working and living surroundings that much comfortable.
The Dyson AMO6 Table fan is extremely small and portable meaning it can fit perfectly on your desk at work or by your bedside table at night. This Dyson Table fan can easily be carried about and deployed for use at your own convenience.
Although it produces a more than average air flow, this particular desk fan is 75% quieter than most. It purrs soundlessly while working without affecting your concentration levels. This soundless feature also makes it perfect for use while sleeping.
This Dyson desk fan is also one of the safest desk fans in the market. It doesn't possess the regular fast-spinning blades which make other fans a danger to children and pets. It can also be cleaned easily without any encumbrance due to the absence of safety grilles.
Lastly, this desk fan has been engineered with optimum comfort and accessibility in mind. It comes equipped with a timer that can be set to turn off at preset intervals while you are asleep or away. In the same vein, it has an easy-to-use remote control that makes controlling settings such as oscillation and airflow a smooth affair.
Advantages
It doesn't contribute to noise pollution as it is 75% quieter than the average desk fan
Has Air Multiplier technology that makes its airflow smooth and cool like the summer breeze
It is small, lightweight and can, therefore, be easily carried around
The Dyson AM06 can be cleaned easily as there are no blades and grilles
It consumes 30% less power than its predecessor, the Dyson AM-01
Disadvantages
Occasionally, the airflow generated by this product may not be as powerful as needed
8. Honeywell HT-900 TurboForce Air Circulator Fan
Specifications
Manufacturer: Kaz Incorporated
Material: Not Specified
Color: Black
Weight: 2.6 Pounds
Dimension: 11.02 in x 6.46 in x 11.22 in
Safety auto shut-off: No
Other features: 90-degree pivot, wall or table mountable
Review
One of the oldest manufacturers of home and comfort devices, Kaz Incorporated is a global conglomerate with an excellent track record. Headquartered in Marlborough, Massachusetts it encompasses more than four major brands and has branches in more than 65 countries.
Incorporated in 1926 after founder Max Katzman pioneered the first electric vaporizer, it has expanded to churn out efficient, state of the art air purifiers, blood pressure monitors, dehumidifiers, humidifiers, and fans. It is a brand geared towards making everyday products and appliances more innovated with each output.
Its products are top of the line and have won Kaz Incorporated awards such as Red Dot Design Awards, iF Design Awards and numerous International Design Excellence Awards (IDEAs).
Sometimes, we just have to take things into our own hands. On those days when you are stuck in a warm office while working on an urgent office report, you need a silent desk fan to put your aeration needs at your fingertips. Of course with an office desk fan which can also function efficiently at home, size and silence is a necessity. That is why you need a portable desk fan powerful enough to cool yet silent enough that you sometimes forget it is present.
To this end, Kaz Incorporated is offering you the Honeywell HT-900 TurboForce Air Circulator Fan. Available in black colors which fit into the average home and office decor. This highly innovative desk fan can be placed on a bedside table or mounted on a walk bracket depending on your needs.
The Honeywell HT-900 is outfitted with an Aerodynamic TurboForce design which puts air flow and direction at a maximum. This makes this one of the best table fans for your cooling needs. In the same vein, your personal comfort is taken into consideration with this model. It is 25% quieter than earlier models making it your best bet for an office power session or a good night's rest.
This desk fan has three powerful seven-inch blades which deliver a huge blast of cool air with every power cycle. The face of the fan also pivots to a maximum of 90 degrees, giving it a wide enough oscillation sufficient enough to aerate your room. It has three different speed settings that can be adjusted depending on your cooling needs and preferences.
Safety ratings are a paramount part of every device and the Honeywell HT-900 doesn't disappoint in the least bit when it comes to this side of things. It has durable safety grilles across its face that prevent unfettered access to the blades. It is perfectly safe for use even when a wondering child or pet is present.
Advantages
Aerodynamic TurboForce design gives it optimum air movement
It can be used on a table or mounted on a wall conveniently
It can pivot up to 90 degrees in either direction
It consumes 30% less power than most fans making it ideal for energy-saving air circulation
It is very portable
Disadvantages
Although it produces 25% less noise than earlier models, it is still a bit noisy when compared to other brands
9. Vornado Zippi Personal Fan
Specifications
Manufacturer: Vornado
Color: Black, Blueberry, Coral Blush, Graphite Gray, ICE, Sublime Green
Weight: 1.7 Pounds
Dimension: 5.5in × 4.5in × 6.25in
Safety auto shut-off: No
Other features: Soft Nylon Blades, 6ft Power Cord Length
Review
Based in the United States, Vornado is an expert in the manufacture and design of fans and small appliances which are concerned with the circulation of air. A trendsetter in the field of aeration and air circulation, Vornado offers a vast collection of devices for home use including air purifiers, heaters, whole room circulators, humidifiers, filters and fans and other accessories.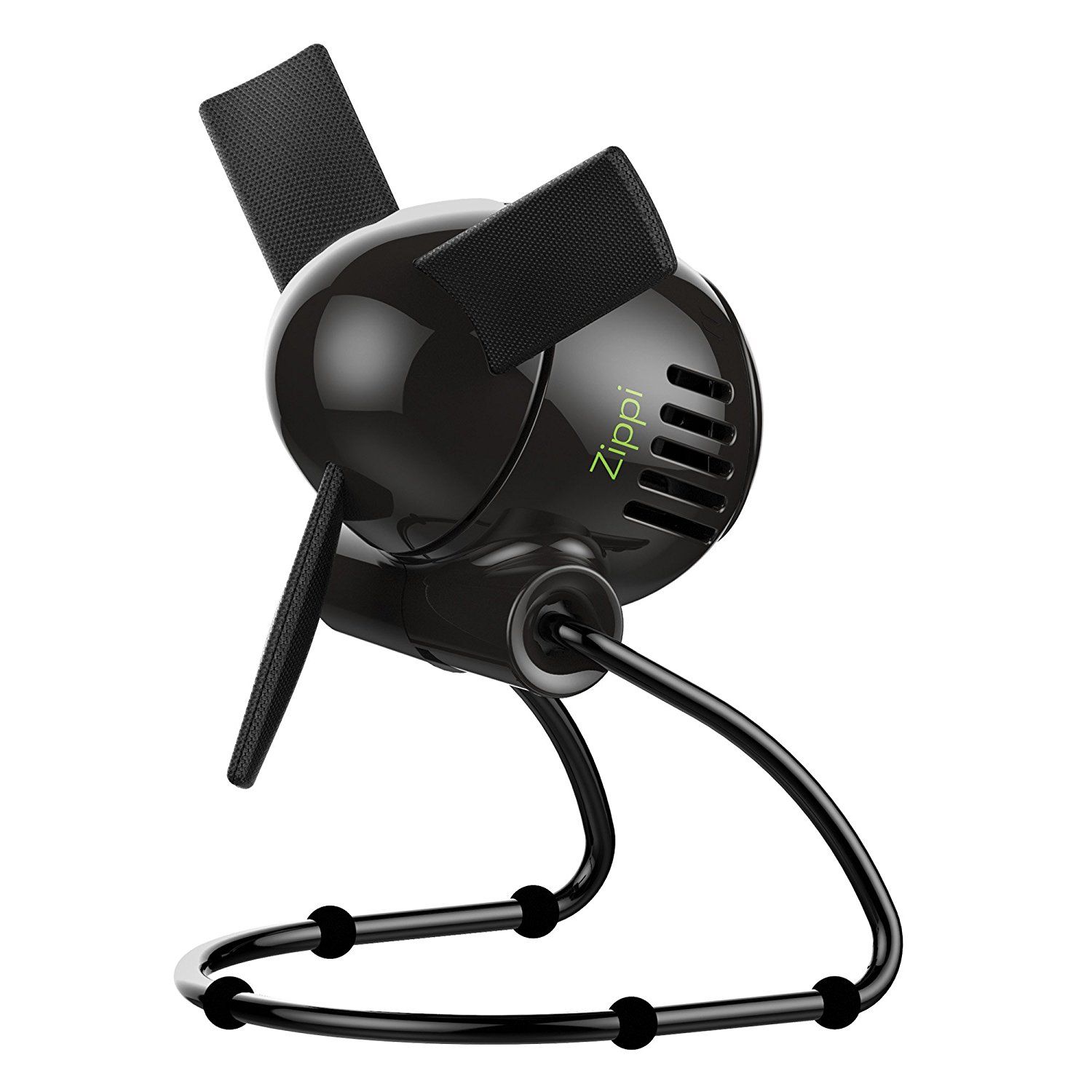 A major organization, Vornado prides itself on the belief that comfort is one of man's most important needs. Its watchword is to churn out products which deviate from the mainstream trends in oscillation and design while still providing an efficient output. This mantra still rings true as Vornado offers products which keep comfort at optimum levels efficiently and exquisitely.
Its new line of products is geared toward reducing energy usage while gaining more control and power of your products. With Vornado, you are assured of groundbreaking innovation and excellence beyond belief. Its products are top of the line and use brushless DC motors which revamp the way comfort is viewed in the field of air circulation.
With global warming on the rise and pressure mounting from all quarters, staying cool in harsh weather conditions has become something of a chore. Time and time again, you find yourself perspiring while battling with that office project or while trying to get in a good night's rest. This is why you need a metal desk fan to make sure that you are always cool at every turn.
The Vornado Zippi Personal fan is one of the best desk fans in the open market right now. As the name suggests, it is designed for personal use whether in the home or in the office. Equipped with a steady stand, this beauty can be used in the office or at home depending on your needs.
A big part of the Vornado Zippi Personal fan is the fact that it comes with soft cloth blades. These one-of-a-kind blades are made of nylon and are a hundred percent safe. You can even touch the blades while the fan is working at full speed without any damage to your person. In the same vein, these blades are as silent as the wind itself. They quietly push air at optimum speeds to increase airflow and movement.
If you have been looking for the perfect desk fan to accompany you on your travels, then the Vornado Zippi Personal fan is perfect for you. It folds down and can be easily packed when folded. In addition to that, it weighs a modest 1 .7 pounds giving you unprecedented ease of movement and portability.
Advantages
It has very safe soft nylon blades
Its cloth-style blades mean it works with minimum noise
It is foldable and can be easily packed for a journey
It has a 6ft power cord for ultimate convenience
Disadvantages
The only setback with this desk fan is that it has only two-speed settings
10. Holmes Lil' Blizzard 8-inch Oscillating Table fan
Specifications
Manufacturer: Holmes
Material: Plastic
Color: Black
Dimension: 9 in x 8 in x 12 in
Other features: Has a wide oscillation area for an 8-inch fan; has a cord which is about 5 feet long
Review
Particular about making its customers' air refreshing, cool and purified, Holmes Group, otherwise known as The Holmes Products Corp., manufactures filters, mechanical fans, and air purifiers. It also manufactures humidifiers and air heaters. It is based in Milford, Massachusetts, and was founded in 1982. Its fans are known for their powerfully functioning cooling ability, and one of such, which comes highly recommended, is the Holmes Lil' Blizzard 8-Inch Oscillating Table Fan.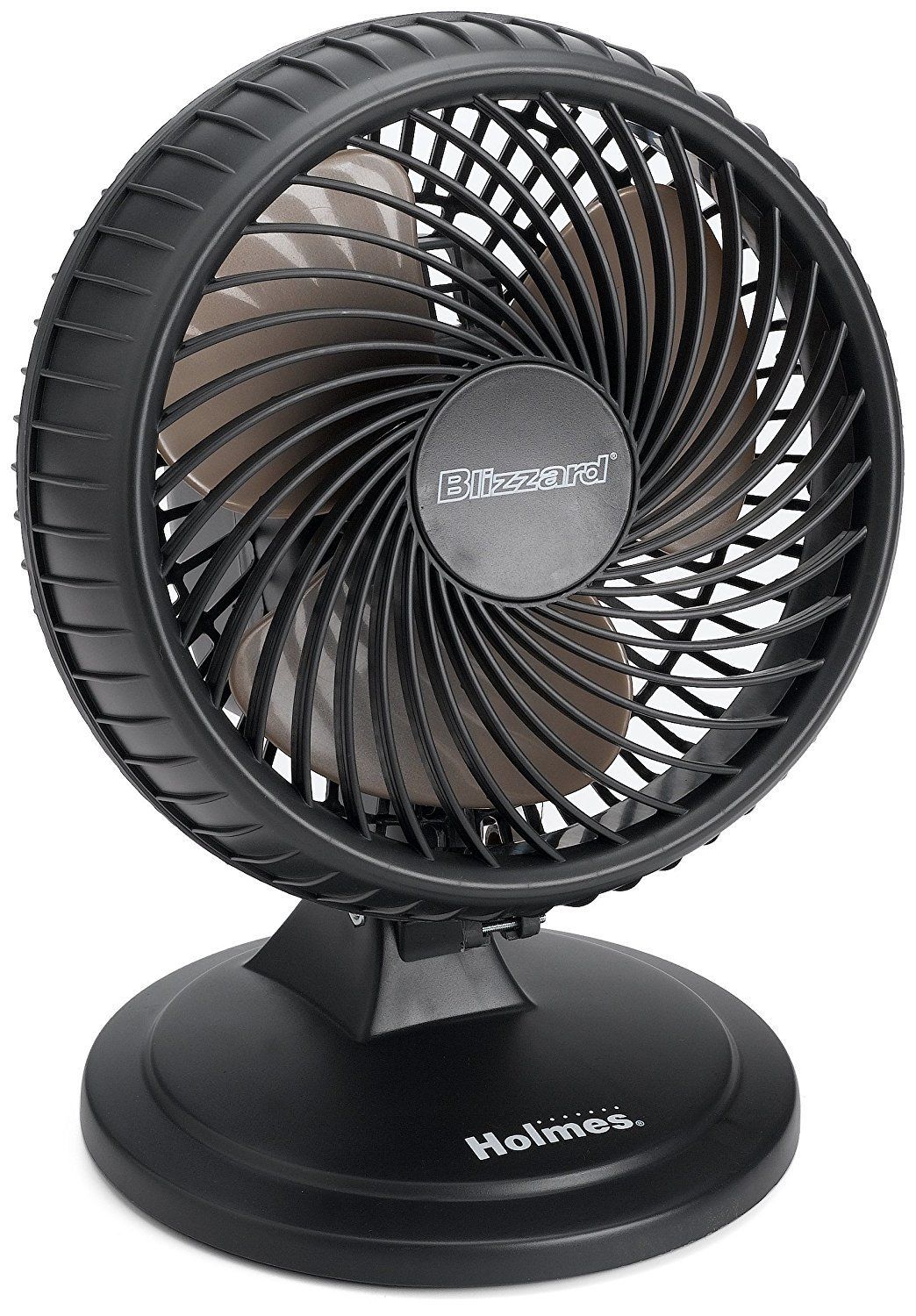 Holmes Lil' Blizzard 8-inch Oscillating Table Fan is the go-to desk fan if you want a mini cooling equipment for your small space, especially on those days when the heat wave threatens to ruin everything about your day. Coming in a mini 8-inch, compact size, it gives off cooling air expected from fans twice its size. It is the perfect office desk fan when you need it to blow away the stress of the day, without you waiting for the air to reach down from a ceiling fan.
There are many reasons why you should purchase this fan from the Holmes group, but we will only tell you some of them. For starters, who doesn't know how annoying it feels when you have to stand up from your desk, walk down to the other side of the room, and begin the tuning of a regulator just to turn on the ceiling fan, which may take a while to blow off the hot humid air? I'm sure you do. The Lil' Blizzard 8-inch Oscillating Table Fan by Holmes lives up to its name and blows a blizzard from its compact size, making you feel cooler almost immediately, after being turned on, and you don't have to get up!
It comes with two strong speed settings, both of which work powerfully, and has an oscillation for wide area coverage, so you can share your cool air with a visitor. Its cord, which is about five feet long, makes it easy for you, so you don't have to worry about the distance of the switch from your desk. Its cleanliness was also taken into consideration, and so the front grill was made detachable so you can easily clean it. The black color also makes it blend in with the rest of your space, and its plastic makes up, leaves it lightweight for easy transport.
The Holmes Lil' Blizzard 8-inch Oscillating Table Fan is also a power saver, using only about 84 watts for powering up. It is the perfect fan for your office, dorm room, and someone even used it for his bathroom. It is that versatile.
Advantages
Perfect for small rooms and RVing vehicles.
It gives off white noise which drowns out noise from outside and lulls you to sleep.
Uses little energy, about 84 watts, and so doesn't take much to be powered.
Made of plastic, it is lightweight and easy to move
Has an adjustable tilt head which directs the oscillation wherever it is needed
For easy cleaning, the front grill can be easily detached
Disadvantages
Has only two powerful speed settings
Though worth its price, it appears cheap, as it is all in plastic
Conclusion
There you have it; the information you need to pick the best desk fan for your peculiar situation. Now the ball is in your court. Place an order now for the desk fan that resonated most with you from our selection and has a cool day.