Are you looking for a nice bathroom exhaust fan? One that's capable of a high level of CFM (cubic feet per minute) but is also quiet and energy-efficient, as well as equipped with bright yet soft LED lights? There are many such products on the market at the moment, however, choosing the right one for your needs can be as complicated as it sounds. There are a lot of factors to consider here if you are to make the right choice – how powerful you need the fan to be, what features it needs to have, what its energy consumption should be, and so on, and so forth.
To make the choice a bit easier, below we've compiled our list of the best bathroom exhaust fans with LED lights. After the list, which itself is separated into two parts, we've also written a quick guide on everything you need to know about bathroom exhaust fans, how to choose between them, and how to use them in the most effective manner possible.
Let's start with our Top 3 list.
Top 3 Bathroom exhaust fans with LED lights
1. Delta BreezIntegrity ITG100ELED
What earned the spot for this Delta BreezIntegrity model in our bathroom exhaust fan with LED light list was the combination of quality plus all the extra features it brings to the table. More than just a simple bathroom fan with led light, the ITG100ELED model runs with a powerful brushless motor that's designed to run continuously for at least 70,000 hours. It offers an airflow rating of 100 CFM and a very nice, low loudness rating of just 1.5 sons at 0.1 static pressure. This has also earned this model a certificate from the Home Ventilation Institute (HVI).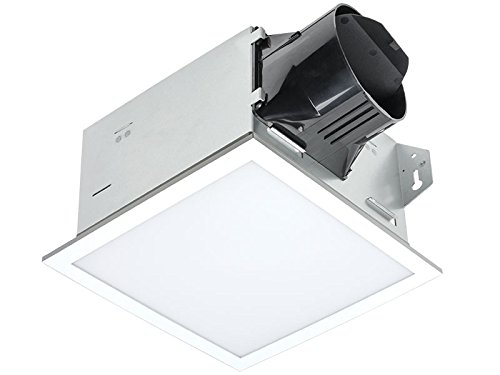 As for the power consumption of this unit, the ITG100ELED sports the impressive 17.0 watts with an efficiency rating of 7.5 CFM per watt. Furthermore, this exhaust fan with LED light also has a motor lock protection feature, as well as self-compensating speed for maintaining the intended airflow even when static pressure is encountered.
What's more, this LED bathroom fan can also be bought with a Bluetooth speaker that offers a sound that's both loud and clear enough to give you a great atmosphere even with the shower running at full blast. Unfortunately, the speaker needs to be purchased separately but it's modestly priced so that shouldn't be a problem for most people.
Buy Delta BreezIntegrity ITG100ELED on Amazon
What we like:
This powerful 100 CFM model from Delta BreezIntegrity is one of the best bathroom exhaust fan with LED light models thanks to both its effectiveness and efficiency,
The quiet operation of the ITG100ELED has earned it a loudness rating of just 1.5 sons – effectively, this fan is all but imperceptible while the shower is running.
With a power consumption of 17.0 watts and an efficiency rating of 7.5 CFM per watt, the ITF100ELED model of Delta BreezIntegrity is a great long-term investment.
In addition to the high-quality LED light, this model can also be purchased with a Bluetooth speaker. The speaker offers a clear and crisp sound that goes very well with the already quiet fan.
What we don't like:
The damper outlet on this model can be secured a bit better. As it is, it often needs to be adjusted and additionally secured by the user.
The Bluetooth speaker is not included in the base price and needs to be purchased separately.
2. Broan-NuTone InVent 791LEDM
For something with a little stronger accent on the LED lighting, here's Broan-NuTone Invent's 791LEDM model. Its powerful LED bulb is capable of delivering a soft-surround bright light that can cover an entire large bathroom with ease.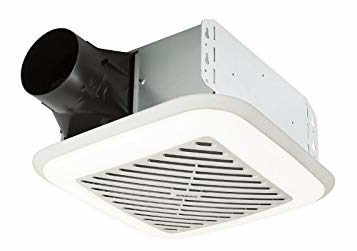 The exhaust fan itself is no slouch – to the contrary. This Broan model offers an impressive 110 CFM of power. With this high potential, this bathroom exhaust fan can easily cover up to 105 square feet of bathroom space. What's more, thanks to the high-quality design of this model and the innovative TrueSeal Damper Technology, the 791LEDM is not only powerful but efficient and effective as well.
As far as the installation is concerned, this model is fairly easy to install and requires no access to the attic. The instructions manual can be tricky to read if you're new to this type of thing, however, so you might want to consult with some online guides. Another notable drawback of this model is that it's not as quiet as other exhaust fans on this list – it's not disastrously loud in any way but there are quieter models out there.
Buy Broan-NuTone InVent 791LEDM on Amazon
What we like:
The soft-surround LED lighting this unit provides is quite excellent – the 9-watt LED bulb offers a very bright light that can illuminate any bathroom perfectly well.
The motor of this unit offers an impressive power output of 110 CFM. It's also permanently lubricated and well-sealed to ensure effortless continuous use.
This exhaust fan model from Broan-NuTone is so effective that it can easily ventilate bathrooms that are as large as 105 sq. ft.
Utilizing Broan's TrueSeal Damper Technology, the 791LEDM model's InVent fans effectively reduce the air leakage by up to 50% more compared to most other exhaust fan models on the market.
What we don't like:
The instructions manual of this unit is a bit lackluster so keep that in mind if that's going to be your first time installing an exhaust bathroom fan.
This fan is relatively loud compared to some of the more quiet exhaust fans on the market. It's not too loud either – it's tolerable – but it's definitely something that's worth mentioning.
3. Panasonic WhisperSense FV-0511VQCL1
This Panasonic bathroom fan with LED light earns a spot on our list thanks to its very high quality and a myriad of great features. Sporting an impressively powerful ECM motor that utilizes the SmartFlow technology of Panasonic, this model easily reaches 110 CFM of power. Furthermore, it's also equipped with a Pick-a-Flow speed selector feature that allows the user to pick and choose between 50, 80, and 110 CFM, depending on what the situation requires. If you have a small bathroom and a relatively medium level of moisture, for example, you can switch to 50 CFM to conserve energy. And if you have a large bathroom that's bursting with steam – the 110 CFM option will come in handy.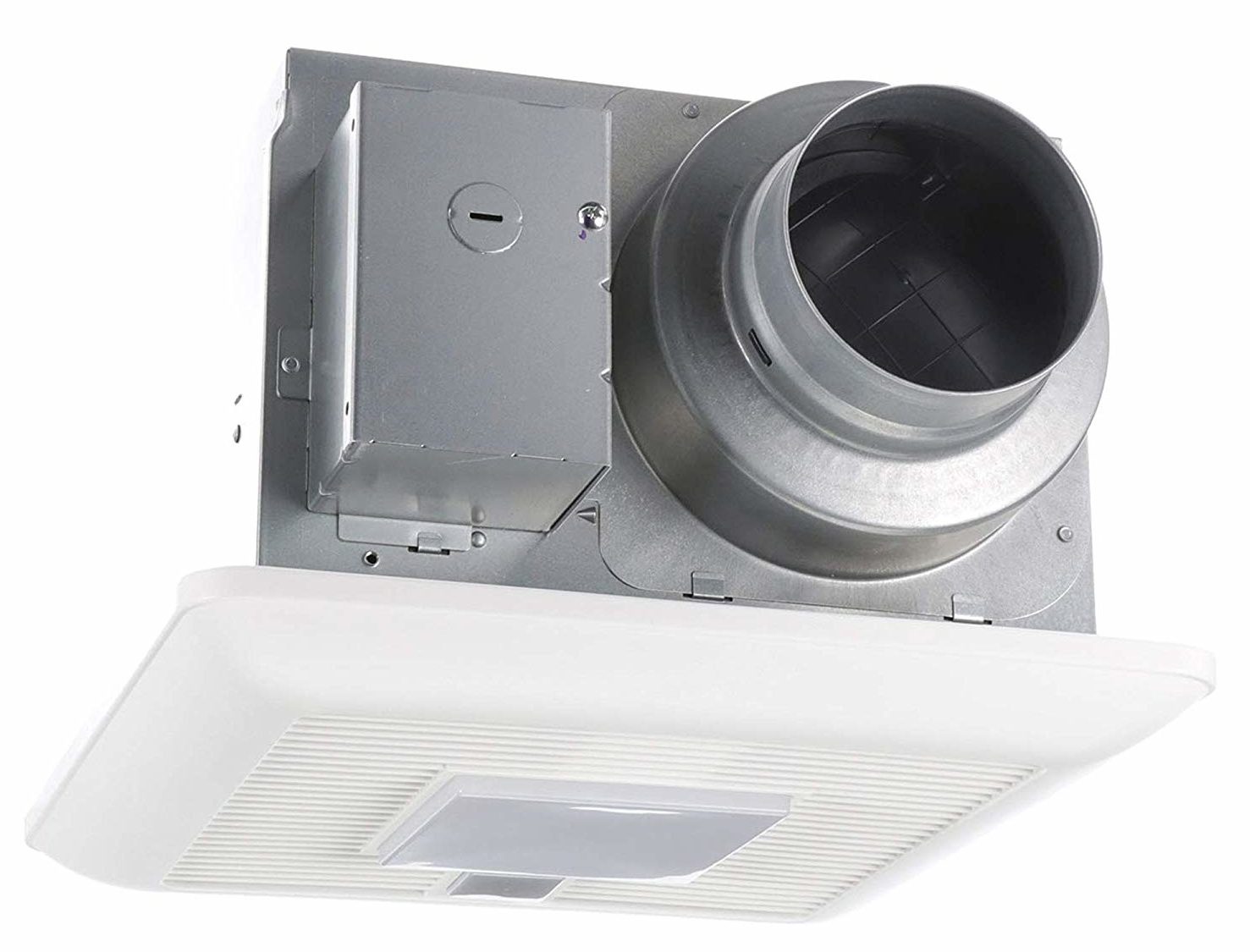 Additionally, this unit also uses a couple of different activation sensors – a motion sensor that allows it to start automatically whenever someone enters the bathroom, as well as a moisture & odor sensor that activates the unit precisely when it's needed.
As far as the lighting is concerned, this WhisperSense model is accompanied by a 10W dimmable LED chip panel and a <1W LED night light that offers a soft, long-lasting, and efficient lighting. The only notable drawback of this model is its price which is significantly heftier than that of other quality exhaust bathroom fans, but given all the features this unit offers, it seems to be worth it.
Buy Panasonic WhisperSense FV-0511VQCL1 on Amazon
What we like:
This Panasonic WhisperSense exhaust bathroom fan is equipped with a Pick-a-Flow speed selector feature that allows the user to choose between 50, 80, and 110 CFM of power. This flexibility is fantastic for when you want more control over how powerful the fan is going to be, especially for smaller bathrooms.
The LED light that accompanies this exhaust bathroom fan uses a dimmable 10-watt chip panel that goes together with a pleasant and convenient <1W LED night light. The latter creates a soft, long-lasting, and energy-efficient illumination that can also be wired separately if the user would prefer it that way.
The Dual Sensor technology that's implemented in this model allows it to start on its own after sensing either movement through its motion sensors or high moisture levels through its moisture and odor sensors.
This Panasonic WhisperSense bathroom exhaust fan is deservedly awarded with an Energy Star rating for its top of the line energy efficiency.
What we don't like:
The only notable objective drawback of the Panasonic WhisperSense exhaust fan is its price. Given the quality and the many different features, we'd argue that it's a fair price to pay.
Other products to consider
There are much more than just three good bathroom exhaust fans on the market, of course, but we needed to draw a line between the Top 3 and the rest. Still, if neither of our previous suggestions caught your eyes, take a look at some of the other good options below:
4. KAZE APPLIANCE SEP120L2
For an exhaust fan model that can reach even higher amounts of cubic feet per minute, the Kaze Appliance SEP120L2 model is available in variants capable of 90, 110, 120, 150, and even 290 CFM. Of course, that much power comes at a price and not just a monetary one either – the powerful 290 variant of this bathroom exhaust fan produces 4 Sone of sound which is quite significant. Furthermore, these models tend to be larger than most other standard bathroom exhaust fans so if you intend to switch to a Kaze Appliance model from something else you'll likely need to resize the existing opening in your ceiling.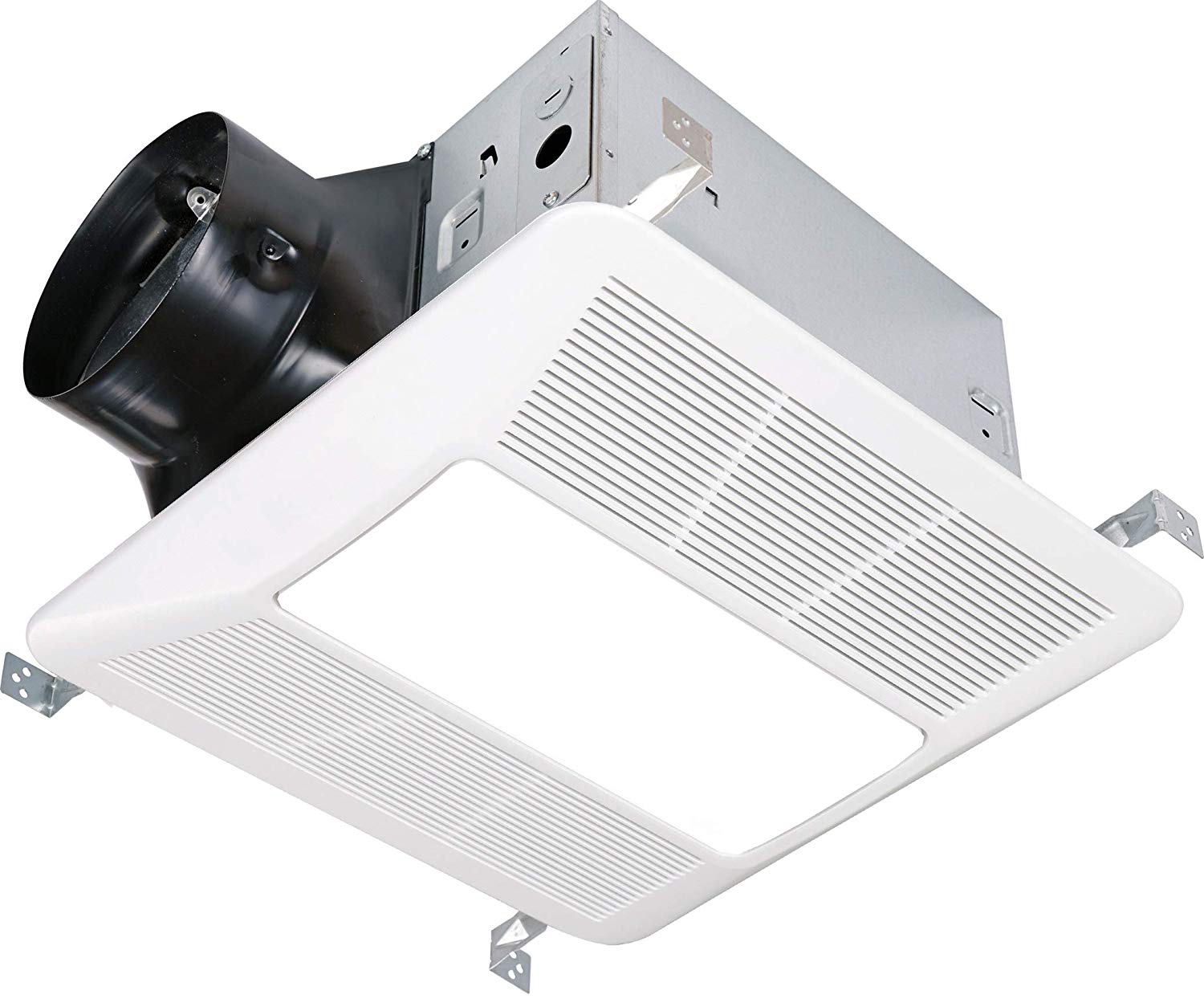 All this is typically worth it, however, as the SEP120L2 model is not only effective but also quite efficient. Certified from the HVI, the ETL-CETL, as well as with an Energy Star qualification, this unit also comes with a 3-year manufacturer warranty.
Buy KAZE APPLIANCE SEP120L2 on Amazon
5. Air King BFQL70 BFQL
Next, we would suggest a model from the Air King line. This unit is capable of 70 CFM which isn't much compared to some of the other items on our list but is still sufficient for smaller or medium-sized bathrooms and laundry rooms. Something that's actually a drawback is that the 2.0 Sone of sound this unit produces are a little too much compared to its power – there are more powerful items on our list that are still less noisy.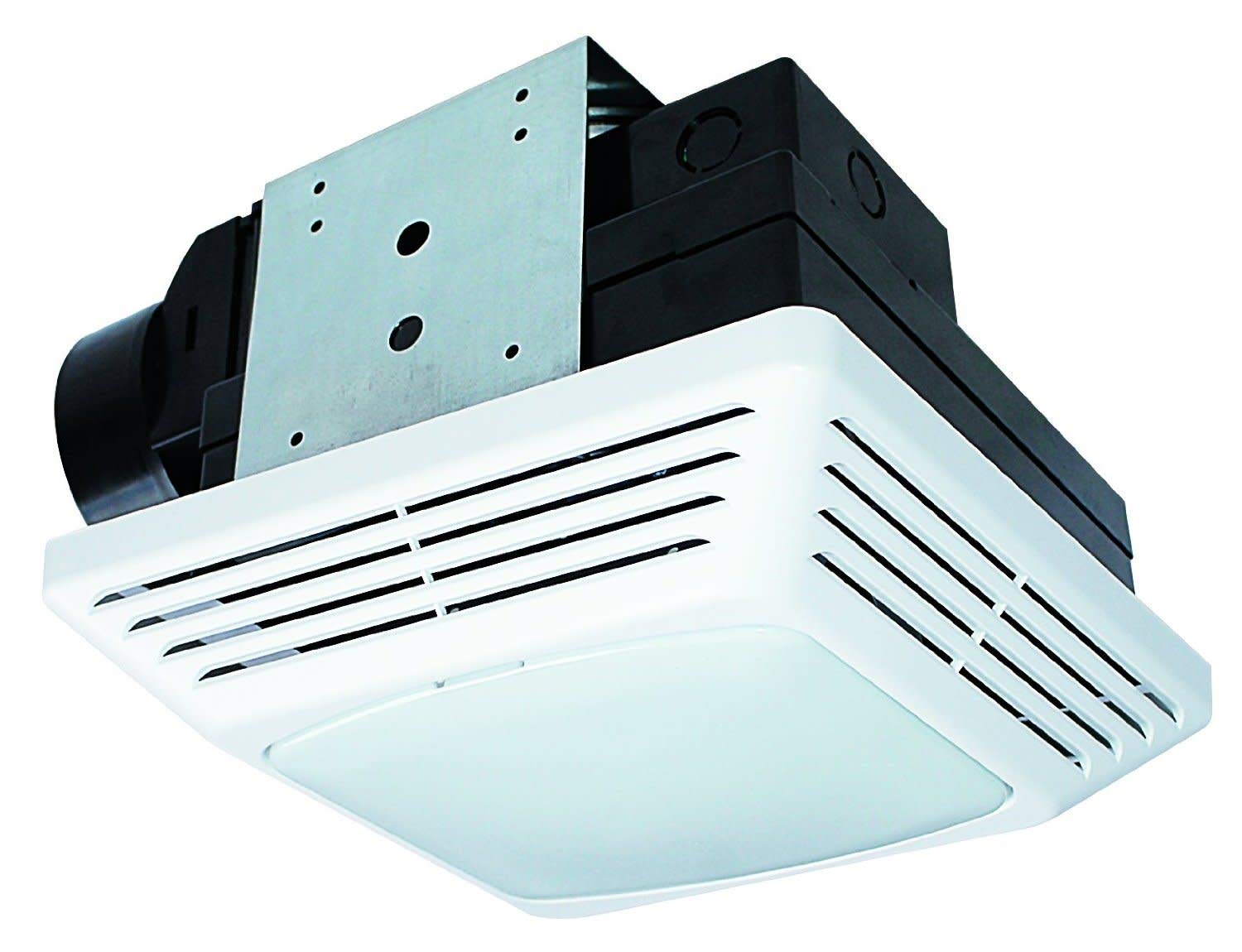 With the negatives aside, however, this Air King model still has a lot to offer. It has a clever snap-in installation mechanism which makes it very easy to install – perfect for people who haven't installed or replaced exhaust bathroom fans before. It also has a 4" plastic duct collar with an additional backdraft dampener which offers draft protection and somewhat lowers the noise of the unit.
Buy Air King BFQL70 BFQL on Amazon
6. Broan-NuTone LunAura QTNLEDB
Another option from Broan-NuTone, this is their LunAura exhaust fan model. It not only offers an impressive 110 CFM with as little as 0,7 Sone of operational noise, but it also comes with a powerful 36-Watt fluorescent light and an additional LED nightlight that can function independently or in conjunction with the fluorescent light. This turns the LunAura into not just an exhaust fan that happens to have a lighting feature but a powerful lighting center feature for your bathroom that doubles as a powerful and effective exhaust fan.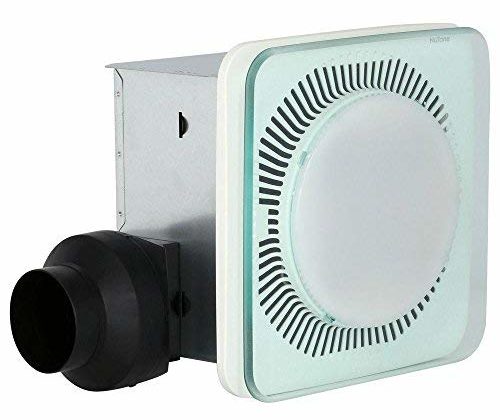 The reason we didn't feature this unit in our Top 3 is that it has a fluorescence light as its main lighting feature and the LED nightlight is secondary to it. If you're ok with the fluorescent lighting, however, then this is definitely one exhaust bathroom fan to consider.
Buy Broan-NuTone LunAura QTNLEDB on Amazon
7. Tatsumaki LD-120
Next, we'd also suggest the Tatsumaki LD-120 bathroom exhaust fan. Capable of the impressive power of 120 cubic feet per minute and still impressively quiet, this fan is ideal for shared housing situations with a large bathroom. The standard size housing of this unit means that it will easily fit with most ceiling joists with no need for resizing. It's also generally easy to install as the double hanger bar system is simple and intuitive even for a novice user.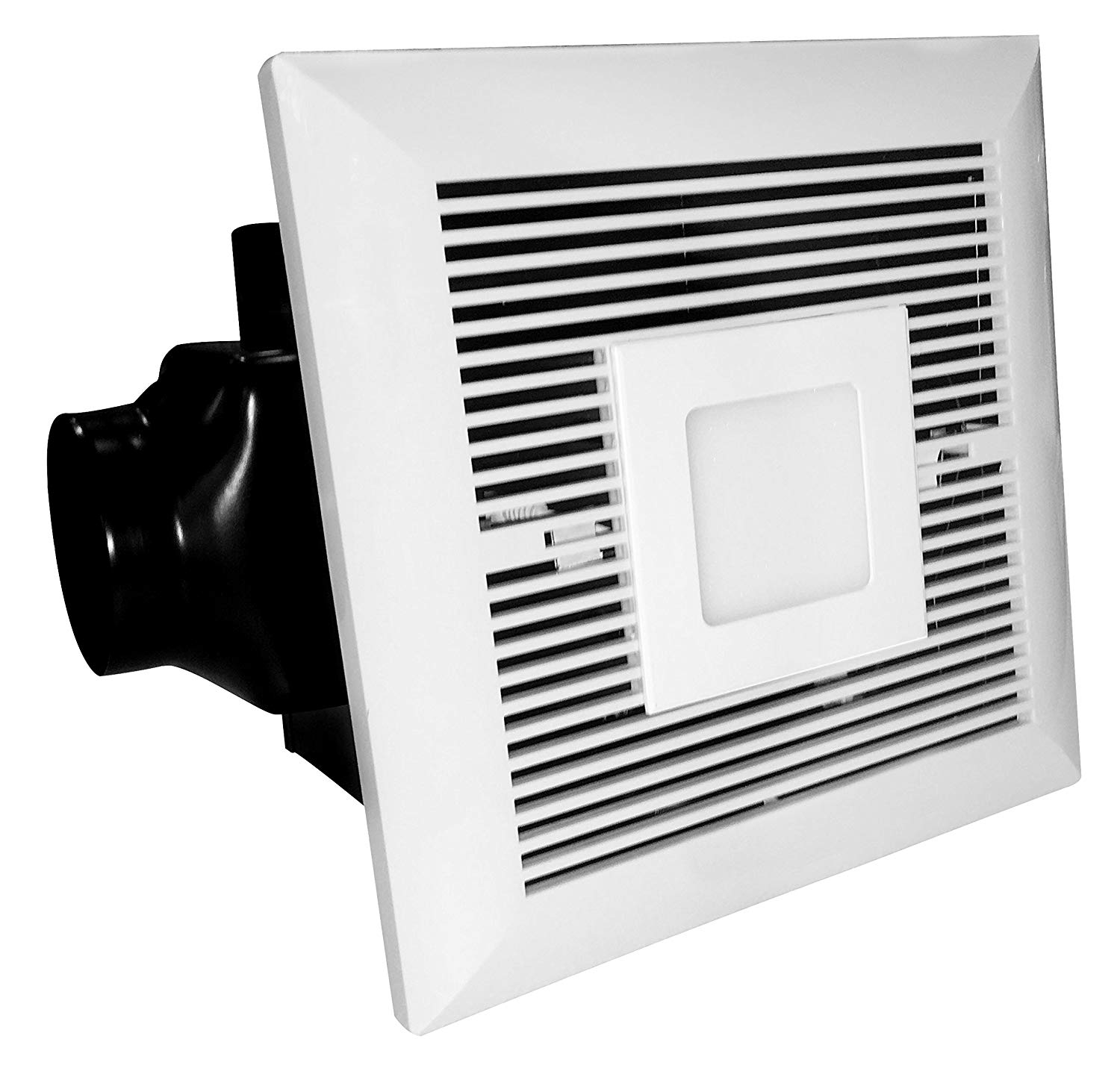 The 6W LED panel offers convenient lighting to go with the fan but it's not as bright as that of some other fans. If the lighting is not that much of a priority for you, however, then this is definitely a nice model to consider.
Buy Tatsumaki LD-120 on Amazon
A quick breakdown of bathroom exhaust fans with LED lights
In principle, bathroom exhaust fans are simple devices – their main purposes are to dehumidify and cleanse the air in your bathroom by sucking it into the AC vent and returning drier and cleaner air in its stead. This is a rather vital function in most bathrooms and laundry rooms as the increased humidity in these spaces is not only unpleasant for the people inside, but can also lead to mold, rust, and other unpleasant problems.
Another benefit of using bathroom exhaust fans is that they reduce airborne contaminants as well as mirror fogginess.
In addition to their ventilation purpose, a lot of modern bathroom exhaust fans also double as LED lighting features. This is a convenient combination as these fans are typically situated on the ceiling or high on the walls anyway. The LED lights they are equipped with can vary a lot – some are just soft and weak nightlights that are there for convenience's sake, others are powerful and bright lights that can render any other bathroom lighting fixture pointless.
Buying guide
Getting the right exhaust fan for your needs is obviously important and it's done most effectively by keeping two things in mind – the quality of the product you're about to get and whether or not it satisfied your personal needs.
To find an exhaust fan of a good enough quality you'll first need to do a fair bit of research. Hopefully, our list has given you a good starting point but you'd also do well to read more – both from other industry professionals, as well as user reviews. Both types of reviews can be flawed in different manners so reading as much as possible is vital in order to reduce the risk of being swayed by erroneous reviews. Following certain brands is also advised at first, even though a "good" brand is not a guarantee for quality. Still, if you're unsure of where to start, brands such as Broan-NuTone, Kaze Appliance, Air King, Panasonic, Delta BreezIntegrity, and Tatsumaki are almost always a good choice.
The other point – that of finding the right unit for your personal needs and preferences – is a bit more complicated. Here are several tips and questions to keep in mind:
How big is your bathroom? The bigger the space the more powerful the fan is going to need.
How much moisture is accumulated in your bathroom? How much odor? If you have a big bathroom but moisture and odor are still just minor problems, you can get away with a fan of average power. Although it'd still be smart to get a powerful exhaust fan and make sure that it has a feature that regulates the CFM of the device.
How powerful do you need the light to be? There's no objective rule here, it's all about personal preferences. Maybe you don't need an LED light on your fan at all, there are such models as well. Maybe you just need a subtle nightlight, or maybe you need a powerful lighting feature to serve as your main bathroom light source.
What additional features do you want/need? Motion sensors? Moisture sensors? Auto shut-off function? There are many different functions a bathroom exhaust fan can come with – if you don't need any of them don't pick a unit that has them as it will probably be needlessly expensive for your needs. If some of those functions sound good, however, don't skip them – bathroom exhaust fans are a long-term investment so it's smart to get exactly what you need right off the bat.
How much noise can you tolerate? For some people, the noise from a bathroom fan is not important. For others, however, it can be a huge deal-breaker. Consult with your family and maybe even your neighbors if you live in an apartment building as to whether they find your current exhaust fan too noisy before you buy a new one.
Don't just look at the initial price – look for energy-efficient models as well. Exhaust fans don't typically consume that much electricity but given for how long you're going to use them – dozens of thousands of hours – that energy consumption is going to become a factor sooner rather than later. It's usually smarter to buy a more expensive but more energy-efficient model than one that's cheap but consumes a ton of energy.
Usage tips for bathroom exhaust fans with LED lights
So, how should you choose the right CFM for your bathroom's exhaust fan? Cubic feet per minute are the standard measurement unit for these devices and according to the Home Ventilation Institute:
"Ventilation rates based upon eight air changes per hour are generally suggested. For most bathrooms, this works out to one CFM per square foot of bathroom area. For example, a 7′ x 10′ bathroom would require a 70 CFM fan."
The general rule of thumb is that for bathrooms that are between 50 and 100 square feet you need to get 1 CFM per sq. ft. of space. For smaller bathrooms, it's generally ill-advised to go below 50 CFM and for spaces that are larger than 100 sq. ft. you'll do best to use multiple devices in conjunction, each for a different fixture in the bathroom – the toilet, the tub, the shower, and so on.
Conclusion
From all we mentioned above it's fairly clear that getting the right exhaust fan for your bathroom or laundry room is as important as it is tricky. Getting the wrong model for your needs can mean having to put up with a noisy unit or an inefficient one. Finding the perfect fit for your needs, on the other hand, can guarantee you a moisture-free bathroom for years to come.
Before we wrap things up, however, let's take another look at our Top 3 bathroom exhaust fan suggestions:
First on our Top 3 list was the Delta BreezIntegrity ITG100ELED model. It offers a very effective 100 CFM of power at the cost of just 17.0 watts of power consumption. This makes for a 7.5 CFM per watt efficiency which is quite nice for the quality that the fan offers. In addition to the LED light and all the safety features of this model, there's also the option of purchasing it with a Bluetooth speaker that goes nicely with the pretty quiet fan.
Next, we suggested the Broan-NuTone InVent exhaust fan model 791LEDM. This model unit impresses with a lot of things, including its 110 CFM power that's more than sufficient to effectively ventilate any large bathroom. Furthermore, the LED light on this unit is exceptionally bright and can easily illuminate any large area with its soft-surround light. The sound on this fan is a bit noticeable but it's nothing too unpleasant, especially if you've got water running in the bathroom.
Third on our list was a truly impressive Panasonic WhisperSense model. This unit is not only capable of easily reaching 110 CFM of power but it can also alternate between 50, 80, and 110 CFM depending on what the situation calls for. Starting automatically thanks to its motion and moisture sensors, this unit will always work when you need it to and will also shut itself off once its job is completed. The bright and high-quality LED lights that come with the WhisperSense are as effective and efficient as the fan itself, which easily demonstrates why the model was awarded an Energy Star rating in 2018.