Having a fine fire pit and fireplace poker is pretty much a must if you intend to ever use your fireplace or to light campfires while you're on a camping trip. The best fire pit and fireplace pokers are few and far between, however, with a lot of the other products on the market having a lot of fatal flaws that make them of decisively lower quality.
So, how should you find and pick the right fire pit or fireplace poker if most of the items on the market are just not good enough? There are a lot of factors to consider and we'll go over them in our handy guide below. Before that, we'll also go through our Top 3 and top 10 Best fire pit and fireplace pokers too, so you can have some quality suggestions to choose from as well.
Top 3 Fire Pit and Fireplace Pokers:
1. Walden Backyards Fire Pit Poker
Let's kick things off with a heavy-duty fire pit poker that also doubles as a fire pit stoker. The biggest advantage of the Walden Backyards fire pit stoker poker is its patented air valve that runs through the poker and allows for one-way-airflow. This is crucial as it makes sure that there's no way for you to inhale any smoke while you stoke the fire.
Additionally, the very practical 46" length of the Walden poker ensures that you can both poke and stoke your fire from a distance without risking any unfortunate burns. Furthermore, the quality materials of this model also make it one of the best fire pit poker products on the market. The comfortable handle is made out of durable wood and with a good design that helps it easily fit in any hand. The main body of the campfire poker stick is made out of high carbon steel material that's quite durable as long as you're not trying too much beyond its weight capacity, and the mouthpiece at the end of the stoker is made out of stainless steel and is both very durable and easy to clean.
Buy on Amazon
What we like:
The "stoker functionality" of the Walden Backyards fire pit poker helps it stand out from other similar pokers. The patented one-way-airflow design ensures that you'll be able to easily stoke any fire from a distance with a 0% risk of getting burned or inhaling smoke.
The materials are another great benefit of this product. The handle is made very comfortable thanks to its nice wooden design, the poker itself is made out of a durable high carbon steel material, and the mouthpiece of the stoker is made out of stainless steel.
With an impressive length of 46" is very useful as it's both safe and comfortable to use.
The practical hook at the end of the poker makes it extra easy for the user to move logs and stones around.
What we don't like:
The high carbon steel material is quite durable indeed but it's not invulnerable and can bend under too much pressure. Considering the 46-inch length of the poker it's easy to bend it even after just several uses if you pressure it too much.
The price on this fire poker stick is quite hefty but that's the price of quality.
2. SteelFreak Heavy Duty Fire Poker
If you're looking for a sturdier and heavier "true" campfire poker, take a look at the SteelFreak Heavy Duty Fire Poker. This massive tool is made out of solid and strong black steel and is meant to last for decades. The model is available in three different lengths – 24, 30, and 36 inches, so you can have enough choice in what you're getting. Since it's made out of 1/2 wide solid steel, this model can be a bit too heavy for a standard indoor fireplace poker so keep that in mind.
As far as its design is concerned, this SteelFreak fire poker sports are a very classic but practical look. The handle has a simple guard which meant to both help with the handling of the poker as well as to protect your fingers. On the other end of the fire pit poker there's also a nice, long hook that helps with the moving and rearranging of the fire pit logs and stones from a safe distance.
Both the hook and the guarded handle also allow for the fire pit poker to be easily hanged on any wall or on the side of a fireplace.
Buy on Amazon
What we like:
Made out of single-piece black steel, this fire pit poker is extremely durable and can last for a lifetime if handled well enough.
The classic design on this fireplace poker allows the user to safely and securely poke, move, and rearrange even the largest fire logs with ease.
This model is also made in three different lengths – 24, 30, and 36 inches so you can get the right fire poker for your needs.
What we don't like:
Due to its heavy-duty materials and design, the SteelFreak outdoor fire poker is quite heavy which some customers find to be too unwieldy, especially for smaller, indoor fireplaces.
3. Rocky Mountain Radar Fire Poker
The third item on our Top 3 is the Rocky Mountain Rader Fire Poker. Another very classically designed model, this fire poker is made out of a heavy-duty black wrought iron steel. It has a very nice-looking and decorative look which makes it much more pleasing for the eyes than our previous suggestion – perfect for your indoor fireplace needs.
Aside from being a beauty, however, this is also a very practical and durable model. The durable material means that you can use this fire poker for countless different fires and for years to come. The handle is very comfortable to handle and feels very nice in anyone's grip. The poking end of the poker is extra wide, it has a great hook and a sharp poke for the easier moving of fire logs and coal.
Buy on Amazon
What we like:
The grip's design makes it very comfortable to handle and to maneuver around in the fire, unlike most other straight handles which can be tiring to the hand after long use.
The heavy-duty wrought iron steel material of this fire poke gives it quite a lot of durability and strength to move around even heavier logs and stones with ease.
The gorgeous design of the poker and its handle make it a very nice and decorative addition to any fireplace – this isn't a poker you'll have to hide from your guests' eyes.
If you're on a budget and you're looking for a quality fire poker that won't cost too much – the Rocky Mountain Radar fire poker is very budget-friendly for the quality it offers.
What we don't like:
The one design flaw of this item is that the handle needs to be screwed to the body of the poker and can be a little loose. If it was welded to the poker instead it would have been much more comfortable to use without the frequent need to tighten it up.
Other products to consider
Of course, there are a lot of other great products to consider in this category so we've compiled a secondary list of seven more great fire pit pokers that just couldn't make it into our Top 3 for one minor reason or another.\
4. FireDragon Fireplace Poker and Fire Blower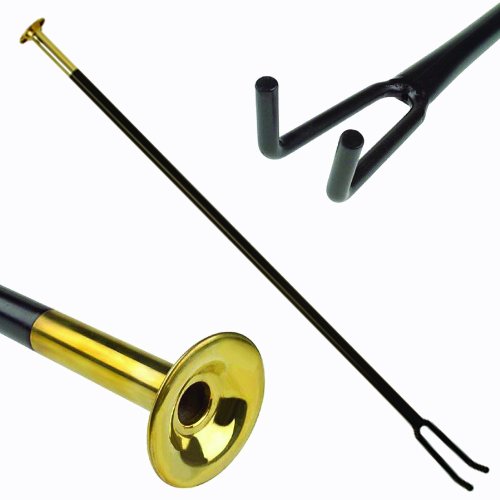 If you're looking for an even more versatile product, the FireDragon Fireplace Poker and Fire Blower is essentially a 3-in-1 model. As the name implies, the long body of this tool is partly hollow and allows the user to easily stoke the fire from a distance with no risk of burns or injuries. This model doesn't have Walden Backyards' patented one-way-airflow design so inhaling smoke is a risk you'll have to manage but it's still a very high-quality and practical fire pit stoker.
Aside from that, it's also a perfectly functional fire pit and fireplace poker with its 37" of length and sturdy design. What's more, this poker actually has two hooks at its end instead of one hook and one poker which helps it work as a fire pit rake as well.
Buy on Amazon
5. Ohio Flame Fire Poker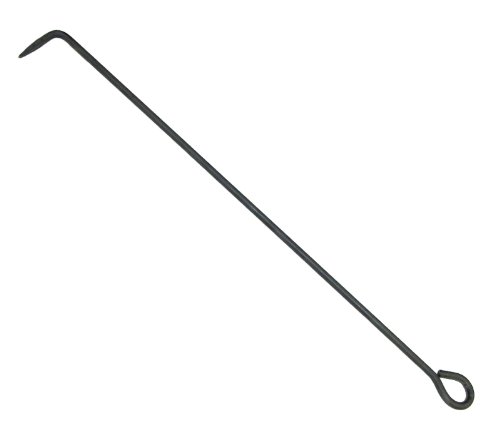 Simple, classic, and very practical – that's the fire poker you can get from Ohio Flame. As the name suggests, it's manufactured in the U.S. and it's also hand forged out of a single piece of sturdy, half an inch thick American steel. It's available in two different lengths – either 34 or 46 inches – and both of them are treated with a High Heat Resistant Black Finish for both durability and style.
Essentially, this is a very durable and long-lasting fire pit poker that will most likely last you for countless fires. The reason it's not in our Top 3 list is in the overly simple design – why it's certainly charming and helps for the durability of the item in and of itself, it also means that the handle isn't particularly comfortable and there aren't any of the additional features other pokes offer.
Buy on Amazon
6. Panacea Products Fire Poker 15347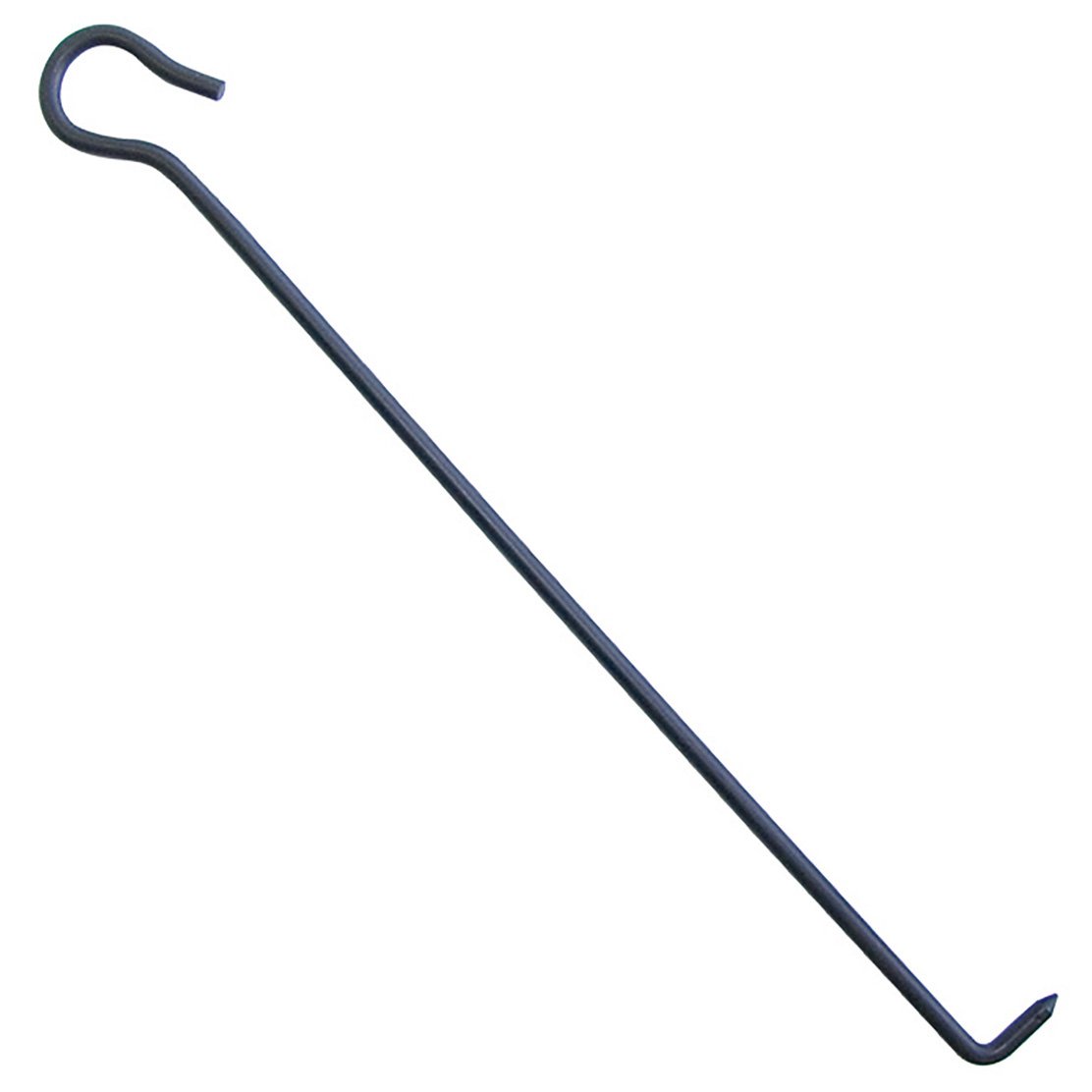 We can say a lot of the things we mentioned about the Ohio Flame poker about this Panacea Products fire poker as well. It's made out of a single steel piece and has a nice black finish. It has a classic design that guarantees both effectiveness and durability but lacks any comfort in the handle. The main differences between the Panacea Products and the Ohio Flame pokers are that this one is shorter – only 30 inches – as well as that it's manufactured in China and has a slightly different design. We do prefer the design of the Panacea Products fire poker over that of Ohio Flame since it has a poking end in addition to its hook which is a more practical design overall.
Buy on Amazon
7. Pit Boss Multipurpose Fire Tool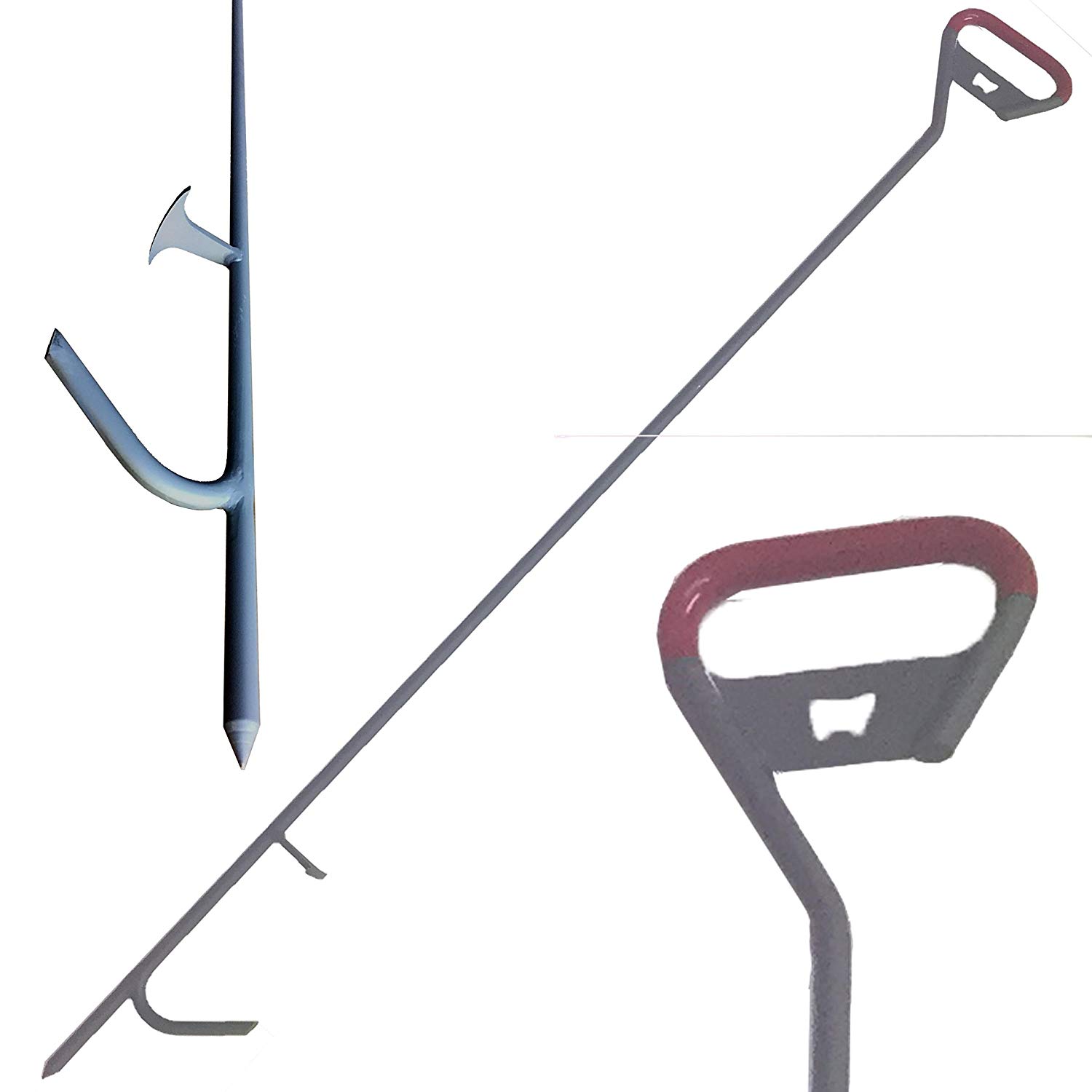 For something truly massive, take a look at this 58" long fire pit poker from Pit Boss. This huge fire pit tool is made out of a single piece of steel which adds the much-needed stability and durability a poker of that size would need. This makes it essentially guaranteed to last through a lot of campfires over the years. What's more, the poker + hook + talon patent-pending design is excellent not only for moving and turning burning logs but for lifting them up and carrying them around too – all you need to do is hook a log and sink the talon in and you'll be able to safely and securely move it around as much as you want. There's even a bottle cap opener at the other end of the poker!
The unusual size of this poker is the only reason we didn't add it to our Top 3 – it's meant mostly for lumberjacks and camping enthusiasts.
Buy on Amazon
8. Minuteman International Extra Long Fire Poker
Minuteman International also offers a very nice one-piece fire poker only theirs has a fashioned handle as well. Despite it being named "Extra Long Fire Poker", however, none of the three lengths this poker comes in are above the medium length you'd expect – you can get this poker in 18", 28" and 36" of length. That being said, this is an excellent assortment of lengths – 36" is more than long enough for most situations and the 18" variant is a nice, shorter option for indoor fireplaces.
The fire poker is made out of durable wrought iron and has a nice black powder coating – great for lot of fires and for a long stretch of years.
Buy on Amazon
9. Sunnydaze Decor Campfire Poker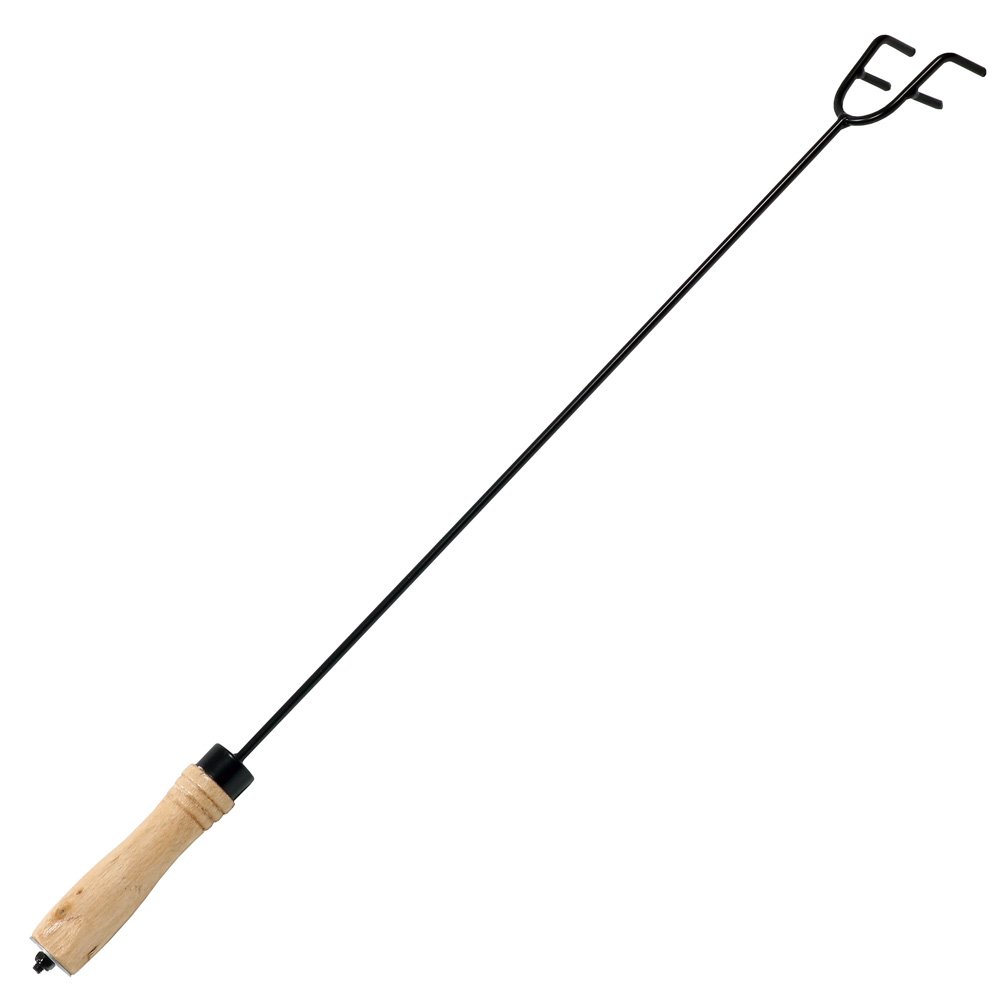 This campfire poker from SunnyDaze Decore doubles as a fire rake thanks to its cool 4-hook design. Great for poking and raking any campfire or fireplace, this poker comes in a length of 26 inches which is a nice medium range for most situations. While it's made out of sturdy black steel, however, it's rather thin so we wouldn't recommend using it for large and heavy logs in big campfires – it's mostly designed for indoor fireplaces or smaller outdoor fire pits.
Buy on Amazon
10. Wilcor Fire Place Poker

We'll end things on something that's really budget-friendly – the Wilcor fireplace poker. It's quite long too – at 36" of length you can use this fireplace poker from a very safe distance in almost all situations. It has a nice and comfortable handle as well as a classically designed sticking end with a hook. The problem with this poker that prevented it from making into the Top 3 list is that it's actually a three-piece model – not only is the handle screwed to the body but so is the poking end. This means that if you forget to tighten that end before using the poker, there's a risk it will fall off into the fire.
However, for the price it's sold for – this fireplace poker is still more than good enough in most situations.
Buy on Amazon
A quick breakdown of fire pit and fireplace pokers
Fire pit and fireplace pokers are simple tools in what they are meant to do but there's still quite a bit of variety in their designs and features. The main goals a good fire poker must achieve are these:
It needs to give you maximum control over the fire so you can manage it with ease.
It needs to be long, comfortable, and durable enough to protect you while you manage the fire.
It needs to be practical and safe enough to ensure that there won't be any accidents. A lot of forest fires start from campfires where a fancy fire poker led to an accident with its bad design. Safety should be your first priority when you're camping and for that, you need both a good fire poker and to be very familiar with the campfire safety rules in your area.
To achieve these goals, fire pokers need to be made out of quality materials and with both practical and safe designs.
Our recommendation is to go for simple designs that prioritize safety and comfort over ones that try to do everything poking, stoking, raking, and so on. The fire poker should be one of several fireplace & fire pit tools at your disposal together with a separate fire pit brush, a fireplace shovel, a fire stoker, a fire tong, and an ash bucket. It's better to have all these separate tools and for them to be durable, safe, and comfortable to use than to have one clumsy do-it-all tool that will break after a year or two.
That being said, 2-in-1 and 3-in-1 fire pokers can work as well, but mostly for smaller campfires or indoor fireplaces.
Buying guide
There are several key factors you might want to consider when purchasing a fire pit poker:
Length. Smaller indoor fireplaces can be easily managed with a short 15" to 20" poker, however, that will be too short for bigger outdoor fire pits and campfires. For those, you might want something that's over 30" or even over 40". This will give you the range to manage even large fires from a safe distance.
Durability of materials and construction. Even if you don't intend to use your poker too often, it's very beneficial for it to be durable as that means it can essentially last for a lifetime. Heavy-duty steel is the best choice here but quality wrought iron can work very well as well. The construction adds a lot to the durability too with half-an-inch wide pokers being sturdier than the many thinner models. Single-piece pokers are also much more durable than ones that need to be assembled from several different pieces.
The handle. Most single-piece pokers don't have a handle to speak of and you just need to hold them by the end of the poker. A comfortable handle can make a world of difference, however, especially in those long camping nights.
Extra features. There are different things you can expect from fire pit pokers – some have extra hooks that help them act as a rake, others have ingenious talons that allow you to pick up and lift burning logs from the fire, and there are even fire pokers that are partly hollow and can act as fire stokers as well.
Price shouldn't be the main factor for your purchase since fire pokers are both long-term purchases and include safety considerations that should be a priority.
Conclusion
We hope we've helped you at least a little bit in choosing the right fire pit and fireplace poker for your needs. Even if you didn't like any of the fire pit pokers in our Top 3 or Top 10 lists, we trust that our additional guide and thoughts have given you a bit of direction into what to look for in a fire pit poker and how to choose the right model for you.
Still, before we part, here are our Top 3 suggestions once again:
First on our list was this ingenious 2-in-1 fire pit poker & stoker from Walden Backyards. A 46"-long fire poker, this model is also hollow and allows for one-way-airflow traffic so that you can use it as a fire stoker as well. In other words, with this outdoor fire pit poker you can easily and safely both poke and stoke any fire with no risk of burns or smoke inhalation. Couple that with the quality design and materials from Walden Backyards and it is clear why this model made it into our Top 3
Next, we suggested the SteelFreak Heavy-duty Fire Poker. This model from the formerly known as Heritage Products brand has a very classic but practical design – it's made out of a single-piece durable black steel 1/2 inch wide. It can be a bit too heavy for some users but it's that solid design that also makes it durable and long-lasting even after frequent use. It's also available in several different lengths so you can always get exactly what you're looking for.
Rounding up our Top 3 was the Rocky Mountain Radar Fire Poker. Made out of a heavy-duty black wrought iron steel, this fire pit poker is also very durable and practical to use. Its handle has a very nice design even though it, unfortunately, needs to be screwed to the poker from time to time. The overall gorgeous look of the poker is very cool to look at as well, making it both a practical and decorative addition to your fireplace and your home.