If you live in a Midwest or Southwest state in the U.S. or in another area with dry but very hot air, you might want to consider getting an evaporative cooler. Also called swamp coolers, these nifty little devices work similarly to a normal fan but by also using water evaporation together with it. This helps cool down the air around them much more effectively, while also humidifying it and improving its qualities. A great choice for places with air humidity levels of less than 50%, evaporative coolers are definitely worth looking at.
1. Honeywell CO30XE review
When looking for the best evaporative cooler or swamp cooler you'll likely stumble upon a lot of evaporative cooler reviews. However, near the top of everyone's lists, you'll find the Honeywell CO30XE. What makes this Honeywell model one of the best portable evaporative cooler products on the market right now is a combination of quality, power efficiency, portability and ease of operation, as well as its sleek and cool design.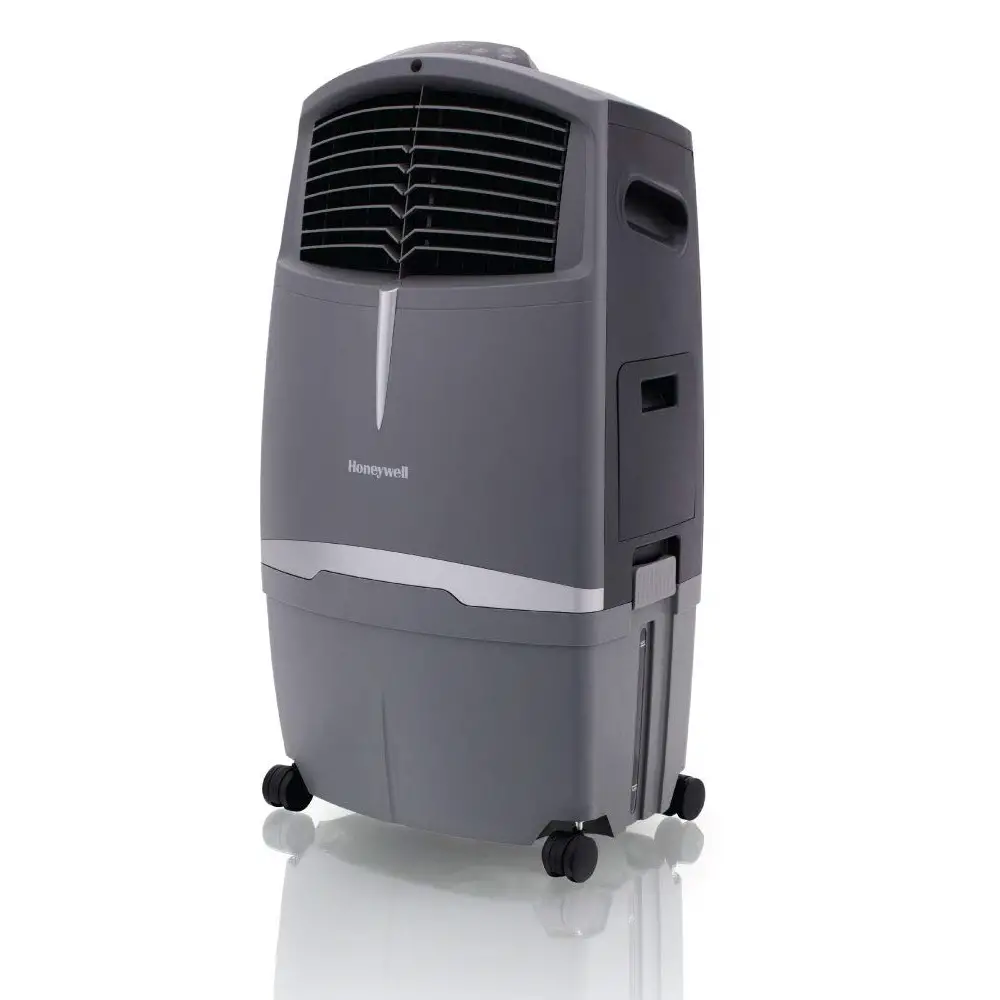 The Honeywell CO30XE is suitable for all indoor areas that are about or below 320 square feet large. It can also be used outdoors as it is quite weather-resistant as well – patios, decks, and small gardens are all suitable places for this model too, as long as it's not too exposed to the elements.
As all good evaporative coolers, the Honeywell CO30XE works best in areas with low humidity – if the moisture in the air is more than 60% even the best swamp cooler simply won't manage to cool space around it even though it will work seemingly without much effort. So, the best places in the U.S. for this model are mostly in the Midwest and the Southwest where the air is both hot and dry.
The design of this model is one of its best qualities, together with its effectiveness and power efficiency. The CO30XE is sleek and pretty but also lightweight and easily portable. It's also accompanied by a small and easy-to-use remote control which further helps you working with the Honeywell CO30XE.
Buy on Amazon
What we like:
This model easily cools off indoor and outdoor areas of up to 320 square feet.
The Honeywell CO30XE comes together with a small and comfortable remote control.
The design of this model is lightweight and very easily portable, making it even easier to move around and use around the house.
What we don't like:
The fan on this model can be a little loud for some people even though that's not abnormal for an evaporative cooler.
2. Hessaire MC18M review
This small swamp cooler from Hessaire is said by many to be one of the most efficient and effective evaporative coolers, especially for its size. You certainly don't need to go through too many portable evaporative cooler reviews to see why that's the case.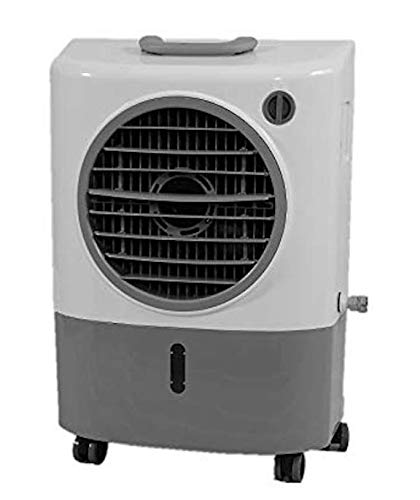 The Hessaire MC18M model has a simple control panel consisting of just one rotary switch with 3 different motor speed modes – low, medium, and high speed. There's also a pump switch that easily controls the pump as well as a middle rocker switch for the fan oscillation, and a power switch.
The MC18M is very lightweight and can easily be moved all-around your home and property. It's equipped with 4 heavy-duty wheels, a comfortable top handle, and a float valve for a garden hose adapter. As most good swamp evaporative coolers, the Hessaire MC18M can be used both indoors and outdoors and requires a low humidity in the air for maximum effectiveness.
This model also comes in three different sizes – the smallest size weighs just 16 pounds, the medium size – 41 pounds, and the larger model – 63 pounds. Each size is capable of covering different areas and is best for different purposes. The smallest model is designed to work in areas up to 500 square feet, the medium one – up to 950 square feet, and the largest model – up to 1,600 square feet. All three of them, however, are very power efficient, earning them a well-deserved place on this list.
Buy on Amazon
What we like:
What makes the Hessaire MC18M model stand out the most is its compact size that manages not to compromise the effectiveness of the cooler.
The Hessaire MC18M comes in 3 different sizes that can cover areas from 500 square feet to 1,600 square feet.
This portable evaporative cooler is exceptionally easy to operate and requires no more than a minute to set up.
What we don't like:
The water tank needs to be refilled every 3 to 4 hours.
3. Honeywell CS10XE review
Another Honeywell model in our top 3, the CS10XE is a very stylish and cool-looking evaporative cooler that'd make a great addition to most homes, offices or small outside areas. It too performs best when the air humidity is as low as possible which means that it's definitely not recommended for areas with over 60% humidity at the most. The preferable air moisture levels for optimal operation of this model are between 10% and 50% which makes it best to use in the Midwest and Southwest states of the U.S.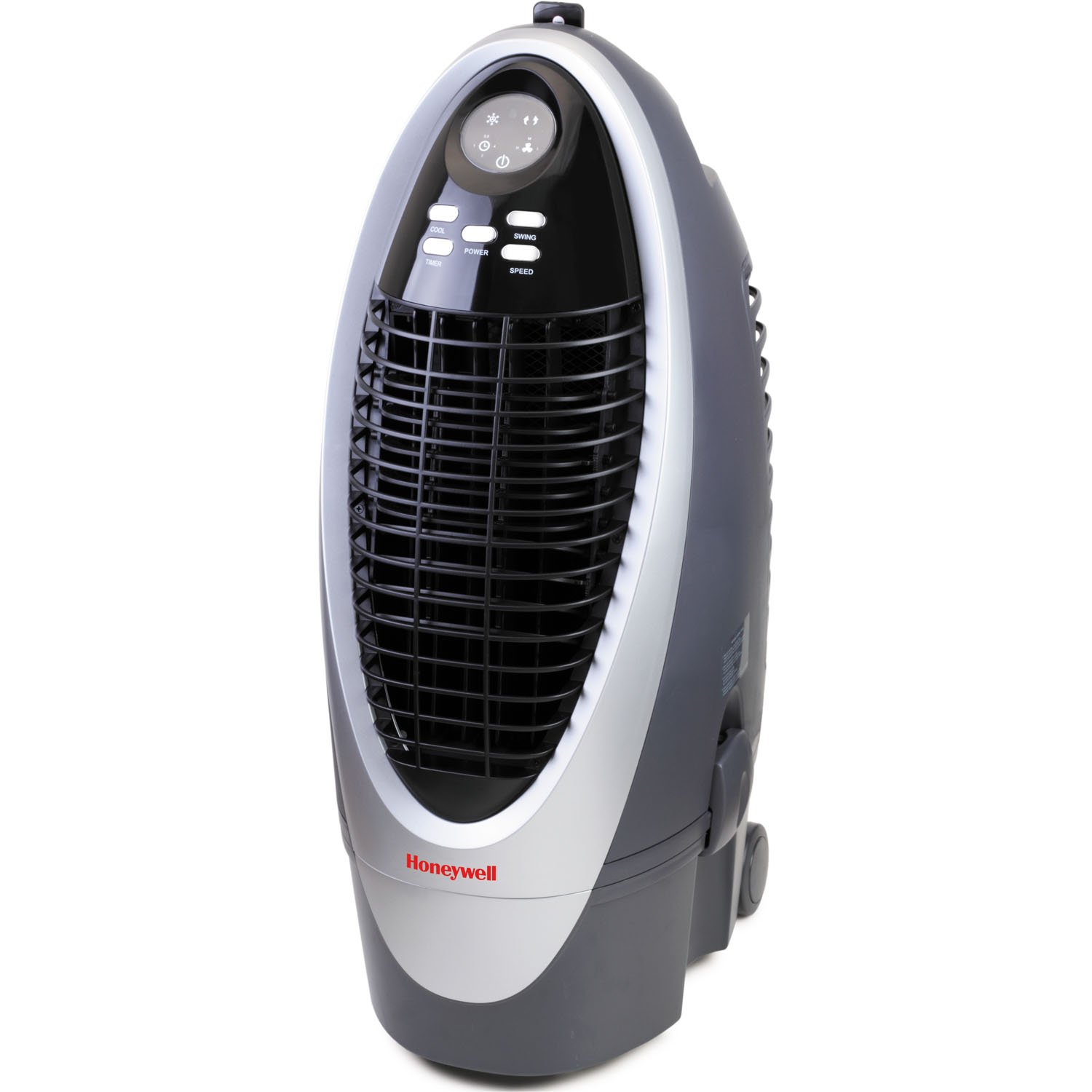 The CS10XE model is fairly small and compact and is suitable for mostly small areas – up to and around 175 square feet. This doesn't sound like much and it isn't but for such small areas, this Honeywell evaporative cooler can do some excellent work. It is very power efficient with just 102W of power, and it uses it well. It also has a detachable water tank for easier refills and maintenance, as well as an activated carbon filter to help clean and humidify the air in your home or office.
What's more, the Honeywell CS10XE also comes with remote control for easier use from a distance, a low water alarm, and an energy saver timer. It also has a comprehensive control panel on the unit itself that is accompanied by a detailed LED screen.
Buy  on Amazon
What we like:
The Honeywell CS10XE is a very compact and lightweight portable model that's easy to move around.
This model includes an activated carbon filter to help maintain excellent air quality in any room or office.
The CS10XE evaporative cooler also comes with a lot of other features such as its remote control, its comprehensive control panel and LED screen, an energy saver timer, a low water alarm, and more.
What we don't like:
Despite the quality that it offers, the Honeywell CS10XE's main limitation is that it can only cover small areas of up to 175 square feet.
Other products to consider
Just listing three different portable evaporative coolers is in no way enough to help you make a guaranteed good choice, of course, so let's take a look some of the other really good swamp coolers the market has to offer:
4. Frigidaire EC200WF
Let's start our secondary list with the cool Frigidaire EC200WF model. This cool-looking device has a very wide angle of air oscillation and can cover areas of up to 250 square feet. Thanks to the innovative conical design of this mode you can easily feel its direct airflow in an area of 15 by 15 square feet in front of it, fanning out at a 90 degrees angle. Its water tank is removable and very easy to refill once every several hours, while the operation of the EC200WF is very simple to control through its digital display and clear controls. This unit has four different fan speeds to choose from, four different timer settings, as well as three comfort settings.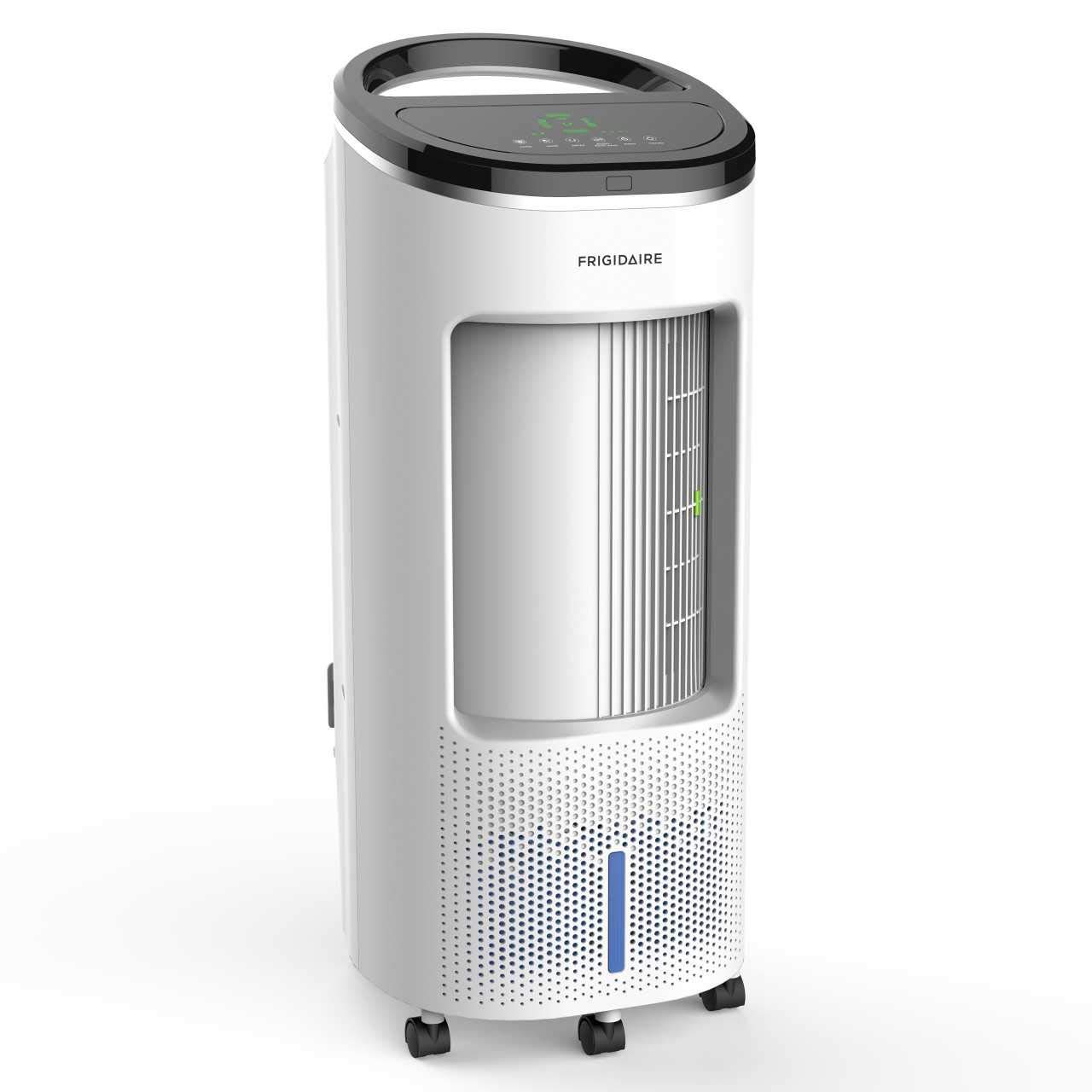 All this comes at an affordable price and makes the Frigidaire EC200WF a great model for living rooms, bedrooms, offices, or other small indoor spaces. Its one major downside is the small area it can cover but if all you need an evaporative cooler for is one small area, then we'd definitely recommend this Frigidaire model.
Buy on Amazon
5. COSTWAY Air Cooler
Next onto COSTWAY and their slick air cooler model. This very cool and quiet model comes in two different sizes – 24.5 inches and 29 inches in height each. They both have three fan speeds and utilize an effective ice crystal refrigeration and air humidifying technology to cool off and improve the air quality in your home or office.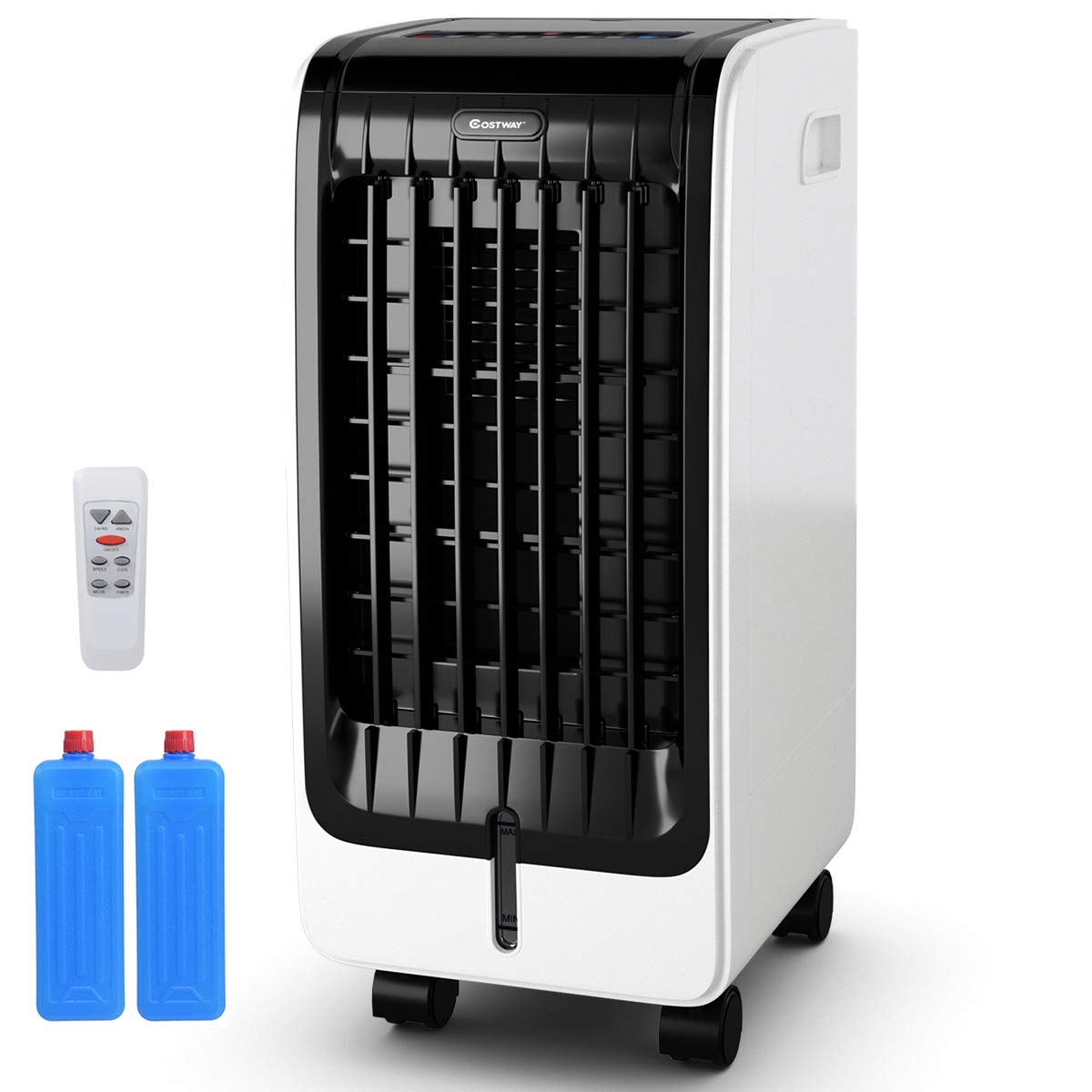 Best to use in hot and dry air areas, these COSTWAY devices are excellent when it comes to raising the humidity in the air and improving its cleanliness and quality. They have an 8-hour timing function, large 6-liter tanks that don't need to be refilled as frequently as with other brands and models, and their large vertical swing blades allow the customer to easily control the direction of the airflow.
Unsuitable for outdoor areas, this model is meant for indoor places such as living rooms, bedrooms, and offices. Its four heavy-duty caster wheels make it very easily portable from room to room, meaning that a single unit can be enough for an entire house or apartment if you simply move it wherever and whenever you want.
Buy on Amazon
6. Luma Comfort EC220W
Luma Comfort brings us our next entry with their EC220W model. This evaporative air cooler may not be the best-looking on our list but it has the power and efficiency to make up for that. This 220W power model easily covers areas of up to 650 square feet without a problem.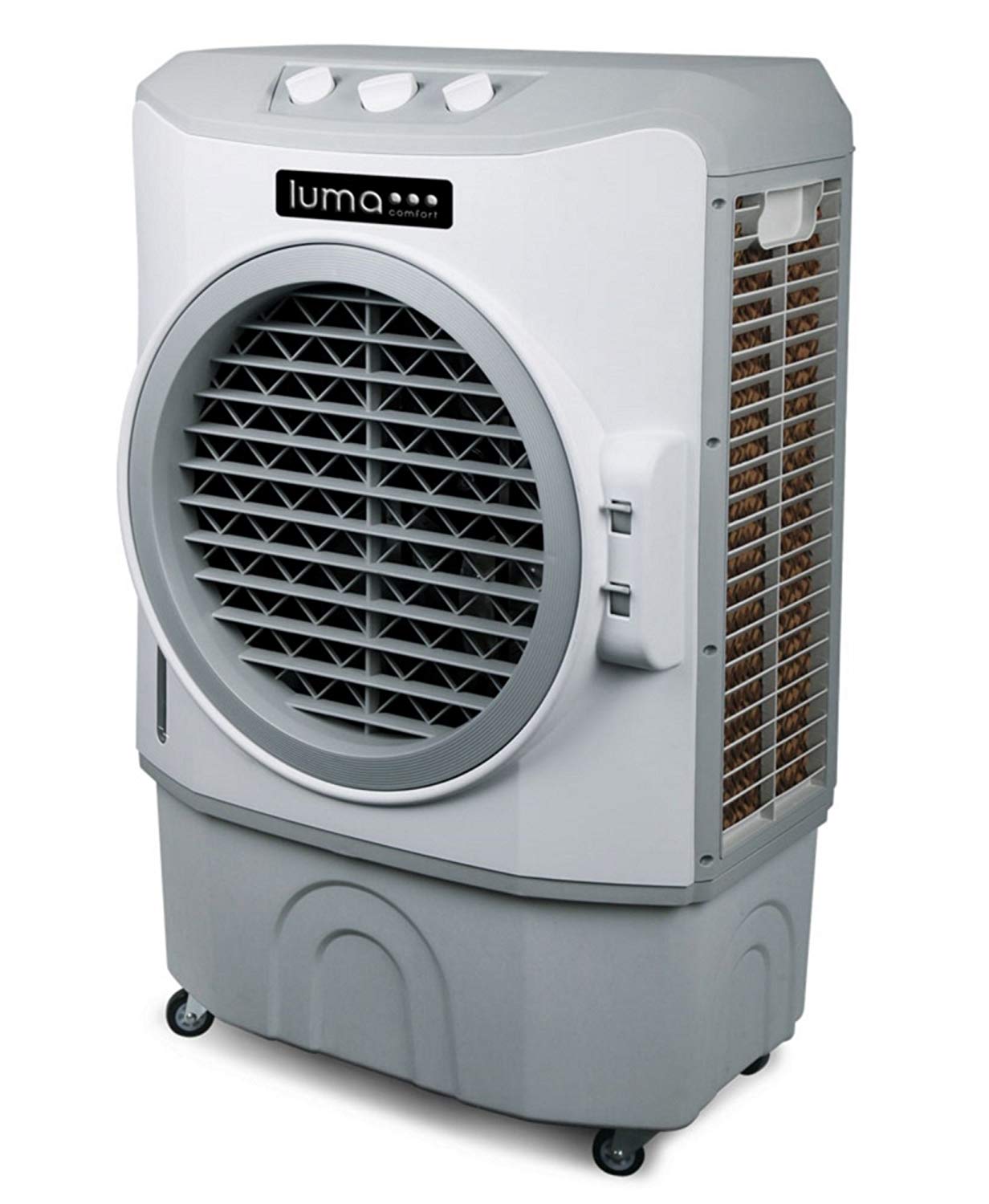 Effectively a 3-1 product, this Luna Comfort device works as an air cooler, a standard tower fan, and an air humidifier, all in one. Another great thing about it is that with a noise level of just 68 dB it can easily be used in indoor living quarters without disturbing anyone around it.
This model also has a very effective air oscillation that goes in three directions around the device. What's more, it too has four good-quality and durable caster wheels for easy transportation and portability from one area to another.
Buy on Amazon
7. DOUHE Air Cooler
Now onto something even smaller and more compact, this DOUHE air cooler is an excellent unit for your desktop evaporative cooling needs. Very small and lightweight, this model has a large handle on top of it and no caster wheels simply because it's so lightweight it doesn't need them.
Don't let the small size fool you, however – this DOUHE evaporative cooler packs a punch that's quite impressive for its size. It works wonderfully for both cooling, humidifying, and purifying the air around it. Of course, it doesn't cover particularly large areas but it's excellent for a small office or a desktop, either at work or at home.
This unit operates very quietly so you can safely bring it to work and not worry about disturbing your co-workers even if they are in close proximity to you. What's even more neat is that it can be powered through a USB, it is 100% water leak-proof, and it has comfortable and easy-to-use touchscreen controls. All this makes the DOUHE air cooler model a great addition to anyone's office if the air around them is too dry and hot.
Buy on Amazon
8. Luma Comfort EC111B
For our last entry, we're going back to Luma Comfort, this time to check out their EC111B model. This awesome-looking black model comes with its own ice pack and has 3 different fan speed adjustments. It's easily portable thanks to its 4 heavy duty caster wheels and its stylish design ensures that it will easily fit in any indoor living or office setting.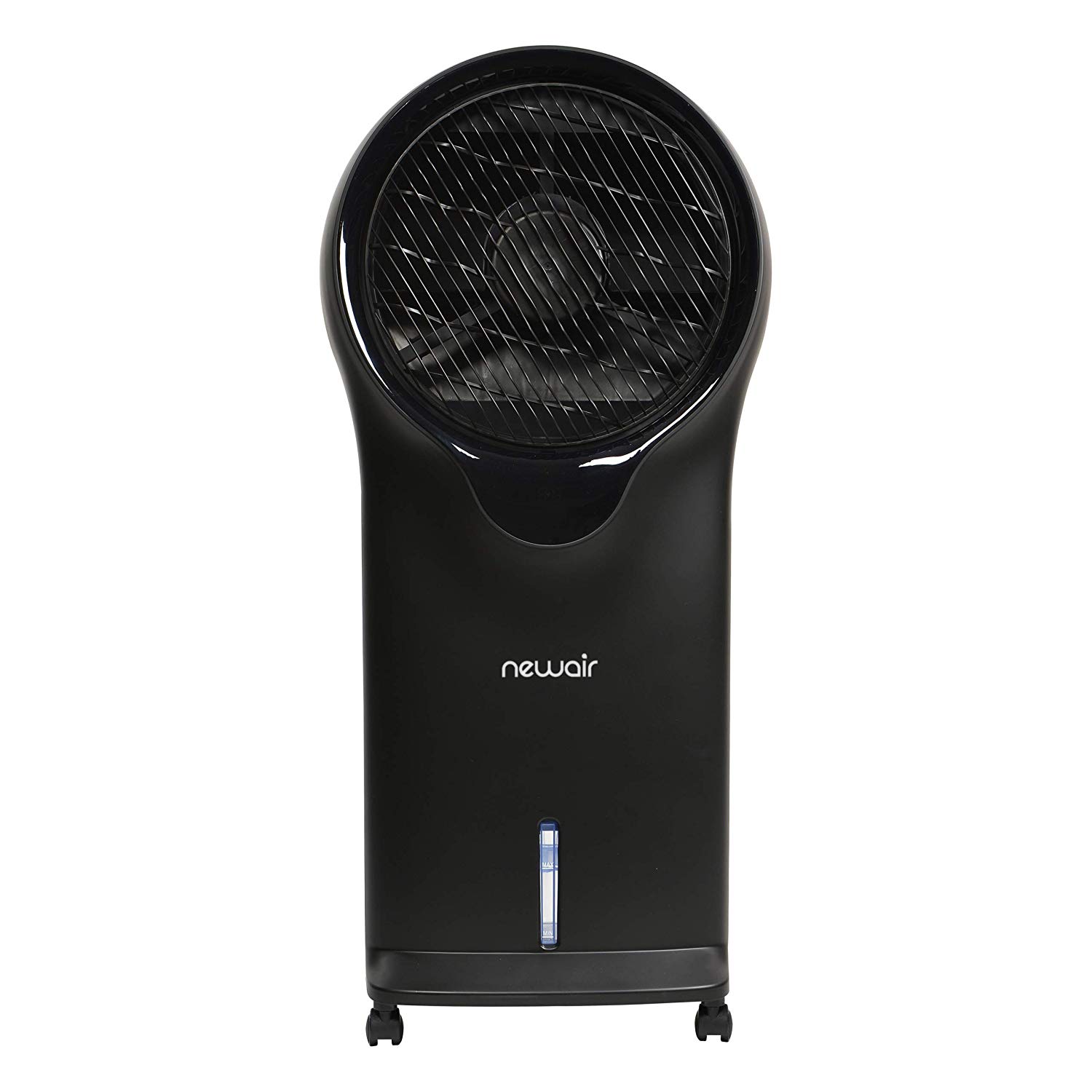 Excellent not just at cooling and humidifying the air around it, the EC111B model is also great for dealing with household dust thanks to its filters. It's also very easy to use with its programmable timer and simple controls. It is also flexible enough to be used outdoors as well as a swamp cooler in patios and house decks. It covers areas of up to 250 square feet which isn't much, however, for such areas the Luma Comfort EC111B is amongst the best units in terms of sheer quality and effectiveness.
Buy on Amazon
About portable evaporative coolers
Portable evaporative air coolers or, as they are also known – swamp coolers, are both simple and neat devices to help you combat the side-effects of living in an area with dry and hot air. Far more than just annoying, dry air conditions can and do have many detrimental health effects on our bodies – respiratory problems such as asthma, nosebleeds, bronchitis, sinusitis, skin irritations, eye itching, and many others.
We won't go too deep into such medical examples as you can find more about them online on places like Infoplease but instead, let's focus on what evaporative air coolers can do to help us combat dry and hot air.
These devices work on a very simple principle that we observe in nature almost every day as well – when we step out of a pool or out of the shower, for example. The reason we feel cooler when we do that is that as the water evaporates off our bodies it is absorbed by the hot air, it humidifies it, and it cools it off.
Portable evaporative air coolers work on the same principle – they have water tanks and often ice packs that are ventilated by a fan. This causes the water to evaporate and in the process – both increase the humidity and decrease the temperature of the air around it.
The name "Swamp cooler' can be deceptive, as it implies that these devices can or should be used in swamps. The truth is quite the opposite – swamp coolers or portable evaporative air coolers actually work best in areas with not just hot but also very dry air which almost completely disqualified swam regions. The maximum air humidity percentage for an evaporative air cooler to work effectively is 60% although 10% o 50% is recommended.
This means that these devices are best used in the Midwest and Southwest regions of the U.S. or in other areas of air humidity that's below 60%. They can also be used to humidify and purify the air in a room during the winter months when the air humidity naturally falls, however, the cooling effect likely won't be very desirable then.
Simply put, portable evaporative air coolers are an alternative to AC units in most ways. Both types of air coolers work to lower the temperature and improve the air conditions in an area. However, where AC units are big, expensive, consume a great deal of electricity, and are quite environmentally unfriendly, evaporative air coolers are the opposite – they are quite cheap, they don't require much energy, and they are very environmentally friendly. Their drawbacks are that they typically cover smaller areas and are less effective, as well as that they need to be refilled with water quite frequently.
Another positive about evaporative air coolers is that they can easily be used outdoors without breaking your electricity bill. Whether on a patio or on your home's deck, a portable swamp cooler can be just as effective in the area around it as it would be indoors in your living room, bedroom or office.
Buying guide
To properly choose the best portable evaporative air cooler for your needs you'll first have to find out exactly what your needs are. To do that you'd likely want to ask yourself the following questions:
How large of an area are you going to need your portable evaporative air cooler for? Whether indoor or outdoor, it's the square footage that mostly matters here rather than the cubical footage. These devices can range greatly in their size and power – you can find evaporative air coolers capable of working in 1,600 square feet areas, as well as desktop models that are meant to cool your office space and not much beyond that.
How physically big and easily portable do you want your evaporative air cooler to be? Size doesn't equal power even though there is a bit of a correlation between the two. You can easily find small and easily portable models that are quite powerful, however, as well as bigger and less mobile models that have a medium power level. Neither is technically better even though most people prefer more easily portable devices. Think of which will serve your needs better and gravitate toward that.
What physical appearance do you want your evaporative air cooler to have? Looks aren't everything but they aren't nothing either. Why have an ugly device at your home that you'd be ashamed for your guests and relatives to see when you can spend a bit extra time and find one that will perfectly fit with your interior?
Price and power consumption. We've grouped these two together as they can essentially be translated as "short-term price" and "long-term price". Don't just look at the price tag of a device but try to do some quick math and see how expensive or cheap it will end up being in the long run compared to other similar products.
Quality is essential. It doesn't matter how good looking, how cheap or how mobile an evaporative air cooler is if it isn't doing a good enough job. Quality always matters for such functional devices and swamp coolers are not an exception. If you're unsure as to what to choose as, after all, all models are advertised as "high-quality" we'd urge you to focus more on proven brands such as Honeywell, Hessaire, Luma Comfort, Frigidaire, Whirlpool (even though they didn't make the cut in this list they offer overall very good quality), as well as Portacool for more powerful evaporative coolers for industrial areas such as barns, warehouses, docks, and so on.
What is the average air humidity percentage in your area? This question is important not so much to help you choose between different evaporative air cooler models but to help you determine whether you need such a cooler at all. Whether we like it or not, these coolers simply don't work well enough more humid areas so buying one for your home if the air humidity is above 60% will simply be a waste.
Portable evaporative cooler usage tips
We've already alluded to some of the main usage tips for evaporative air coolers but let's mention several more to help you maximize the effectiveness of your future evaporative cooler:
Open the windows. Yes, this one is a bit counterintuitive for people who are used to AC units. With evaporative coolers, however, the drier the air the better, so opening the windows will ensure that your swamp cooler is always working at 100%.
Use a dehumidifier together with the evaporative cooler. This is not a good idea if you actually want to humidify the air in your home but if the goal is to simply cool it off, a dehumidifier running together with the evaporative cooler will ensure that the air is dry enough for the cooler to work as well as possible.
Location is key. As with most other similar devices, the right location can make all the difference.
Maintenance is very important. Swamp coolers may be simple devices but that doesn't mean they don't need to be maintained properly. Clean and wash them frequently and don't forget to expect them from any cracks or mildew.
Conclusion
It should be rather clean from all this that portable evaporative coolers and swamp coolers are great little devices for the right conditions. They can help you cool off an entire home or small outdoor area very effectively and efficiently, while also humidifying and improving the air quality in it. They do have their specifics and tricks, of course, but hopefully, you're now much more aware of what to look for.
So, let's wrap things up by quickly listing our Top 3 picks and why we chose them above all the others:
The Honeywell CO30XE I a lightweight and easily portable evaporative cooler model. It works effectively in both indoor and outdoor areas that are up to 320 square feet in size. It does need the air humidity to be below 60% at the very least but it works wonderfully in the right conditions.
The Hessaire MC18M is one of the most compact yet powerful evaporative coolers and swamp coolers on the market. Don't let its small design fool you – even the smallest of the three sizes of the MC18M is capable of working effectively in areas of up to 500 square feet. The largest model, on the other hand, can effortlessly cover areas as big as 1,600 square feet.
The Honeywell CS10XE rounds up our Top 3 by offering a small but efficient option for rooms that are up to 175 square feet big. It has a design that's both gorgeous and practical, and it comes with a ton of additional features such as an activated carbon filter, a comfortable remote control, an excellent control panel with a LED screen, and more.