What is a standing pedestal floor fan?
A pedestal floor fan is a variant of the portable electric standing fans that have gained wide-spread popularity today. They are designed to help you control climate, enhance ventilation and personal comfort, and also provide drafts.
They are also referred to as axial fans. This is because they operate with forced air between their blades in a parallel direction to the fan's shaft so that airflow is produced when the blades spin.
The common elements to be seen in a pedestal fan are the blades, fan base, motor housing, grill, oscillator shaft among others.
Benefits of pedestal fans
Low power consumption
Unlike air conditioners and some conventional fans, pedestal fans use only a tiny percentage of the power the others consume. This makes them eco and environment-friendly.
Pocket-friendly prices
You don't necessarily have to rob a bank to get a pedestal fan in your home or office space. Their operating costs are also very minimal; making them perfect options for enjoying some good cooling effect and comfort while saving some bucks.
Easy to Use
Technical skills are not required to run a pedestal fan. In fact, there's rarely any mounting or installation required to get them up and running. Granted that some require assembly of some sort, once they are assembled, you only need to plug in, turn on and use the fan whenever you need it.
Portable
Many people love the fact that pedestal fans don't require mounting or permanent installations because it allows them to move the fans from one location to another without hassles.
Multi-functional
Not only do pedestal fans provide a cooling effect, they also add excellent ventilation to rooms and spaces.
Things to consider before buying a pedestal fan
Trust us when we say the market is swarming with gazillions of pedestal fans to choose from. And we can't totally ignore the fact that there are a number of them that are absolute no-no's because they deliver poorly on performance and quality – two of the characteristics of a terrible fan you don't want to have. However, we have also discovered that not every fan in the league of good fans is the perfect one for you. Making the choice of the best pedestal fan will only come easy when you know what to look out for. Here are a few to keep in mind before you make a decision:
Noise level
It is nerve-grating and very distracting to have to put up with a noise-making fan. And if you've had a fan like this before, you definitely want to avoid this type in your next purchase. Now, noise levels could depend on the fan modes and/or the speed. So, you may find that a fan produces library-quiet effects at low settings and then begins to roar at higher speeds. One way to keep the noise level in check is to find out what the reviews say and also be on the lookout for how many decibels it produces. A 47-decibel fan is not likely to disturb your sleep.
Fan modes
Some fans come with one, two, or more modes to choose from. The fan mode is simply a feature that allows you to choose the kind of airflow you get. Typically, there are 3 common fan modes. To get the best of the 3 worlds, we advise you to go for the pedestal floor fan that comes with all three modes. There's the natural mode that mimics the comfortable airflow of a natural breeze. Then there's a reduction mode that imitates really light breeze. The wind mode produces airflow like a gust of wind and will be suitable for really hot afternoons.
Remote control
Who doesn't like comfort? – Especially the one that comes with a remote-controlled pedestal fan. You can sit on your couch, lie on your bed, or be at any distance away from the fan and be able to control the fan if the fan comes with a remote control. But you should also look out for how much control it gives you to know if it is perfect for you. For instance, some may give you timer, power, oscillating, mode, and speed functions while some others will require you to manually get the fan to oscillate when you need it to.
Timer
A timer, for the most part, is an energy-saving feature that we also think you should watch out for. This is because it helps you save a few bucks on electric bills by avoiding excessive use of the pedestal fan especially when it is not required. Looking out for fans with this feature will be beneficial to you. Furthermore, you may also want to check the time features to know if you are good with the time intervals and duration.
Height adjustment
This feature is becoming increasingly common in fans these days. But ensure you don't throw caution to the wind. Check to be sure the fan you want offers you the liberty to adjust its height and even the angle/tilt for a better experience.
Cleaning and Maintenance
You should know by now that fans will generally need some good cleaning occasionally. While some fans make the task of cleaning them really easy, some others are quite difficult to clean. This often depends on how easy it is to take the fan apart and fit it back in place – especially the fan head. This is where you need to pay attention to the grill of the fan.
Is the grill is easy to remove? If it is; Hooray! If not, cleaning will be a chore. We should let you know that dust buildup on the fan blades can cause the fan to malfunction or slow down. So you should make the ease of cleaning a big deal. You should also look out for recommended cleaning options. Some advise against wiping the blade with chemicals and some grills will allow you use a vacuum cleaner, while some others will only need you to wipe with a damp but not sodden cloth.
There's more to learn about pedestal fans than this buying guide presents. However, we ensured it contains the important and basic ones so that your search for the best floor fan will be easier. Come with us now as we show you 10 amazing pedestal floor fans to make a choice from.
1. Rowenta Turbo Silence Standing Fan
Specifications
Manufacturer: Rowenta
Modes: 4-speed
Color: Bronze finish
Weight: 19 pounds
Dimension: 18 inches x 18 inches x 54 inches
Other features: Very low noise levels
Review
Rowenta is a German-based brand that has been known to provide cutting-edge products that always meet the rising and evolving demands of its customers. With over a century's worth of experience in the ever-advancing world of technology, Rowenta remains committed to manufacturing products that are user-friendly, with high technological performance and uniquely refined designs that are second to none. So, whether it's an iron, a steam generator, a vacuum cleaner, epilator, or hairdryer that you purchase from Rowenta, you are sure to get good value for your money.
A typical example of a value-producing item manufactured by Rowenta is its Turbo Silence Standing Fan. As its name connotes, this standing fan produces intense sensations of really cool air at very low noise levels. In fact, to describe how insignificant the noise it produces is, many have likened the turbo silence to what you'll find in a library. Really, a pedestal fan with noise levels between 47 and 54 decibels is to have and to own!
What's more? It is a 4-speed fan that features an oscillating 16-inch head to direct the fan at 90 degrees to cover any location in your room. You can also station the fan if you want the airflow to be targeted to a particular area.
And if you would like to take pleasure in the ability to control the fan from a distance, you can take advantage of the remote control that comes with it. But if you would like to control it manually, you can walk up to the fan and toggle the buttons.
You also have the liberty to adjust the height of this standing fan to any height between 42 inches and 54 inches. And with its extra stable and sturdy base, there's absolutely no way it will topple over irrespective of the height you choose.
This fan's propeller features 5 uniquely designed blades that produce little to really low noise while producing a powerful jet of air.
One more thing! Maintenance is pretty easy. You definitely need to remove the fan's plug from the electric supply before you clean the fan. And you can clean the fan by using a mildly damp cloth to wipe the blades without allowing water to get into it. To get the front grid cleaned, a good vacuum cleaner will get the job done.
Buy on Amazon
Buy on Walmart
Buy on Target
Advantages
Features a propeller that has 5 uniquely designed and very quiet yet powerful blades
Provides immediate cool air sensation by moving air at a speed of 1695 cubic feet each minute
Noise levels are very low and can be compared to what is obtained in a library
Comes with a remote control for ease-of-use at a distance
Height can be adjusted to as low as 42 inches and as high as 54 inches
Disadvantages
Some customers wish it came with a timer
2. Dyson Air Multiplier Pedestal Fan
Specifications
Manufacturer: Dyson
Modes: Ten
Color: White
Weight: 14 pounds
Dimension: 6.6 x 23.1 x 21.1 inches
Other features: Sleep timer enabled
Review
Dyson embodies all that is good and enviable in the cooling and air circulation industry. Established in 1987, Dyson has quickly grown to become one of the world's most trusted and reliable brands. Employing over nine thousand people worldwide, these astronomical figures coupled with the huge amounts it throws into engineering research have helped it become one of the top brands in the world.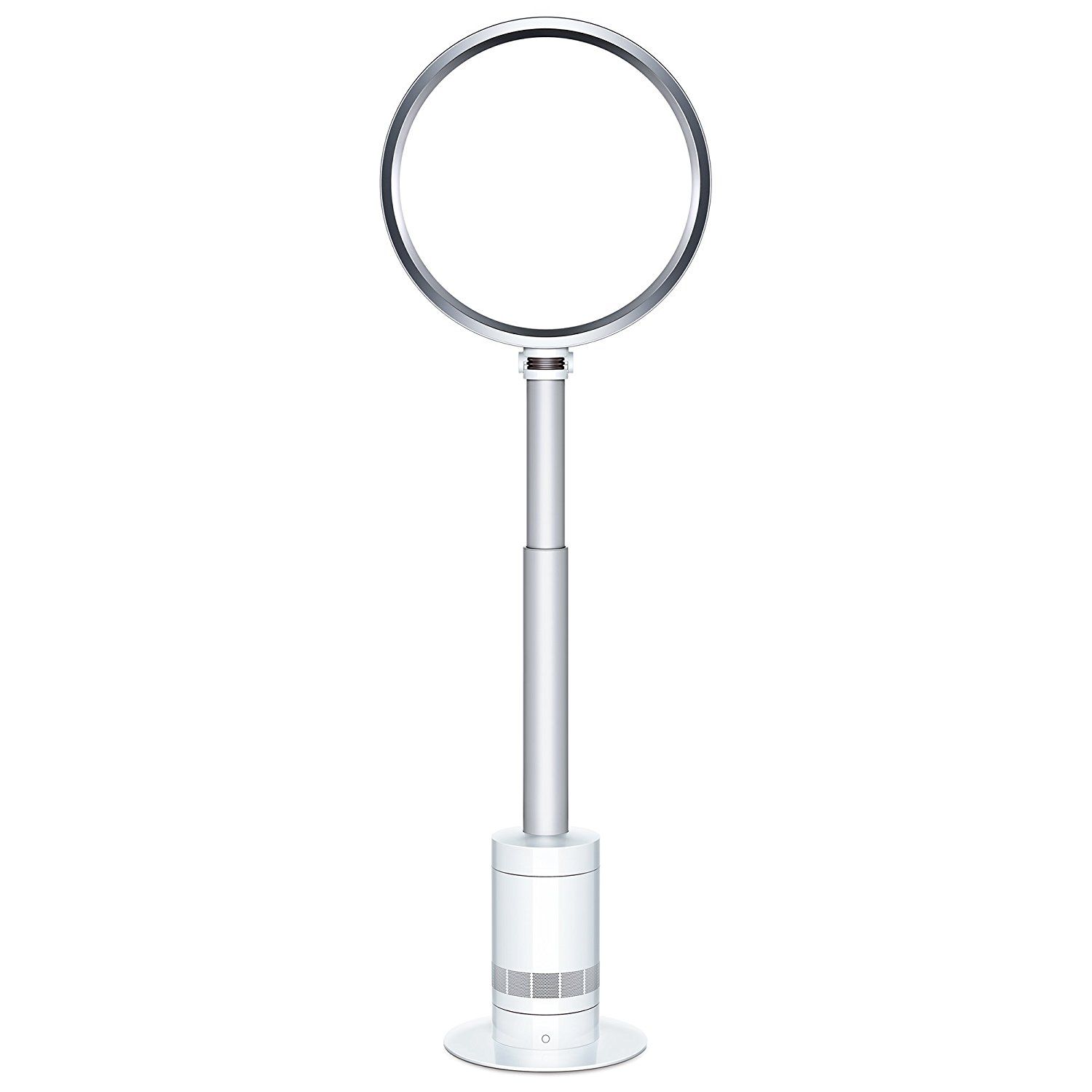 Efficiency is one of the key tenets of its production policy — A fact that is embodied in the high level of innovation in every fan and product from Dyson. Dyson's products are always light-years ahead when it comes to technology. Its products usually incorporate new technologies that are quite functional without compromising on user convenience.
Fans are some of the basic needs in every personal space. Ideal for cooling and doesn't consume as much energy as air conditioners, bedrooms, and other living spaces are usually not complete without a fan. In the same vein, while trying to save energy, you have to consider the fact you need the best pedestal fan. The Dyson Air Multiplier AM08 Pedestal Fan ticks that particular box.
The Dyson Air Multiplier AM08 Pedestal Fan is the holy grail of all quiet pedestal fans. This fan has been carefully designed by Dyson so that it has maximum airflow. This, however, doesn't mean that its quietness is compromised. This pedestal fan has airflow paths that have been engineered and well thought out so as to reduce the amount of turbulence produced by the fan. No turbulence, no unnecessary noise. With the silenced motor, it barely elicits more than a whisper.
This fan is as innovative as they come. It doesn't use blades. Instead, it makes use of technology referred to as Air Multiplier. This Air Multiplier tech gives a powerful gust of air and an efficient airflow without using blades. The absence of blades also means that more energy is saved; a fact that can be put into figures: It saves 15 percent more energy when compared to earlier models produced by Dyson.
This fan is remotely controllable. Yes, you read that right. The Dyson Air Multiplier AM08 Pedestal Fan makes use of a simple remote that gives you access to a whole host of functional features. With the aid of this remote, you can control the sleep timer. The sleep timer allows you to set this pedestal fan to stop working or start working at a particular time depending on your preference. We feel like this fan should be called a smart fan.
In the same vein, this fan has oscillation control settings and that can also be controlled with the remote control; you can control just how much you want this cooling device to rotate on its axis. From the comfort of your bed, you can control the airflow to every corner of your room. Finally, it has ten different speed modes. Each speed setting can be selected easily with the aid of the remote control. Talk about your total comfort and this fan has got you completely covered.
Advantages
It has specially designed air flow paths that eliminate turbulence
It is extremely quiet
The absence of blades helps it save energy
It is remote controllable
It has a sleep timer and oscillation settings
It has ten different speed modes
Disadvantages
At approximately $300, this fan can be considered as pricey. But can you really put a price on comfort
3. Lasko Remote Control Pedestal Fan
Specifications
Manufacturer: Lasko
Modes: 3-speed
Material: Plastic
Color: Black
Weight: 9.8 pounds
Dimension: 20.5 x 20.5 x 54 inches
Other features: Has a tilt-back feature
Review
Lasko's legacy is old but remains gold. For a century and more, this brand has played a huge role in meeting the ever-evolving demand of its consumers. It has expanded its business, over the years, to include fans, small appliances, and portable household heaters. One thing to love about Lasko's products is the finesse in design and engineering. So, if you are looking for a high-performance appliance that spells style, durability, and functionality for your home or office space, then you should shop Lasko's wide range of products.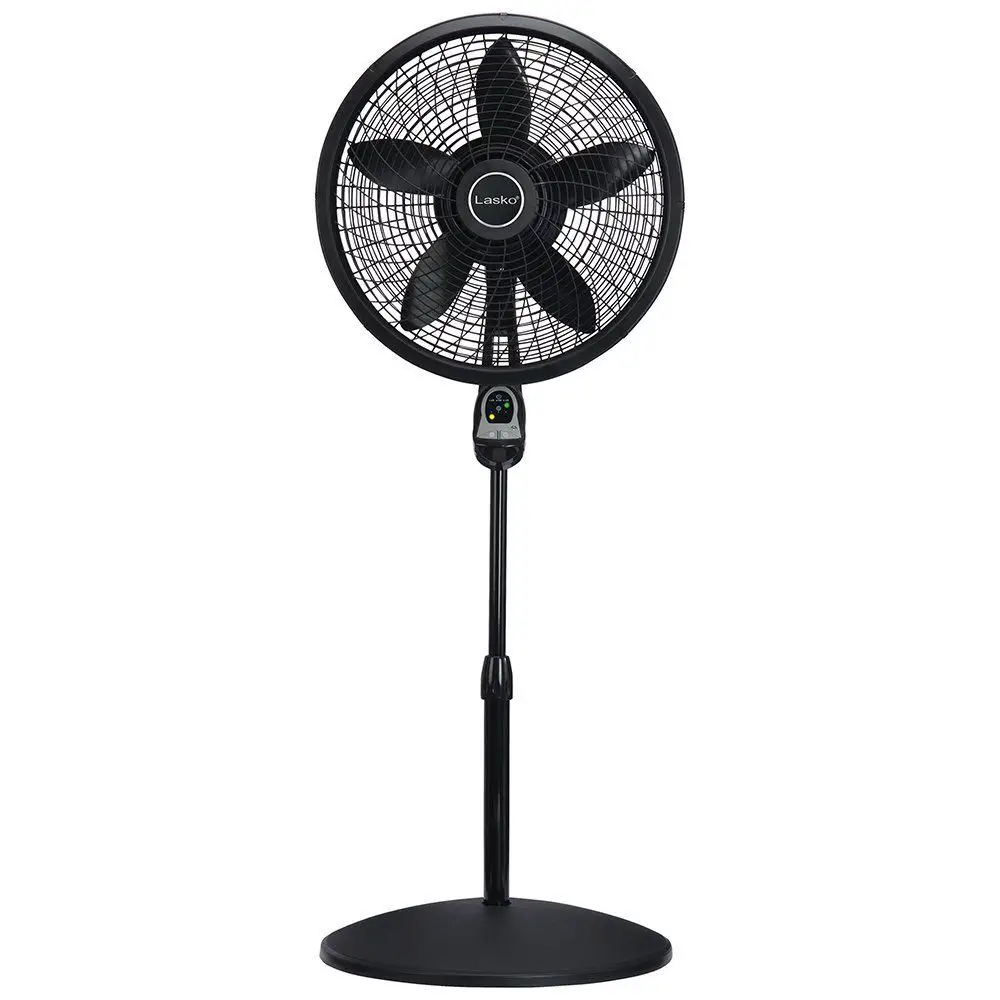 Looking for a floor fan that will make you feel cool and very comfortable all through the year? Yes? Then you should try out the Lasko 18-inch Pedestal Fan.
Like the Dyson pedestal fan, this fan is designed for living rooms, bedrooms, and office spaces. It also has a tilt-back feature that allows you to control the airflow directionally. This further lets you to get air to most parts of the room. And with its 3-speed mode, you can choose the flow speed you want and still be able to enjoy cool, noiseless air around you.
If you think the fan is too low for you, you can adjust the height of the fan up to 54 inches high. It also comes with a remote that will allow you to control the fan from a distance. This remote is super easy to use and allows control on power functions, timer functions, and the fan speed.
With the timer, you can set the fan to produce air current for 1 hour, 2 hours, or even 4 hours. This allows you to conserve energy as the fan goes off as soon as the time chose elapses. By doing this, you will be making no small contribution to conserving the earth's resources.
Now, to a question, most customers ask: what are the assembly requirements? Well, when it comes to this fan, there's really no tool required. All you need to do is follow the instructions and everything will be fine.
What's more to this fan? It comes with a patent fuse technology that safeguards the fan by cutting off electricity to the fan in the event that it develops a fault.
Buy on Amazon
Buy on Best Buy
Buy on Walmart
Advantages
Suitable for bedrooms and living rooms
Features 3 speeds that produce intense airflow at preferred speeds
Has a wide oscillation area so that more areas in the room get to receive the cool air
Has a tilt-back feature that allows you control the airflow directionally
Comes with a remote control for speed, power, and the timer functions
Disadvantages
Even though assembly doesn't require any tool, some customers think it is a pain to get it up and running after purchase
4. Best Choice Pedestal Fan
Specifications
Manufacturer: Best Choice Products
Modes: 3-speed
Material: Plastic and metal
Color: Black
Weight: 12.2 pounds
Dimension: 19 inches x 16 inches x 43 to 53 inches
Other features: Comes with a remote control
Review
Best Choice Products was founded in 2002 by two game-changers who thought they could proffer solutions to the scarcity of good billiard tables at the time. A great online shopping site with honest shipping costs later, the problem was solved. In the 16 years that have followed this inception, the company grew by leaps and bounds and boasts a wide range of products today. Some of its products include pool tables, outdoor and home equipment, fitness equipment, and toys. Its products are carefully selected, of good quality and are also pocket-friendly.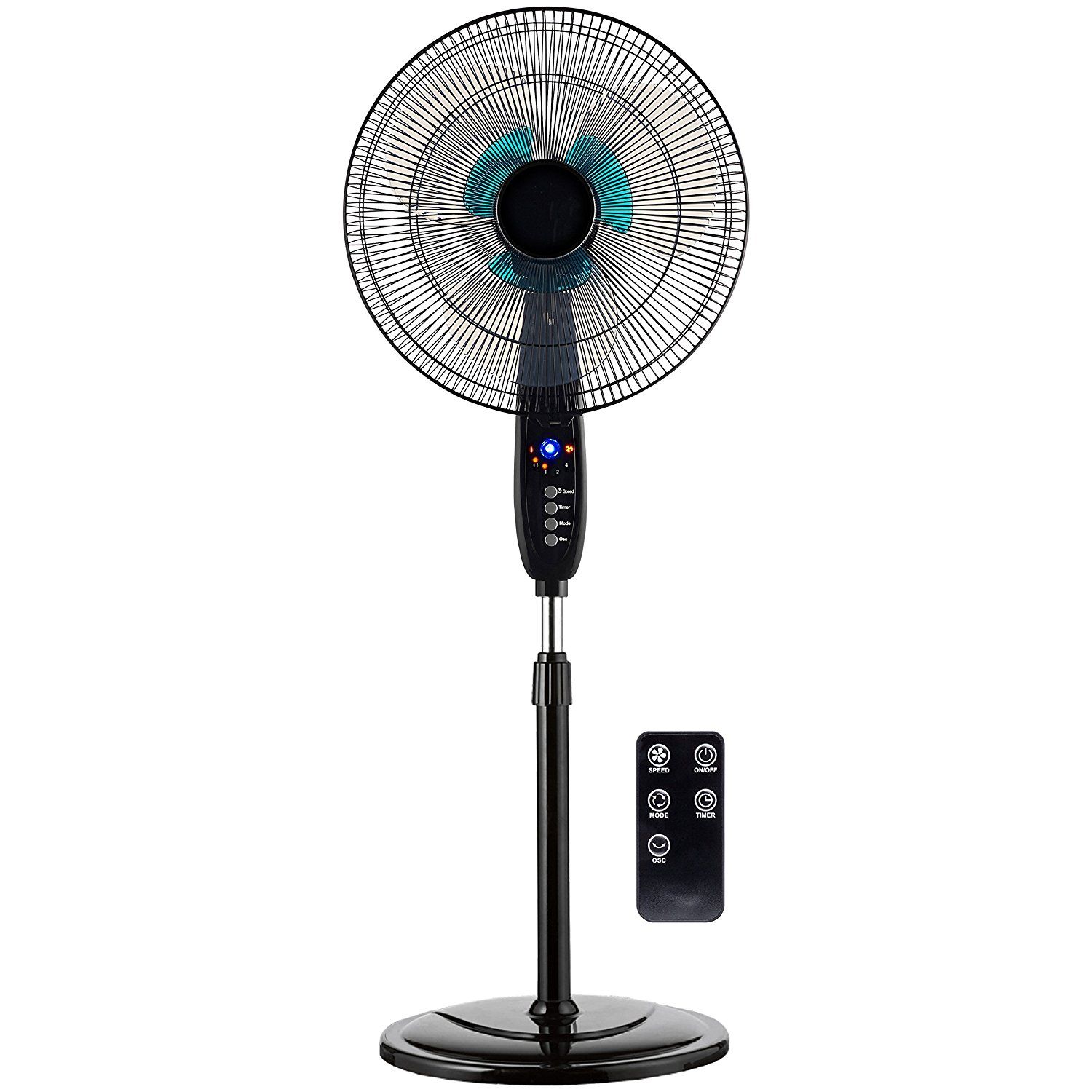 If you've been in search of the best floor fan for your office or home space, the Best Choice Products Pedestal Fan will be a great buy. Unlike the conventional floor fan, this one has a unique double blade design of big and small sizes for a satisfying, full and refreshing breeze whenever it is turned on.
It features 3 speed that can be set based on your preference; and 3 modes that add more functionality to the coolness the fan brings. The steady fan mode, for instance, provides consistent airflow, while the wind mode imitates soft wind growing into something like a gust. The third mode, which is the sleep mode mimics the light breeze.
You also have the benefit of a 10-inch height adjustment to set the fan at the level you want it to be. It also features a tilt at the front and at the back so that you can adjust the direction of airflow. You could also use the oscillating function to get a cool breeze to a large area in the room. If you prefer it stationary and targeted at a place, then you can stop the oscillating function.
All these functions and more can be toggled from the comfort of your bed or couch when you use the remote control that comes with this fan. It gives you control of the power, speed, mode, and oscillation.
Moreover, it features a timer that is designed to help you save energy. This timer can be set for 0.5 hours to 7.5 hours, depending on how long you want the fan to be in use. It will shut itself as soon as the time elapses – saving you a few bucks on electric bills.
Buying this fan will also mean adding a little elegance to your space because of its beautiful and sleek design.
By the way, some assembly is required. But with the instructions, you'll get it figured out in no time.
Advantages
Unique design features two fan blade sizes that produce a full and satisfying breeze
Cools a room rapidly and effortlessly
Features 3 speed modes with great oscillation
It can be customized with the high and tilt adjustment
Features a timer which saves energy by allowing you to time the fan for as long as 7.5 hours
Comes with a remote control for the timer, oscillating, power and speed functions
Disadvantages
There are a few complaints that the display lights on the fan are too bright
5. Vornado Medium Pedestal Fan
Specifications
Manufacturer: Vornado
Modes: Three
Color: Black
Weight: 8 pounds
Other features: Accelerator used to direct inlet airflow
Review
With over sixty years of producing cooling devices in its arsenal, Vornado is not a small player in the cooling game. It is a brand that prioritizes the comfort and satisfaction of its customers over everything else. Vornado has long been changing everyone's concept of the design of fans and other products in a positive way. That is why till today, its product lines and stores are stocked with the best products guaranteed to keep you, your family and your loved ones comfortable throughout the year. In fact, it's new and innovative Energy Smart product line is guaranteed to make products that will last for a minimum of ten years — Ten years of unhindered comfort and luxury. Need we say more?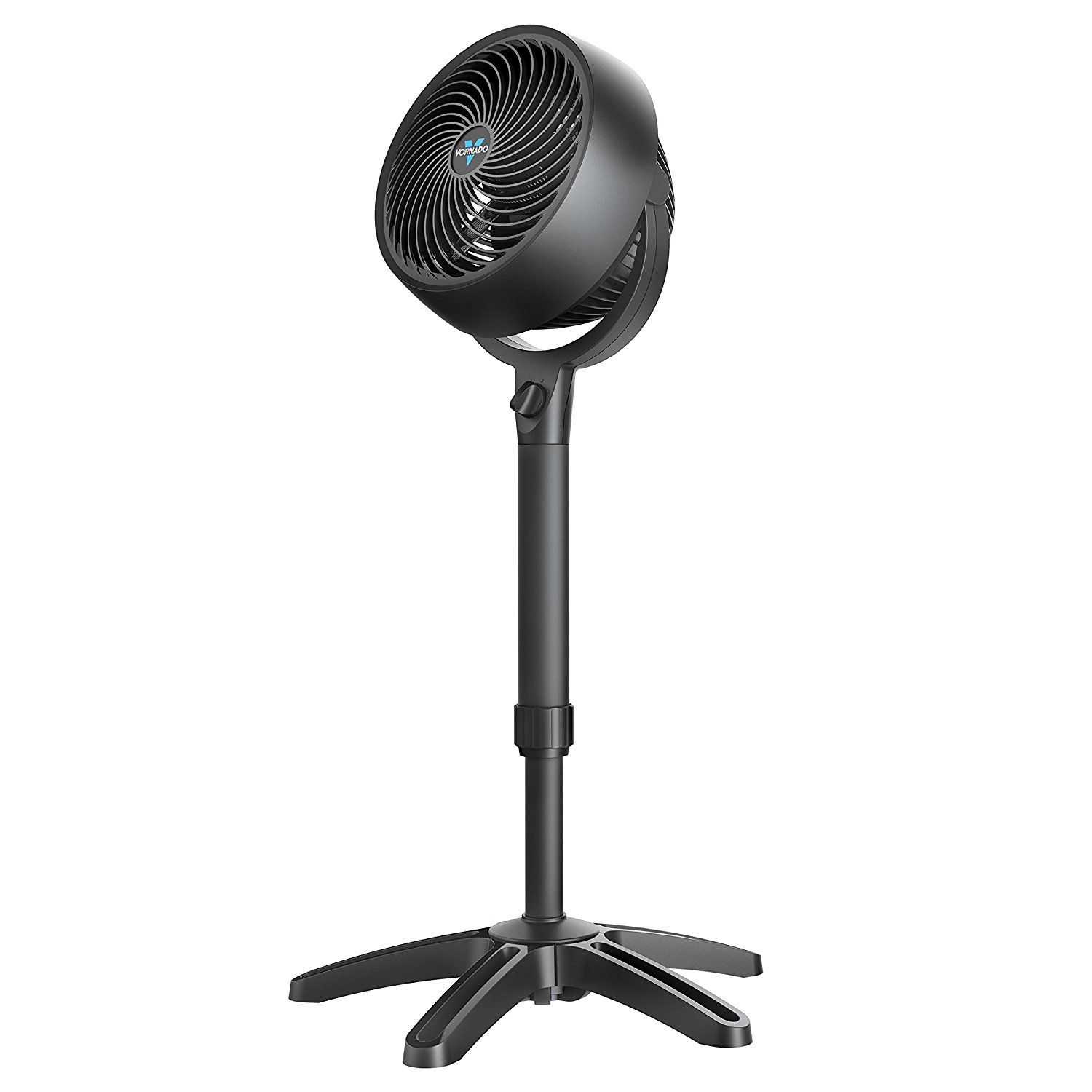 You no longer need to settle for inferior products. You no longer have to deal with the heat while thinking of unorthodox ways to alleviate your inconvenience. With a standing fan, your cooling needs are in your own hands. However, which fan do you select out of the many out there? Well, one of the best pedestal fans out there is the Vornado 683 Medium Circulator Fan.
This is everything that you want and desires in a fan. This quiet floor fan has a one-of-a-kind propeller. This powerful propeller is deep-pitched and has a grill design that allows it to move air at unprecedented rates. It can generate an airflow that can reach a distance of 75-feet. We are sure you don't have a 75-feet large room but just in case, this standing fan has got you covered.
This fan is also as accessible as they come. It has a front panel which can be operated even by a child. With the aid of this panel, you can make easy adjustments to your preferred settings. Users can shuffle between three different speed modes depending on their needs. Another enviable feature is the fact that its height is adjustable depending on your needs. It can go as high as 38 inches ensuring that a larger area of your room is covered.
The Vornado 683 Medium Circulator Fan is full of innovative tech pioneered by Vornado. One of them is the spiral grill. This spiral grill, which has been dubbed 'AirTensity' by Vornado, lets airflow in a spiral-like pattern. This essentially means that the air produced by this standing fan doesn't scatter but moves spirally from one side of the room to the other.
Airflow is maximized with an accelerator designed for air coming into the fan. The accelerator makes sure that this inlet air is directed to the impactful sections of the blade for increased airflow. Speed, power, silence and airflow, the Vornado 683 Medium Circulator Fan has it all.
Buy on Amazon
Buy on Best Buy
Buy on Walmart
Buy on Target
Advantages
It has an extremely powerful air propeller
Easy to use front panel allows for selection of speed modes
Its height is adjustable
Spiral grill tech ensures that air moves from one point to another without scattering
Accelerator used for inlet air increases the airflow produced by this fan
Disadvantages
Its safety grilles make this fan a bother to clean
6. Lasko Performance Adjustable Oscillating Pedestal Fan
Specifications
Manufacturer: Lasko
Modes: Three
Color: White
Weight: 8.02 pounds
Dimension: 20.5 x 20.5 x 54.5 inches
Other features: Blue Plug tech protects your fan from electrical damage
Review
Over the past hundred years, there have been a lot of technological changes and innovation. In its own little way, Lasko has contributed to those changes. A brand that initially started out in a small shop in Philadelphia is now one of the foremost makers of cooling products and household appliances in the world. A company that is American through and through, Lasko delivers comfort on a platter to its consumers. A brand with an undisputed and undoubted mantra of excellence, Lasko is dedicated to providing customers with a healthy lifestyle lavish with comfort and utility. We cannot see any reason not to give Lasko and its products a whirl.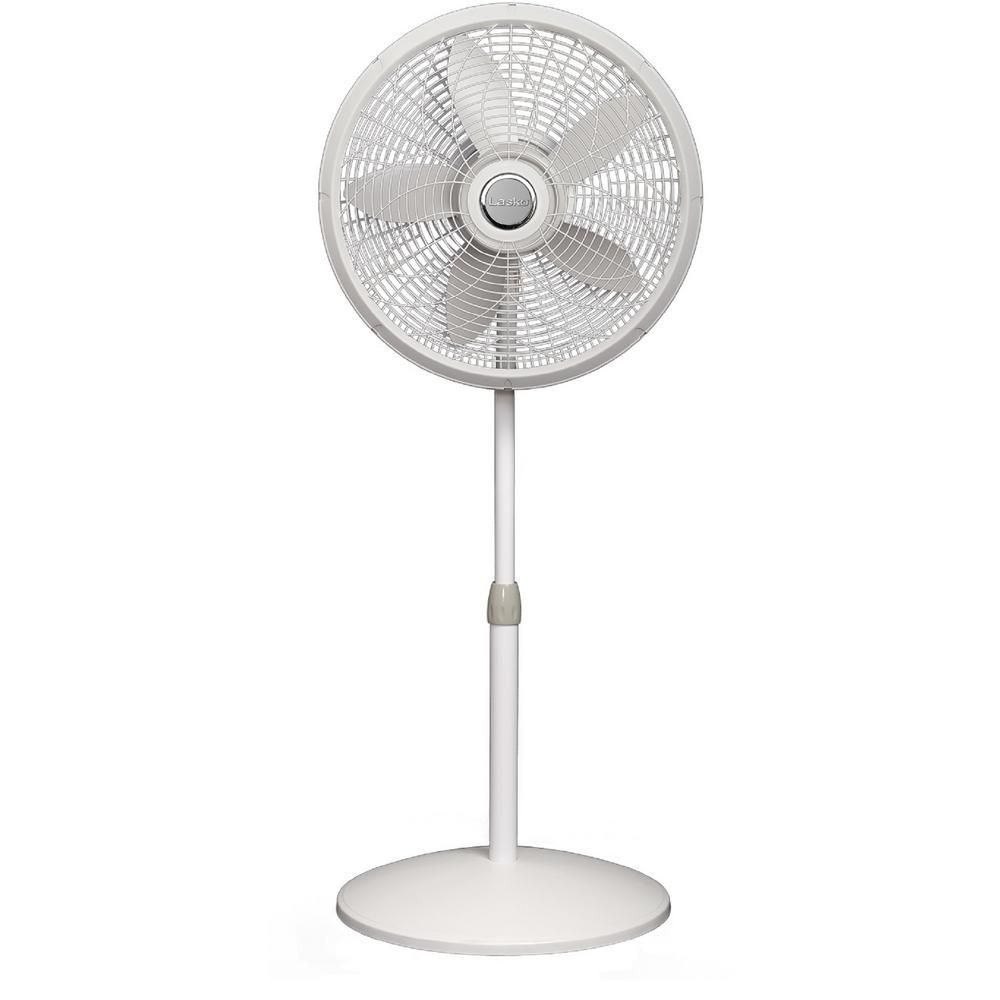 Oftentimes, the weather conditions can be hot, humid and extremely stifling. In times like this, you need to take control of your cooling situation and find neat ways to beat Mother Nature. Of course, an obvious answer is a standing fan. However you can't just use an ordinary standing fan, you need the best standing fan to give you an edge. Hence, the Lasko 1820 Pedestal Fan.
The Lasko 1820 Pedestal Fan is perhaps the best pedestal fan when it comes to cooling incredibly large spaces. This singular advantage is a feature of its powerful mode of operation. This powerful standing fan has three-speed modes, backed by an efficient motor that ensures that you are not wasting your time.
Another impressive feature that comes packed into this floor-standing fan is its versatility. The Lasko 1820 Pedestal Fan is extremely adjustable depending on your specifications. Its height can be tweaked and set at anywhere between 38 inches and 54.5 inches.
It also has a tilt feature that works hand in hand with the adjustable height to ensure optimum airflow. The fan's head can be tilted in any direction. This enables you to adjust the fan so that its airflow hits you just right as you lie on your bed.
A new technology known as Blue Plug on the Lasko fan is perhaps the single most important feature it possesses. Designed by the smart engineers at Lasko, all of its fans are imbued with this innovative piece of tech. The Blue Plug technology cuts off the fan's supply of electricity in the event of a potentially dangerous electrical anomaly. This reduces the risk of electric accidents. It also means that it is highly unlikely that a power surge will cause damage to your fan. Is this the best standing fan? It's getting really hard to dispute that fact.
Buy on Amazon
Buy on Best Buy
Buy on Walmart
Advantages
It has a powerful motor
Its height can be adjusted depending on your preferences
Its face can be tilted
Blue Plug technology protects this fan from electrical related faults and hazards
Disadvantages
A few users have noted a slight drone emanating from the motor over time
7. Hurricane Adjustable Standing Fan
Specifications
Manufacturer: Hurricane
Modes: 3-speed
Material: Steel grill with polypropylene blades
Color: White
Weight: 12 pounds
Dimension: 18.4 inches x 7.4 inches x22.8 inches
Other features: Height adjustment between 41 and 55 inches
Review
Hurricane fans are popularly known to deliver excellently well on quality, performance, and reliability. It boasts of different models of mixed-flow fans, oscillating fans, and centrifugal fans. They are often designed to meet a wide range of ventilation needs. With Hurricane, you get to enjoy the functionality and flexibility that comes with being able to adjust virtually almost feature to suit your preferences. So, for a typical Hurricane fan, you can adjust the speed and even the direction or may even be able to adjust both on the same fan.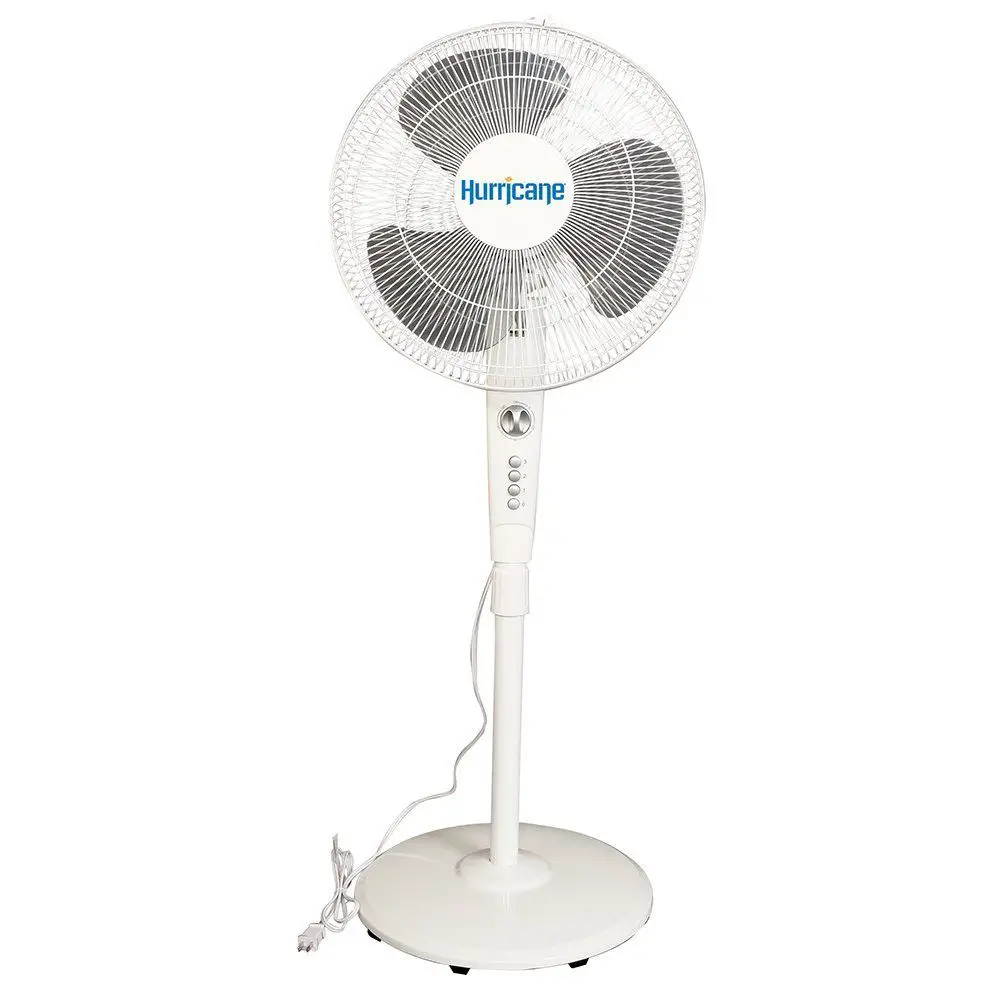 One of such amazing fans manufactured by Hurricane is its adjustable standing fan, which offers super high output at even the lowest of its 3 speeds. This fan is designed specially to meet your cooling needs on hot summer afternoons. The 3 speeds it offers gives you the liberty to make a preferred choice of how much airflow you want.
As per construction and design, Hurricane is always the boss. And it has lived up to that standard with this standing fan. Let's talk about the grill of the fan. For starters, this fan has a steel grill that is specially coated with powder to avoid changes in appearance due to corrosion and rust. Of course, no one likes to have a rusty fan sitting in their exquisite space. And if you are that person, then you should go for this fan.
The blades also have their own protection. They are covered with a grade of polypropylene that is resistant to chemical and toxic substances.
For your comfort, the fan features an adjustable height that gives you the chance to vary the length of the fan between 41 inches and 55 inches according to what you want.
And you can also choose to use the oscillating feature of the fan to allow airflow to various areas in the room or you can just lock this feature if you want more targeted airflow.
Advantages
Offers 3 speeds to choose from to suit the user's preference
The grill of the fan is coated with powder as a form of resistance to corrosion and rust
The fan blade is coated with chemical-resistant propylene to avoid wear
The fan can be allowed to oscillate at 90 degrees to cover different areas of the room or it could be locked in place for targeted airflow
Its height can be adjusted from 41 inches to 55 inches depending on the height you prefer
Disadvantages
We only wish it could be remotely controlled for ease-of-use
8. DecoBREEZE Pedestal Fan
Specifications
Manufacturer: Global Product Resources
Modes: Three
Color: Catalonia, Coppertino, Kailua, Ebony, Prestigious, Providence, Terra, Nautica
Weight: 29.5 pounds
Dimension: 40 x 19 x 16 inches
Other features: All-weather paint finish
Review
Global Product Resources is an American brand that more than typifies the hard-working and patriotic American spirit. This brand was founded with the aim of making the average citizen's life ten times better. Since its inception, it has done this by providing America and the world at large with functional products that are wallet-friendly and highly stylish. One of its most popular subsidiaries is DecoBreeze. From the stable of DecoBreeze, Global Product Resources has given us time and time again, cooling fans with superior design and top of the line innovation. With a broad range of decorative fans which are as functional as they are beautiful, Global Product Resources has a fan for everyone's needs.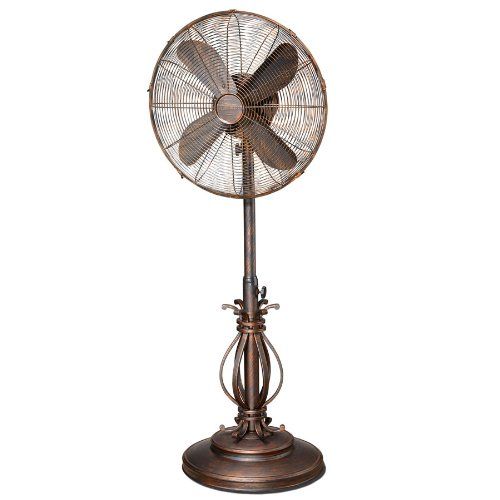 Gone are the days when we kept ourselves cools by waving palm fronds and hand fans which wasted manpower. Technology has made everything way easier these days with the advent of the standing fan. Perhaps you are looking to increase your cooling weaponry before the hot summer months. Well, we are offering you the DecoBREEZE Pedestal Fan just for that purpose.
The DecoBREEZE Pedestal Fan is as versatile as they come. This remarkable standing fan is perfect for both indoor and outdoor use. Outdoor cookouts and patio get-togethers are very much the rages right now and this fan is perfect for such occasions. Even when left outside, this fan won't lose quality as it is coated with an all-weather protective paint. It also comes outfitted with a weighted base that provides unprecedented stability. This means that this fan which weighs 29.5 pounds will stay upright even and not topple. Indoors and outdoors, just plug it in and enjoy a cool breeze.
The DecoBREEZE Pedestal Fan is extremely powerful. Even when used outside, the airflow it produces can be felt. It has huge eighteen-inch blades that turn air powerfully and efficiently. It also has three different speed settings. The speed settings are sufficiently different enough from each other so that they match individual preferences.
This standing fan makes use of a powerful 53-watt motor. Like all the features of this pedestal fan, the motor has been cleared and rated for outdoor use by the best engineers in the business.
The DecoBREEZE Pedestal Fan is geared for outdoor use. With this in mind, its makers have put its safety requirements into consideration. It has a safety rating that is ETL 'Wet Listed'. This drastically reduces the probability of an electric shock even in wet concoctions. This safety rating is also enhanced with a GFCI plug.
Advantages
It has a stable weighted base that ensures it doesn't topple
It has an all-weather protective paint finish
It has powerful eighteen-inch blades for maximum airflow
It makes use of a powerful outdoor safe 53-watt motor
It has a safety rating that belongs to the 'ETL Wet Listed' category
Disadvantages
It might be too powerful for use in small enclosed spaces
9. Designer Aire Standing Pedestal Fan
Specifications
Manufacturer: Designer Aire
Modes: Three
Color: Black
Weight: 20 pounds
Other features: Vintage copper exterior
Review
Designer Aire has over a hundred years of experience and it reflects in every product from its coffers. This is no less than you would expect from a brand that was founded as far back as 1905. Not many brands have been able to survive for over a hundred years but Designer Aire's unique brand of production has made sure of that. Designer Aire believes in churning out efficient products at affordable prices – A way of life that has not failed them since day one. Its engineers are dedicated to satisfaction, comfort, and excellence. Its products are often able to blend the new school and the old school perfectly. What more could you want from a brand?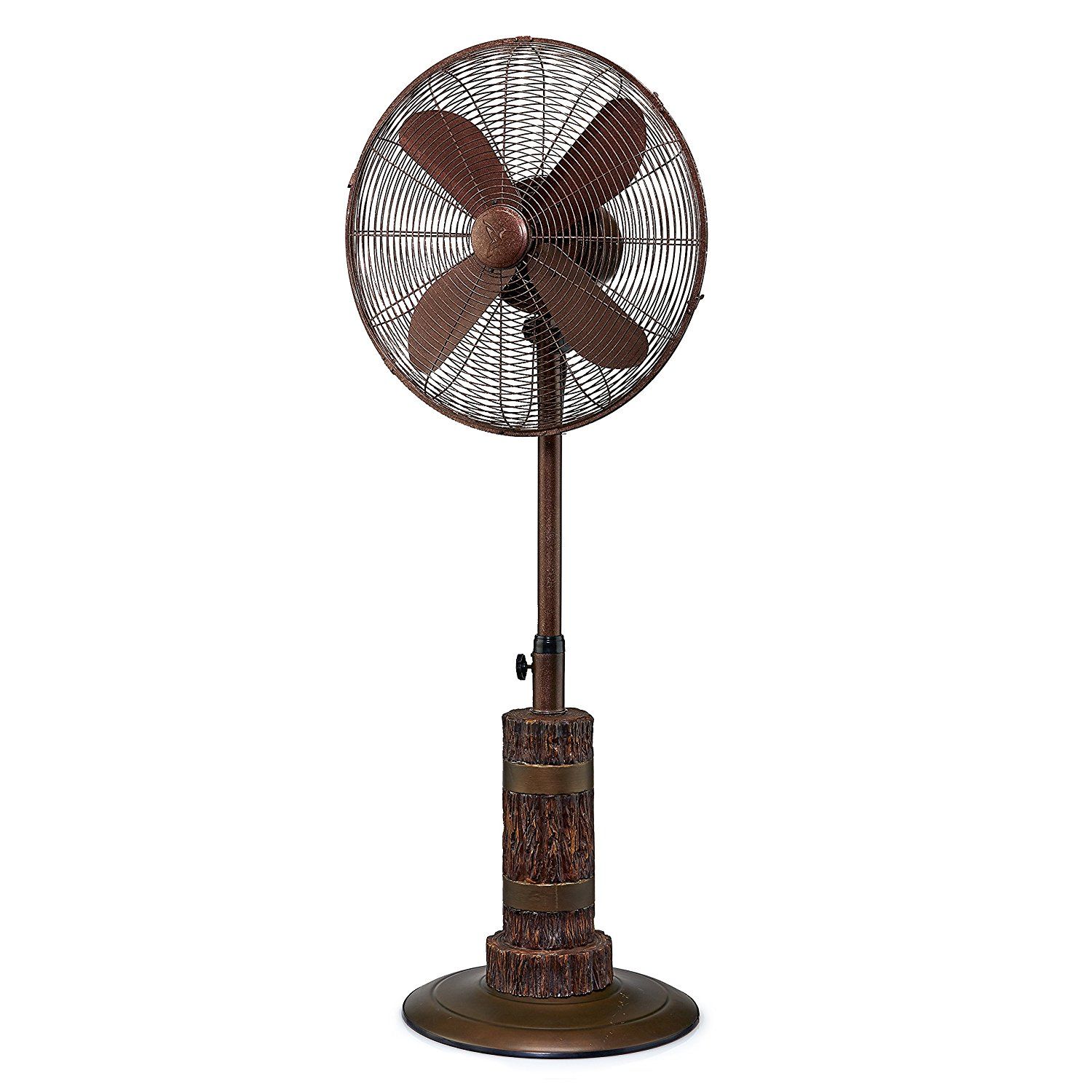 The best standing fan that you have always been wishing for, to spice up your home and personal space, is just a click away. Yes, we are referring to the Designer Aire 18-inch Pedestal Fan. Crafted with unmatched excellence in mind, this fan suddenly makes all of your cooling dreams come true with its innovative design and tech. Come along and see what we mean.
This fan is suitable for both outdoor and indoor use. As long as there is an electrical outlet that it can be plugged into, it will serve effectively. This is because it is made from extremely durable parts and has a highly sturdy base which supports the fan's weight effectively. With this pedestal fan, you are guaranteed more than five years of use without it falling apart.
Perhaps you are one of those people who doesn't like to compromise the carefully put together decor of a home. Then you just might want to check out this fan. The Designer Aire 18-inch Pedestal Fan has a pretty beautiful rope-like bass around its neck that improves its look. The designers of this fan paired this bass with a copper finish that gives the quiet floor fan a vintage look that blends right in with the ambiance of your home. Who says you have to disorganize your home to be comfortable?
Are you wondering if this fan will be able to cover an entire room? The answer is yes and not just because we want that to be the answer. It boasts eighteen-inch blades that propel air at an unprecedented rate. With this fan, airflow from one side of the room to another is pretty much guaranteed. Another feature that makes this easier is the oscillatory capacity of this fan. While in use, it oscillates from side to side efficiently. That way, a wider area of your room is covered.
Advantages
It is made from durable parts
It can be used outdoors and indoors
It has a stylish vintage feel to it
It has huge eighteen-inch blades that enhance the flow of air
Disadvantages
While some fans can be adjusted up to 55 inches in height, this pedestal fan tops out at 50 inches
10. Lavohome Energy Efficient Pedestal Fan
Specifications
Manufacturer: Lavohome
Modes: Three
Color: Black
Weight: 10 pounds
Other features: Plastic blades have twist design that make this fan quiet
Review
Lavohome is one of the biggest producers of fans and other cooling devices in the world. The company which was founded in 2011 by a group of trailblazers has been able to make considerable headway worldwide in such a short period of time. This has been achieved due to the fact that Lavohome's products offer customers the best value for their money. In recent years, it has branched into other small home appliances without losing the value it is most recognized for. That isn't all as Lavohome pairs its unquestionable product quality with a top-of-the-line customer service. A brand that gives you value and is ready to listen to you sounds like a win-win!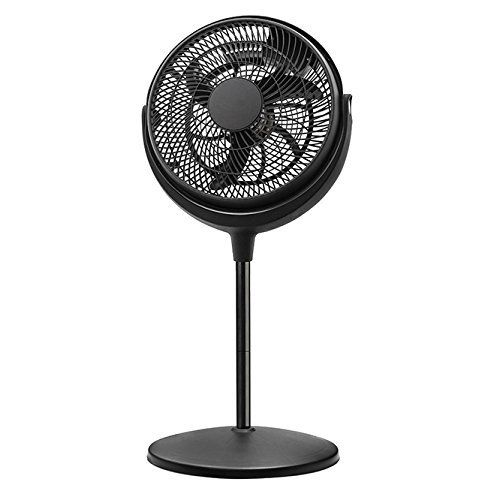 Stifling heat and insanely high temperatures can be a bit of a bother. All that can be combated with a proper standing fan. Even for that, you need the best pedestal fan; a fan that will last you for a long time without losing any functionality, a fan like the Lavohome 12-inch Pedestal Fan.
This pedestal fan is a giant air circulator. It is guaranteed to get air to all parts of your room. This is possible due to the incorporation of Lavahome's new AirFlow tech into the fan. This innovative piece of tech ensures that air flows to every corner of your room with just one Lavohome 12-inch Pedestal Fan.
That isn't all this fan boasts. This pedestal fan is highly adjustable. It has a maximum height of 51 inches which can be reduced down to 40 inches. This fan pairs the adjustable height with a state of the art oscillation system. It moves from left to right efficiently. Another feature that contributes to this fan's enviable airflow is that its face can be tilted. The fan's face can be tilted up to 180 degrees without any damage.
This fan has an efficient safety grill that does its job of protecting errant fingers from the blades enclosed within. You would think this would make it hard to clean the blades. However, the manufacturer has made this safety grill easy to remove. Just make sure the fan is turned off first before you begin.
Finally, this pedestal fan is quite stable. Despite weighing ten pounds, it has a slip-resistant base for improved support. This base essentially prevents the fan from slipping, skidding and sliding even at the highest speed mode, giving you safety and comfort at the same time!
Advantages
It has Lavahome's new AirFlow tech
Its height is adjustable
It has an efficient oscillation system
Its face can be tilted up to 180 degrees
It has an easy to remove grill for easy cleaning
The slip-resistant base makes it safe for use
Disadvantages
Some users have complained that this fan makes a bit of a buzz
Conclusion
There are different kinds of standing fans out there, each one with different speed modes and features that increase functionality. You can, however, be confident that the fans listed above are the best out there. They range from wallet-friendly ones to luxury selections. No matter the choice you make, however, you are assured of the best value for your money. We believe you now well-equipped to make an informed choice. Cheers!