What are Tower Fans?
Fans aren't new to anyone at all. If you've stayed in the world for any amount of days, you've probably met a fan at one point or another in your hitherto short or long life. Well, of course, we have to make an exception for our brethren in polar regions. The very mention of the names would give anyone the chills. But moving on.
If you're in the market particularly for a tower fan, then you should know a bit about it already, but in case you don't, welcome to school.
Tower fans are oftentimes favored over other fans such as ceiling fans or floor fans for a few reasons. First and most obvious is their compact size and their most recognizable feature, the tower design, which makes them portable and a great fit in almost any space that would otherwise have been impossible to accommodate a regular fan.
Distributing air at 90 degrees while oscillating on a stationary base, the engineering behind tower fans makes them super efficient. Plus, with more and more models now offering air ionization, many tower fans can also add a fresh, clean feel to your space.
How Do Tower Fans Work?
In simple, layman terms, here is how a typical tower fan works:
Tower fans contain a really powerful electric motor inside them which kick-starts the entire process of circulation. When activated, the fan blades pull surrounding air into the unit with a very great force and continue to push the air into the tower fan till it gets exhausted and then goes out back into the room.
But before this air gets out of the tower fan, it is filtered: first from large particles such as lint, dust or pet dander; and then from tiny particles too (e.g. allergens) to keep the air crisp.
Some oscillating tower fans go as far as having ionizers. These are also filters but they work differently in that they filter the air using electronic charges which further take out any other pollutant that might be contained in the air.
How are Tower Fans Different from Normal Electric Fans?
Normal electric fans have been here for a mighty long time and seem to be going anywhere anytime soon, especially in 3rd world countries where air conditioning systems are still pretty expensive. The problem, however, is that they hardly do more than just circulate air. Yes, some can be set to oscillate such that the air reaches the entire room in which they are placed but that's about all that they do. No wonder they are getting displaced by tower fans gradually.
Because unlike standard electric fans, tower fans are much more multifunctional, they take up much less space than normal electric fans and make much less noise. Also, normal fans can't filter, much more ionize air but tower fans can and do a great job at it too. Plus, tower fans are more attractive and convenient when compared to normal fans in that they have a beautiful design and almost always come with remote controls.
Things to Consider When Choosing a Tower Fan
As with almost all products, there isn't exactly the best tower fan as much as there's a best tower fan for you. In order to get something you'd love, you have to look beyond the name and check out certain features that will enable you to get a home run with your choice of a tower fan when you make it.
Check your Space: This is the first question you should ask yourself before anything else when looking for a tower fan. Of course, if your space is a large one, then you should be thinking of something with a really powerful air circulating potential. Because tower fans are generally oscillating in nature, they easily spread air to large spaces at a time. If, however, your space is just small to medium, then the dimensions of the fan you're looking to get can help you with that.
Ease of Operation: With technology getting more and more advanced, sometimes, getting the simplest things done can be a bit brain-racking. You want to be sure of the functionality of your fan before you get it. Hint: the fan shouldn't be too difficult to operate. Even though most fans today come with diverse functions from programming to different levels of oscillation, to auto shut-off; or even in pretty sophisticated units, air humidifying and air purifying, it's still important that you look past all these and be sure that the fan is an efficient bottom line. Remember, you're paying for performance, not fanciness.
Design: Whoever told you that design isn't important lied to you. It is totally okay to want an attractive fan but it is not okay to sacrifice performance on the altar of aesthetics. Be smart, go for an attractive fan but go for a functional fan first. Also, before you decide on a design, ensure that you have enough room to accommodate the fan first.
Portability: If you are going to be moving your fan about fairly regularly, then we need not tell you to consider a lightweight option. Something with a great grip or handle won't hurt too. This will make the process of transport a lot less inconvenient.
Environmental Responsibility: If you want to reduce your eco-footprint, and you should, this is the best way to do it: go for a fan with multi-functions. For instance, one that can also work as an air humidifier, swamp cooler, air purifier, etc. Also, fans that come with an auto shutoff function are great as well. They help to save energy.
Advantages of Tower Fans
They come with streamlined frames which makes them the ideal options for spaces that are medium to small sized
This also makes them easy to store after summer is over
Since they are placed on the floor, they do not take up usable space on the counter or table
They are gentle on your electric bill
They are typically laconic
Some models offer multiple functions, such as air purifying and air humidifying
Disadvantages of Tower Fans
If your space is a large one, then it's more advisable to go for a portable air conditioner instead
Also, if your apartment is one with floor-to-ceiling windows that give you constant 24-hour exposure to the sun then a tower fan may not be your saving grace
1. Lasko Oscillating High-Velocity Fan
Specifications
Manufacturer: Lasko
Color: Gray
Modes: High, Medium, and Low
Weight: 14.2 pounds
Dimension: 13 x 9 x 36 inches
Other features: Works up as much air as a 20-inch high-velocity floor fan; comes with a remote control; comes fully assembled with easy grip; comes with patented safety fused plug; nice streamlined body
Review
Ever adapting its products to dynamic consumer wants, Lasko since its establishment in the early 1900's has witnessed an expansion from manufacturing small appliances to delving into other household necessities such as portable heaters and fans. With all steps of production handled in the US, from design to engineering, Lasko continues to deliver products that are smart and intelligent.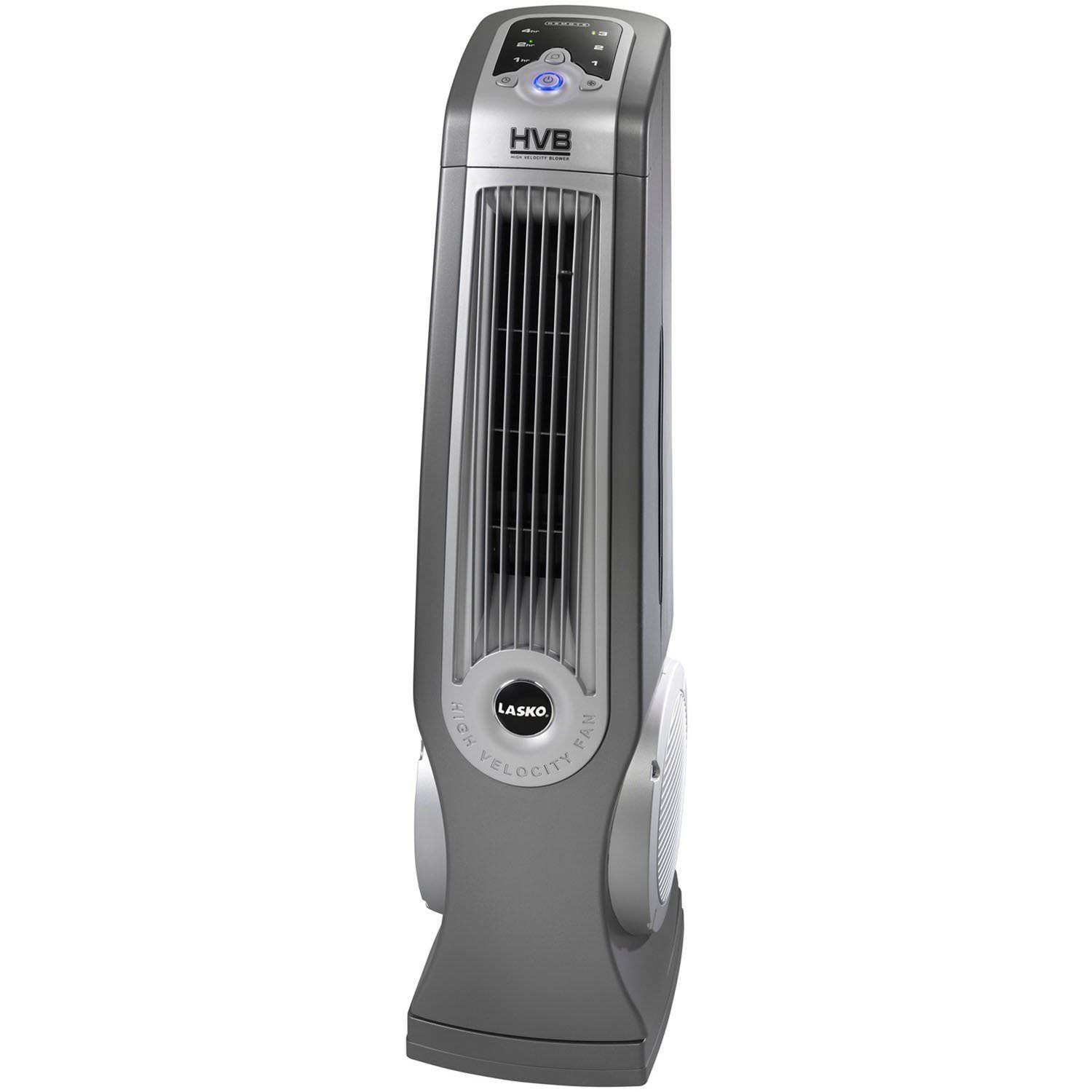 If the sweltering heat has got you all hot and bothered, then you are probably in the market for the best tower fan possible, knowing all the benefits that tower fans bring. And we are glad to announce to you that we have one of those right here: the Lasko 35inch Remote Control Oscillating High-Velocity Fan. Check it out:
It comes with a remote control for your convenience. Now, all you need do is simply control how much breeze or less you want at your own convenience from any part of the room. Yes, the world is getting more sedentary by the minute, but hey you didn't make the rules!
And the breeze from this thing is heavenly. Now, close your eyes and imagine the gust of air you'd get from a 20-inch high-velocity floor fan. Then again, imagine that fat round fan transform into a slim slender form. Bam! That's your tower fan: all the precious air with much less bulk!
It also comes with a timer function to help you cut down on your energy consumption. If you want your room aerated for a space of time, maybe to get the stink of mustiness out, you can simply put this on a timer and continue your business. The fan will take care of itself.
The fan comes fully assembled and is super easy to handle and carry about.
For your safety, it comes with a patented fused plug, so you don't stand the risk of an electrical fire.
Altogether, this is, as we said earlier, simply one of the best tower fans you can possibly get.
Advantages
It is fantastic in ventilation, producing as much air as a 20-inch high-velocity floor fan but with a much more streamlined form
It comes with a remote control for convenience and this remote is easily stored in its pocket behind the fan
It comes with a timer function to help you save up on some energy
For your electrical safety, it comes with a patented fused plug
Lastly, it comes fully assembled, and has a great grip for easy carrying
Disadvantages
Now, here's the thing though this is a very wonderful oscillating tower fan in that it works up a more than a nice amount of air, it does tend to "yell" a bit even on the lowest setting
2. Dyson Air Multiplier
Specifications
Manufacturer: Dyson
Color: Black Nickel
Modes: 10
Weight: 12 pounds
Dimension: 9.1 x 9.1 x 39.6 inches
Other features: Bladeless design; easy to clean; comes with magnetized remote control-easy to store and convenient airflow control; quiet operation; low energy consumption; streamlined body
Review
Dyson is a business staffed by everyday people like you who get frustrated when they get products that do not function properly. Being design engineers, they have decided to do something about it by using innovation and invention to create new products that work and improve on the old that don't. It's this simple philosophy that has kept Dyson strong, loved, and respected in business for so long.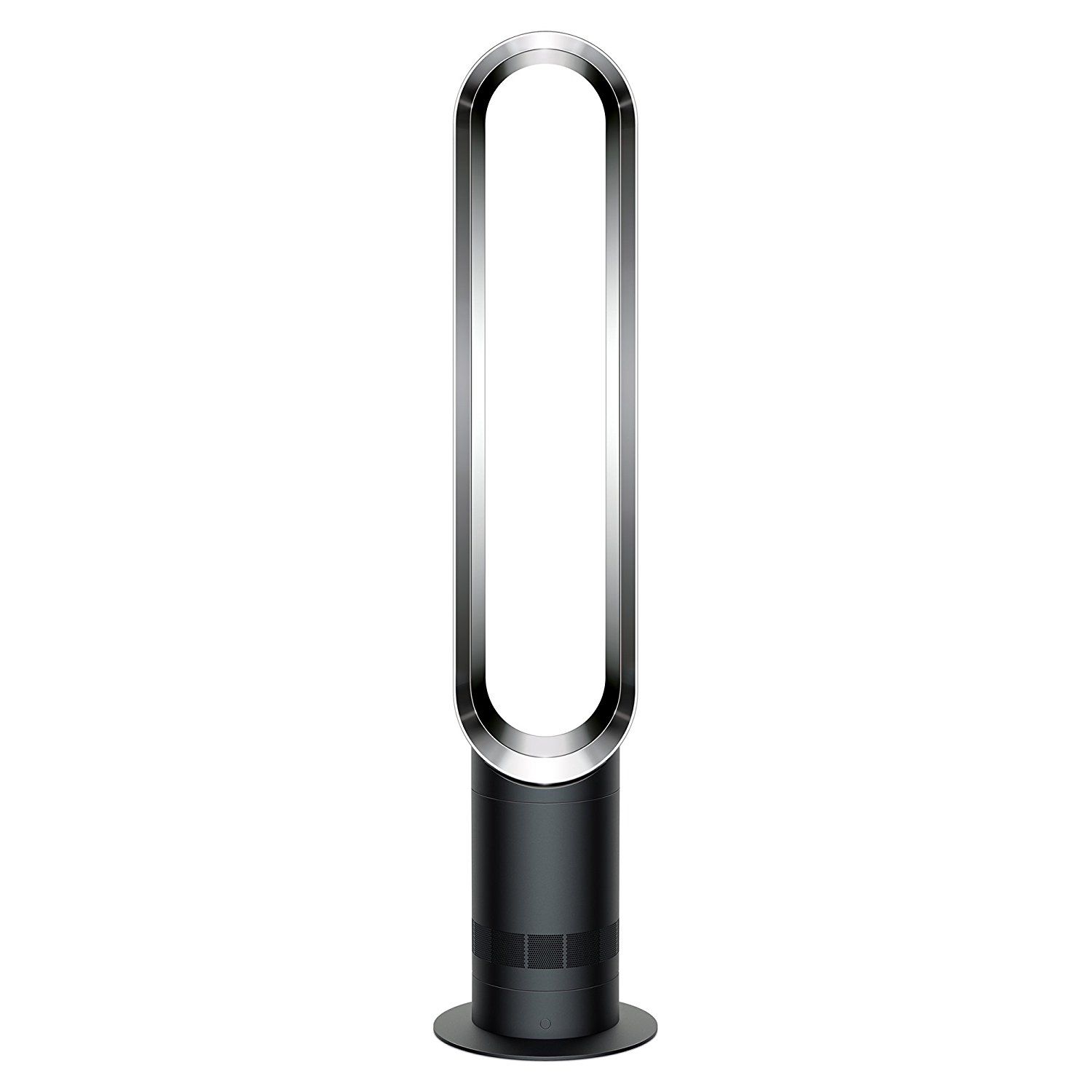 We love the Dyson Air Multiplier Tower Fan, and why not? It comes with a bladeless design! You did hear us right. Bladeless! And see how it works:
This fan draws old, hot air from around the room and then pulls it into the bladeless fan. From here, a cooler, more refreshing air is then given back into the surrounding, just like your air conditioner. So, yes, you can call this a vertical air conditioner and you won't be wrong.
For even a more precise air volume, your fan will come with 10 different precision settings. And, of course, there's a remote to make things as convenient for you as possible. Also, the remote is magnetized and has space where you can store it right on the fan to keep from creating a mess in your home.
Even some of the best tower fans still battle with loud noises, but thankfully, not the Dyson Air Multiplier. Furthermore, with its slim fit body, it can fit into almost any space and drive a mighty gust of wind without even making a peep.
With all these benefits, you might worry about energy consumption and rightly so. But it should excite you to know that though this tower fan comes with its own Air Multiplier technology that allows it produce an uninterrupted flow of powerful streams of air, it is still engineered in such a way that it consumes relatively low energy.
Advantages
With the help of the Air Multiplier technology, it produces a powerful, uninterrupted stream of air
This fan comes with a bladeless design, making it safe for curious kids and pets and also making it easy to clean
It comes with a magnetized remote control which stores neatly on the fan and makes control easy
It features 10 precision settings which gives you much more control over the volume of air you get per time
It comes with a sleep timer function of between 15 minutes to 9 hours for those times when you need the fan for short periods at a time
It comes with a slim frame and hardly makes a peep
Disadvantages
If you're looking for a great oscillating tower fan that works, you've got it, but the price seems to be a bit too scary for some folks
3. Honeywell QuietSet Whole Room Fan
Specifications
Manufacturer: Kaz
Color: Black
Modes: 5
Weight: 8.3 pounds
Dimension: 10.8 x 8.2 x 32.8 inches
Other features: 8 precision modes; comes with remote control and on-product pocket; 1-8hours auto shutoff; easy grip; breeze and oscillation settings; comes with a digital thermostat
Review
Kaz (mother brand to Honeywell and several others) is the brand you want to go to when seeking healthcare products as well as other quality products that work for use in your home. It manages to efficiently marry state-of-the-art equipment with out-of-the-box ideas to create products that customers simply adore. Kaz simply wants to improve the everyday life of the average person by coming out with quality products that are thoughtfully designed and creatively manufactured.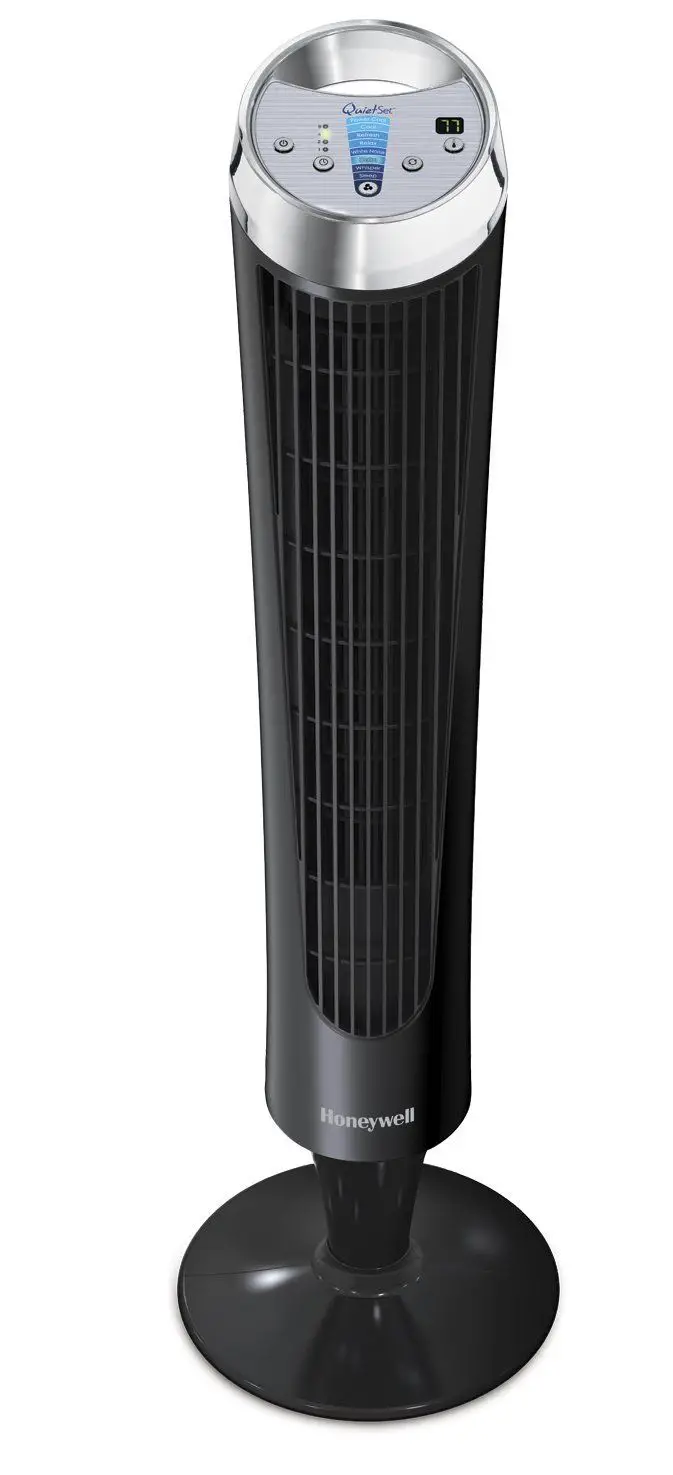 Do you need a cool blast of powerful air hitting you this summer? Then you certainly must get the Honeywell QuietSet Whole Room Tower Fan. It's a powerful machine in a small, compact body. This thing blows a mean amount of air in even relatively large spaces.
To cater to your most precise needs per time as it concerns the volume of air you need per time, this tower fan comes with 8 precision modes. These different modes exist solely for your comfort, giving you much more control over your fan.
For easy and convenient control, this fan comes with a remote, of course. Who makes a tower fan without a remote these days? And to keep things neat and tidy, because, of course, you're not a slob, the remote comes with its own pocket, on the fan itself!
And because electricity bills aren't the most exciting things to pay, you will be getting a fan that comes with its own auto shutoff timer. This time ranges from 1 – 8 hours, helping you cut down on the bills while enjoying your fan. By the way, this also helps reduce your ecological footprint. You're welcome!
You really should get more than one of this beautiful tower fan, one for each room in the house. But if you can't afford to do that right now, that's okay too. The manufacturers have made things easier for you by making the grip sweet and easy for a convenient carrying.
PS: what if we told you that this is a really quiet tower fan? Will it further confirm your decision to buy? Then, yes baby. It is!
Advantages
It is powerful and provides adequate cooling even for large spaces
It comes with 8 precision settings giving you increased control
There is also an oscillation option in addition to the breeze feature for those times you need a wider area covered
It also comes with additional features such as a digital display, a 1-8 hour auto shutoff, plus an adjustable thermostat all for your added convenience and pleasure
It comes with a remote house in a pocket on the fan itself
Disadvantages
In truth, this product does a wide reach within a large room but you might want to not get your hopes up too much because it doesn't cover as wide an area as advertised
4. Lasko Hybrid Fan
Specifications
Manufacturer: Kaz
Color: Black
Modes: 3
Weight: 13.85 pounds
Dimension: 12.3 x 12 x 39.2 inches
Other features: oscillating feature for wider coverage; slender and compact body; patented safety plug; nighttime light for safety at night
Review
Lasko prides itself on its tradition of manufacturing the smartest and most intelligent products possible for its dearly beloved customers. Carrying out its entire manufacturing process in the United States, from the start process of design to the final stages of engineering, quality is never an issue with this brand. Customers can always shop here rest assured that they will definitely get value for their money. And talking about prices, did we mention that they've got really great prices too? Well, now you know.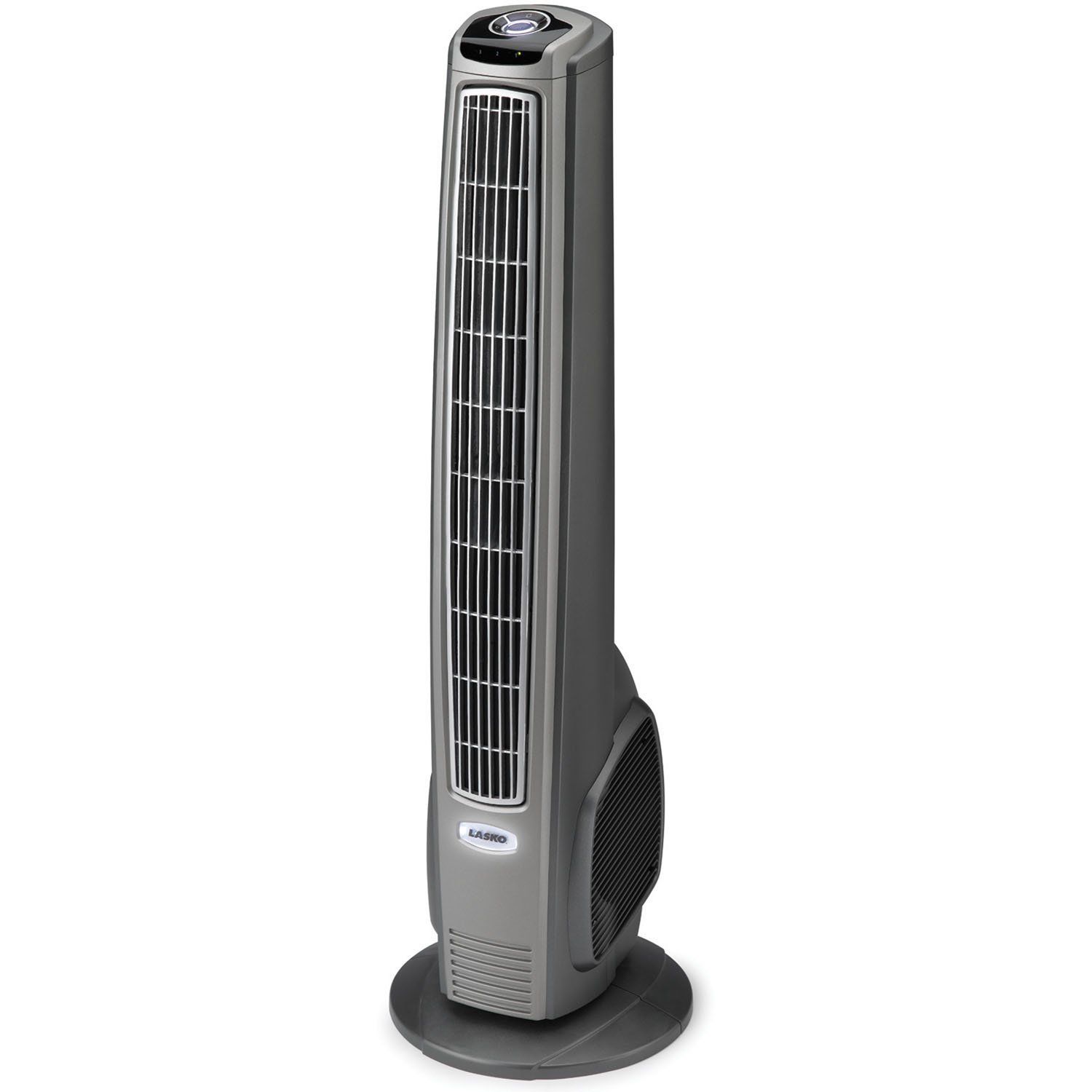 It's Lasko again on our reviews today! And why not? Lasko is a remarkable brand and a maker of some of the most remarkable tower fans possible one of which is the Lasko 40-inch Hybrid Fan. Without further ado, let's get down to all the deets on this thing.
It comes with an oscillation feature that is pretty widespread. With this fan, you can expect almost all areas of your large room to be adequately aerated and ventilated.
And even though this lovely fan comes with a very powerful engine (the force behind the amazing gust of air you'll be enjoying with this fan), it still comes in a sleek maneuverable body. This means that it will easily be accommodated in almost any space.
And as usual with Lasko, look out for the plug, because it was custom made to ensure your safety with the use of this product. It's a blue plug and in its design, it automatically cuts off current to the fan should it detect any dangerous fault electrically, like say a power surge.
For the dark nighttime, this fan comes with a nighttime light to help guide when you have to get up at night.
And yeah, there is a remote control for added convenience. Now you can easily control your fan from anywhere at all. You call the shots!
Here's another opportunity to get a beautiful Lasko oscillating tower fan in your home. Don't miss out on this one for anything!
Advantages
It is a fantastic fan tower with a powerful engine and a slim, compact body that is accommodated almost anywhere
It comes with an oscillating feature for a wider reach in large spaces
It comes with a patented plug that's designed to cut off electrical current in times of electrically hazardous situations
It also comes with a night light so you don't have to stumble in the dark when you get up at night
Disadvantages
Okay, here's the bad. You can say that this fan is a quiet tower fan, but when it's put on it is the highest setting, you will hear some kind of noise. Sorry
5. Ozeri Ultra Wind Fan
Specifications
Manufacturer: Ozeri
Color: Silver
Modes: 3
Weight: 13.85 pounds
Dimension: 38 x 7.2 x 9.5 inches
Other features: 90-degree oscillating feature for wider coverage; quiet operation with a high velocity of air produced; 3 airflow patterns and speed control; 12-hour timer with hourly increments; easy setup, adjustable height; digital display of room temperature
Review
Ozeri has been around for a while and with all those years of hard work put into the business, it's no wonder that it has fast become a household name when we talk about products for healthy living as well as house-ware. What this brand has done with innovation and creativity in these areas of industry is truly commendable. But what's more amazing is how it has managed to do this while maintaining unbeatable prices and customer service.

If you're feeling really fancy and you want something that lives up to your tastes, then the Ozeri Ultra 42-inch Wind Fan is what you want to get. It looks really stylish and the engineering behind this thing will make your head spin.
We don't know all the details, but we can confidently tell you that this fan was designed to produce a large volume of air with as little noise as possible. Apparently, there's a foot-per-minute to decibel basis that you most likely only care about because it amounts to one thing: "quiet operation".
On this one fan, there are three speed as well as airflow pattern settings. These complement each other to give you absolute relaxation and comfort when sleeping or simply relaxing. Plus, its oscillation feature which covers a 90-degree angle makes optimal airflow very possible and achievable.
There's a 12-hour timer on this fan which you can equally set with a space of 1 hour. And all you have to do to change from one particular time to another is to simply push a button. Sweet!
Want to know another thing that's sweet? There's a remote! This remote, very neatly and conveniently, stores in the fan, so you don't have to bother about creating a mess or worse still losing it (it's the key to your convenience. Don't lose it! *wink*)
It's pretty straightforward to setup and does not require the use of any tool at all.
And that's not all, this fan even comes with a digital display that shows the temperature of the room per time. And with this quality of cooling tower fan, there's only one possible temperature: cool!
Advantages
Engineered to deliver high-velocity air with little to no noise
Its oscillating feature covers a 90-degree ensuring adequate ventilation of large spaces
Its auto shutoff timer covers a 12-hour range with hourly increments. This feature is easily controllable by a simple touch of the button
Comes with a remote that stores itself on the fan
It sets up very easily without the use of any tool at all
The height of your fan is easily adjustable per time from 42inches to 32 inches
Disadvantages
Well, except for the fact that this fan can have a really annoying "plasticky" smell, plus it can also produce a small amount of noise especially when on high, this fan is fantastic
6. Ozeri Tower Fan
Specifications
Manufacturer: Ozeri
Color: White
Modes: 9
Weight: 13 pounds
Dimension: 8 x 3 x 44 inches
Other features: 90-degree oscillating feature for wider coverage; quiet operation with curved blades generating opposing sound to noise; 3 blades independently controlled, 9 airflow speeds; 7.5hour timer with half-hourly increments; remote control and LED control panel (touch sensitive); comes with required 1 CR2 battery
Review
Making a great many products from eco-friendly cookware to advanced pedometers, Ozeri has, over time, been in the business of producing the most innovative, stylish and user-friendly utility and healthy living items possible. Receiving wide, positive reviews across several retail platforms and even print media such as the distinguished Wall Street Journal, it's obvious that this brand has made a name for itself by consistently applying itself to hard work and ingenuity.

For those of us who plain can't just deal with any noise at all, here is a really quiet tower fan that you'll love. Meet the Ozeri 3X Tower Fan.
An upgrade from the Ozeri Ultra 42inch Wind Fan, the Ozeri 3X Tower Fan takes "quiet" to a whole new level by employing the complex principles of physics to manufacture curved blades which reduce blade noise by generating opposing sound. So, all you have, in the end, is just the sweet lulling sound of the breeze.
Still blowing minds with its technology, Ozeri manufactures this particular model with three blades that are independently controllable. Now, multiply that by 3 precision speeds that the fan comes with and you get 9 awesome levels of airflow that you are allowed to customize however you want! Wicked!
Also, it looks elegant with its glass base and unbelievably thin fan blades (only 3 inches!)
For those times you need to cover a wider area with adequate ventilation, this fan really shines too. It comes with an oscillation feature and this oscillation covers a whopping 90 degrees. Yeah, it is soothingly quiet even when oscillating as well.
And what's a tower fan without a remote control? We know yeah, don't even show it to us too! But that's not even the best part. This fan comes with an LED control panel that very touches sensitive. Pretty fancy, don't you say?
Now, you have all the amazing features, including a timer of course, and they are literally at the tip of your fingers too! Sweet!
Advantages
Truly sophisticated with its curved blades designed to reduce noise by generating opposing sound
It comes with three blades which are independently controllable as well as with three different speeds to give 9 different amazing levels of airflow
An oscillating fan, you get up to 90 degrees of oscillating coverage with this fan when you need to cover a wider area in a large space
It comes with a remote control as well as an LED control panel that's super sensitive to touch which puts all the unique features at the tip of your fingers, literally
It also offers a 7.5hour timer that can be conveniently changed in 30-minute increments
Disadvantages
This fan does tend to make some vibrations, so if you have neighbors downstairs, they might not be too excited about you or your fan for that matter
7. Honeywell QuietSet Tower Fan
Specifications
Manufacturer: Honeywell
Color: Black
Modes: 8 speeds
Weight: 9.15 pounds
Dimension: 32.8 inches x 10.8 inches x 8.2 inches
Other features: Comes with a remote control, auto shut-off timer
Review
Honeywell is a leading brand, inventor, and manufacturer of technologies that are aimed at solving some of the world's biggest challenges. It is passionate about security, safety, global urbanization, and productivity. It has a robust line of products and software applications that improve the overall productivity of factories, buildings, homes, utilities, and vehicles for a safer and more comfortable world. As a fortune 100 company, it has established itself as a brand with a strong financial track record and performance over the years. One of its distinguishing factors is its ability to set and also achieve really tough 5-year financial goals.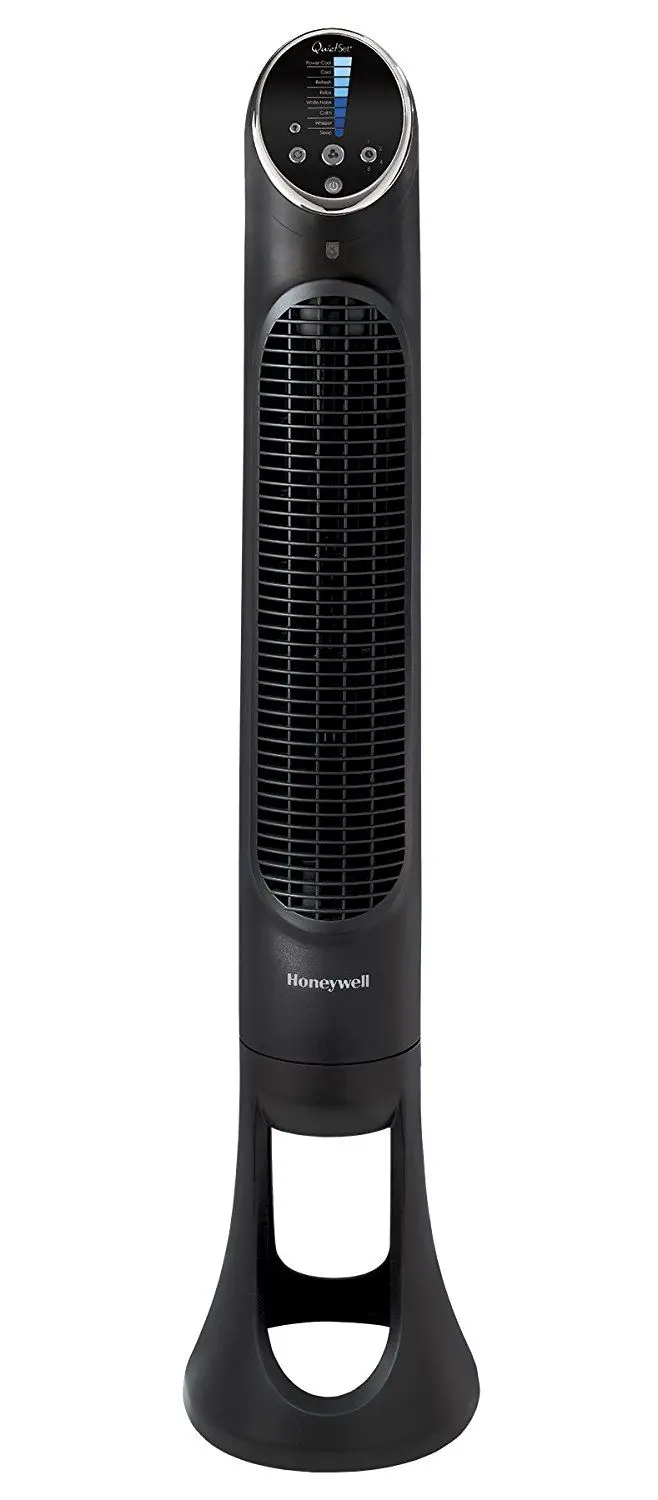 Some of the challenges Honeywell has helped many people solve is what to do with a very hot afternoon – choose its tower cooling fan. So, if you are looking for a small tower fan to cool your home, office or workspace in summer or in a poorly ventilated room, then you should go for the Honeywell Oscillating Tower Fan.
This fan comes with 8-speed levels that allow you the luxury of the sound and the cooling power you'll like to have at every given point. Some days you may want it very low, other days you may want it really high, and some other days you may want to stay in between. Thanks to the inbuilt QuickSet technology, you can have the best of 8 worlds right in one fan.
When you turn it on and get too tired to walk up to the fan, you can rely on the remote control to control the fan right where you are without lifting a foot.
What's more? You can take advantage of the shut-off timer that automatically turns off the fan at the time you set it to go off. So you can actually leave the fan on, set the timer to 1 hour, 2 hours, 4 hours, or 8 hours, and go to bed knowing the fan will go of itself without needing you to wake up to flick a switch.
It's got light too! And not just light, but light with dimming features so that you can set it to whatever mood you prefer or even turn it off completely. So, you have the opportunity to turn it off at 0% or increase the brightness to 25%, 50%, 75% and the brightest 100%.
Advantages
Features QuietSet technology allows you to control the sound and the cooling options.
Comes with a remote control and a storage compartment to keep the remote when it is not in use
Features 8 speeds for you to make a choice from based on your comfort and sound level you want
It is easy to assemble and requires no tools
Has an auto shut-off timer that turns the fan off automatically at the time you want it to stop
Has 5 lighting modes from 0 to 100% depending on your preferred lighting option
Disadvantages
The 'whole room' feature is effective only for small rooms or when one is in front of the fan
8. Arctic-Pro Digital Screen Oscillating Tower Fan
Specifications
Manufacturer: Arctic-Pro
Color: Graphite gray
Modes: 3 speeds
Weight: 9.85 pounds
Dimension: 42 inches x 12 inches x 6.5 inches
Other features: 3 speed, comes with a remote control, offers night mode option
Review
The Arctic is a private company with active presence in Germany, Hong Kong, Switzerland and the United States. It manufactures and designs product and gadgets that make the environment cooler and more comfortable to be in. With its products sold in over 45 countries in the world, Arctic has positioned itself as a leading brand in consumer electronics. Not only does it cool your space, the Arctic also produces sound and power equipment. When you shop Arctic's products, you can rest assured that you'll get quality, innovative design, and functionality at giveaway prices.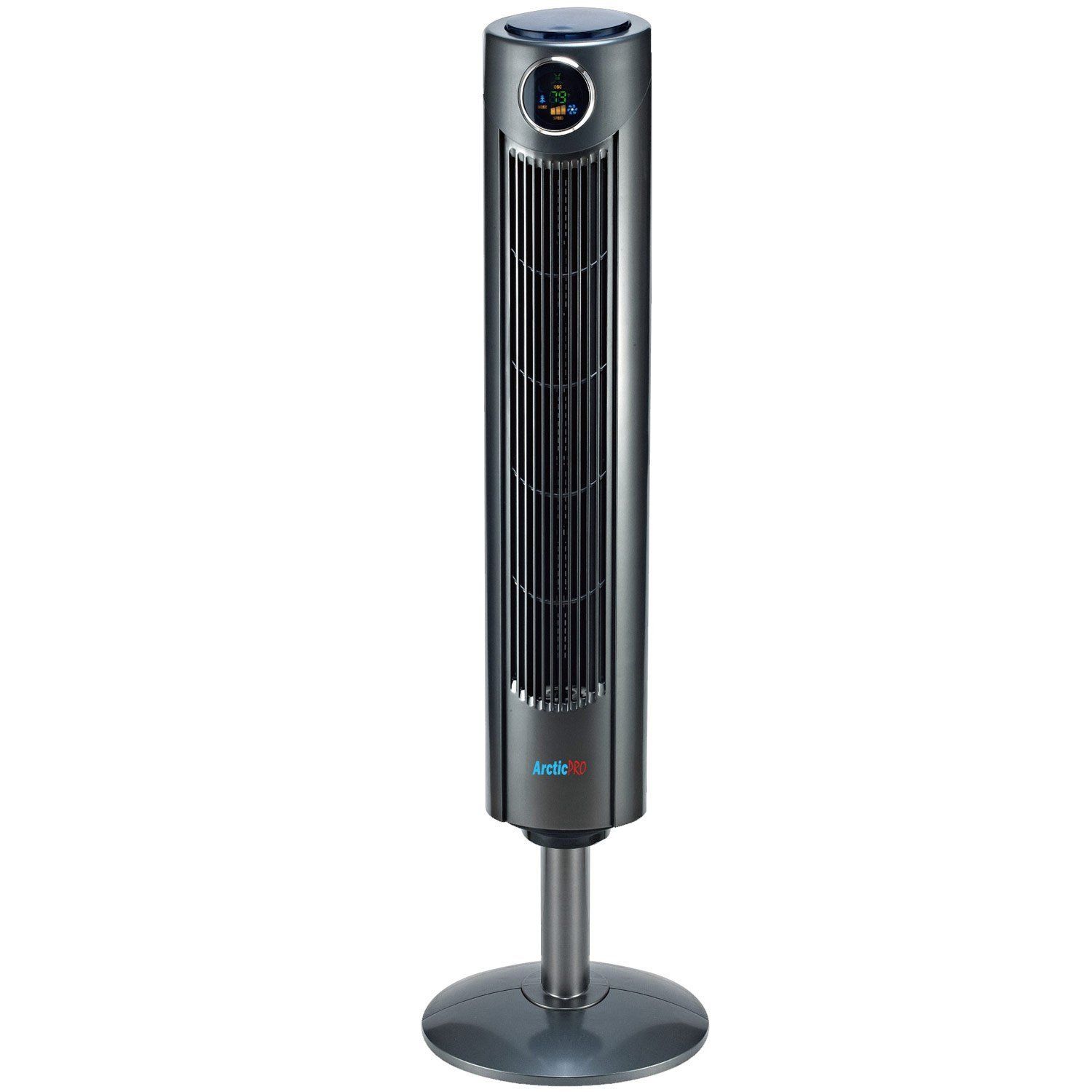 The Arctic Pro Oscillating Tower Fan comes with 3 speeds which will provide the desired airflow that you want with a whisper-quiet sound. And you can trust the Arctic when it says the fan is a noiseless one.
You also get to enjoy good airflow all around the room because it oscillates at 80 degrees. So, on a sunny afternoon, the air in the entire room is consistently cool, unlike conventional fans.
What makes this fan really awesome also lies in its design in the sense that its slim structure takes up only very little space in your room. Now, if your major concern with getting an upright fan from the tower fans on sale is that your real estate is quite small, you shouldn't think twice about this offer.
You can choose to raise it high off the ground to 42 inches on its pedestal so that everywhere gets some good refreshing air or you could switch the configuration to attaching the fan to the base directly. Either way, the air distribution is even.
And if you are not so close to the fan but you need to turn it on, change the speeds, or turn it off, then you can use the remote control that comes with it. When not in use, the remote control has a storage space on the fan where you can keep it for the next use.
At night, this fan also provides a night mode scene so that you don't get disturbed by the glare from the display screen. In essence, the light on the screen goes off but your fan keeps working at full throttle till you tell it not to.
Setting it up is also easy and should take you not more than 9 minutes to get it up and running as soon as you get your order delivered to you.
Advantages
Oscillates at an angle of 80 degrees in order to ensure even airflow delivery in the entire room
Allows you control it from a distance with a remote control
Offers night mode option where the screen goes off in the night while the fan keeps blowing
Features 3-speed modes for a whisper-quiet airflow in the room
Takes up minimal space in a room
Disadvantages
May not be a perfect choice for the few people who need really powerful air current
9. Honeywell Comfort
Specifications
Manufacturer: Honeywell
Color: White
Modes: 3 speeds with oscillation
Weight: 18.76 pounds
Dimension: 8.3 inches x 7.5 inches x 32.2 inches
Other features: LED display with electronic controls, 52 dB at the highest speed
Review
Honeywell has positioned itself globally as a renowned problem-solver (of the major challenges people face all over the world). So, whatever product made by Honeywell that finds its way to your home, office or any space you find yourself, rest assured that product is there to solve a problem and make the quality of your life even better. Honeywell prioritizes safety, security, and environment among many other factors that should be considered. And it has a wide range of products to prove this point.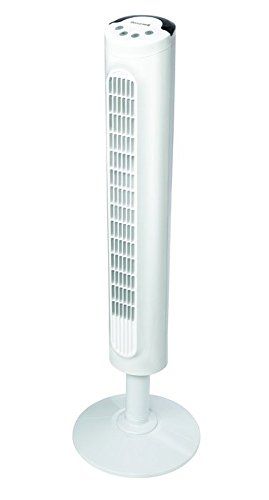 One of such products is its Comfort Control Tower Fan – a cheap fan (by cheap, we mean affordable) which comes in a sparkling white color and has a wide base that provides great stability for the fan but is not too wide that it takes up so much space.
At the top of this tower, the fan is an LED display screen that has easy-to-push electric controls for easy navigation around the fan's settings.
What's more? It has 3 speeds that provide even air distribution without disturbing your eardrums. What we mean is that the sound level is just noiselessly awesome.
It also gives you the benefit of a timed airflow with its timer. This timer allows you set a certain period in hours for which you want the fan to keep running. You are allowed to set the timer for 8 hours, 4 hours, 2 hours, or 1 hour. So, say you are working on a task that will require you to get up at a particular time, and you are very likely to forget to save energy by turning off the fan, you can set the timer to a particular time and enjoy the flow knowing that the fan will go off even when you are not there.
The fan also features a handle at the top that makes carrying or moving it from one place to another easy.
The "white noise" from the fan is just perfect. By this we mean it doesn't produce any disturbing sound when it is on. So it will be a great option for a sleeping room. And even at the highest speed where it gets louder, it doesn't make so much noise.
Assembly is also easy because the fan comes with screws. All you need to put it in place is a Philips screwdriver and you can have your fan running.
Advantages
Features and an LED display screen with push buttons that are easy to control
Has a timer that can shut the fan off automatically after 1, 2, 4, or 8 hours
Oscillates at 80 degrees and has 3 speeds at which it operates
Features a handle for easy movement to a different location
Makes quiet whisper sounds at the lowest speed
Comes furnished with screws and assembles easily with a Philips screwdriver
Disadvantages
It would be a better experience if it came with a remote control
10. Costway LCD Oscillating Tower Fan
Specifications
Manufacturer: Costway
Material: ABS
Color: Black
Modes: Normal, sleep, nature
Weight: 10.6 pounds
Dimension: 11.5 inches x 11.5 inches x 40 inches
Other features: 7.5-hour timer, lightweight
Review
Costway is an electronics company that provides its customers with a wide variety of home and garden products that are designed to make life better for them. Other items Costway manufactures are sports equipment, DIY projects, and hardware equipment. Think of just about anything you need in these areas and check Costway. You are likely to find at least one remarkable product for that need you have. In essence, when you shop Costway, you get quality at really low prices.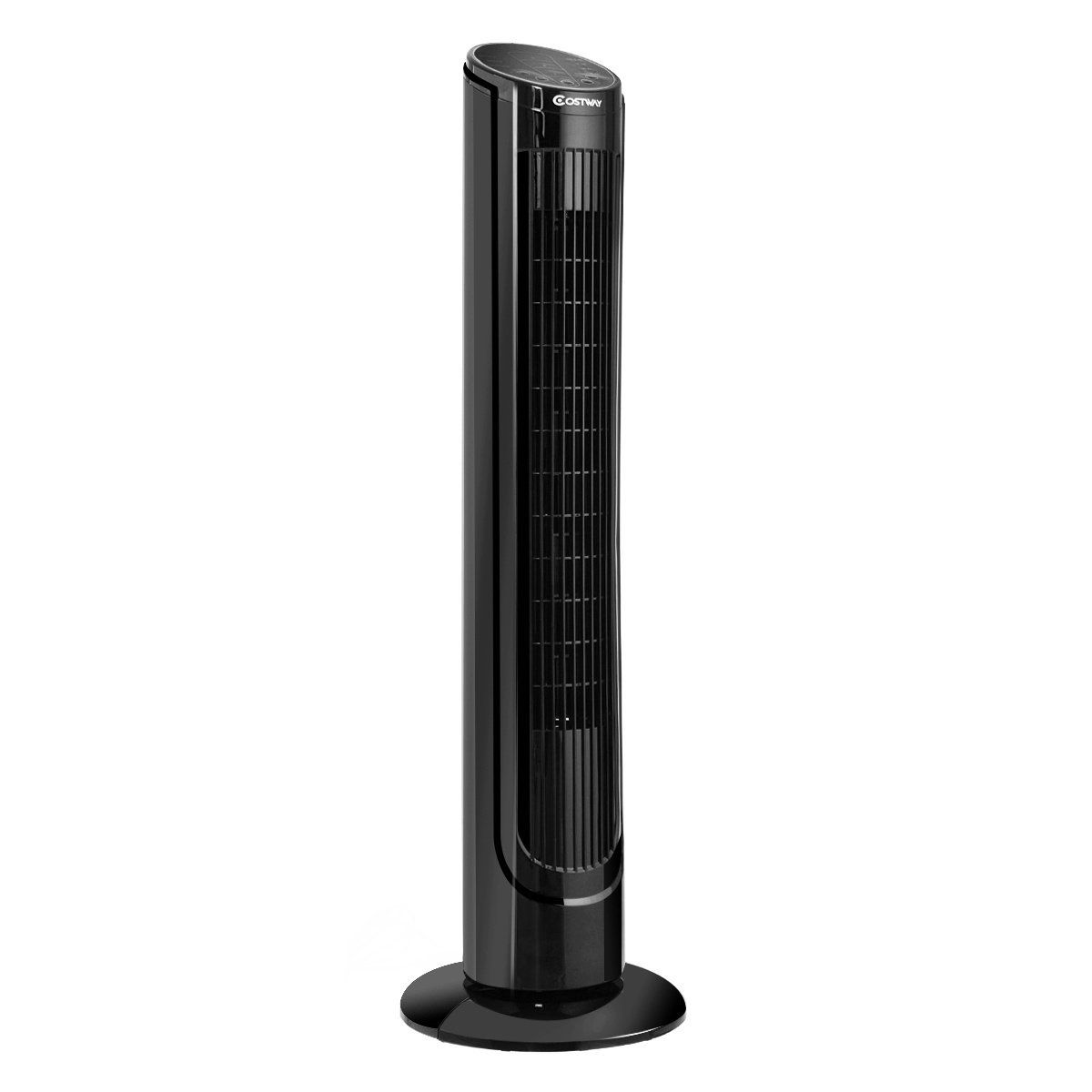 A good example is its black tower fan which has an energy-saving and user-friendly timer that allows you to set an auto shut-off for up to 7.5 hours. This fan also features 3 speeds that oscillate at 80 degrees to make the whole room cool. With the 3 modes, you can switch from "normal" to "sleep" or stay on the middle ground with "nature".
It is super convenient to thanks to its lightweight design. Moving it to desired locations is literally hassle-free too because it comes with a handle and it doesn't weigh so much.
When it comes to managing your space, you shouldn't think further than this fan because it has a steady base that takes up only very little space in your room.
Now to a major problem most people have with fans – the sounds some make. We can safely say you won't need to worry about this with the Costway LCD Tower Fan because it produces really low almost-whisper sounds that shouldn't disturb you or your afternoon nap. It does this effortlessly without sacrificing the power in the air current it is required to produce.
Finally, we know you may get bone-tired on some days without anyone to help you turn on the fan or change the modes, that's why we opted for a tower fan with a remote control like this one. So you can lie in bed while you control the fan from a distance.
Advantages
Comes with an energy-saving and user-friendly timer that you can set for 7.5 hours
Features 3 different modes – nature, sleep, normal – for comfort
Has an LCD screen that with electronic touch buttons
Comes with a remote control that can be stored in housing on the fan that is dedicated to it
Lightweight and handle features make it easy to carry and transport
Disadvantages
This fan would score a 10 out of 10 points for some customers if it had a steadier base
Conclusion
You think you know what you want in a tower fan now? We're sure you do. We took great pains to ensure that our guide contains important bits information you need to make a fantastic choice that won't cause you to have buyer's regret at the end of the day. We know that sucks! So hurry up and start ordering those fans before they get sold out.