If you're a busy person in the winter then you're probably fighting the cold, which can be a rather irritating thing for a job site. The cold can slow down workers and make productivity a lot slower than it usually is. If you have these problems then you should look into getting a kerosene heater. If you don't know much about them, don't worry, we're here to help you figure out what can be the perfect heater for you. Listed below are some of the best kerosene heaters to help you out on the job site, or in small project areas!
First off, we need to figure out how you will be using the kerosene heater? Do you want an indoor or an outdoor kerosene heater? A lot of heaters can't be used indoors due to the odors and fumes they give off from the kerosene. On the other hand, though, there are lots of models of kerosene heaters that can be used for the indoors. There are also more portable kerosene heaters that can be moved around quickly from place to place at a job site. Make a list of what you want out of your kerosene heater and then compare it to the models listed below to figure out just what you may be looking for.
Types of Heat
There are several different types of heating methods that kerosene heaters will use to keep the area warm. Here is a quick guide to the different types of heating the heaters use:
Forced Air: Air is forced through the system and heated
Radiant Heating: Heat is radiated outward from the source
Convection Heating: Cold air is pulled from the floor and heated
Pretty easy to understand, huh? Each heating unit works a little bit different and processes like convection heating may work better in an enclosed environment. Each heater listed below has the type of heat it uses stated.
Safety
While kerosene heaters are generally safe you still have to practice safety while using them. While using these heaters be sure to not put them anywhere near any item they may catch on fire. This includes doing things like throwing a sheet on top the heater while in use. Even the safest of heaters can have user malfunctions if they're not cared for properly while in use. Be sure to properly handle fuel and make sure that none spills on the heater. If it does clean it up to keep any possible accidents from happening. Never rush filling up your heater or shove it somewhere that it could be deemed unsafe.
Be sure to never use the heater anywhere that it says not to use it. If the heater is meant for strictly outdoor use then never use it indoors. If you use an outdoor heater indoors you can get things such as carbon monoxide poisoning because of the buildup of gas is released from the unit. This can be damaging to your brain and, can even be fatal if not caught in time or if placed around small children or pets. Always check where your heater should be used and strictly follow those instructions. If you ever feel light-headed while using the heater turn it off or open more ventilation. If ventilation doesn't work, immediately shut off the unit and do not continue use.
We have listed each unit below for their intended use. We have also made notes of any units that may be hazardous to use indoors. Please do not use any units not recommended for indoor use in a small enclosed area. We have taken special care to identify any possible safety issues with the below models. While they were some of the best heaters you can buy on the market, any object that uses fire or gas to fuel itself can be possibly dangerous. Young children should also never use a heater without supervision. While a child may be able to move a portable kerosene heater around the house, it should only be done with an adults supervision and while the heater is off.
1. Mr. Heater F270270 MH75KTR  Heater
Specifications
Manufacturer: Mr.Heater
Heat output: 75,000 BTU
Material: Steel
Color: Black
Weight: 43 pounds
Dimension: 14 x 32.7 x 17.3 inches
Safety auto shut-off: Yes
Other features: Quick Heating Technology
Review
This forced air kerosene heater features an encased motor with high air output for efficiency in warming the air around you. This model is made with keeping the worksite warm in mind. It is made to be operated at extremely low temperatures meaning even in the dead of winter you can rely on this model to keep you and your crew warm. It also comes in three sizes, giving you more or less power to pick from, depending on what your specific needs are. This heater can run up to a total of 11 hours and has an 8-gallon tank for you to put fuel into. That means that this heater can easily get you through an 8-hour work shift without you having to worry about refueling. The heater is also specified to be glove-friendly, meaning that you won't have to take off your work gloves and we'll just change your settings easily. This model costs around $230 and can be less or more depending on how much power you decide you need.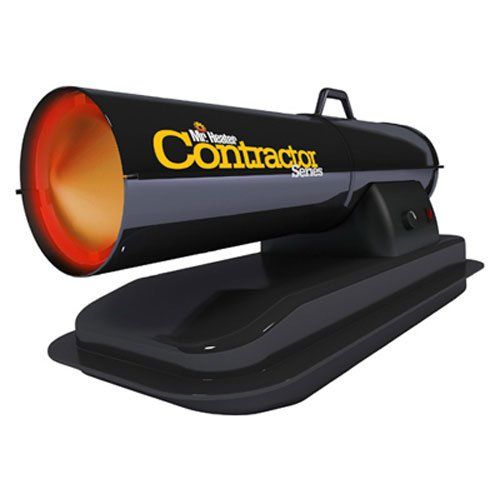 This model features an auto shut off if it gets too hot. This means you won't have to constantly monitor the heater in order to figure out if it's close to overheating itself. It also features a thermostat for you to be able to keep up with just how hot your heater is getting. This heater is made to be able to withstand quite a bit of aggression. It's made out of heavy-duty steel to get by any mishaps that may happen to it while on the work site. This unit has an easy off panel for you to be able to easily fuel the device in a breeze. This heater can heat over 1,500 square meters at once. It is also certified and it is completely rated for job safety and won't disrupt you while you're in the middle of a heavy project, as an added bonus these heaters can be assembled in less than 5 minutes. The heater can be immediately taken out of the box and put together to go to work with you. This is considered a kerosene torpedo heater due to its unusual shape.
Now come the negatives. Consumers have reported that after the first year they had issues with their heater. They also said that customer service was very hard to get in touch with, meaning it was hard to get the replacement unit for factory related malfunctions. Other consumers have also stated that this unit has trouble turning on when it's in negative temperatures. The heater can handle pretty much everything up to the point that the temperature starts to go negative, and may not be that useful on the job site once the temperature has plummeted to this point.
Advantages
Disadvantages
2. Dyna-Glo RMC-95C6B Indoor Heater
Specifications
Manufacturer: Dyna-Glo
Heat output: 23,000 BTU
Material: Metal
Color: Black
Weight: 23.1 pounds
Dimension: 17.5 x 17.5 x 27 inches
Safety auto shut-off: no
Other features: Tip-Over Shut-Off
Review
This Dyna-Glo kerosene heater seems to feature a lot and safety settings. It has an auto tilt shut off a meter that will make sure the heater turns off if it is bumped or ran into while it is working. This means that at the construction site you won't have to worry about being completely vigilant around this heater, as it can take care of itself if anything happens to it. While you can look forward to the 360 degrees of heating potential. That means that the area around the heater will completely be heated evenly, unlike some other heaters who just put air out either out the front or the back. The heater sits upright and is perfect for a smaller garage or work site. While it may not be as bulky as the last one on this list, it certainly can pull its weight in heating potential. The cost of the heater is around $160, and it has to be specially shipped in through a carrier like UPS or FedEx due to the large size. That means you can't just ship it to your P.O. box, so be prepared to have it delivered to your house. This heater can heat up to 21,000 square feet, so be sure to figure out just how much space you need to work with before you buy it.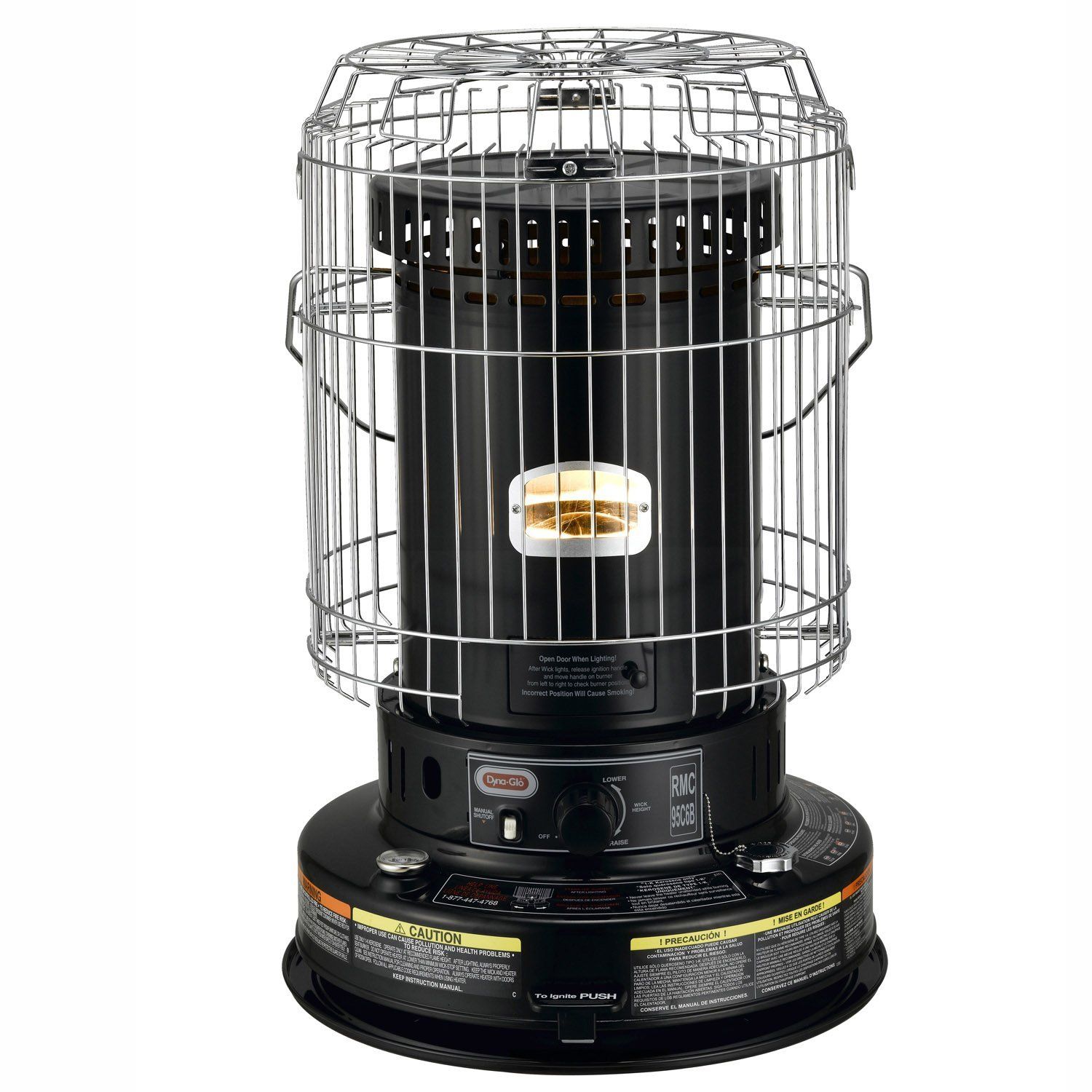 This heater is noted for meeting all of the safety requirements required by workforce safety. It has several features to keep it from becoming a dangerous on-site tool. This includes an auto off button that you can press if you notice that the heater has started to get too hot. On top of that, the tip over feature is just a great addition to any heater that may be around large objects. This heater also comes with a one-year warranty that will cover you if anything goes wrong with the unit just gives out for no reason. There's also a switch that will let you control when and where the heater is turned on and turned off, that will work well with your work gloves! The heater can also be used in emergency situations at home if your heating goes out. While it may not heat the biggest area, it certainly is effective in for small workshops.
This heaters main issue seems to be how well it can function in an indoor environment. Consumers report that the heater isn't great for indoor use due to the fact that you can't really breathe because of the exhaust. This can make it hazardous to use indoors and is best used outdoors or in a very open area. Also, remember that this heater uses a wick, so it won't be as automatic as some other things on this list and if the wick won't ignite, or if you've used them a lot then the wick will have to be manually replaced in order to use the unit again.
Advantages
1-Year Warranty
Tip Over Sensor
Disadvantages
3. Kero World KW-24G 23,000-BTU Heater
Specifications
Manufacturer: Kero World
Heat output: 23,000 BTU
Material: Metal
Color: Gray
Weight: 20 pounds
Dimension:18 x 18 x 22.2 inches
Safety auto shut-off: yes/no
Other features: 2-Year Warranty
Review
This heater works by taking the cold air from the floor and turning it into warm air put back out into the room. This can help pull the cold from the room faster and return it to you warm. This heater heats up to 900 square meters. It features a 1.9-gallon tank that can last up to 12 hours of heat output. This model can only use clean kerosene and anything else you put in it will not make the heater run to efficiency. Make sure that your kerosene source doesn't have anything else mixed in to avoid problems using the system, or future malfunctions caused by using dirty kerosene. This heater runs off of batteries, as well, so make sure you have some C batteries lying around in case the ones that come with it run out anytime soon. This heater also has a wick which comes already installed when you remove the unit from the box. This heater will be a little bit over $160 and can be purchased from retailers like Amazon.com. It also features different heat settings for you to choose from, so you can control just how warm the room gets. Be warned though, the higher the heat setting is the more you'll use up the battery power.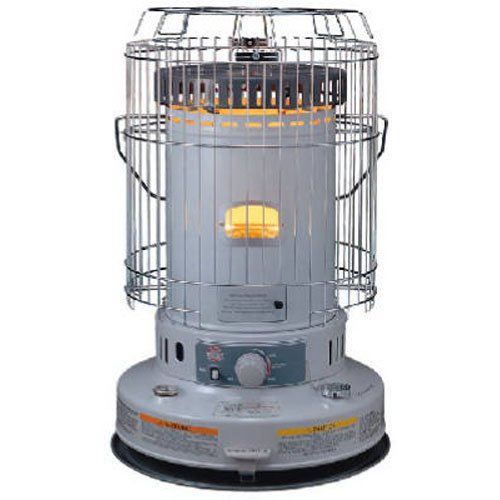 This heater is a portable model that you can tote around anywhere you may need to take it. Due to its portable size, it will be easier to move around than most other models on this list, and can even be carried around inside your home. It also features a 2-year warranty that will take care of any manufacturer's issues that come up during this period of time. It also comes with a set of batteries to help you get started when using this heater right out of the box. Since this heater runs on batteries, it is wireless and doesn't limit you to where you can set it. As long as you have batteries on hand, this heater can pretty much be put anywhere you need it to be!
It was pretty hard to find a lot of information on this heater due to the fact the company doesn't list a lot of specs. A lot of what you're going to find out about the heater is going to be from consumers who have already bought the model. Also, be warned that you can run out of energy and fuel quite fast if you leave it on a higher setting. Keep in mind that you'll have to constantly replace both the fuel source and the battery Source in order to keep it running in cold-weather environments. It also does not feature any type of safety cut-offs, which means you're going to have to keep a closer eye on this heater than others on the list to make sure nothing is overheating or you don't knock it over while working.
Advantages
Disadvantages
4. Dyna-Glo KFA50DGD  Heater
Specifications
Manufacturer: Dyna-Glo
Heat output: 50,000 BTU
Material: Steel and Aluminum
Color: Black
Weight: 26.9 Pounds
Dimension: 32.0 inches x 11.7 inches x 16.7 inches
Safety auto shut-off: yes
Other features: Fuel Gauge
Review
This Dyna- Glo kerosene heater is also made by the Dyna-Glo company but is a more powerful model on our list at 50,000 BTU. This heater comes with a ton of features to help you make it through the workday safely and easily. The heater features a safety mode that will switch it off if it starts to overheat, so you won't have to worry about constantly checking on the heater for safety. It's fueled by 1- Kerosene or #1 Diesel giving you some options in just how you want to keep this thing running throughout the day. It can heat up to 1200 square feet for up to 14 hours at a time. It can hold 5 gallons of fuel in the heater at once, and it has an easy out cap that will make fueling the heater at any point a complete breeze. It can be easily used for worksites or a working garage to keep you and your crew warm while you're working. It's available on Amazon for about $180 and will need special shipping like most units on this list, it can't be delivered to a P.O. Box due to its larger size.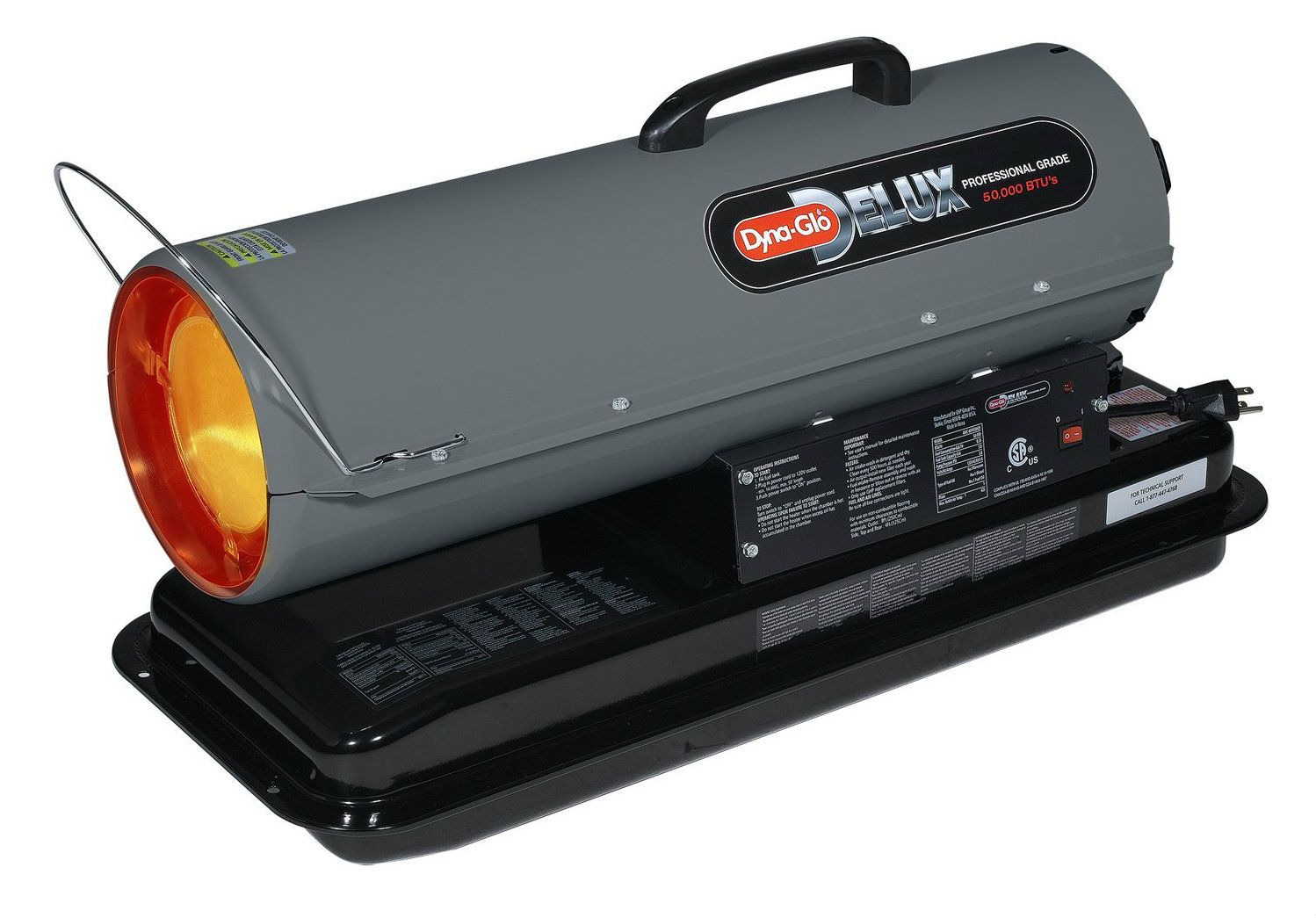 This heater features a fuel gauge that will let you know just how much fuel you have left in the tank before it's going to run out. You can use this to monitor just when you need to refuel the heater and can even time it to get it down to an exact moment that it will need to be changed out. This heater also features an auto-off setting that will take care of any overheating that could possibly pop up while you're working. It is powered by an auxiliary power cord, so you will have to have something to plug it into in order to run it. As long as you can have a battery with a plug-in on the job site though, it shouldn't be a problem to keep this heater up and running throughout the day. The heater has it's motor encased, meaning that it will keep the element out for longer. This feature makes your heater last longer by keeping rust and corrosion from taking it out over long periods of outside use.
The downside with this heater seems to be the fact that it doesn't seem to last as long as other models. Consumers have reported that this heater may be cheaper but it goes out faster over time. They have said but it will just randomly stopped working after an extended period of use. Just have reported that they've had to open up the unit in order to replace parts that broke upon arrival. They also have reported that things like plugs seem to come loose easily in the unit if moved around a lot and you're going to have to be prepared to do some minor catching here and there.
Advantages
Fuel Gauge
Safety Shut-Off
Disadvantages
Cheaply Made
Breaks Quickly Over Time
5. Sengoku CV-2230  Heater
Specifications
Manufacturer: Sengoku
Heat output: 23,000 BTU
Material: Metal
Color: White
Weight: 15 Pounds
Dimension: 18-3/4 by 18-3/4 by 27 inches
Safety auto shut-off: yes
Other features: Fuel Gauge
Review
This model of heater is smaller than others on our list and has less heat output. It isn't ideal for a job site but would work well in a small shop or inside your home during emergency situations. If features of fuel gauge to let you know just how much will you have left before you need the top it off again. This is a nice added feature for such a small unit and will help you know just how long you have feelings. Cheap it is also pretty lightweight compared to the other engines on our list only way in about 15 lb. This makes it much more portable than other units, but at the same time you have to remember the smaller size is going to equal to smile or heat in the long run. this unit will run you about $150 and can be ordered from Amazon. Animation places like PO Boxes though due to a smaller size and maybe more accessible for some users on this list who have been done and by the larger size of the other units.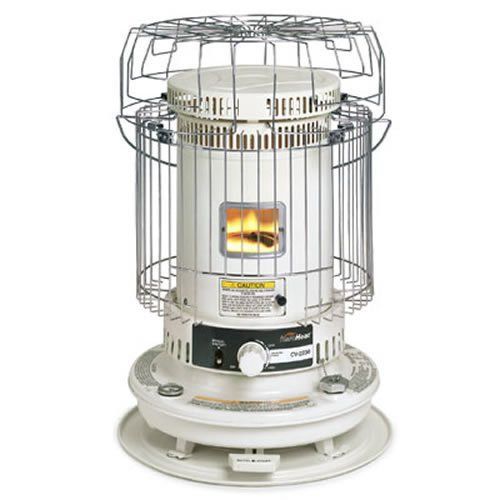 This heater is extremely portable due to its small size which makes it great to move from room to room in your house. The heater will also work perfectly for emergency situations in case your heat goes out in the colder months of the year. It only takes 1.9 gallons of fuel to fill up this heater and it can run up to 12 hours of runtime, making sure that you are warmer for longer. It doesn't warm as much space as the other heaters, but it does have a pretty long run time meaning it will be super reliable in situations where you can't get out for a while and only have a small fuel supply available. It also has a safety shut off built-in so that you won't have to worry about checking up on how hot this heater is getting. So, when it's cold you can leave the room without worrying about having to pay attention to your heater for long periods of time.
During cold winter months, this model of heater actually can be pretty hard to find in stock. This means that you're going to have to buy this model ahead of time when you don't need it in order to be sure you have it once winter hits. It also can be seen as pretty high in price for the small size of the heater, combined with the area that it can fully heat. The company also was a little bit sparse on details, so you're going to have to read what the other consumers say to get a full picture of just how well this unit is going to work in your life.
Advantages
Disadvantages
6. Sengoku KeroHeat CTN-110 Heater
Specifications
Manufacturer: Sengoku
Heat output: 1,00 BTU
Material: Plastic and Metal
Color: White
Weight: 20 Pounds
Dimension: 20 x 12 x 19 inches
Safety auto shut-off: yes
Other features: 3 Safety Features
Review
This radiant kerosene heater, so far, has the most safety features out of any other mode on this list and it has a safety guard in front of the heating portion to keep people from burning their hands. This makes it a great addition to your home if you have small children or pets who like to be nosey where they shouldn't. It also features an auto shut-off capability in case it gets too hot, as well as, a tip over in case something happens to knock the heater over. This way you can breathe easy knowing that your heater is safe in your home and won't cause anything like an unexpected fire if left unattended for a long period of time. It has a 1.2-gallon tank and can run for upwards of 14 hours on low heat settings. It's also super lightweight making it so easy to move around the house that even young children can manage it. This heater will cost you about $125 to purchase and can be shipped to your home rather easily due to its small size.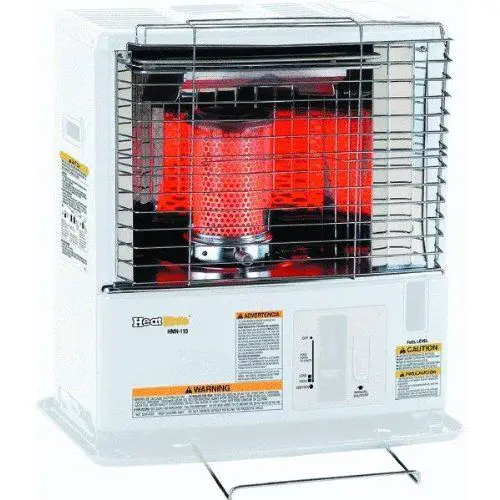 On top of being an ultra-safe heating model, this heater uses batteries meaning it's even more portable than most models. By not having to be powered, this cordless heater can go places that most other electronics can't. It is powered by C batteries and a set of them is included with the heater when you buy it. This heater will make a great companion for small rooms or office areas that need to be heated in an emergency situation like a power outage. The heater is a battery-powered heater makes it even more useful during cold winter night where a storm of ice may have taken down power lines! This kerosene heater can only use basic kerosene fuel so be careful what you try to put it to fill the tank up.
This heater is a little bit expensive for the amount of room at can heat. If you have a larger bedroom is not going to do you much good, but in a small area like a child's room, it should be perfect. I'm a little bit sad this doesn't feature a plug-in option as well. Batteries can be expensive over time to buy, and by giving it a plug-in option as well it becomes more useful for times other than power outages. There have also been reports that the heaters don't automatically come with a wick and you have to order one separately. On top of that, it seems to be a little bit hard to figure out how to install the wick and the instructions aren't the clearest on how to put together and use the unit.
Advantages
Disadvantages
Hard To Put in Wick
Poor Instruction Manual
7. Dyna-Glo RMC-55R7  Heater
Specifications
Manufacturer: Dyna-Glo
Heat output: 10,000 BTU
Material: Metal
Color: Ivory or Back
Weight: 20.9 pounds
Dimension: 22.3 x 11.9 x 19.3 inches
Safety auto shut-off: yes
Other features: Tip Over Shut Off
Review
This is another small Kerosene heater on our list. While this model also won't have a huge punch like some of the more expensive models, you can heat up to 500 square feet with it. This makes this model perfect for a small room or an office area where it may get a little bit chillier during the winter. It has a built-in safety switch that will shut the power off if the heater is knocked over. This means that it can be used inside if you have rambunctious pets or children who like to run around often. The heater features a one-touch shut off button making turning the heater off simple. If you have to rush out of the house quickly all you have to do is press the button and you are golden. This makes worrying about whether or not you actually turned the heater off a simple process! This model sells for around $145 on Amazon and can easily be delivered to most any addresses due to its small size.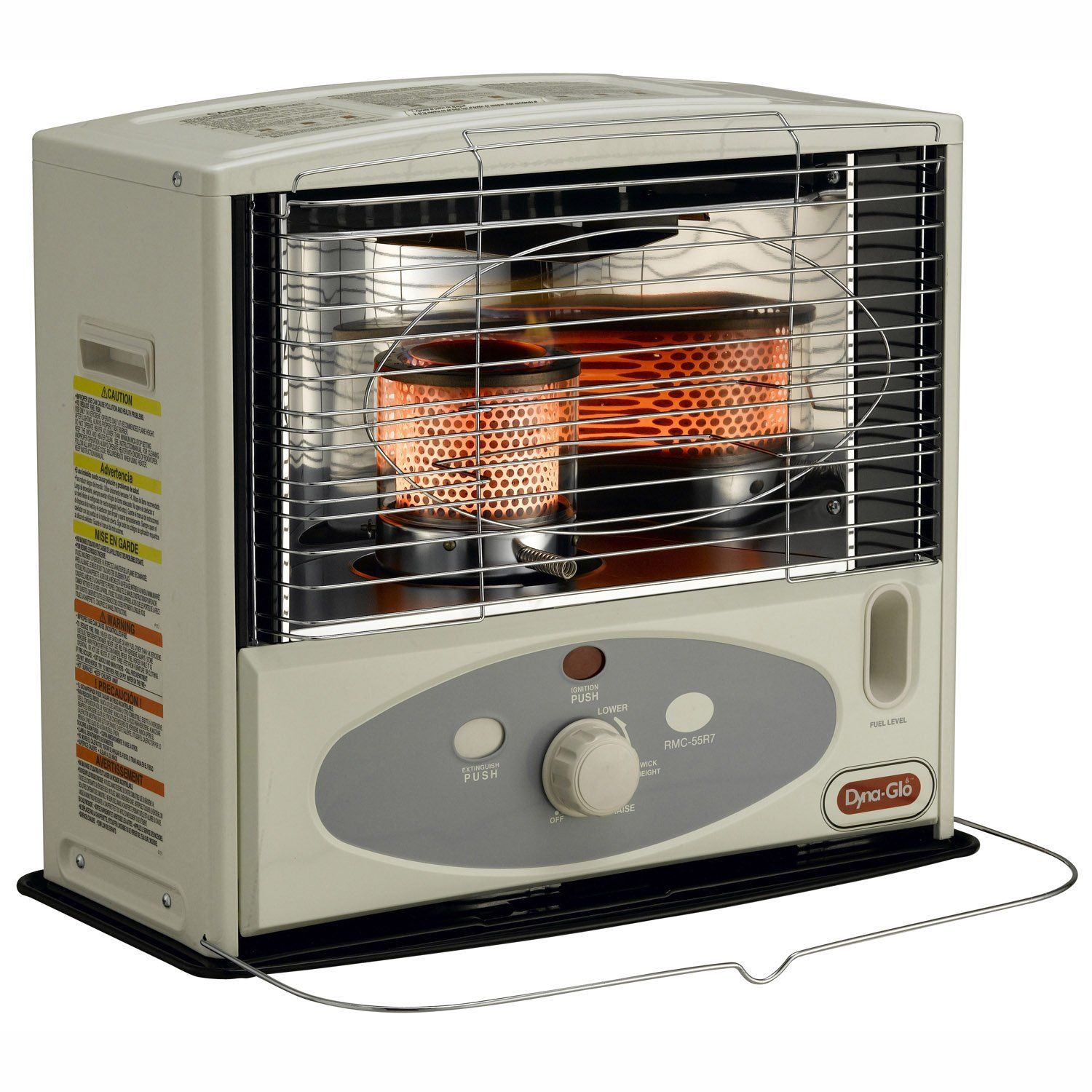 This radiant kerosene heater claims to help lower your heating bill if you are using it in selected areas. By shutting off your heat and using this heater to heat the area that you're going to stay in, It can possibly save hundreds of dollars a year on your heating bill if in use during the winter. This is great for anybody who is economical or has been looking for a way to cut down on high heating bills. It also can be great for homes where people constantly argue over the temperature of the house. There's also one of the lighter models, you'll be able to easily move it around the house and can it be placed pretty much anywhere that it is needed. This model has a 1-gallon tank and will cost you less than $3 to fill up in most places. This heater can run up to a total of 13 hours without having to be refilled. You also will get a one-year limited warranty to cover any factory malfunctions that may happen after you purchase it.
It seems like this heater actually gives off a smell while it is in use. This can be bad for people who are easily agitated by strong smells or odors. It also means that using it in an extremely small place like a bathroom without some form of ventilation would be a very bad idea. The heater has the second highest number of negative ratings out of all the models on the list, and people say it takes an extensive amount of maintenance to keep it running properly. Sadly, this means that if you don't know how to do proper maintenance on a kerosene heater, then this model may not be for you because it will break down rather easily.
Advantages
Disadvantages
Bad Ratings
Maintenance Required
8. Dura Heat DH1051 Indoor Kerosene Heater
Specifications
Manufacturer: Dura Heat
Heat output: 10,500 BTU
Material: Metal
Color: Grey
Weight: 17 Pounds
Dimension: 22.5 x 13 x 13 inches
Safety auto shut-off: No
Other features: Long Run Time
Review
The Dura Heat kerosene heater is another great pick for a kerosene space heater. This model can run up to 15 hours with its 1.1-gallon tank filled. This is a great cheap kerosene heater for those of us on a budget, at only $147 this is a lower price than most models on the list and will attract many economy shoppers. The heater has different settings that will affect the fuel length which will strongly rely on how hot you burn the heater. If you run in on the lower heat settings then it will, of course, last longer amounts of time than the high settings. The heaters use wicks that will need to replaced after extensive use. Replacements are rather cheap, but you're going to have to know how to put them in in order to keep the heater in working order. This unit is best used outdoors, or in small spaces where you're trying to work.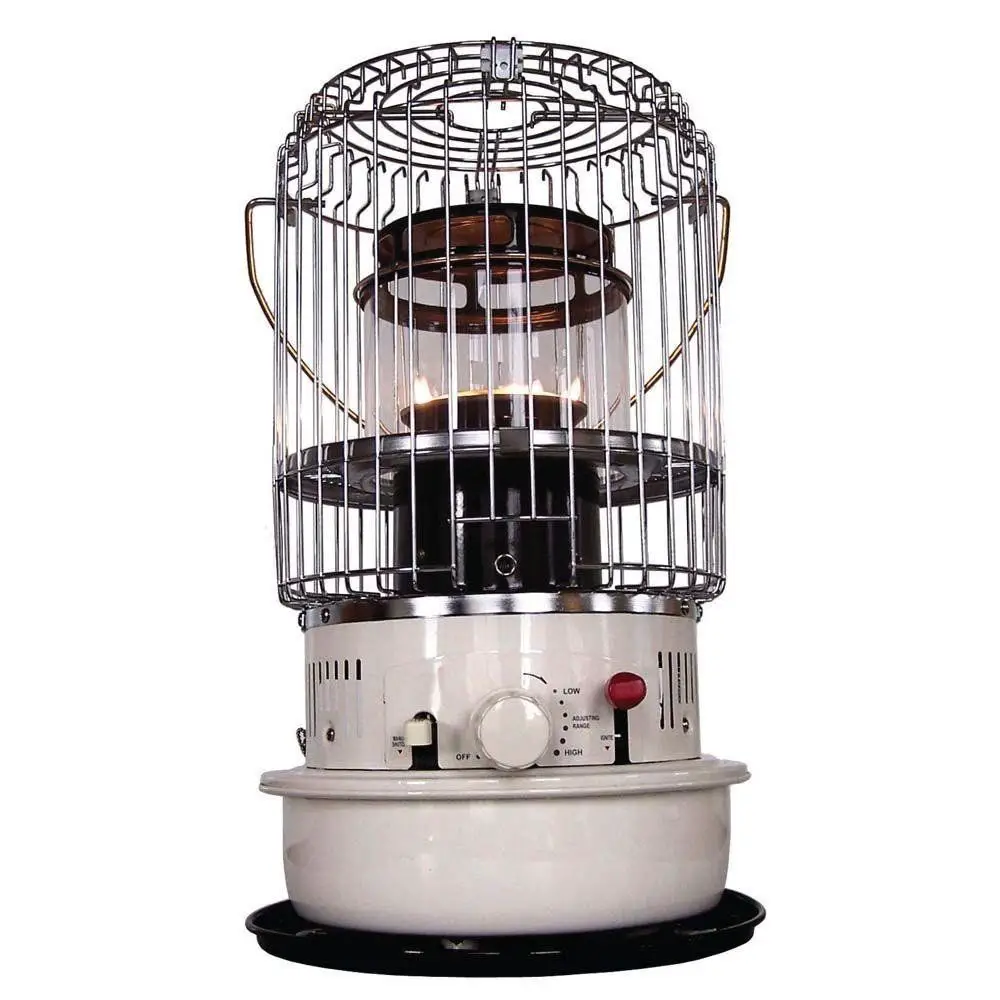 This is another battery-powered model, you're going to have to have batteries on hand in order to use it. Thankfully, it seems like it's a pretty easy setup. Other consumers have reported that this heater is pretty much ready to go as soon as you take it out of the box, and can be set up rather easily. There is a battery box in the back where you will need to supply batteries to it and it is pretty easy to find as. The heater can be ported around pretty easily due to its light size and is great for jobs where you are going to be moving around a lot. While it may not be able to heat a huge area, it's going to be good for something like a small garage where you're going to be working on things like a car.
This kerosene heater actually has the highest percentage of bad feedback out of any other model on this list. People have reported that it doesn't have any safety shut-off features, and you have to watch after this heater the whole time it's in use. On top of that, consumers report that it overheats easily and in a few cases it has started to melt the battery pack off of the unit. A lot of states even ban this heater from being used inside due to the radiation it puts off. Overall, this heater has a very small number of places where it can be used safely and efficiently.
Advantages
Disadvantages
Choosing Your Heater
Now that you thought over all the different selections on the list, it's time to pick a heater. Make sure you pick something within your budget range that will work with what you said you want out of it. Many of these heaters can only be used in small areas, while others are only suitable for a large work environment. You also need to consider whether these heaters have the safety features you're looking for and whether they're good for indoor use. Kerosene heaters can put off an odor that can give the user a headache or worse symptoms if not properly monitored or being used in a ventilated area. Make sure to pay attention to any notes we may have put in about the heater being used in the indoor or outdoor areas to see if the model is best for you.