What are quiet fans?
There is nothing like some peace and quiet, with some gentle breeze from your fan cooling the room, especially when you are working or sleeping. They make you view things around you with a relaxed mind. But little else bogs you down like a noisy fan. You cannot concentrate or relax with that screeching or buzzing coming from it. Believe it or not, it is one of the most irritating things that exist.
This is where a quiet fan comes in. Its efficiency and output quite trump older model fans. Not only does it give you the sweet breeze you desire, it makes no noise at all. Thing is that this type of fan was made to do away with the problem of noisy fans as well as provide a better output, among other things.
Now, before going any further with this buying guide, let us have a look at some important factors to consider before you buy a quiet fan.
How does a quiet fan work?
There is nothing complicated with the functionality of a quiet fan. It is a step up from the usual types of fans that you know because it is quieter than normal. That is the main reason why it was invented in the first place. The trouble of a whining or screeching fan, be it standing, ceiling or table, has created the necessity. As the name indicates, quiet fans are usually too quiet for you to notice that they are switched on.
A quiet fan has different types, made to suit differing needs. You have to know the reason for electing for one and then buy accordingly.
Types of quiet fans
There are four major types of quiet fans, made for different needs:
Ceiling Fans: When you have a ceiling fan that is faulty and noisy, you would feel so uncomfortable and unable to relax. But when you have a fully functional quiet ceiling fan, it is bliss. It is not just quiet but it also gives the most output because it circulates more air, adequately cooling the room where it is when the weather is hot. Quiet ceiling fans work best for large spaces because the output may be too much for smaller spaces. And in addition to that, most of them carry simple lights to illuminate a room
Oscillating Fans: Best suited for a small space like your bedroom or a sitting room, an oscillating quiet fan rotates from one point to another to maximally create air for every part of the room. It is usually very quiet, giving off little or no noise when switched on but works well. You could use this in your workplace but it may not give the best because of the size of the ceiling fan would
Tower Fans: Again, this is best suited for small spaces like your bedroom. However, this could cover a larger area than an oscillating fan, but not as much as a ceiling fan, because it is tall. The higher a fan is, the more air it is capable of spreading. A tower fan is equally very quiet and consumes less ground space than any other; it is usually slim and tall. A tower fan may come with an ionizer to freshen the air around you
Room Fans: A room fan is a portable fan, usually electric, and directs air to a particular space. It can come with an oscillating design, be stationary or have its head move up and down on a pivot. It comes in different sizes and shapes and could fit into your office or bedroom
Based on the above-listed types of quiet fans, you need to know what you need it for and where you would like to have it placed before you can decide on which to go for.
Things to consider before picking out a type of quiet fan
Space
A small space may not need a ceiling fan because it may be too much for it. And a workspace may be too large for an oscillating fan. Where do you want it placed? Do you even have enough room for it? You may opt to buy a room fan and later discover that you only have enough room for a tower fan. So, map out the space you have for placing it, that is if it is not a ceiling fan you choose. Then know how big the room it is meant for is so you do not have an overkill, or 'under kill' for that matter.
Effectiveness
All quiet fans from different brands do not function the same way. Whether we acknowledge it or not, some will definitely work better and last longer than others. If you have a particular model in mind to buy, you may need to find out all there is to know about it before buying. How well does it work? What is its lifespan? How often would you need to clean it? Is it plastic and if it is, is it sturdy enough?
The best quiet fans always have efficiency or effectiveness as the number one goal. It does not matter that it is a brand you may have trusted for other home appliances; it may not have the best quiet fans in the market.
Price
Inexpensive does not always mean inferior and expensive does not always mean superior. You have to bear this in mind. Do not overlook a quiet fan just because it is inexpensive. The price may be the company's competitive advantage in order to increase market share. But if you have the money to splurge, why not spend it? There is no gain in scrimping on your own comfort. However, if you deliberately scrimp when you have the money to spend, you may end up with something harmful to you or your family.
A lot of quiet fans are affordable. Do not go out of your way to look for cheaper than the cheapest you find. To get the best for your needs, you have to spend. But do not go above your budget. It is necessary to have a budget for it and stick to it. So, decide what the maximum you can spend on it is and stay within it. It would go a long way for you.
Location
A quiet fan is suitable for a workplace because it does not make any noise. However, would you put it in your personal office or a larger space? And would a rotating fan disturb your work? Even though you have the option of turning it off, the type of fan you decide on would go a long way in determining the level of comfort you get. You may need a tower fan but end up buying a room fan, as an example. At the end of the day, the purpose would be defeated because the circulating power of a tower fan is greater than that of a room fan.
This buying guide would make buying a quiet fan a lot less of a chore but that is if you stick to these basic guidelines. To make it even simpler, here are reviews often great quiet fans from some of the best manufacturers.
1. Dyson Air Multiplier Tower Fan
Specifications
Manufacturer: Dyson
How many speed setting: 10
Material: Metal
Color: Black Nickel, Iron Blue, Silver White
Weight: 12 lbs.
Dimension: 9.1 x 9.1 x 39.6 inches
Other features: It does not have spinning blades
Review
Dyson is a popular household technology manufacturer. It has a wealth of experience, and if you couple that with its commitment to research, innovation, and taking feedback from the actual users, it won't be surprising that it creates some of the best products. Its well-designed products have practical usage with superior performance and durability.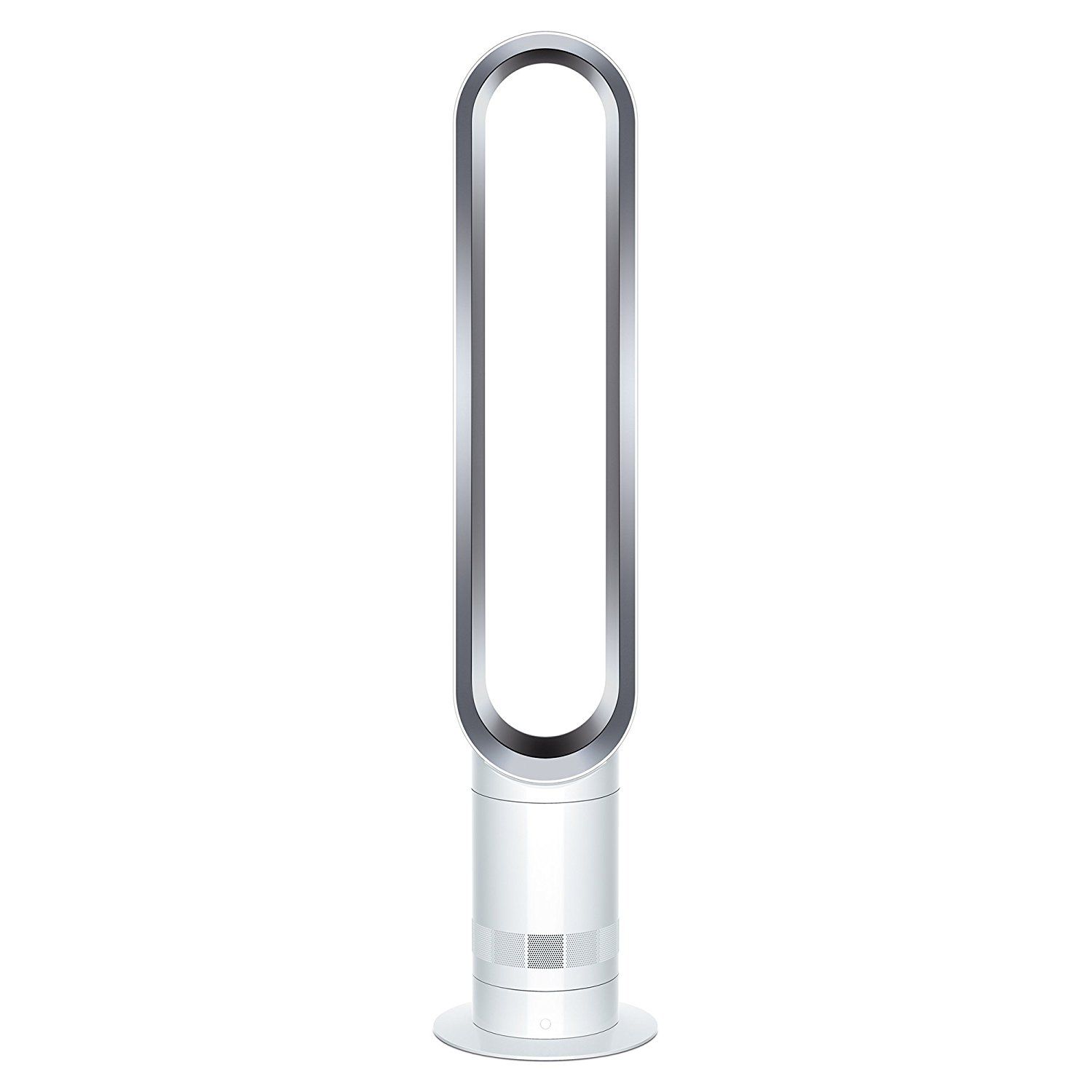 The Dyson Air Multiplier Tower Fan is a must-have in every home. Not just because every home needs a fan, this super quiet fan also doubles as an air purifier. It captures over 95% of the allergens and pollutants in the air around your space. Using its Air Multiplier technology, it projects purified air into the whole room while circulating it to reach every corner.
It uses an engine that requires less energy to circulate clean and powerful airflow across your room. This also saves you some money on energy bills. Furthermore, you can afford to adjust your thermostat to energy saving mode.
This fan can be controlled remotely with a neatly designed remote control, so you can perch comfortably on the couch and determine the type of airflow you want in the room. With 10 airflow settings, sleep timer, oscillation control, etc. you have a lot of control options to choose from to get you comfy in your domain. One cool aspect of this remote control is that it has a curved surface and is magnetic. That way you can easily attach it to the side of the air purifier itself so it can easily be found by anyone else who wants to use it.
Unlike the regular fans we know that circulate air with fast-spinning propeller blades, this one does not have any blades on it. So, you don't have to worry about your kid playing around it. It is totally safe, a little child, even some adults, will probably consider this fan a decorative furniture. We're not kidding, this fan looks that good. In fact, it would neatly pass as one while its working or it's not in use. You can be happy with yourself for buying an air purifier that doubles as a décor item.
It is available in white silver, iron blue, and black nickel colors, so the choice is yours to get one that matches the theme of your home.
Advantages
It is tastefully designed such that it looks more like an interior décor item
It is effective at purifying and circulating the air
It does not have any spinning blades that could cause injuries
It consumes less energy to do its job efficiently
It uses a magnetic remote control for convenience
Disadvantages
It uses the American voltage standard, so you might need a voltage converter to use it outside the country
2. Rowenta Turbo Silence Oscillating Stand Fan
Specifications
Manufacturer: Rowenta
How many speed setting: 4-speed
Weight:19 pounds
Dimension: 18 x 18 x 54 inches
Other features: Remote controlled, has height adjustment.
Review
From its inception in 1909, Rowenta has been consistent in the delivery of top quality products for the discerning consumer. Its products combine innovation with the best designs and cutting-edge technology, making them highly efficient and user-friendly. Rowenta is committed to making day to day activities easy, efficient and enjoyable with its numerous products. Recently, it has also started designing products that are eco-friendly as part of its contribution to the preservation of our world.
The Rowenta VU5551 Turbo Silence Oscillating 16-Inch Stand Fan is one of the top quality products from the brand. This is a powerful and quiet fan. It is a special product because you usually do not use words power and quiet to describe one product. Most powerful fans are also noisy but not this and that makes it special.
It's five specially designed blades allow it move air up to 1695 cubic feet per minute without sounding like a hurricane. That you want a silent fan does not mean it should not blow enough air around as shown with this product. It actually has a noise level of between 40 to 57 decibels which is very quiet compared to other brands.
This fan offers you great flexibility. You can adjust the stand to anywhere from 42 to 54 inches to get the height that is perfect for you. It also offers you 4-speed options from low to high. You also have the option of turbo speed to really have a blast of air when you really need to cool things down very quickly. Did we mention that it comes with a remote control? Sorry, it does come with a remote control so you do not have to stand up to change the speed setting.
Aside from the fact that it oscillates, the head can be adjusted to direct the air movement. You can move the head 90 degrees in all directions. You can turn it up, down or to either side or you can just let it oscillate at a chosen angle.
This is an ideal quiet fan for bedroom, office, living room and even patio use. You can move it to any location you need it to be with ease, thanks to the handle built into the head. Its base is solid so you have no fears of it tipping over.
Once again, this is another great product from Rowenta. Anyone looking for quiet fans for home use should certainly go for this because it is quiet but does not compromise power for quiet.
Advantages
It has powerful blades that move air up to 1695 cubic feet per minute
The blades are specially designed to move air very quietly
It has 4-speed options for easy speed control
Its height is adjustable, making it easy to choose the height that's perfect for you
It has a remote control, increasing the ease of use
Disadvantages
The grill can easily get rusty. Do not let water get in contact with it and only clean the grid with a vacuum cleaner
3. Holmes Blizzard Rotating Fan
Specifications
Manufacturer: Holmes
How many speed setting: 3-speed setting
Material: Plastic and metal
Color: Black, black, and silver
Weight: 5.51 pounds
Dimension: 7.1 x 18.1 x 19.6 inches
Other features: Special blade design offers 40% more airflow; a timer that allows you automatically turn it off after a set time
Review
Holmes understands that the home should be a place of comfort and it offers products to ensure this is the case. From top quality fans to humidifiers, air purifiers and heaters, its focus is the total comfort of the space you call home. Its products are brilliantly designed to offer optimal performance and good value. To turn your home into a comfortable haven, look through Holmes' collection of top products for one that will help you achieve your goal.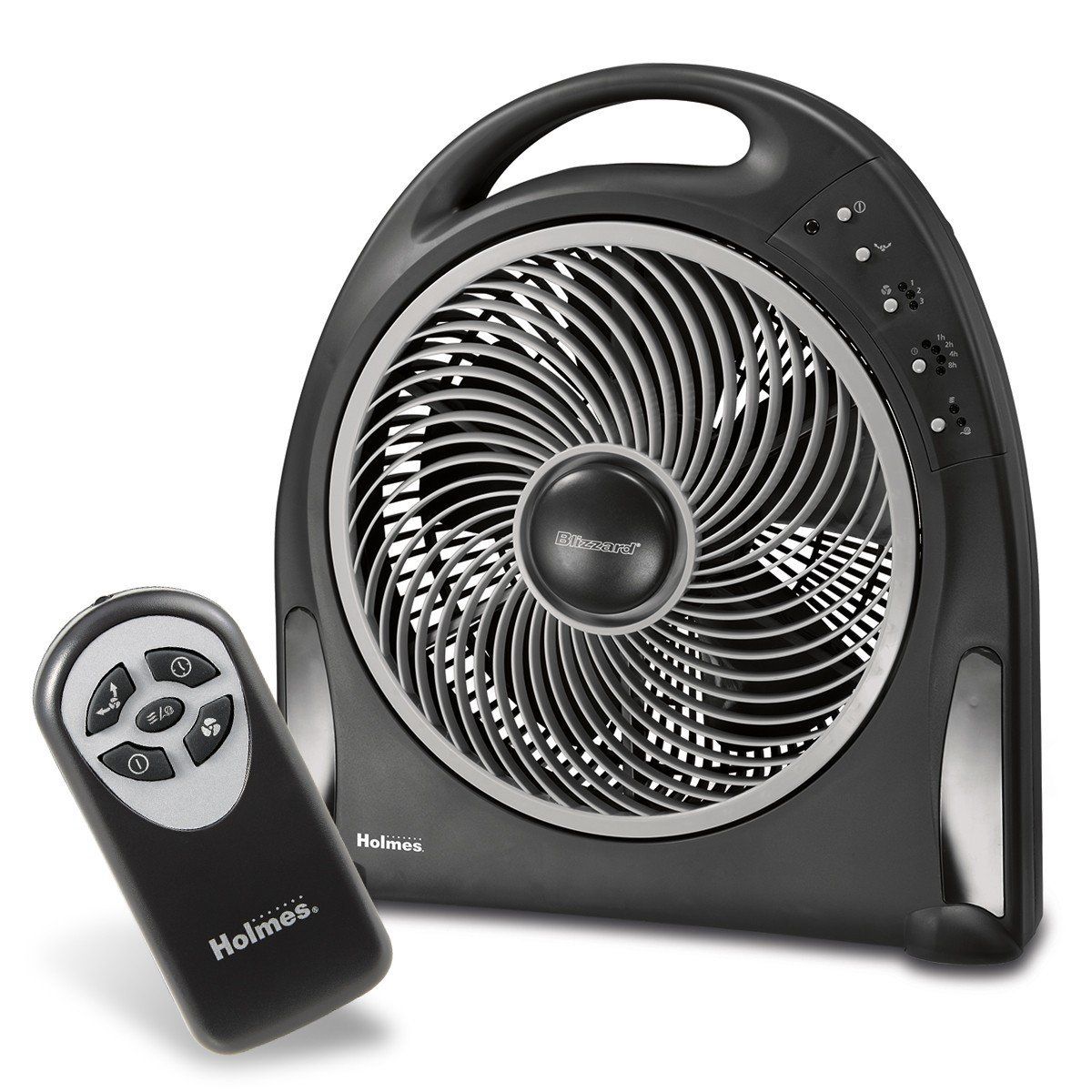 One product you can consider is the Holmes HAPF624R-UC 12 Inch Blizzard Remote Control Power Fan. This is a fan that has been designed by Holmes to provide impressive air dispersion without taking up a lot of space. Its compact design makes it perfect for a quiet fan for bedroom use. Despite not taking up much space, its uniquely designed grill rotates to facilitate a more efficient dispersion of air. In fact, with this design and the special blades, air flow is increased by up to 40%. You will be amazed at how quickly this baby will cool a room.
For easy use, it comes with a remote control that allows you to control it from the comfort of your bed or sofa. Imagine you were sleeping and wanted to adjust the speed, the thought of having to stand up to do that might make you decide to endure whatever setting it may be on. However, with the remote control, you can make adjustments from where you are. You will not know how important this is until you find yourself in a situation where you have absolutely no desire to stand up to do anything.
Aside from the remote control, it has a 3-speed setting which allows you choose how fast or slow you want it to go. This is in addition to the 2 breeze modes that allow you choose your airflow setting. Of course, these functions are also available on the remote control.
One other feature offered in this product is the timer. You can set the fan to stop automatically after a set time. The timer can be set for up to 8 hours.
For anyone looking for a quiet room fan, this product is one you should strongly consider. It is a powerful but silent fan and is very easy to operate thanks to the setting options and the remote control.
You can also move it around with ease by means of the included carrying handle. It is compact enough to be moved around. Move it from your bedroom to the patio or living room and when you are done there, move it back with you to the next space you want to occupy.
Advantages
Special blade design offers 40% more airflow
Grill rotates to offer a wider coverage area
Offers 3-speed settings for easy customization
Comes with a remote control for increased ease of use
Includes a timer that allows you automatically turn it off after a set time
Comes with a 3 Year limited warranty
Disadvantages
It may tip over if used on an uneven or carpeted floor
4. Vornado Large Air Circulator Fan
Specifications
Manufacturer: Vornado
How many speed setting: 4
Color: Black, White
Weight: 9.96 Pounds
Other features: Inlet Air Accelerator to increase airflow and direction.
Review
Over the years, Vornado has built itself up to become synonymous with air circulation and indoor aeration. Vornado is committed to increasing the comfort and relaxation of every human being. That is why it has dedicated itself to mastering the fine art that is indoor cooling and air circulation.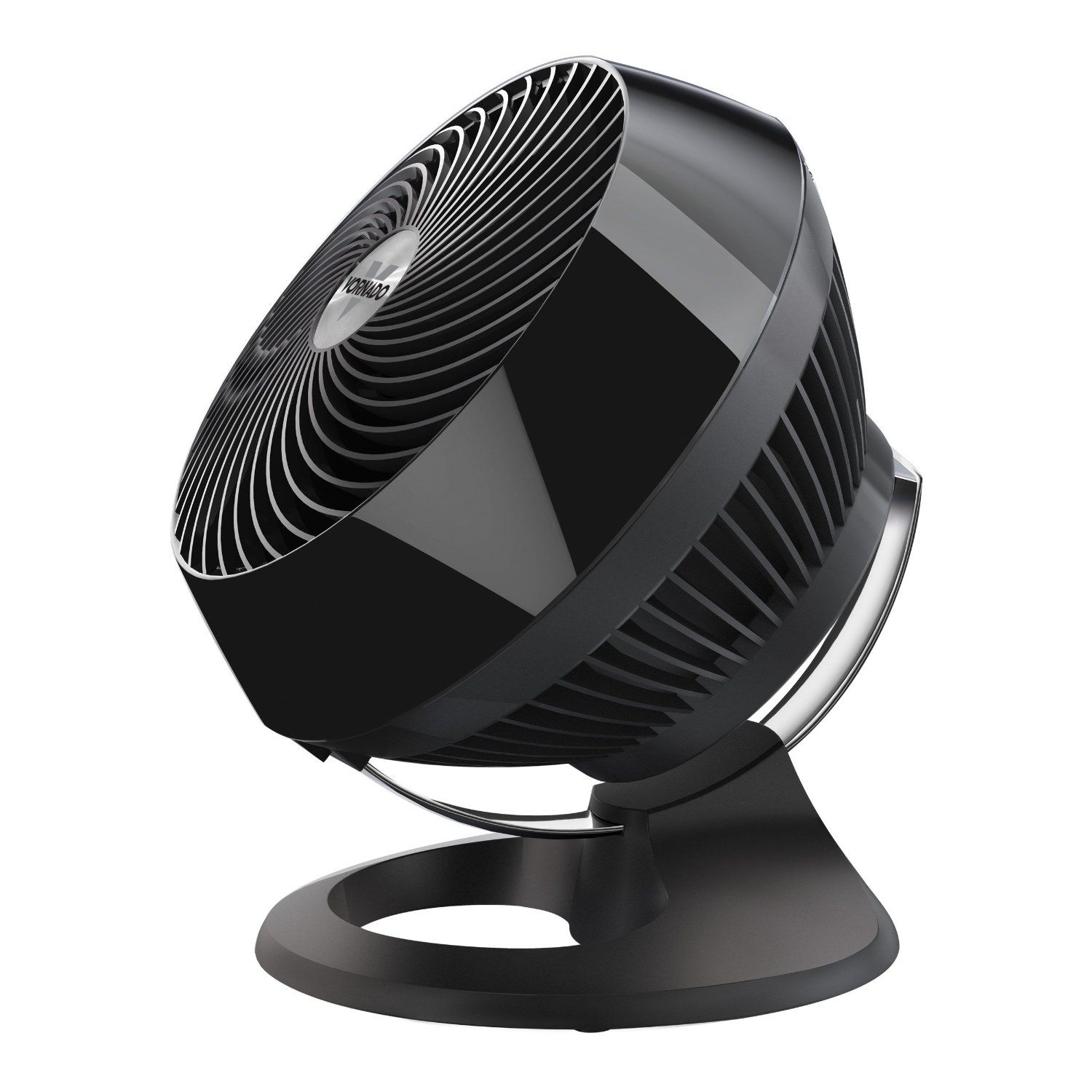 Vornado offers a large variety of air circulation devices including heaters, fans, humidifiers, and dehumidifiers. Based in the USA, Vornado was founded on the idea that comfort is a utility and comfort devices should raise the bar in oscillation and efficiency.
With Vornado, you are assured of efficient and durable products that will work perfectly year in and year out. Its products are light years ahead in terms of innovation and it pairs that innovation with an excellent customer service program.
You need not worry about saving energy and reducing power consumption as Vornado takes care of that for you. It's Energy Smart collection has become synonymous with efficiency and power-saving. This is brought to fruition by the use of brushless DC motors which Vornado uses in its products and are tailor-made for your maximum comfort.
Often at times, the only thing you need to enjoy and relax without any worries is the presence of a quiet room fan. These highly innovative gadgets can be set up in your room and offices without any fuss or stress. If you are a person whose concentration levels need to be high without any external distractions, then a quiet room fan is the answer to your problem. These devices work with barely a whisper and will take care of your air circulation needs effortlessly.
Wherever you go, home or office, a quiet room fan which can be set up without cluttering your table is a must-have. That is why Vornado is offering you the Vornado (CR1-0121-06) 660 Large Whole Room Air Circulator Fan.
One of the most powerful room fans on the market, the Vornado 660 can cool a room without eliciting more than a whisper. It is outfitted with deep pitch blades that are heavier than normal. With detailed contouring on the sides, its blades are designed to maximize air movement and airspeed.
Sometimes, you need efficiency with a sleek design and the Vornado 660 answers that need exquisitely. It comes with an artistic gloss and matte finishes that will blend into your home perfectly. It also has sleek aerodynamic lines which enhance the circulation process.
It also makes use of an innovative technology called Vortex Action. With Vortex Action, air flows fast, cool and constant to give you a cooling experience that is unparalleled and unmatched. With the aid of this technology, a whole room can be cooled easily without any stress.
Lastly, the Vornado 660 has an AirTensity Spiral grill which helps with air movement and direction. The spiral grill creates a spiral effect that allows air to travel throughout the room easily and quietly.
Advantages
It has an enclosed air duct that increases the velocity of air dispensed by the fan
It has an inlet air accelerator that directs air to the efficient parts of the blades for increased airflow
It has a 6ft long power cord that increases ease of use
It can tilt up to 90 degrees in either direction
Disadvantages
The Vornado 660 does not rotate
5. Honeywell TurboForce Air Circulator Fan
Specifications
Manufacturer: Kaz Incorporated
How many speed setting: 3 Speed settings
Color: Black, White
Weight: 2.6 Pounds
Dimension: 11.02 in x 6.46 in x 11.22 in
Other features: 90-degree pivot; aerodynamic TurboForce design increases airflow and movement
Review
Kaz Incorporated is a brand that is a global leader in the manufacture of healthcare devices and comfort devices for the home and office. A dynamic brand, its consistency in the release of state of the art products has catapulted Kaz Incorporated into the top rung in the industry.
A pacesetter in the production of home comfort devices, Kaz Incorporated operates in over 65 countries on six continents. You can be sure that any Kaz Incorporated product is globally accepted and will be ideal for your comfort needs.
Kaz Incorporated has always been a world leader as it was founded after propounder Max Katzman invented and patented the very first electric vaporizer back in 1926. Today, it has continued the very impressive tradition of leading the pack with new takes and insights on household products.
Kaz Incorporated has many divisions including PUR, Vicks, Honeywell, Braun. You are literally getting the best with Kaz Incorporated as they have been certified by the best. Kaz Incorporated has won awards such as the Red Dot Design Awards, iF Design Awards and numerous International Design Excellence Awards (IDEAs).
With global warming on the up and up, comfort and utility are rarely attained without a cool atmosphere. Of course, air conditioners can cool a room but they usually consume so much power that the energy bills might make you think otherwise. Saving power while getting maximum air circulation and aeration can be achieved with a quiet room fan. Quiet fans are guaranteed to help you cool down and relax that much faster even after a hot, sweaty workout session. Extremely versatile, they can be used at home, in your bedroom on bedside tables and even in your sitting room to cool down those overworked electric appliances.
With this in mind, Kaz Incorporated is offering you one of the best powerful yet quiet fans for home use in the form of the Honeywell HT-900 TurboForce Air Circulator Fan.
A true blend of innovation and technology at its finest, the Honeywell HT-900 has an Aerodynamic TurboForce design. This relatively new technology was made with maximum air movement in mind. You don't have to worry about airflow not reaching the other side of the room with the Aerodynamic TurboForce Design.
Convenience is a big part of comfort. That is why the Honeywell HT-900 can be used on a table or mounted on a wall. Kaz Incorporated understands that your bedside table might be cluttered, that is why this fan comes equipped with wall brackets which make it easy to be mounted on a wall. You can, therefore, take control of the air circulation in your room without worrying about space.
Finally, this quiet room fan can pivot up to 90 degrees in either direction giving you a wider oscillation path. All sides of your room will definitely be covered by the Honeywell HT-900 without any hassles.
Advantages
It can be mounted on a wall
It pivots up to 90 degrees in either direction
It makes 25% less noise than earlier products
Aerodynamic TurboForce design increases airflow and movement
Disadvantages
The presence of safety grilles make this fan hard to clean
6. Lasko Wind Curve Fan with Fresh Air Ionizer
Specifications
Manufacturer: Lasko
How many speed setting: 3
Material: Metal and plastic
Color: Woodgrain
Weight: 13.5inches
Dimension: 13 x 13 x 42.5 inches
Other features: Comes with a remote control, a built-in ionizer that keeps air fresh, oscillates to deliver air to every corner
Review
Founded and established more than 110 years ago, Lasko Metal Products has got experience to back up its name in the very competitive home comfort industry. It has succeeded in keeping up with the times and the needs of the people as they evolved. Despite its age, it has continued to produce some of the finest, most dependable and quality home appliances on the market.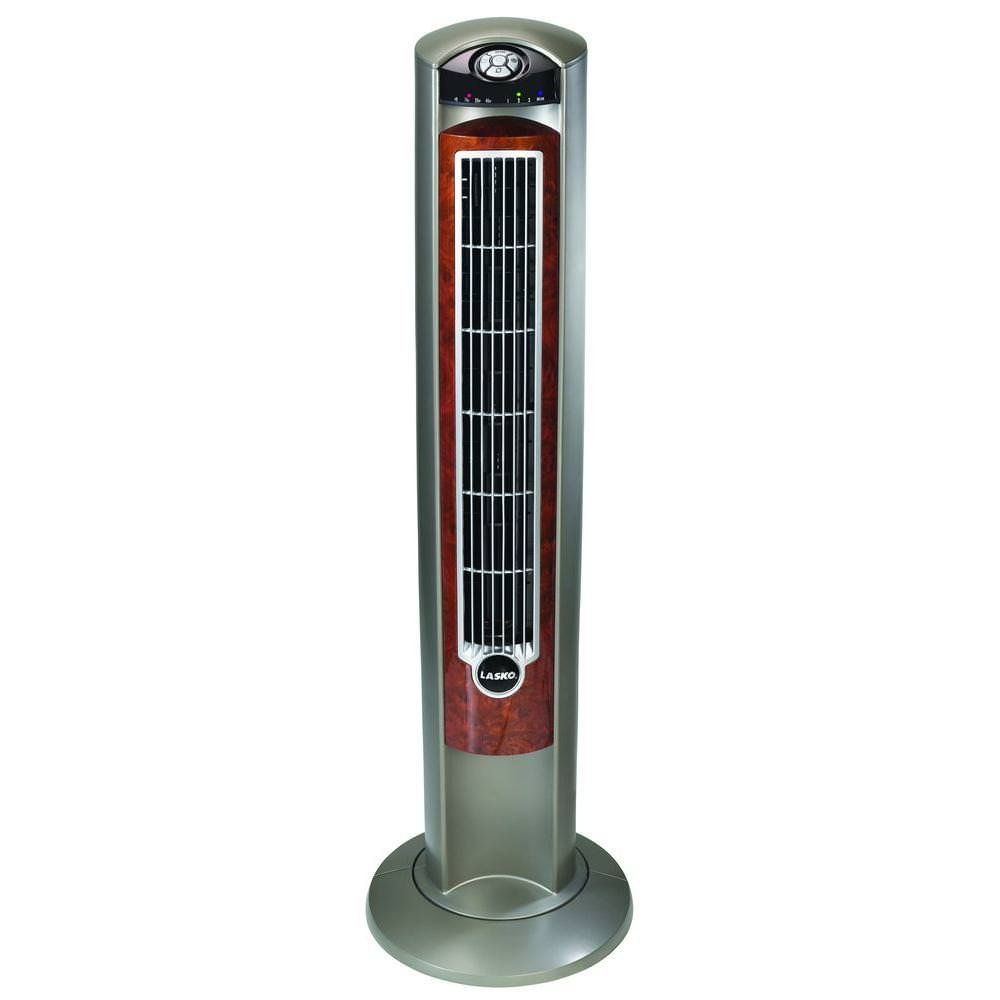 In fact, its age is an advantage because it is used to the changing tastes and choices of people. You would think a company this old would give in to the pressures of keeping up with the times but it has learned how to quickly adapt, keeping the customer satisfied. It has even developed different innovative designs to make sure that wherever you go, you will get what you need from Lasko. The Wind Curve Fan with Fresh Air Ionizer is a standard example of the type of quality products that can come from its stables.
This quiet speed fan is highly effective in spreading fresh air to every corner of the room. This is because of its high tower design and oscillating feature. Do not let the slim and fragile look fool you; it is powerful and tall enough to improve the airflow wherever it is placed.
In addition to that, it is one of the best quiet fans in the market. Most ceiling fans and even standing fans make an irritating buzzing sound, especially when they start to age. But this fan does not have that problem. This is one advantage it has over a ceiling fan so if you have been looking for a suitable alternative to a ceiling fan, you are welcome. More than that, it gives you the same amount of satisfaction, or even more, while consuming less amount of energy to work.
The built-in ionizer keeps the air around you fresh. It is capable of dispelling every air-borne bacterium by charging the air electrically and producing negative ions from the positive ones which are safe carriers of these bacteria. Therefore, this quiet speed fan does not just keep the air flowing well but also makes sure the air is fresh and bacteria-free.
You also have the choice of 3 different speeds. You are not restricted to just one speed so, depending on the need of the moment, you can adjust this fan to suit it and rest assured each would deliver maximally.
Advantages
It is built with a high tower design, and oscillates, for maximum air circulation
The fan is almost noiseless yet circulates air to the maximum
It has a built-in ionizer to purify the air around you
It comes with 3 different fan speeds
It has a multi-function remote control
Disadvantages
According to some users, the smell of plastic is strong but wears out after some weeks
7. Lasko 20″ Wind Machine Fan
Specifications
Manufacturer: Lasko
How many speed setting: 3
Material: Plastic
Weight: 9.52pounds
Dimension: 25.8 x 23.8 x 7.2 inches
Other features: Pivoting head for air direction, electrically powered, easy-to-grip handle
Review
Lasko was founded in 1906 and for more than 100 years, it has remained relevant in the home appliances sector, churning out some of the finest and top-quality products to give you comfort in your home, alongside beauty. With manufacturing locations within the US and China, it makes sure that it remains nimble in order to stay on top of its game and to always have more than enough supply of products for everyone, every time.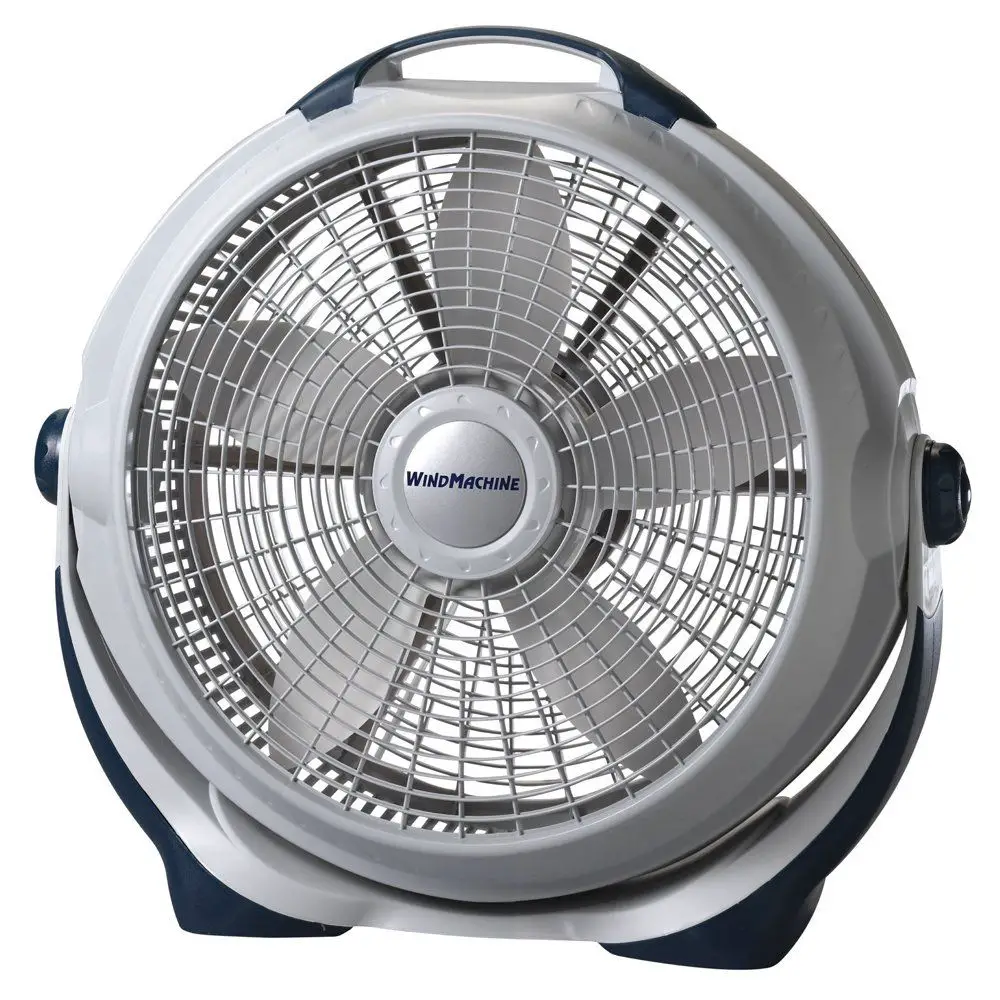 Products such as top quality heaters and fans, like the Lasko 3300 20″ Wind Machine Fan, have provided much-needed reprieve and comfort for many homeowners over the years. This is not media hype but these are much tested and trusted lines of products. Rest assured that you would not go wrong relying on Lasko.
Lasko 3300 20″ Wind Machine Fan is made of plastic. This is good because it would not rust with time and it is easier to clean. The plastic used is also easy on the eye and fits the furniture around your room.
In addition to being easy on the eye, the plastic material of the fan has an added advantage. You see, plastic handles electricity better so it is safer for you to use even though the fan's plug is designed in such a way that it can handle power surges and fuses blowing without adversely affecting the fan or you.
It comes with an easy-to-grip handle that makes it easy to carry around, even if you want to move it from room to room or from one spot to another. The handle is equally plastic, with spaces where your fingers can fit in comfortably.
The fan has a pivoting point in order to effectively direct air flow around your room. It channels the supply of air toward one place but can be manually adjusted to face another direction. Whichever part of the room you desire to have the air flow more, you can move the head freely on the pivot without breaking anything.
With its three-speed setting, you can control the amount of air it circulates. That is not all of it; the speeds do not disturb you even while you sleep. Unlike other fans which make noise the more you increase the speed, this is one of the best quiet fans for sleeping because it makes no noise, even when it is at the highest speed. No need to thank us; thank Lasko.
Advantages
It makes no noise even when it is at the highest speed
The plug is designed to handle power surges
It comes with a pivoting head
It has an easy-to-grip handle
Disadvantages
The fan has no rubber base to reduce vibration, according to some users
8. Ozeri Tower Fan
Specifications
Manufacturer: Ozeri
How many speed setting: 3
Material: Plastic
Color: Gray and White
Weight: 13 pounds
Dimension: 8 x 3 x 44 inches
Other features: Uses a remote control
Review
Ozeri is a top-class manufacturer of specialty products. With a knack for designing digital lifestyle products that give your home a rather modern feel, you can understand why the brand has so many customers. With a lot of products to its name, including innovative household stuff, everyday chores simply become a cincher. Quality and innovation are other names you can call Ozeri as it will never compromise on any of the two.

The Ozeri Tower Fan is what you need if you are looking for a fan that can circulate air to every corner of your room. The blades of this fan have a unique curvature which allows them to move air around the room efficiently. These blades also create an opposing sound wave that cancels out the noise whirling blades make. So, if you have been curious to hear the sound of airflow; that is what this fan's technology will leave you with. In other words, this is one super quiet fan!
This fan has 3 separate sets of blades that you can control independently. Each set of blades has 3 speeds. If you don't know what that means, we'll tell you; that gives you 9 levels of customizable airflow settings. So, with this fan, you have the freedom to precisely control how cool your room is. Now, how cool is that?
When you look at his fan, up close or far off, it is easy to think it is a speaker that comes with these modern-day home theater systems. That's how pretty this thing looks. If you get this far, you just got yourself an efficient room cooling system and an exquisite home décor item for the price of one product. That's smart, right?
This fan also comes with 3 preprogrammed airflow patterns. One to help you get some good sleep, another to relax and lounge, and a third that allows the fan oscillate 90 degrees to achieve optimal air circulation around your room.
Other cool features of this fan are its touch-sensitive LED control panel that gives you all the access you need to its functions; and a 7 ½-hour timer that you can adjust in 30 minutes increments. So, you can precisely set how long you want it to stay on before it automatically shuts off.
This fan is available in white, gray, and black with chrome accent. It also comes with a one-year warranty so you have enough time to find out if it 'blows' your mind or not. But we are quite sure it will. The LED screen is bright, so if you are the type that wouldn't mind night light, there you go. You can thank us later.
Advantages
The fan has a unique and attractive design
It has preprogrammed settings for particular effects
It has 3 independently controlled fans
It has a touch-sensitive LED screen and shut-off timer
Disadvantages
The base of the fan is not so sturdy, so you might not want to bump into it
9. Honeywell QuietSet Whole Room Tower Fan
Specifications
Manufacturer: Honeywell
How many speed setting: 8
Material: Plastic
Color: Black and White
Weight: 11 pounds
Dimension: 10.8 x 8.2 x 32.8 inches
Other features: Has a digital display
Review
Honeywell is a global technology company. It seeks to solve the most critical of man's challenges concerning security, safety, productivity, well-being, etc. It offers innovative, practical, and thoroughly tested products that provide needed solutions to crucial problems. This is one of the reasons it has grown to its current position today.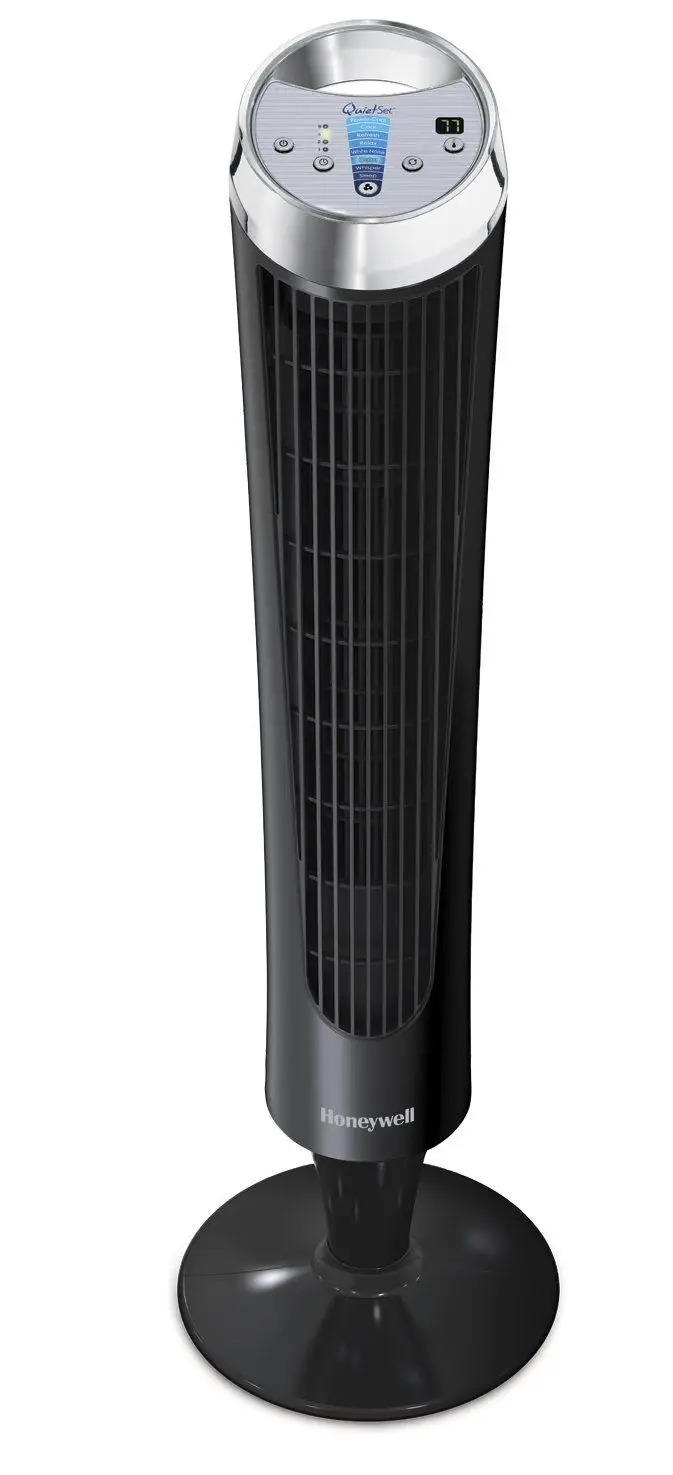 The Honeywell QuietSet Whole Room Tower Fan is one of such products that solve critical problems. This particular fan helps you get your room ventilation to ideal so you won't continue enduring stuffy environments that adversely affect your health. The first thing you will probably notice in this fan is that you don't need much space to use it.
Instead of it to take up horizontal space that could accommodate something else, it utilizes the vertical space that will otherwise not have been used. This is pure innovation and you will be greatly pleased with yourself if you get this product. Talking about space, this fan will circulate air throughout your entire room regulating the temperature precisely how you want it based on the settings you choose.
This fan does a good job of minding its business as it will keep your space cool like you want without causing a cacophony that makes you want to get away from it or turn it off altogether. The powerful engine oscillates and circulates air over a wide area for extensive cooling. With this fan, we suggest you give it the code name: Quiet.
It has a digital display located at the top of the tower shape and also has an adjustable thermostat. What this does is to give you the freedom to set the temperature of your room just like you want it. You can agree if we say that a product that gives you this much freedom to use it like you want is a great product. With an automatic shut-off timer, you can set it at different times up to eight hours before it shuts itself off.
It also has a remote control you can easily store at the back of the fan, a carry handle, and a cord management system all for the sake of your convenience. It is also available in pearl white and black colors.
Advantages
It has a touch-button electronic control as well as a remote control
It has 8 oscillating speeds and up to 8 hours auto shut-off timer
It has a wide air circulation reach for greater coverage
Disadvantages
The LED display can pass as a source of light. If you need to keep the room dark, you might have to cover it up
10. Woozoo Oscillating Circulating Fan
Specifications
Manufacturer: IRIS USA
How many speed setting: 3
Material: Plastic
Color: Black and White
Weight: 5.29 pounds
Dimension: 9.8 x 9 x 13.2 inches
Other features: Blows hot or cold air
Review
Iris USA Inc. is a brand that is committed to helping people stay organized. It is specialized in designing and manufacturing clear plastic storage solutions. Since you won't want your properties littering your entire living space, you have to keep them somewhere, that is where Iris becomes one of the most useful brands you can think of. It has numerous top-quality products that help you stay organized, whether at home or in the office.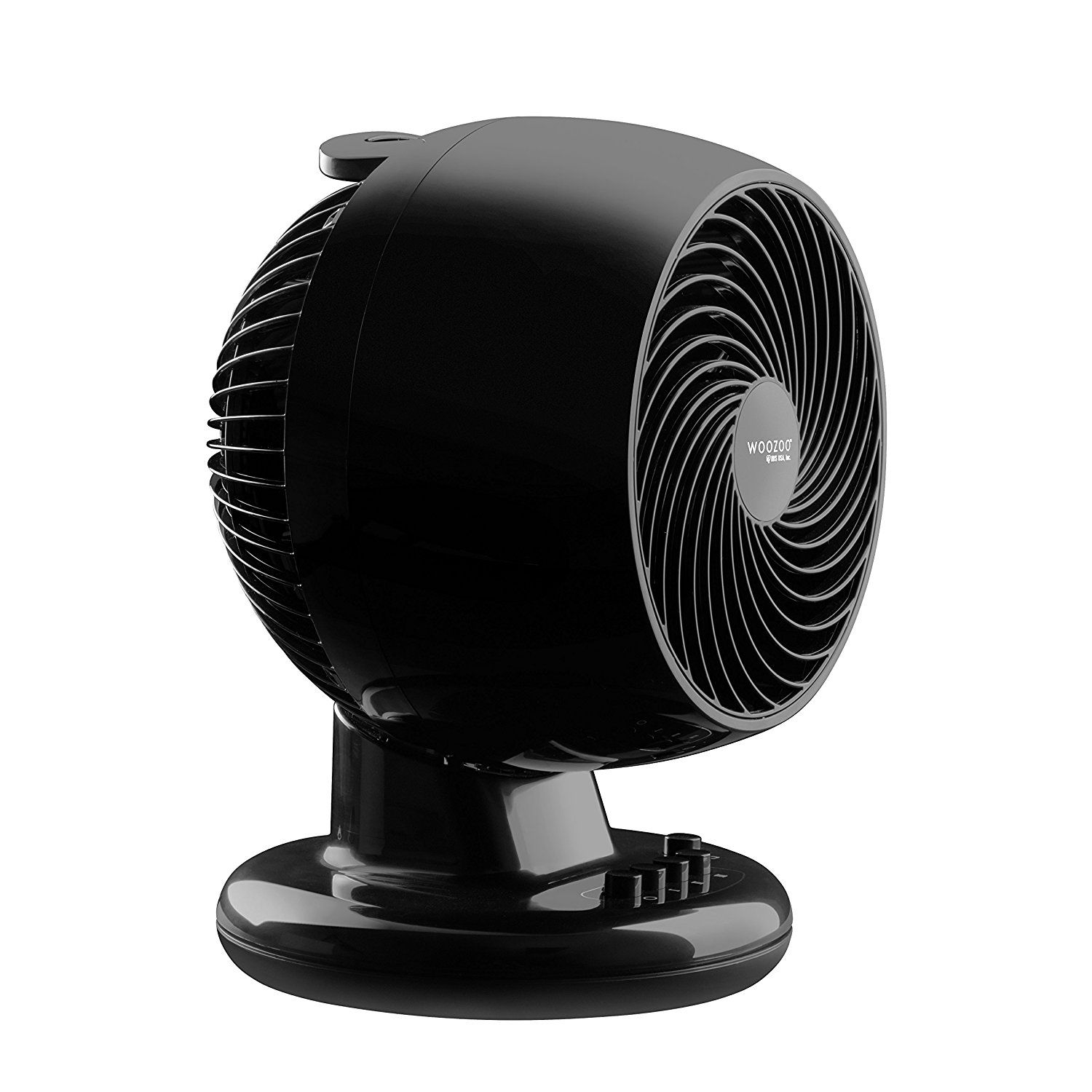 If you are wondering how a brand specialized in creating storage containers came to be on the list of quiet fans, the reason is that it extended its expertise. It branched out so it can bring more value to your home through another product. And so far, it has made a good success with the Woozoo Oscillating Circulating Fan we are featuring.
This is one of the best bedroom fans you can come across. Not only because it is compact enough to snugly perch on your dressing table or even on the bedside table. It can blow and circulate either hot or cold air around your room depending on which you need at a particular time. This alone makes this fan quite versatile as it can be used in any weather.
The motor hangs comfortably on a hinge that allows it oscillate left and right and can tilt in up to six vertical settings. That way, you have the freedom to let the fan blow air in any direction you please. With its 3-speed setting, you can decide how hard this fan works to serve you. The lowest speed is super quiet if you need a silent fan for a bedroom in case it's time for a nap. On the other hand, you can turn it up to the highest which can move air to a coverage area of 275 feet square. Even at this, the sound of the motor is still not disturbing.
It has a unique blade design that lets this small fan move air more effectively for wider airflow and for a quieter function. There is no need for batteries with this fan. It comes with an electrical cord 62 inches long so you can keep it plugged in and still bring it as close to you as possible.
Advantages
It has a compact design with a small footprint
It uses a powerful motor that can move air to cover up to 275 square feet
It has a hinge that lets it blow air in multiple directions
It is lightweight and has a carrying handle for mobility
Disadvantages
It would have been great if you could mount it, on a wall for instance
Conclusion
You now have a buying guide and reviews of some of the awesome quiet fans. These are what you need, as well as an understanding of your needs, to select the best quiet fan for your particular need.