12-volt fans and 12-volt portable air conditioner units are a great thing to add to your vehicle's interior. Most modern cars come with their own AC units but those often break or become inoperative or insufficiently effective for various reasons. In situations like these, the easiest and quickest solution is often to just get a portable fan or AC unit. How does one choose such a device, however? There are, indeed, a lot of factors to consider.
To help you out, below we've compiled a Top 3 and a Top 10 lists of the best 12-volt fans and air conditioners for cars on the market. We've limited our search to 12-volt devices for this list, not for 24-volt trucks, so keep that in mind. After our two lists, we've also followed up with a quick and simple guide on what these devices are, how to choose between them, and how to use them to their maximum effectiveness.
So, let's dig in!
Top products reviews
1. Alagoo Mitchell Car Cooling Fan
Let's kick off our best portable car air conditioner and 12-volt car fan list with this Alagoo Mitchell Car Cooling Fan. What makes it one of the best 12v fan options on the market are its excellent and powerful ventilation potential combined with its very quiet operation mode. A fan like this one can work comfortably and easily for a long time without annoying or irritating you and your passengers at all.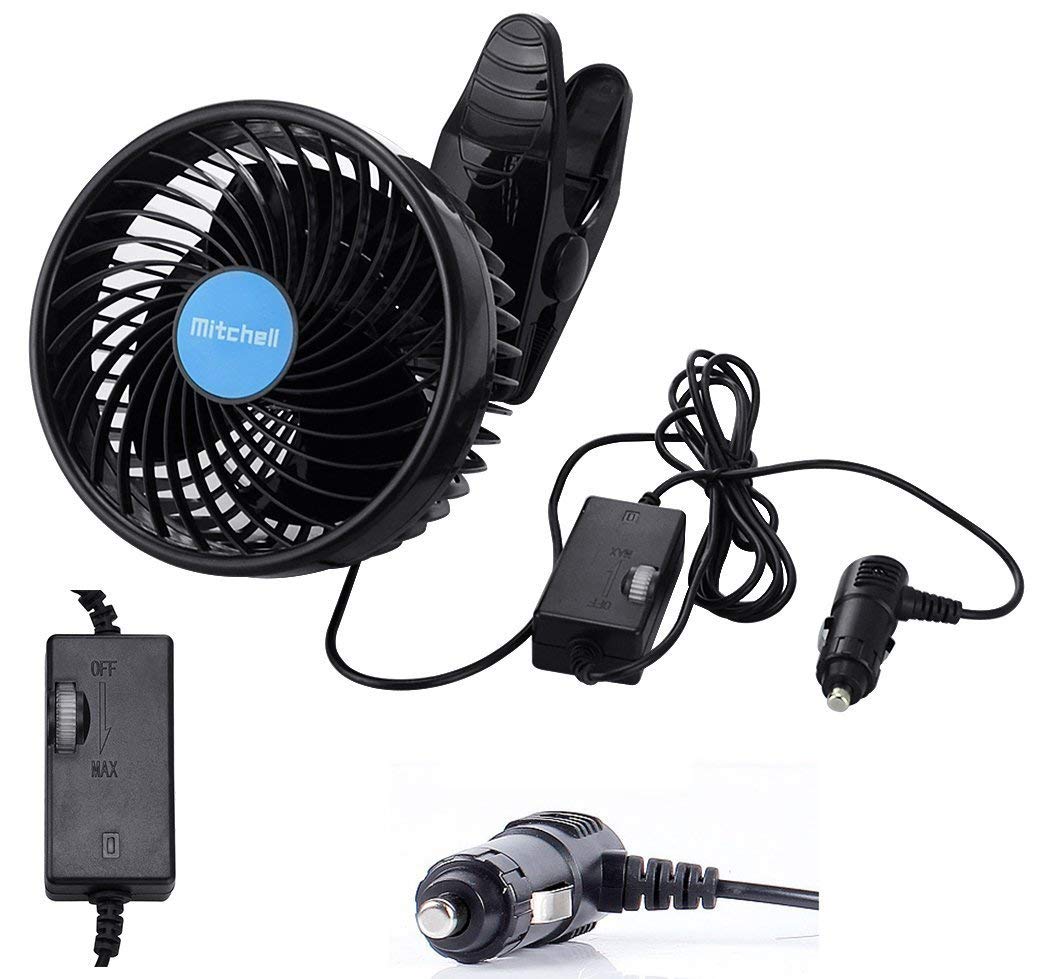 Another reason to recommend this Alagoo Mitchell 12 volt portable fan is the large number of additional features and adjustments it comes with. For one, the large, powerful, and stable clamp can keep the fan securely in one place while also being adjustable enough to allow you the flexibility to place it wherever and however you want
Plus, it is also very easy to connect to any vehicle as this is a cigarette lighter fan thanks to the cigarette lighter plug it comes with. The fan itself has a 6-inch diameter and is 3.5 inches deep. The length of the adjustable clap is 5.5 inches while the total height of this unit is 7.5 inches. Keep those in mind when deciding if it's going to be suitable for your particular vehicle and needs.
One notable drawback of this fan is that it doesn't rotate too well automatically. In other words, if there are multiple people in a large car that you wish to reach with the ventilation of this fan, it may a bit short.
Buy Alagoo Mitchell Car Cooling Fan on Amazon
What we like:
The Alagoo Mitchell car cooling fan offers great ventilation for its economical power consumption.
What's more, this cooling car fan also works very quietly which is great in the limited space of a car or a van.
If you're looking for a fan that plugs into cigarette lighter plug, this Alagoo Mitchell 12 volt cooling fan fits that description.
What we don't like:
The fan's imperfect rotation is sometimes a problem as it is limiting its ability to ventilate in every direction in your vehicle.
2. Tvird Negative Ions Car Fan
For another good fan option, this time with an excellent 360-degree rotation and a suction cup for attaching it to flat surfaces, take a look at the Tvird Negative Ions car fan.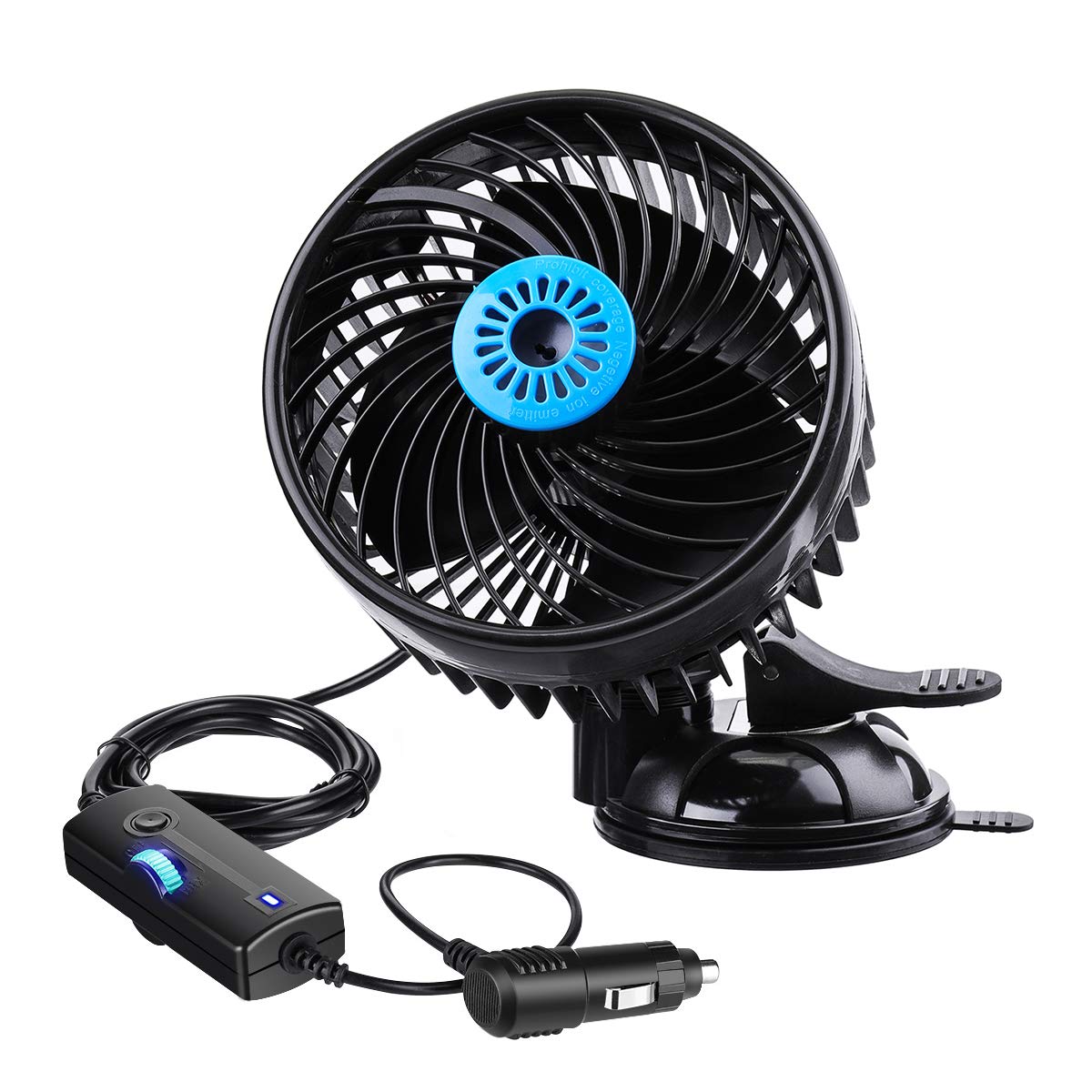 The 360-degree rotation is great for large cars with multiple passengers as it ensures that everyone will benefit almost equally from the cool breeze this car fan generates. As for the suction cup – it's as much of a positive as it's a negative. The suction itself is quite powerful and will keep the fan stable on most surfaces at all times unless there are some significant problems with the car's movement. However, that's still not as versatile or as stable as a clamp in most situations. Ideally, a car fan will have both options available to the user.
The main selling point of this portable car fan from Tvird, however, are the negative ions it can emit while working. This is an optional feature that you can enable with the flip of a switch whenever you want. Negative ions can be a bit overhyped in the industry but they do help to remove a fair bit of the odor and dust from the air in your vehicle which is a significant plus.
The next major factor we should mention is the sheer quality of the fan's design and materials. It's made of plastic, yes, but it's thick, high-quality, durable plastic that can last for a long time when handled properly.
Buy Tvird Negative Ions Car Fan on Amazon
What we like:
The big selling point of this portable car fan is the negative ions it emits to help deal with nasty odors and dust in the car.
The excellent 360-degree rotation of the Third Negative Ions car fan is great for larger vehicles with multiple passengers.
The quality of the design and the materials are also worth a mention as they guarantee a long working life for this portable car fan.
What we don't like:
The suction cup is great for attaching to surfaces but lacks the versatility of a clamp. Ideally, both options would be available.
3. HueLiv Car Fan
The third choice for our main list is this HueLiv portable car fan with 2 heads. Ideal for larger vehicles with multiple passengers, the dual-head design of this fan ensures that its ventilation will reach all passengers equally and effectiveness.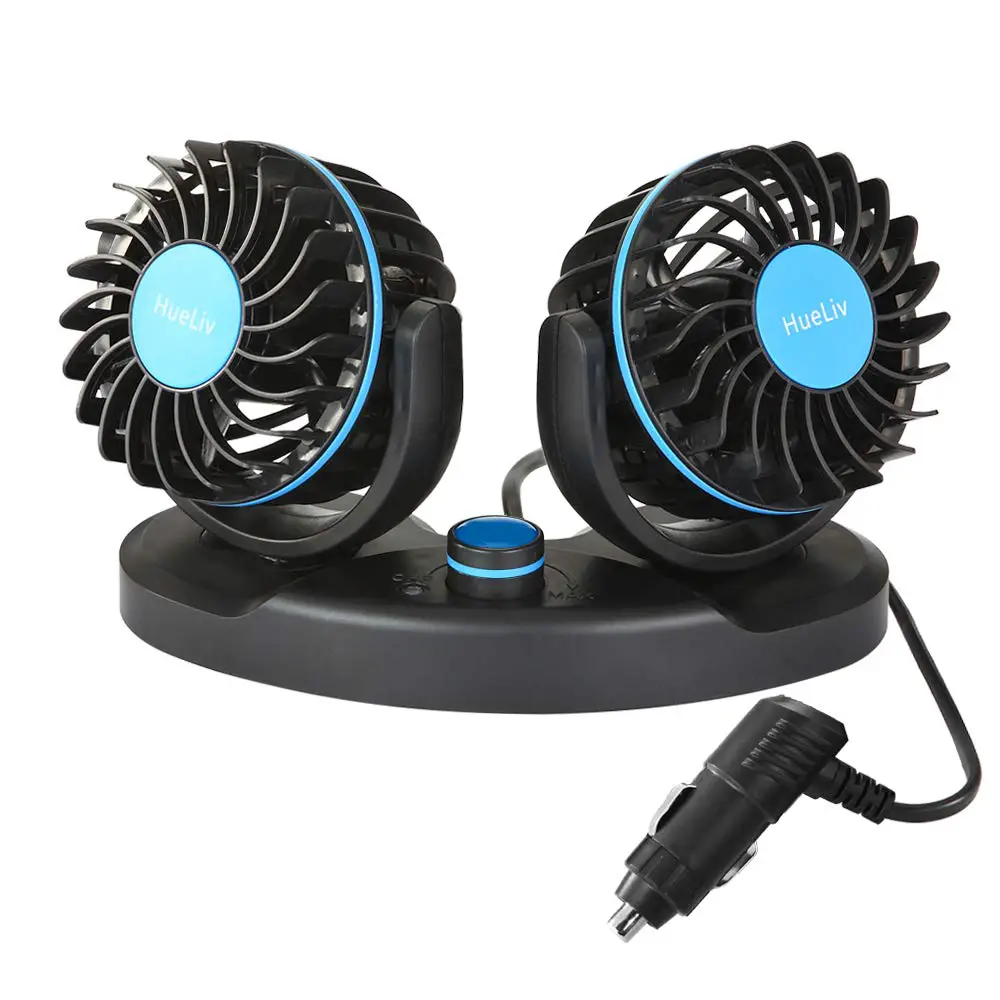 The two fans of this device are also more than sufficiently powerful to quickly and efficiently cool off and ventilate any mediumly large car in the absence of an AC unit. They won't reach the back of the car as effectively, of course, but they do as good of a job as any portable car fan can be expected to do.
One thing we'd disagree with the manufacturer of this dual-head car fan on is their assessment of how "quiet" the fan is – it's just not particularly quiet at all, especially when compared to some of the other products on our list. That's understandable, of course, as it is a powerful dual-head fan. It's still worth mentioning, however.
Still, the great overall effectiveness, together with the power and efficiency of this dual-head fan are quite excellent. Add the fact that the construction is pretty durable and ensures that this fan will last for a long time when handled properly, and it's clear why we're recommending this item.
Buy HueLiv Car Fan on Amazon
What we like:
Thanks to its two heads, this HueLiv fan can perfectly and evenly blow at both sides of the vehicle. This is further helped by the excellent rotation of the two fans.
The fan can easily be connected to any vehicle thanks to its cigarette lighter plug. It's also relatively easy to attach to the dashboard of most cars despite having a rather large base thanks to the powerful stickers underneath it.
This dual-head fan is not only powerful but also quite durable and long-lasting.
What we don't like:
The two fan heads are relatively noise which is to be expected, considering their power.
Other products to consider
Of course, there are many other quality products to consider. And even though no AC unit made our main list, there are some portable car AC units to pay attention to as well. Let's take a look at some more great options.
4. Excoup Car Fan
Here we have another dual-head fan this time from Excoup. The heads on this device also rotate easily at 360 degrees and the fan itself has a total of 12 different speed options. What's more, the base of the fan is also equipped with a large LED display that can show both the humidity and the temperature in your vehicle.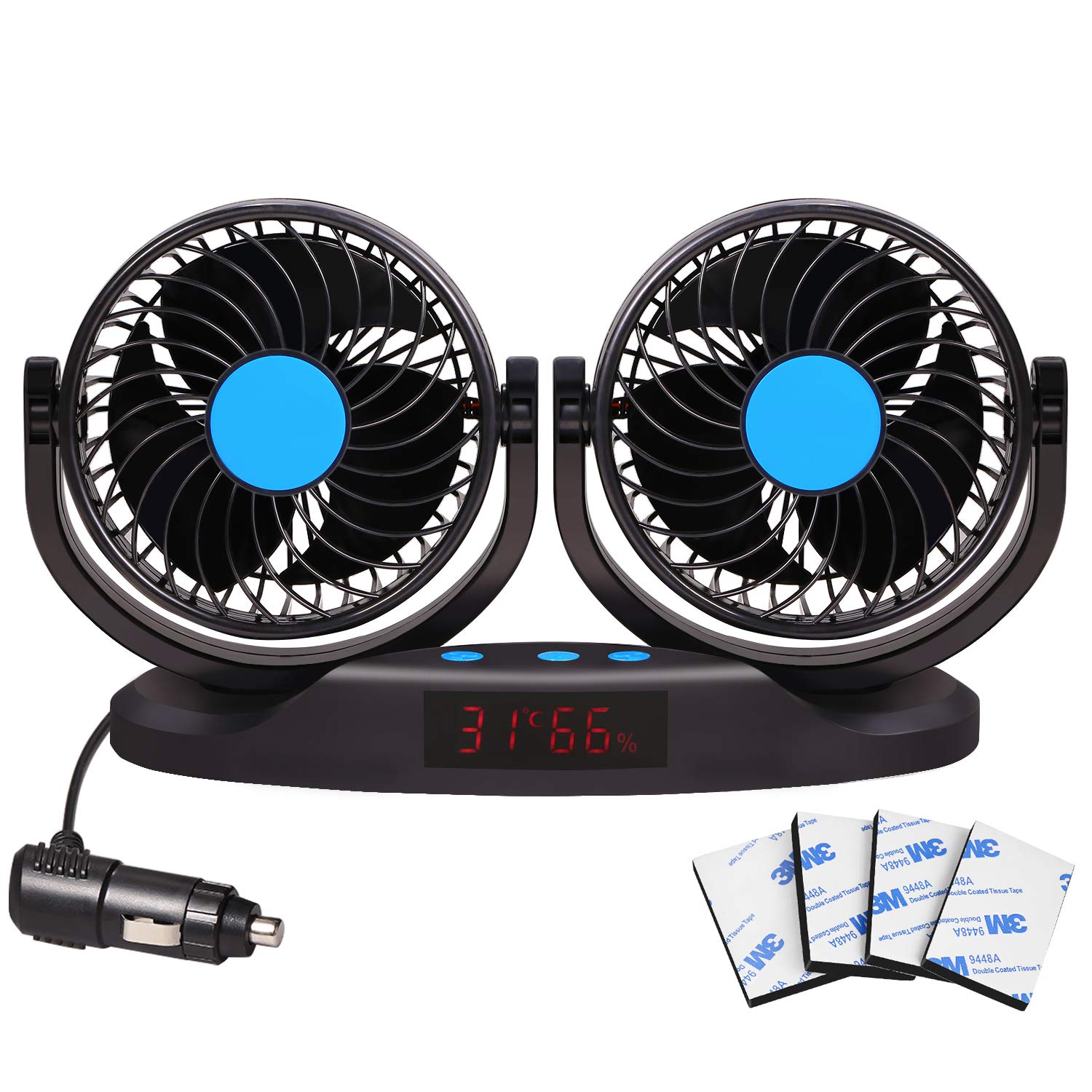 The fan can easily be attached to any flat surface such as your dashboard despite its wide base – it comes with 4 excellent adhesive pads that can keep it secure in place for a very long time.
Unfortunately, the fan heads a little too small for our taste with just a 5-inch span each. However, that's still sufficient for many standard cars so this is still an item we'd gladly recommend.
Buy Excoup Car Fan on Amazon
5. Yesurprise Car Fan
For something with a bit more classical look, how about Yesurprise's dual-head car fan? Whether you're driving an American classic or you just want to feel like you do, this cool fan can help quite a bit.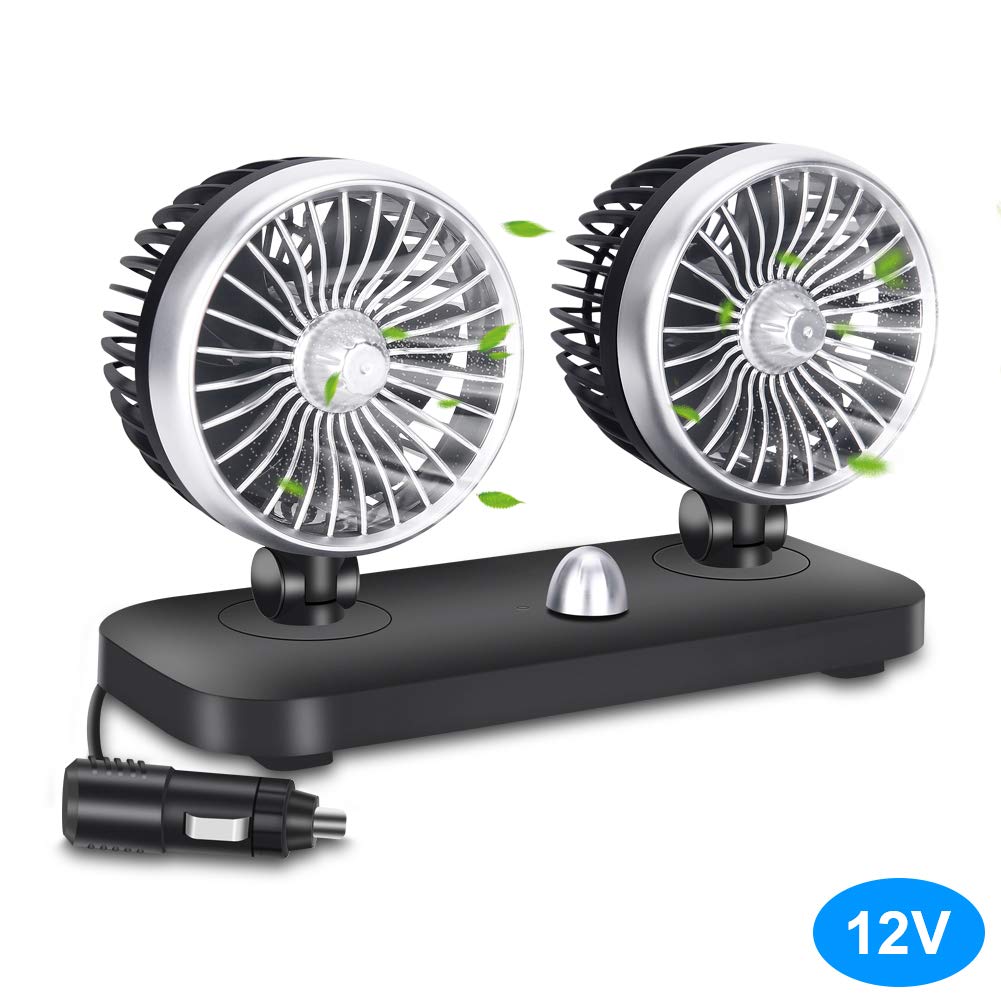 It's also more than just a pretty face, however, as the two heads of this fan produce surprisingly little noise and consume very little energy (unlike a classic American car, ironically) but they are still capable of outputting an impressive amount of ventilation.
As for the mobility of the two heads, they are capable of rotating to 180 degrees horizontally and 160 degrees vertically, which isn't optimal but definitely isn't bad either.
The base of this unit is very sturdy and stable, and it's quite easy to be kept in place on any flat surface using the strong 3M adhesive tape that comes with this portable car fan.
Buy Yesurprise Car Fan on Amazon
6. MightyKool K2
For a powerful and effective portable AC for car or van, the MightyKool K2 is definitely something to pay attention to. The first unit of this type on our list, the K2 produces 25 mph of cool air through two separate cool air outlets for better coverage within your vehicle.
This unit uses water, not ice, to ventilate and cool off the air in your vehicle, as well as to increase the humidity. On an average day, you can expect the unit to consume one tank of water in up to 6 hours but on extra hot and dry days it can go through an entire tank for as little as three hours.
The unit is relatively noisy, which is to be expected from this type of air conditioning but we'd say that's more worth it if you have to drive long hours in a hot and dry climate.
Buy MightyKool K2 on Amazon
7. O2Cool Portable Fan
For a portable option that's suitable for more than just vehicles, check out the O2Cool big portable fan. It has a size of 10 inches giving it the ability for excellent ventilation with minimal power consumption and noise. It also has a handle for easy transportation and legs to stand on, however, it doesn't really have a clamp or stickies to be attached adequately to a dashboard – it's more of a floor fan.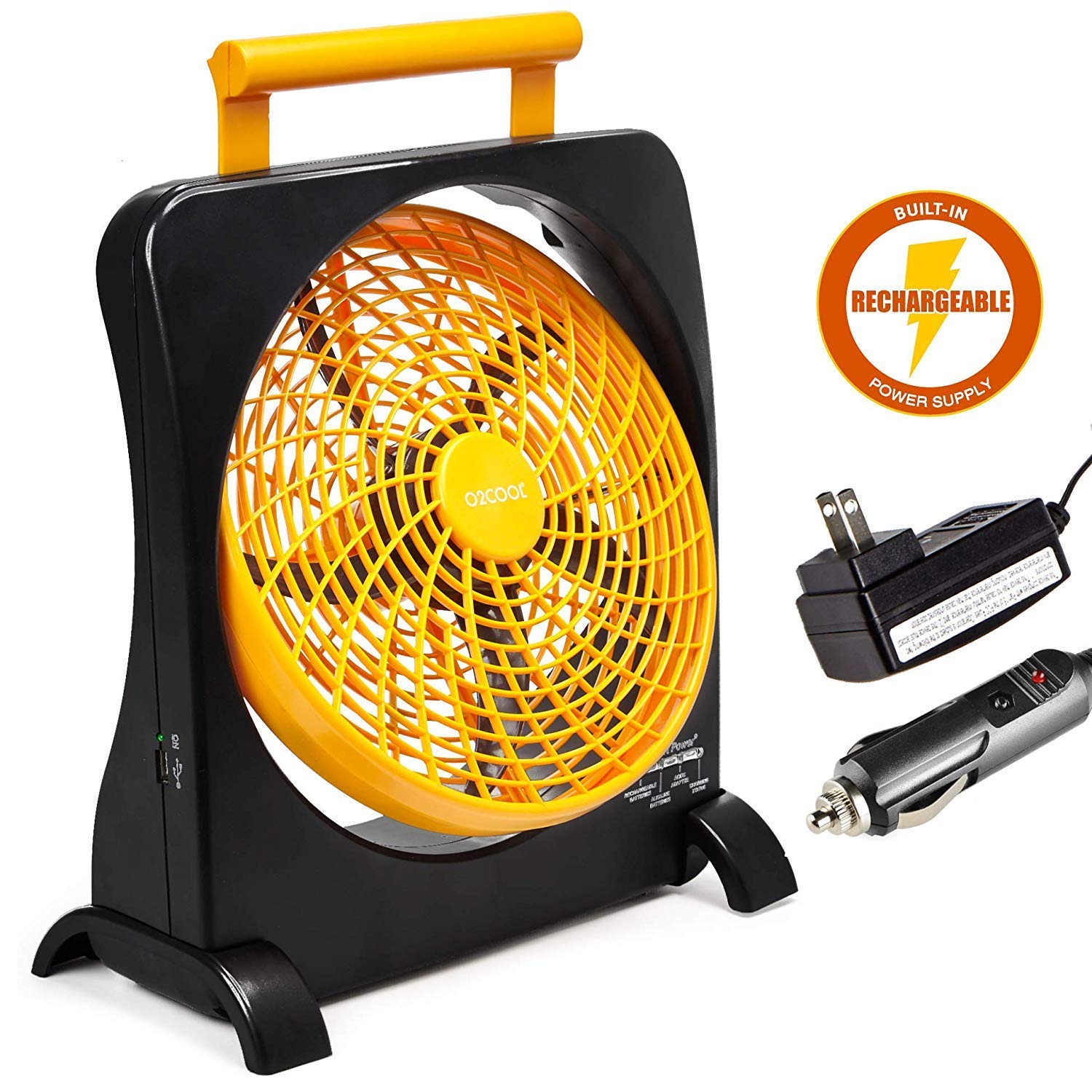 The upside of that is that it easily be deployed outside of the vehicle as well, making it excellent for camping and other outdoor summer fun activities. The fan is also equipped with multiple power options – a built-in rechargeable power, a plug-in with included AC or DC adapters, or the option to use 8 D-Cell batteries (those are not included). The fan is automatically programmed to prioritize the highest power source when more than one is available and to work constantly with no hiccups.
Buy O2Cool Portable Fan on Amazon
8. Viav Mitchell HX-T301
If you would prefer a bladeless option, the Viav Mitchell HX-T301 portable car fan is an excellent choice. It has a long power cord with a cigarette lighter plug for an easy connection to a power source and it is exceptionally efficient when it comes to its power consumption.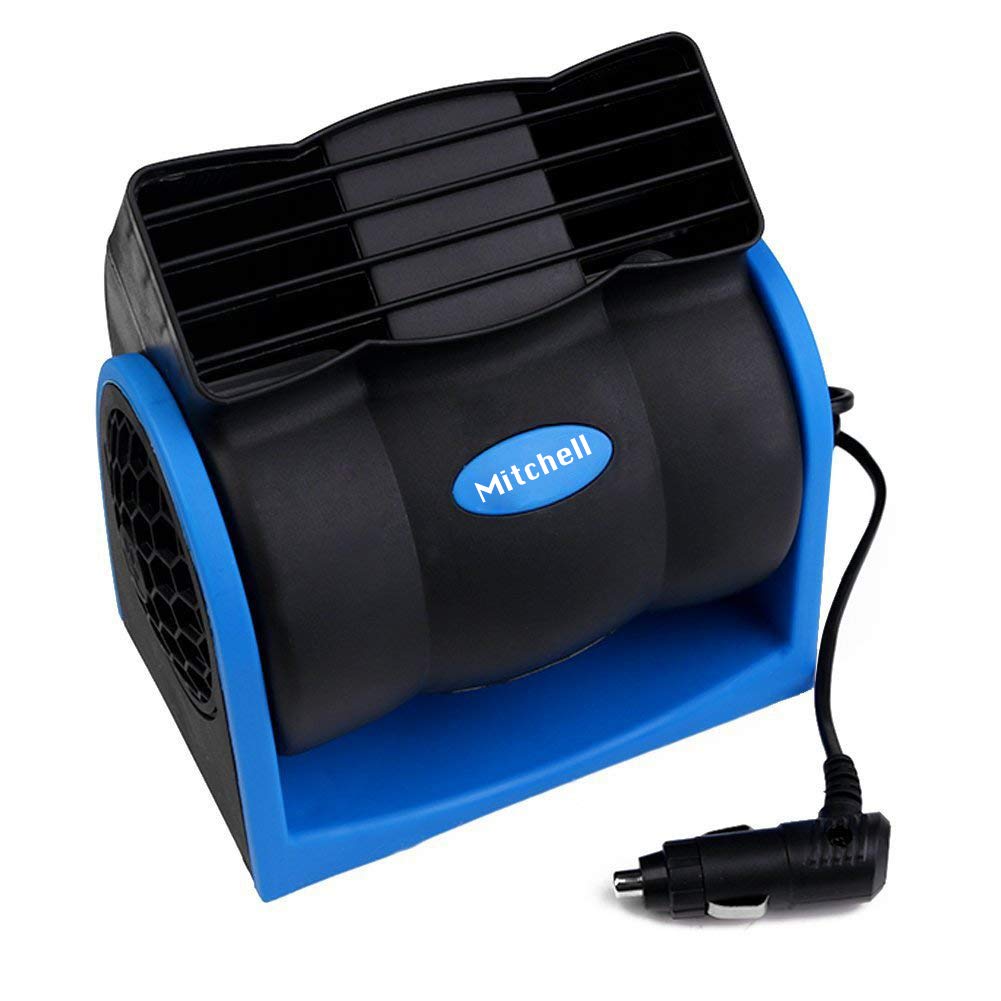 What's more, it also has a stable footing to be placed on the floor of your vehicle but can also be attached on a large dashboard with just a couple of stickers. The fan doesn't rotate the direction of its airflow automatically but it can be adjusted manually however you like.
The fan speed is easily adjustable with the flip of a switch, the design is kid- and pet-friendly due to the lack of fan blades, and the overall construction is durable and will last for a long time barring any accidents.
Buy Viav Mitchell HX-T301 on Amazon
9. RoadPro RPSC-857
This RoadPro fan is advertised as the most powerful 22-volt car fan on the market. While we can't verify that for certain there's no denying that it is a very powerful little device. It's also very easy to attach and use anywhere in your vehicle thanks to its 15-foot long power cord adapter and powerful attachment clamp.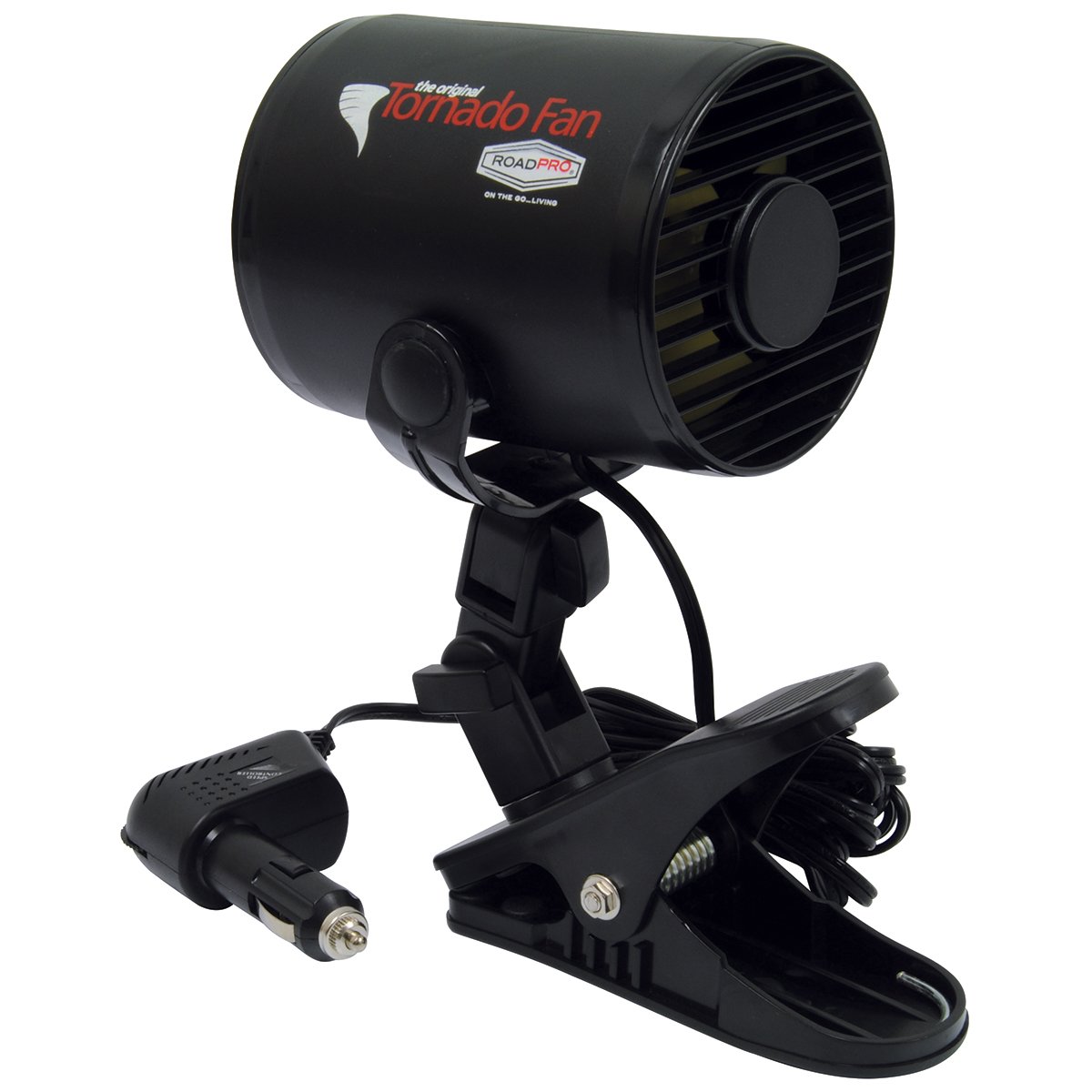 The fan doesn't rotate automatically but it can be easily adjusted manually and a couple of them can offer excellent ventilation for an entire large vehicle. The fan is designed to be powered through a cigarette lighter plug but you can get an adapter for several such plugs to accommodate for more than one fan or other devices.
Buy RoadPro RPSC-857 on Amazon
10. Zmoon Car Fan
The Zmoon car ceiling fan comes in both 12 and 24-volt options. Its horizontal direction can be rotated at 360 degrees and its vertical direction – at 90 degrees. This, together with its long power cord that ends with a cigarette lighter plug and its powerful attachment clamp, means that the Zmoon portable car fan can be easily attached anywhere in your vehicle.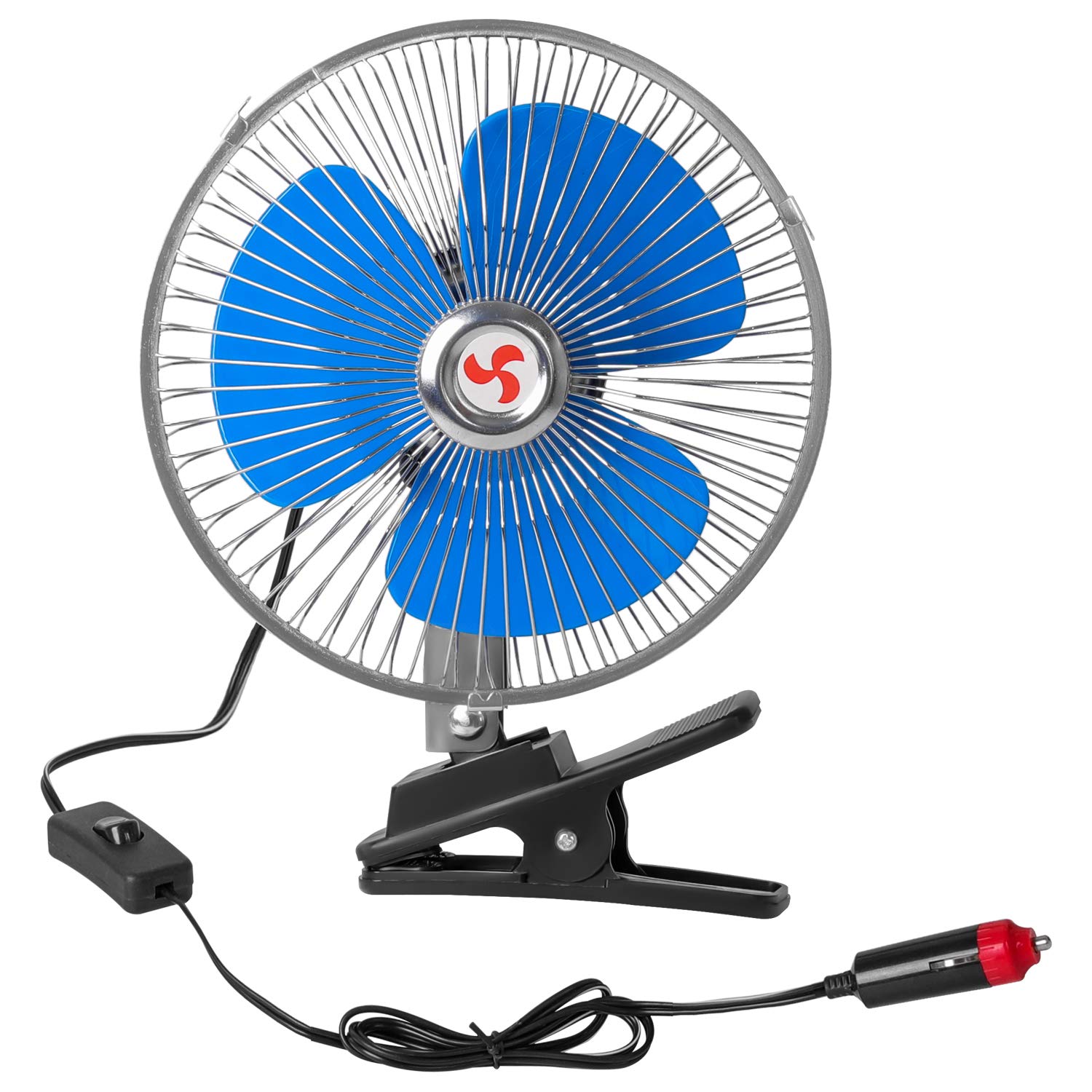 The fan also has large blades which allow the tool to offer excellent ventilation with minimal noise and power consumption. The blades are also protected with a metal guard to make sure that your pets or kids won't get hurt.
Buy Zmoon Car Fan on Amazon
About the 12-volt car fans and air conditioners
12v car fans and other portable AC units may not be the most powerful or comfortable to use options but they are usually the best we can do in terms of additional ventilation for a standard automobile.
24-volt fans are better in most regards, yes – check out this detailed explanation about the difference between 12 & 24 voltages in vehicles – but the short of it is that most family cars simply can't sustain a 24-volt device.
That's why it's so important to make sure that the 12-volt fan or portable AC unit you are about to use is of a high enough quality.
In terms of how they operate, all portable fans and car AC units work on the same principle – they are either bladed or with internal turbines and they simply create a powerful airflow throughout your vehicle's interior to cool it off. Some utilize negative ions to help clean the air, others double as humidifiers by using a water tank. Either way, they are all meant to either accompany your car's built-in AC unit to save energy, or to be used instead of it in case it is malfunctioning.
Buying guide
Buying a portable car fan or AC is relatively simple but it still needs to be done carefully. There are an awful lot of seemingly good and suitable products out there but most of them really aren't of a high-enough quality to be worth considering. And this brings us to the first and main factor you should pay attention to when buying a car fan:
Quality is vital. 12 volts are not that much so you'll need an AC unit that can make the most of them. Every simple fan is advertised as "powerful" & "effective" but few actually are. Read as many professional and user reviews and try to account for both bias and ignorance of the reviewers. If you feel at a loss, we'd recommend the following brands: Zmoon, RoadPro, HueLiv, Third, Viav Mitchell, O2Cool, MightyKool, Yesurprise, Alagoo Mitchell, and Excoup.
Consider the reach of the fan as well, relative to your vehicle and personal needs. How big is your car's interior? Do you need the fan to reach the back seats as well? Do you need it to reach the front passenger seat? How much do you want it to rotate? Are you open to using multiple fans?
How do you want the fan to be attached? Clamps and stickers are the main ways but there are also suction cups and simple floor fans.
How long do you need the power cord to be to reach the cigarette lighter plug? Do you need the fan to have other power options?
Answer these main questions before you make your purchase if you want to end up with the ideal item for your needs.
Usage tips for 12-volt car fans and air conditioners
Using a fan is a relatively easy thing to do so we won't bore you with too many pointless tips. Here are just several main things you'll probably want to keep in mind:
Portable car fans and AC units are best to be used in conjunction with the vehicle's own built-in AC to conserve its power.
Remember to keep your car cool in other ways as well – parking in the shade, not overheating it, and so on.
Avoid traveling in too hot weather altogether when possible.
Conclusion
As you can see, there is a lot of diversity when it comes to the various AC units and fans you can use in your car. This may make the choice harder but it also means that there's something for everyone's needs. Hopefully, you've found at least a few of our suggestions suitable for you but before we go, here are our Top 3 again:
Our first suggestion came from Alagoo Mitchell – it's their 12-volt car cooling fan with a 6-inch span, an extra quiet operation, and an adjustable clip, a cigarette lighter plug, and multiple other additional benefits. It has very low power consumption while still offering excellent cooling ventilation.
Next, we suggest the Third Negative Ions car fan. Its key feature is the ability to emit negative ions together with the ventilation of the fan. These ions are a great benefit for not just ventilating your vehicle but also for expelling unpleasant odors and dust from it. This portable car fan is also equipped with a powerful suction cup and an effective 360-degree rotation device.
Last on our main list was a dual-head fan by HueLiv. Its unique design gives it the ability to easily ventilate in every direction, especially thanks to the 360-degree rotation of both heads. The HueLiv fan is also quite powerful, making it even better for large vehicles, and it's also easy to attach to any flat surface.