Having high moisture in your vehicle can be a nightmare for any car owner, especially during the colder winter months or in high-humidity environments. Excess moisture in your car can cause fogging on your windshield which can be outright life-threatening, it can lead to mold in your seats or the corners of your car, or it can respiratory distress in you or your passengers. Windshield fogging, in particular, has been widely documented as a very serious problem that's led to countless deaths on the roads all throughout the world.
The solution to these problems? Moisture absorbing car dehumidifiers. There are many different ways to such moisture out of the air and a lot of them are easily applicable in vehicles. Some stand out ahead of the rest, however, in terms of their efficiency, effectiveness, and practicality. Below, we'll go over the best car dehumidifiers on the market right now, as well as a quick guide on how to pick and use them.
Top 3 moisture-absorbing dehumidifiers:
1. Eva-dry E-500
If you're looking for a good car moisture absorber that will save you from constantly having to bother with changing dehumidifier bags, the Eva-dry E-500 is one of the best car dehumidifier models on the market. What qualifies the Eva-dry E-500 as the best moisture absorber for cars is the combination of effectiveness, efficiency, and the remarkable ease of use.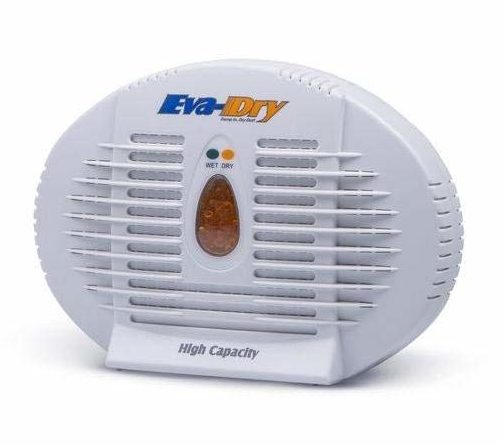 This Eva-dry model doesn't need to be refilled, it doesn't have a bag that needs to be frequently emptied or replaced, and its overall lifetime is still up to 10 years. If that sounds unfeasible, take note that this model's warranty is a whopping 5-year – the longest period you'll likely see from any similar moisture absorber for a car model.
The way the E-500 works is by simply utilizing high-quality moisture-absorbing beads that require no batteries or another power source to operate. The unit simply needs to be placed in a high-moisture environment and the beads within will begin to slowly but steadily absorb the moisture around them. Depending on the humidity levels the beads may take anywhere between three and eight weeks to become too moist to absorb any more, at which point they will change their color from orange to green (which is a little counter-intuitive). Once that happens, the device will need to be plugged into a power outlet for 12 to 14 hours in a dry environment to dry the beads off and turn them back to orange.
What we like:
Works perfectly in any enclosed area that's up to 500 cubic feet large – cars, other vehicles, closets, safes, rooms, and so on.
The E-500 is a renewable dehumidifier that can last for 3-8 weeks (depending on the humidity) before it needs to be recharged for 12-14 hours.
No refills, no spills, no maintenance required – just one quick recharge every month or two.
The Eva-dry E-5oo comes with an industry-leading 5-year warranty.
What we don't like:
The electrical plug design isn't great. When you want to recharge it or if you want to use it in your home, the E-500 is just not made to be used as a wall plug – it's too heavy. Instead, it needs to be placed on the floor with an extension cord.
The E-500 doesn't have a light indicator for how dry or moist the beads within are – you'll have to check the bead's color instead.
2. Zarpax LV-A300
For a small and more versatile automotive dehumidifier option, here's the Zarpax LV-A300. It's very easily reusable as it requires ~5 minutes in a microwave to dry off completely and be used again in your vehicle. It doesn't require any power outlets or batteries, it's not complicated to set up or anything of the sort – it just needs to be placed in your car and it will work its absorption magic.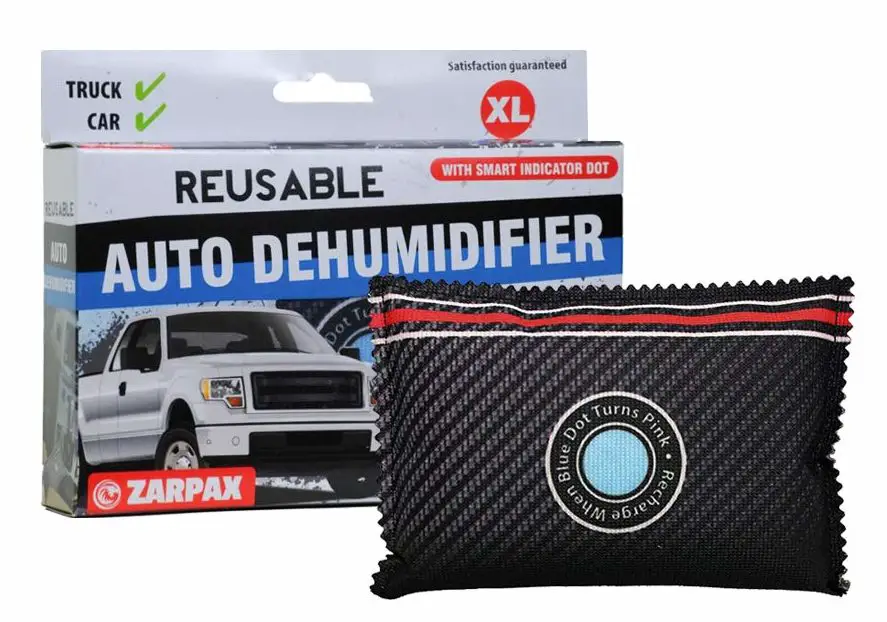 It does need to be said that this auto dehumidifier is not particularly big and can't absorb too much moisture at once. This product is really mostly intended to keep your front windshield fog-free by placing the LV-A300 bag directly beneath the windshield. If you want to keep your entire vehicle free of moisture you may need multiple bags or at the very least – a strategic placing of the bags near areas with higher moisture and a higher risk of mold.
Simple and easy to use, the Zarpax bag leaves no leaks and marks, requires no batteries or power, and is exceptionally easy to use.
What we like:
For something smaller and more situational, the Zarpax LV-A300 is spot moisture-absorbing dehumidifier for car – it's meant to treat specific areas in your vehicle and it does that perfectly.
The LV-A300 leaves no stains and leaks behind it – it's perfectly hassle-free in its use. It doesn't require a power source such as batteries or a power outlet, and it can be used anywhere in your vehicle, including in corners or hanging in front of the windshield.
This dehumidifier bag model is easily rejuvenated by just ~5 minutes in a microwave. There's no need to way for hours at a time before a trip so you can easily leave the drying of the bag for the very last minute.
What we don't like:
It's a pretty small bag so it may be insufficient on its own in larger vehicles – you may have to buy a couple or more of these car dehumidifiers.
3. Pro Breeze Mini Dehumidifier
Our last suggestion for the main Top 3 list is this Pro Breeze Mini Dehumidifier. This model works in a similar manner to the Eva-dry E-500 model but it's smaller and more compact. It can comfortably cover an area that's up to 333 cubic feet large, making it great for most vehicles, as well as rooms, closets, wardrobes, safes, and so on.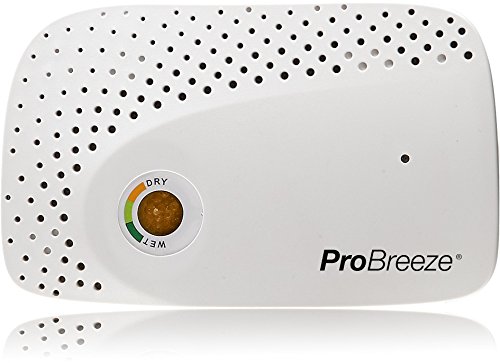 As the model is smaller, it does need to be replenished more often – approximately once every two to four weeks, depending on the amount of moisture it's been tasked with absorbing. Recharging it is fairly simple, however – all you need to do is plug it in a power outlet for eight to ten hours (i.e. overnight) and it will be as good as new. Similarly to the Eva-dry E-500 and other similar products, the silica gel in this Pro Breeze dehumidifier will gradually change its color from orange to green as it absorbs moisture – once it's become a clean green color it will need to be recharged.
Buy on Amazon
What we like:
Effective in areas of up to 333 cubic feet, the Pro Breeze mini car dehumidifier is great for most small or medium-sized vehicles, as well as cabinets, safes, and average-sized rooms.
The silica get technology used by this Pro Breeze model means that it requires no power outlet, no batteries, no bags or containers to be changed, and it leaves no leaks or stains behind – it just stands where you've placed it and absorbs moisture from the air.
Recharging and renewing the absorption potential of this product is exceptionally easy – you just need to plug it in a power outlet in a dry room for 8 to 10 hours and the silica gel within it will dry off and be ready for use once again.
What we don't like:
This Pro Breeze dehumidifier does need to be rejuvenated fairly often – every 2-4 weeks, depending on the amount of moisture it's been tasked to absorb.
Other products to consider
There are much more than just 3 good products on the market, of course, so let's take a look at some other great alternatives you might want to check out.
4. Eva-dry E-333
Another very good option from Eva-dry, their E-333 model is similar to the Pro Breeze model above – it can cover an area of up to 333 cubic feet, it lasts for 2-4 weeks before it needs to be recharged, depending on how high the moisture in the area has been, and it recharges pretty quickly once it's reached its capacity. The maximum expected lifetime of this model is up to 10 years as it is for other Eva-dry models.
The reason we chose the Pro Breeze model in our Top 3 over the E-333 from Eva-dry is mostly that we liked its design better for a device that's meant to be small and practical. The Eva-dry E-333 is still a top-quality product, however, so if you trust their brand, durability, longevity, and quality, as we do, the E-333 is certainly a great choice.
5. BARSKA 150G Dehumidifier
Small, lightweight, and practical, the BARSKA 150G car dehumidifier is exceptionally easy to use. With dimensions of just 5 x 3.5 x 1.25 inches and weight of just 0.42 pounds, the 150G can be comfortably placed anywhere in your car you want. It can be used by or under the windshield to protect it from fogging, it can be placed in any car compartment to suck out the moisture in it, it can be placed in seats or corners to prevent mold build-up, or you can just use a couple or more bags spread out throughout the vehicle as a general dehumidifier measure.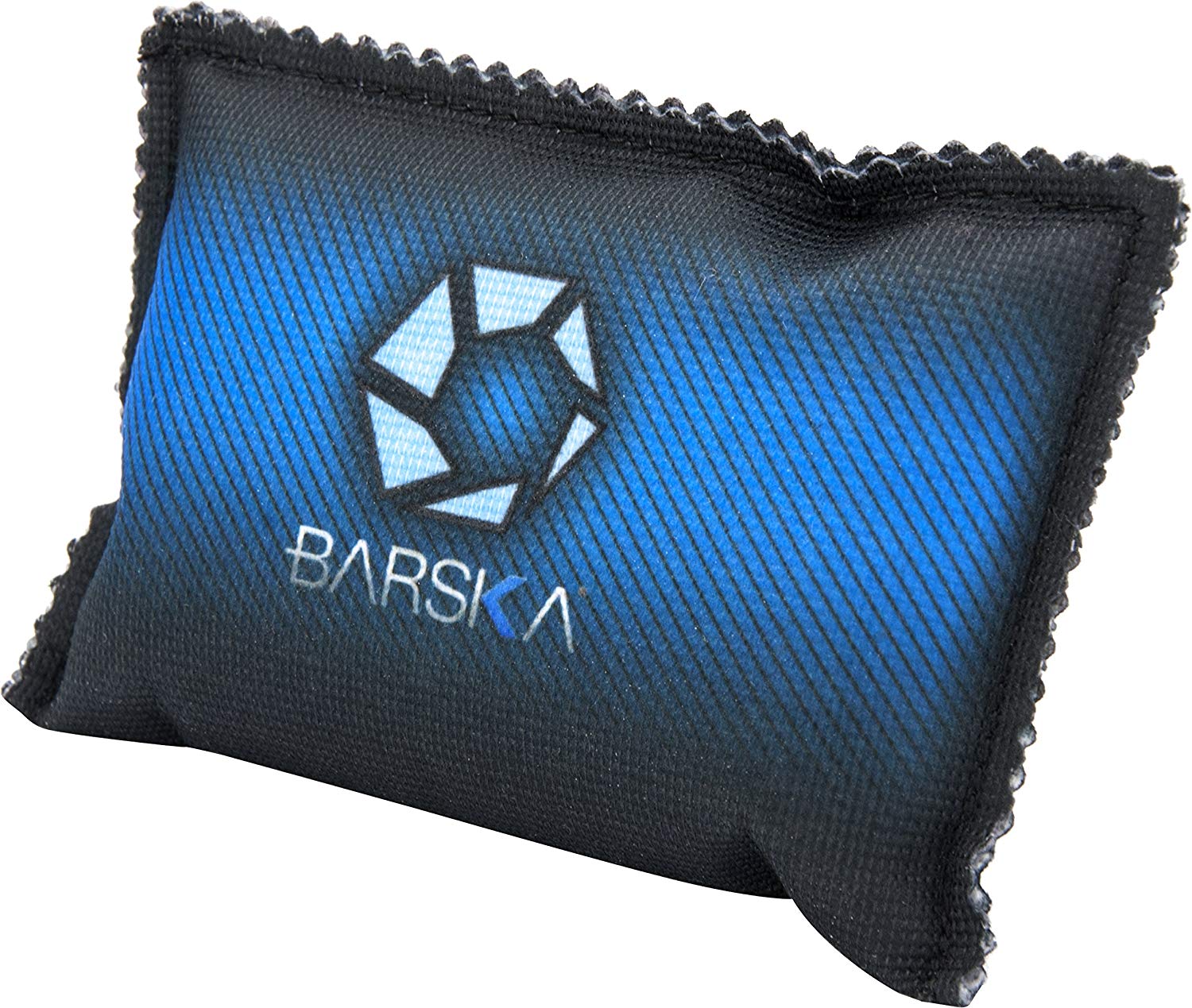 The design of this BARSKA car dehumidifier is also pretty neat with its cool blue color and neat edges, making it appealing to the eye and not something you'd be ashamed for your passengers to see. To replenish the moisture-absorbing capabilities of this bag simply place it for ~5 minutes in a microwave. The reason we chose the Zarpax LV-A300 bag over this one for our Top 3 list is that it does seem a little more effective overall but that's not to discount the quality of this BARSKA 150G model.
Buy on Amazon
Buy on Walmart
Buy on BestBuy
6. DampRid Moisture Absorber
For a non-reusable but still a very good bag dehumidifier option, the DampRid moisture absorber packs come with 3 dampness ridding bags per pack, each weighing about 16 ounces. Excellent at removing moisture, odors, and dampness from any room or space you place them in, the DampRid absorber bags are great for cars and vehicles, as well as most rooms in any home.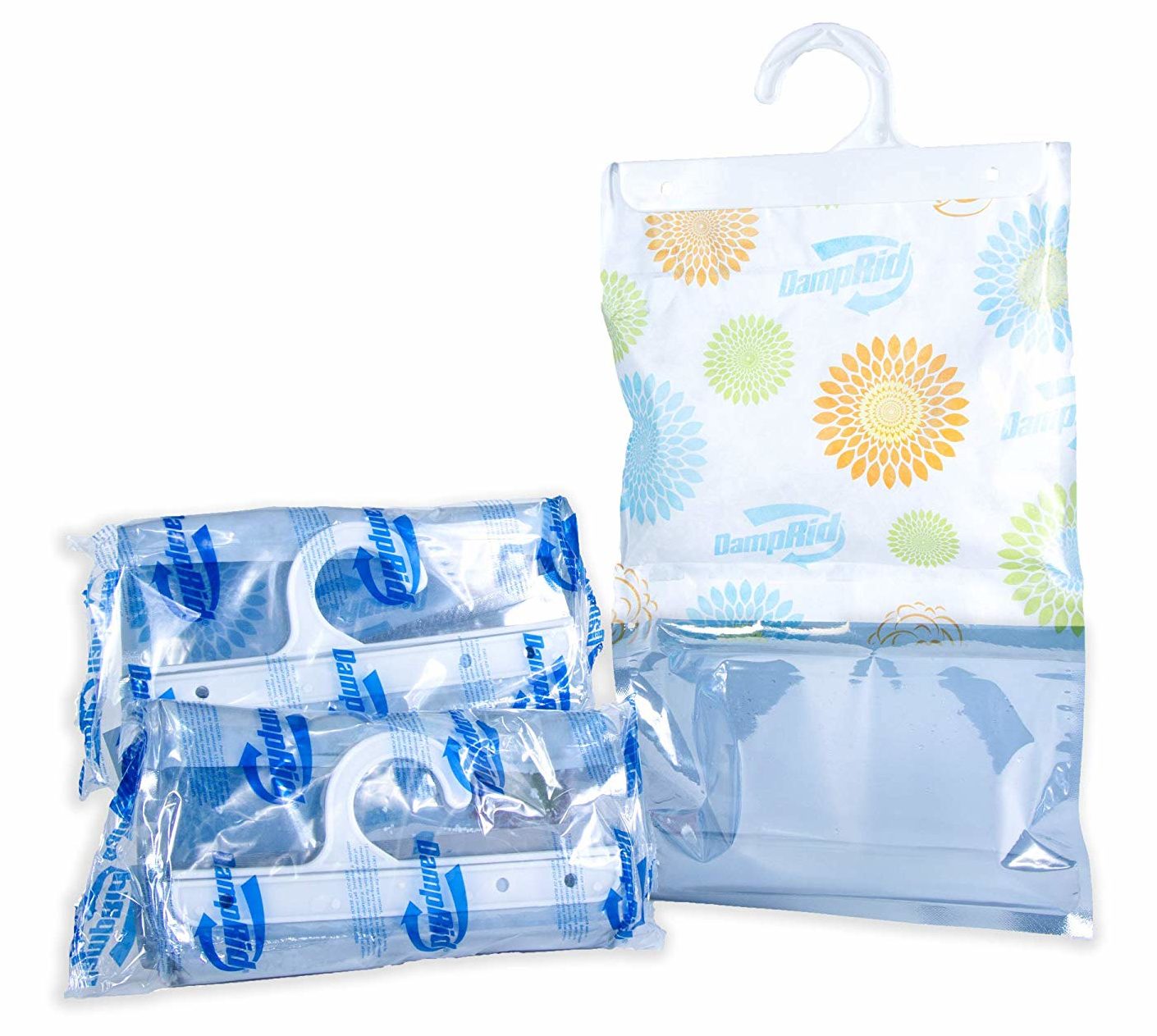 They don't need a power source, they are compact and small enough to be placed anywhere you want, they can be hanged thanks to the hangers they're equipped with, and they can last for multiple weeks depending on the amount of moisture in the air. Once the crystals go from white to a darker color, the bag can simply be discarded and a new pack of 3 bags can be purchased. We didn't include these bags in our Top 3 list simply because we prefer reusable products but the low price of these DampRid 3-packs certainly makes up for their one-use design to a large extent.
Buy on Amazon
Buy on Walmart
Buy on Target
7. Seal Products Dehumidifier Bag
Last but not least, the Seal Products dehumidifier bag uses a high-quality silica gel to offer excellent absorption and fog/mold protection for your vehicle. It has an anti-slip pad on the side which allows it to stay securely in place on your dashboard – where you'd most likely want to use it – without falling off. The silica gel gives it a lot of absorption potential, as well as long expected life – about 3-4 years which is fantastic for a seemingly simple dehumidifier bag. Most other moisture-absorbing bags on the market use clay instead of silica gel and will typically stop working after several months.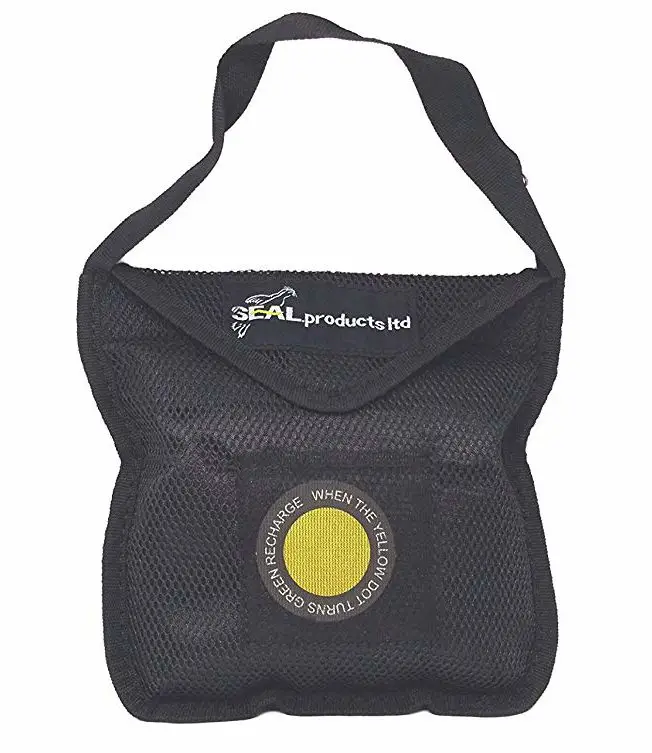 The silica gel in the bag does take a little longer to dry off and recharge, however – you'll typically need to place it for about 2 hours in an oven for it to get back to 100%.
Buy on Amazon
A quick breakdown of moisturizing absorbing car dehumidifiers
Car dehumidifiers work on a very simple principle – they use either silica gel or other high-absorption substances to such the moisture out of the air. Unlike home or commercial electric dehumidifiers which are usually big and clumsy but also powerful machines, car dehumidifiers are typically designed to be small, compact, and to require no power source as that's rather impractical in a vehicle. Instead, they rely on being filled with high-absorption materials that will simply take in the moisture from the air around them.
Depending on their design and components, moisture-absorbing car dehumidifiers can be divided in several ways:
Depending on their design:
Car dehumidifier bags. Probably the most popular and well-known option, car dehumidifier bags are exactly what they sound like – small pouches filled with silica gel or another absorption component that simply sucks the moisture from the air. After a while, when the pouch can't absorb any more moisture, it needs to either be replaced with another bag or be dried off in an oven or a microwave.
Car dehumidifier devices. Working on a similar principle but just not in a bag, these dehumidifier devices also require no electricity and simply absorb the moisture from the air. However, once they are full and can't take any more, they can be plugged in a power outlet so that the device can dry and rejuvenate the silica gel inside.
Depending on their absorption component
Silica gel dehumidifiers. Silica gel is widely regarded as the best option for car dehumidifiers. It has very high absorption, it's easily cleaned, and it can last for years when it's of a high enough quality.
Others. Clay or other materials are also often used in car dehumidifier bags and they do work. However, they are typically weaker than silica gel and need to be replaced after several months at most.
Buying guide
Picking the right dehumidifier for your vehicle is all about 3 things you need to consider – quality, volume, and personal preferences.
Finding a product of a high enough quality is vital in any niche and car dehumidifiers are no exception – the difference between high-quality and sub-par quality is quite significant as the former can last for years, are easy to use, and are very effective, while the latter tends to do little to no work and become used up pretty quickly.
The volume of the dehumidifier is also vital as it determines how big of an area it can operate effectively. Buying a small dehumidifier for a giant RV, for example, is an exercise in futility as it won't be able to do anything even if it's of generally good quality.
And then there are your personal preferences that need to be accounted for – do you prefer reusable dehumidifiers or single-use ones? Do you prefer bags or plastic devices? What design will suit your vehicle the best? Given that these are fairly simple devices there aren't that many choices to make here but there are still a few considerations to keep in mind.
Usage tips for moisturizer absorbing car dehumidifiers
Remembering to replenish your car moisturizer when it's used up is the key thing about keeping it effective at all times. It's best to replenish a reusable car dehumidifier sooner rather than later as that tends to prolong the overall lifetime of the silica gel beads inside of it. Even besides that, however, it's also just important if you don't want the moisture in your vehicle to start rising unexpectedly – mold tends to develop very quickly, especially in high-moisture climates, and windshield fogging can be deadly even if it just happens once.
Aside from that, using your car dehumidifier in conjunction with your vehicle's AC unit is the best way to go to maximize its effectiveness.
Conclusion
Choosing the right car dehumidifier for your needs is quite an important task for any driver as it can be a literal life-saver. With so many options on the market, both in terms of quality and design, the choice can be a little startling but we do hope our list and guide have helped you at least a little. To summarize – make sure you're always choosing a high-absorption product, be certain that it's potent enough to work in vehicles/spaces of the same size as your car, and keep the expected lifetime of the product in mind as you don't want to have to replace it every several months.
So, before we wrap up, let's take a quick look at our Top 3 suggestions again:
Our first suggestion was the awesome Eva-dry E-500 model. With a total lifetime of ~10 years under normal use, a 5-year warranty, and a very effective and easy to use renewable technology, the E-500 doesn't need a power source, it doesn't spill or need refills, and it can last up to 2 months before it needs to be quickly recharged and dried off in a power outlet.
Our next suggestion was this Zarpax LV-A300 car dehumidifier bag. A much smaller product, this bag is intended to keep only specific areas free of moist – corners that are susceptible to getting mold, a windshield that may get foggy, and so on. Very easy to dry off and recharge, the LV-A300 is a simple and comfortable and simple tool to use in a lot of different situations.
Next, here's the Pro Breeze Mini Dehumidifier again. Small and compact, this model is very easy to place wherever you need it – in your car, in a wardrobe or a closet, or in a safe. It can cover an area of up 333 cubic feet which is more than enough for most vehicles and rooms, even with high humidity. The device does need to be replenished once every couple of weeks, especially if it's been used in high-moisture environments, but it recharges quickly overnight and is ready to use first thing the next morning.